PRU is Phuket's only Michelin starred restaurant and has held the prestigious distinction of One Michelin star for three consecutive years (2019-2021). It's 'hidden' within one of Phuket's most renowned and exclusive private pool villa resort and residence, Trisara. The good news, though, is experiencing PRU is not restricted to resort guests only, so the Let's Eat team went along to experience Chef Jimmy Ophorst's award-winning cuisine.
PRU stands for Plant, Raise and Understand, and it is all about sustainably producing food in a farm-to-table concept. At first, PRU grew their vegetables, herbs and flowers for the kitchen at the Pru Jampa farm and sourced ingredients from Phuket and neighbouring Phang Nga and Krabi. The best local produce they could source.
Over time Chef Jimmy and the PRU team met farmers and producers in different parts of Thailand with quality sustainable produce. The individuality of each ecosystem and the diversity from one to another also become apparent. The idea came to pair locally sourced produce with lesser-known ingredients foraged from the same ecological habitat.
As Chef Jimmy explains, "We wanted to go further than having all produce locally sourced. We started creating dishes that tell the story of a place, a particular 'terroir', to use a French agricultural term. For example, a dish using river prawns from the Tapi River in Surat Thani province. We looked for ingredients in the same ecosystem as the prawn and experimented with sauces made from smaller fish found in this river, vegetables or plants grown in or around this river. Ultimately this dish becomes the perfect picture of that fantastic ecosystem."
PRU's culinary style is founded on Western tradition while drawing out subtle and bold flavours from the herbs, flowers, plants and roots that grow wild in their garden or the different ecosystems their produce comes from. This dedication to sustainability saw PRU receive another accolade in 2021 – a Michelin Green Star. Thailand's first and only restaurant to receive such distinction.
Their dishes tell stories, and unlike many restaurants, diners are offered a set five or seven-course 'Experience'. There is also a five-course Vegetarian Experience. Options to add on a Discovery or Premium wine pairing or specially created juice-based non-alcoholic drinks paired with each course are available.
Our Let's Eat team chose the five-course Experience with the matching non-alcoholic drinks pairing. Our specially printed menu listed the dishes, each starting with the name of the region the dish is focused on. Our server introduced and explained the drinks as they arrived for each course.
Our first dish takes us to Khlong Yai in Trat on Thailand's southeastern corner bordering Cambodia. Delicate fingers of dry-aged mackerel plus a tartare of mackerel with flavours of cucumber and dill. As a counterpoint, petit gel droplets of Ceylon Oak or Kasum fruit, as it is also known, give a sweet-sour note. The dish is finished with a cold tomato consomme gently infused with lemon balm. Food poetry on a plate.
On the Phang Nga side of Sarasin bridge connecting Phuket to the mainland, Tha Nun is our next stop for a dish simply titled Black Crab and Wild Mushroom. Fresh crab meat salad, pickled young coconut heart, smoked crab egg roe, and a foam of crab and wild mushroom. Hints of green shiso, a member of the mint family that traditionally accompanies sushi and sashimi, add an extra delicate note.
Hua Hin in the Prachuab Kiri Khan region is our next stop. Sun Choke, also called Jerusalem artichoke, is a variety of perennial sunflowers grown for its edible low-starch tuber. It looks much like a small potato but tastes like a water chestnut. Chef Jimmy serves the Sun Choke three ways in this dish – roasted, pureed, and thinly sliced, accompanied by apple and chrysanthemum gel and fig leaf oil. The bones of the sturgeon fish from Thailand's first and only Black Cavier farm, also found in Hua Hin, help create the sauce this dish's star component sits upon. The simplest of ingredient, elegantly elevated and delicious.
With Duck as the hero, we are taken to Pak Chong, a district adjacent to Khao Yai National Park in Nakhon Ratchasima Province. The duck breast is brined in honey and aged for a week before being wood fire roasted. This is accompanied by a duck rillette sitting on a delicate beetroot carpaccio. Snake radish leaves dress the rillette. An intense and near syrup-like reduction of duck stock and port wine finishes the dish. It is easy to understand why this is one of PRU's signature dishes.
Dessert takes us to Nakhon Si Thammarat for a Mangonteen and Cashew Nut Mousse, with the passionfruity sweet, sour notes of beal fruit and the gentle perfume of pandan. Yet another pretty-as-a-picture dish and a stylish way to finish our five-course PRU dining Experience.
Though we soon discover that is not the case. A trolley arrives, offering a selection of eight kinds of cheese. Goat or cows milk from soft to hard and all crafted in Thailand. Here is another example of PRU's storytelling and diner education on show. Our server introduces each cheese's regional origin and asks us to select any or all we wish to try. Our highlights were a goat's milk cheese from the Chiang Rai region and Manchego-esque hard cheese from the central region.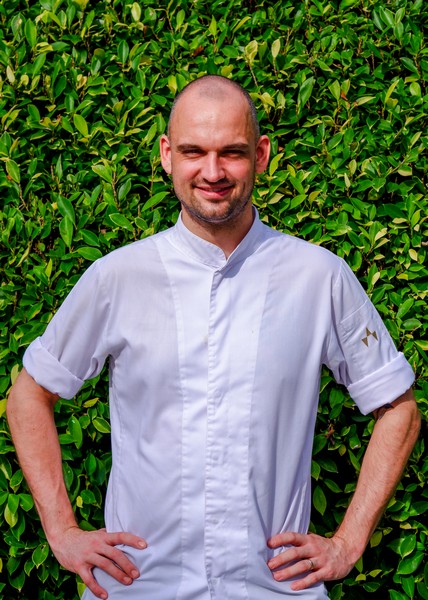 PRU is a sophisticated, intimate and romantic restaurant with capacity for 25 diners only, so reservations in advance are essential. Currently, PRU operates from 6:00 pm Thursday to Monday evenings. Visit their website for further information, or phone +66 (0)76-310-232.
PRU is a must for those wanting a unique culinary dining experience when visiting Phuket. As we had the pleasure of experiencing, its dishes are seasonal, delicate and beautifully presented. Be sure to book ahead of travel so as not to be disappointed.
By Michael Cullen