Chiang Mai's dining scene is exceedingly resilient, even in these pandemic restricted times, if the sixty entries in the 2022 Michelin Guide Thailand are anything to go by. The Let's Eat team had the opportunity to visit one of these highly regarded establishments recently to see what all the positive 'noise' was about.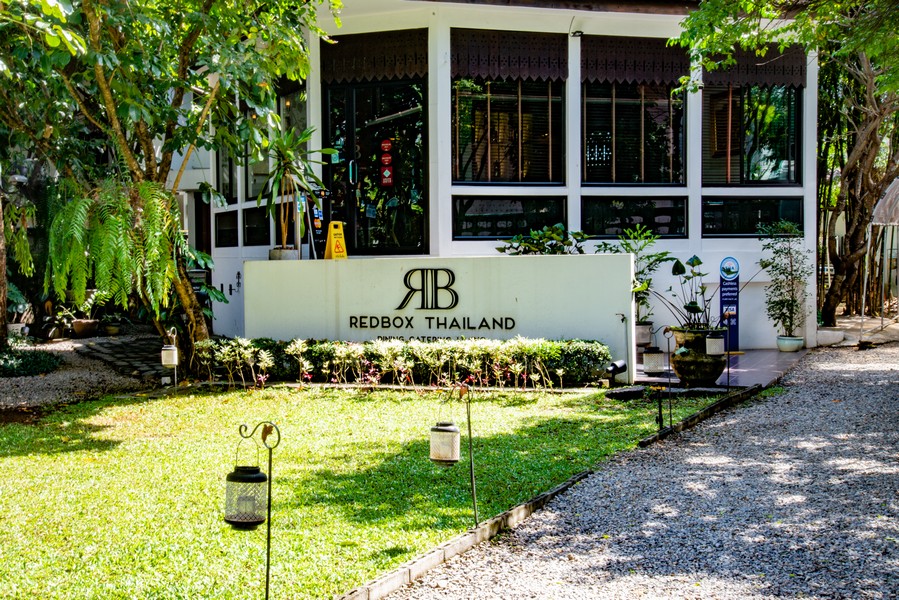 We are talking about Redbox, a seven-table restaurant sitting in a quiet residential street just a 5-minute walk from Chiang Mai's trendy Nimman area. 2022 is Redbox's second consecutive year in the prestigious Michelin Thailand dining guide. It demonstrates the dedication, innovation, and consistency of the husband-wife creators of this modern Asian cuisine dining establishment.
Chef Chindarnai 'Dan' Boonchaliew and food artist Pimmada 'Pam' Kankulsuntorn are both originally from Chiang Mai, though met in Brunei where they were both working. Dan had finished his education in Australia and went about developing his creative cooking talents. In Brunei, 2015, they formed a delivered lunch box business with a Thai food emphasis called Redbox. Their part-time business was soon an all-out success, yet their hometown beckoned.
Back In Chiang Mai in 2017, the couple took on the challenge of renovating a home from Khun Pam's side of the family to create the current Redbox restaurant. It started with three tables and a kitchen garden out the back. They were open less than 20 months before achieving their first Michelin Guide listing. Now with glassed-in side and front terraces, plus the home's central ground floor room dedicated to dining space, this modest restaurant is at once elegant yet warmly inviting.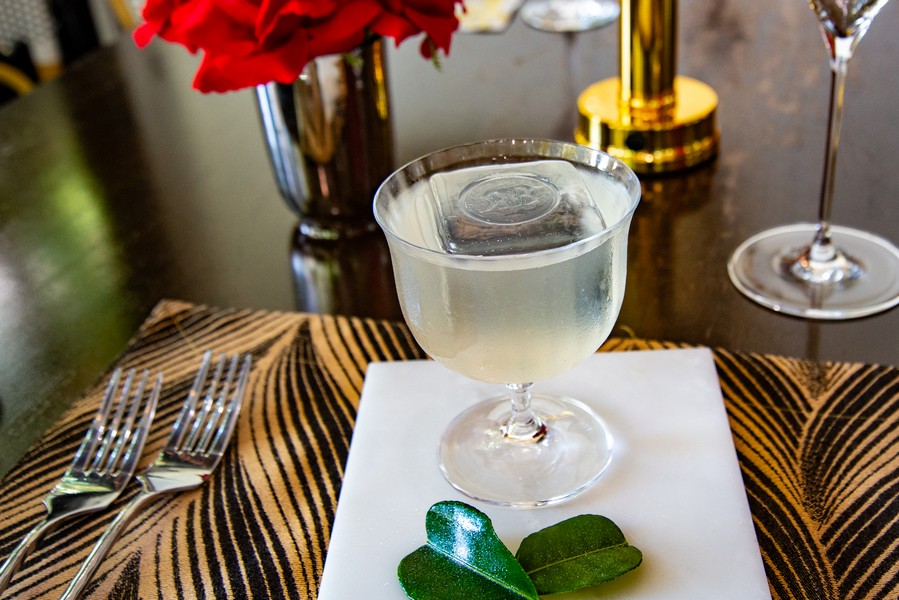 Redbox offers a seasonal five-course set-price tasting menu or a comprehensive ala carte menu. There is also a signature cocktail menu offering a selection of twelve house creations in either mocktail or cocktail format. We sampled two. The Siamese Rice has Rohu Gin as the base, tamarind flavours, and sweet fermented rice notes. The Malai, or "flower garland", comprises premium gin Thai flower-infused syrup and lychee, kaffir lime, and ginger. Spectacularly presented and equally as tasty.
Our food journey started with two Amuse Bouche – a French term meaning "mouth amuser". It is different from appetisers as these are not ordered by patrons but served free at the Chef's whim. Amuse Bouche are said to prepare guests for the meal and offer a glimpse of the Chef's style.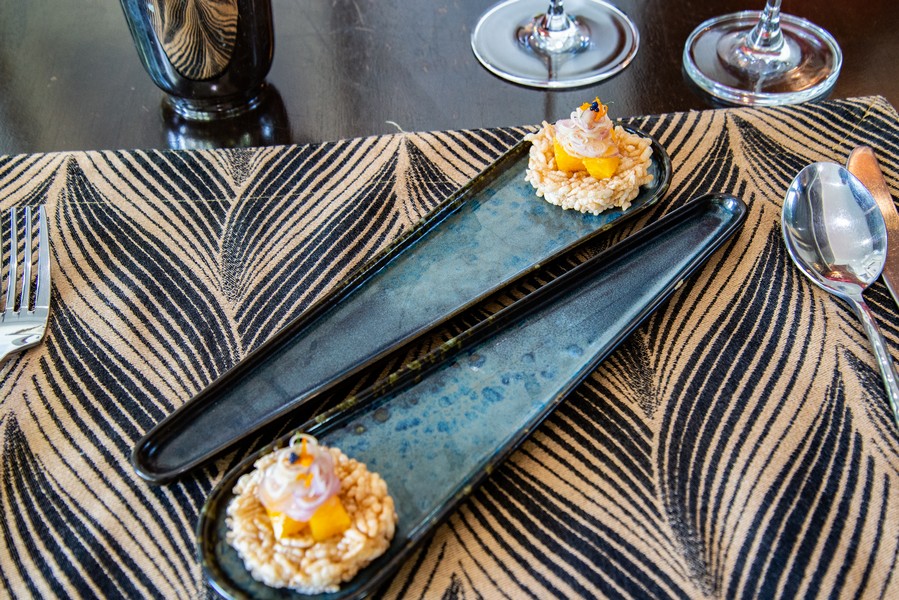 Chef Dan's first choice was organic farm fresh cherry tomatoes. Some infused with Thai plum, others plump, naturally juicy, and flavourful. All artistically presented in the style of Ikebana (Japanese flower arranging) hanging from a bare plant frame in an impressive vase. The other was Ceviche of Thai Mandarin Orange atop Chiang Mai rice crackers with hints of lemongrass, lime with the freshness of the orange and gentle bite of the marinated shallot. Both highlight Chef's talent hero-ing simple ingredients.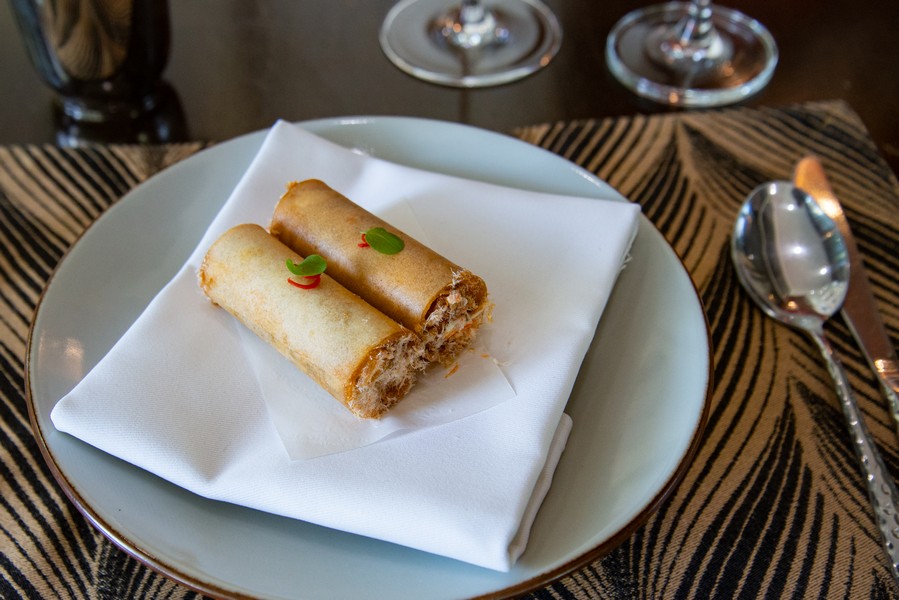 Our first starter was Thai Cigars – a playful dish looking like a spring roll, though providing all the taste components of Pad Thai. A filling of finely diced shrimp, peanut, bean sprouts with sweet overtones and the bite of tamarind without the noodles in the crispy deep-fried casing. This was tasty trickery worth revisiting.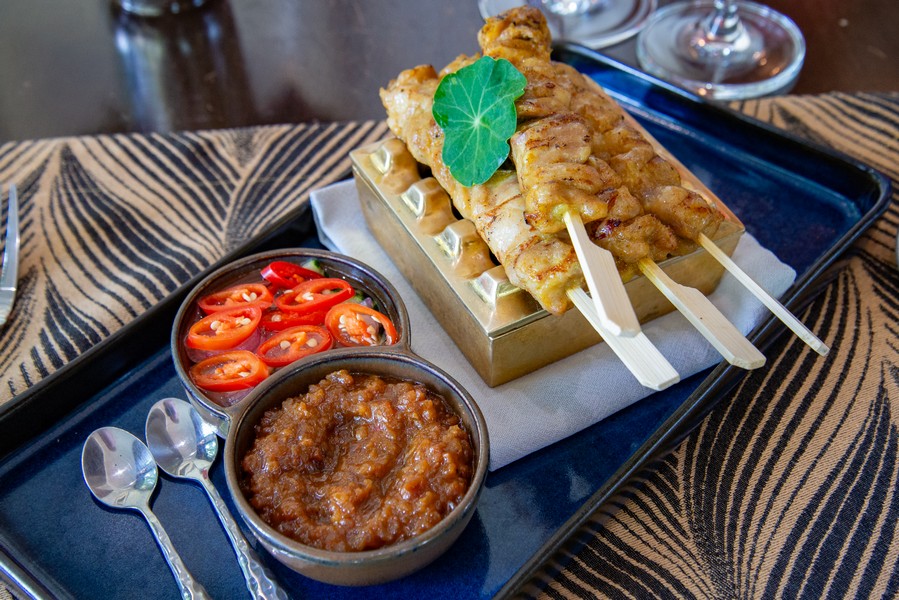 A Thai salad of lemongrass-infused prawns with roasted chilli was next. The 'Dok Jok' shaped rice cracker in the form of a lotus flower added a crunchy counter to the mouth-filling though well-balanced heat of the salad. Next, Satay style chicken skewers served with Chef's homemade peanut dressing had overtones of a favourite found across Southeast Asia.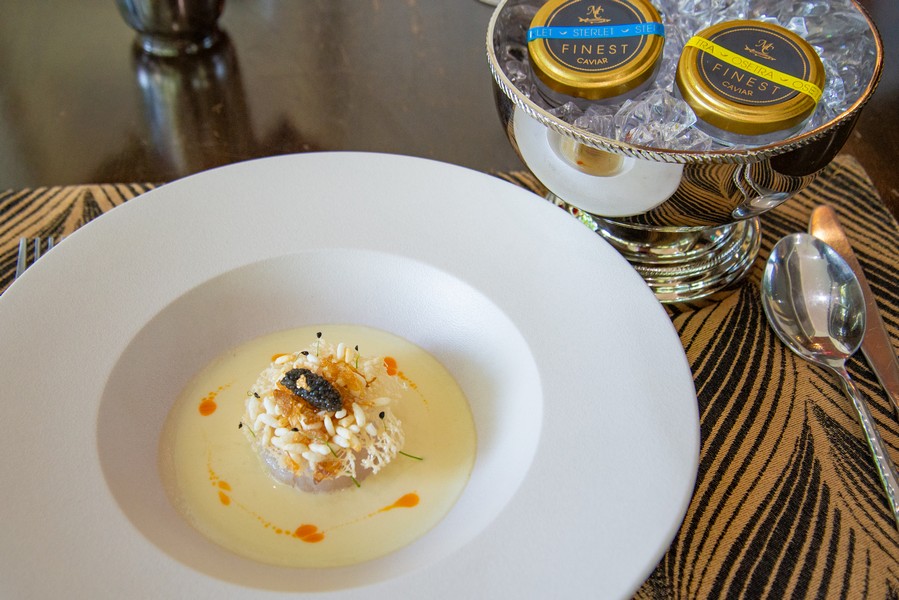 Our final starter was indulgence in a bowl. A plump Hokkaido scallop marinated and slow-cooked and served still opaque in a creamy Thai onion sauce, with touches of roasted chilli oil and topped with rice cracker, rice tuille, crispy shallot and triumphantly finished with Osetra Caviar – the second most exclusive caviar behind Beluga. Textures, refined flavours, and tasty opulence skilfully married together.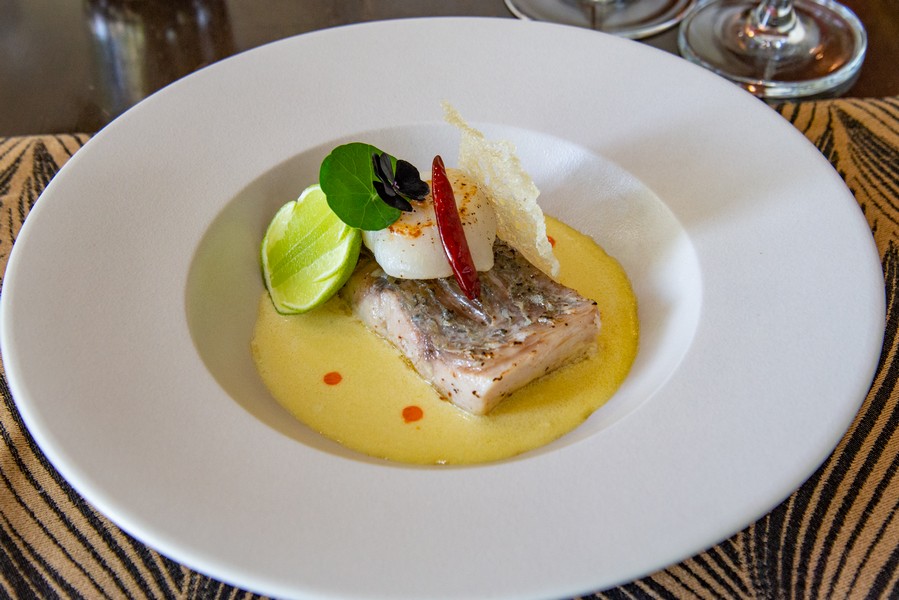 Mains takes us to Ayutthaya and Surat Thani in Thailand and the Minangkabau region in West Sumatra, Indonesia. The Crown Grilled Barramundi with Seared Scallop in a lemongrass galangal broth. The 'Barra', as Australians like to call it (or pla kapong in Thai), is export standard and comes from dedicated fish farms in Surat Thani. The creamy broth with galangal and lemongrass is reminiscent of Thom Kha and works perfectly with the firm, flaky fish and perfectly seared scallop. Delight on a plate.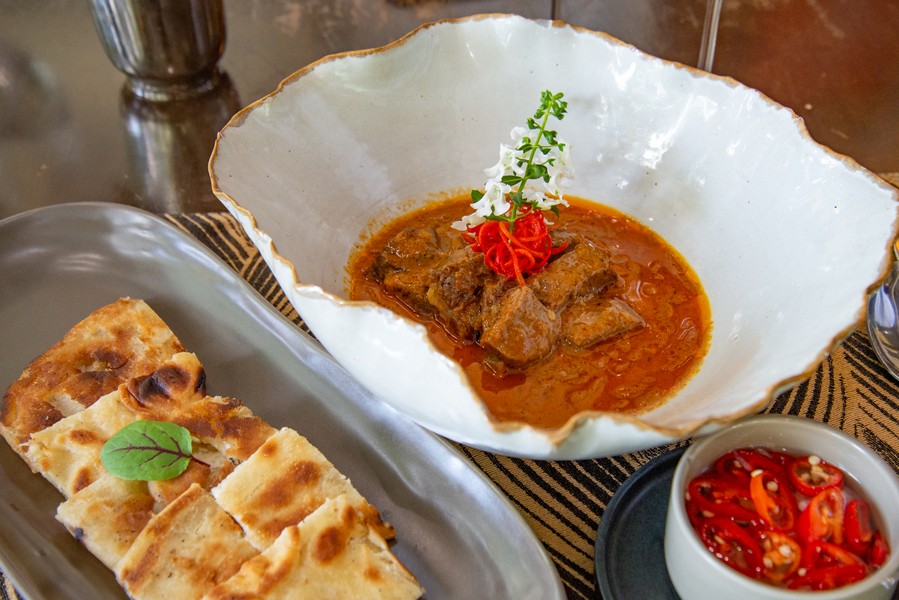 Chef Dan's pressure-cooked Beef Rendang uses beef cheeks that are soft and spoon-tender when served, with the intense tropical aromatics of the coconut, chilli, and spice. Served with house-made Naan and a chilli pickle, this is not as 'dry' as some Rendang, thanks to the deep, nutty, buttery sweetness of the retained coconut sauce.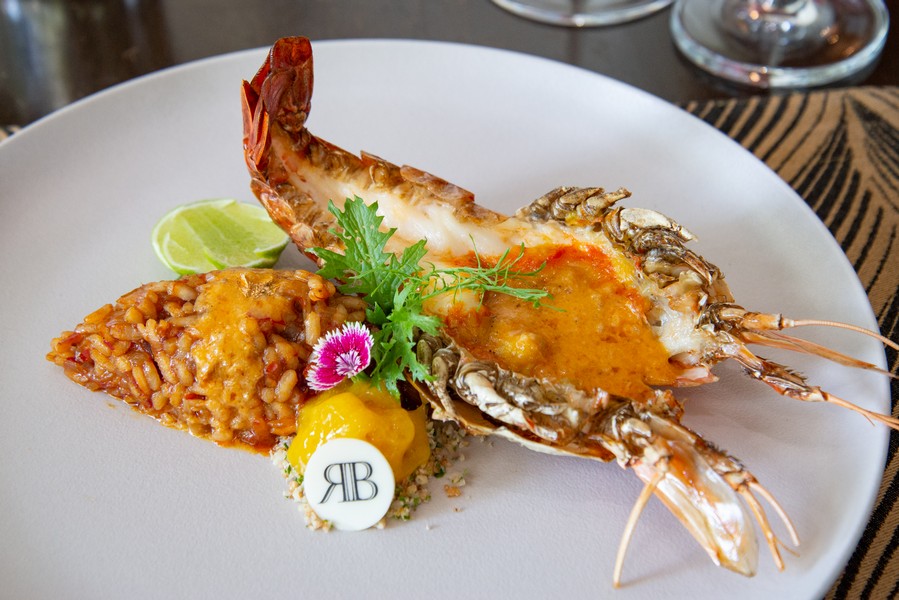 Thai Tom Yum Risotto with Char-grilled River Prawns, Prawn Bisque and Bell Pepper Ice cream. The prawns from Ayutthaya grilled in the shell with a bisque, including the shellfish brains for the ultimate umami flavour. The risotto exhibits those quintessentially Thai hot and sour flavours of shrimp, tomatoes, lemongrass, galangal, chilli, kaffir lime leaves, onions, and a host of other lively ingredients and herbs. The yellow bell pepper ice cream brings a savoury coolness to the dish.
Although Redbox has a small selection of changing desserts and sweet treats, including house-made macaron, truffle and praline, their signature dessert was nominated in the Top 5 Signature Dishes of Michelin Guide Thailand. This is where our Redbox food journey comes to a triumphant end.
Their Siam Ruby is served to the table with theatre. A tall smoke-filled wine goblet, inside at the base a crumble of chocolate macaron and Thai coconut shortbread cookies, topped with handcrafted Thai Coconut ice cream and sprinkled with Golden Egg Yolk as seen in the auspicious Thai dessert, Foi Thong. Gula Melaka, a palm sugar syrup from Malaysia, finishes the dish. Yet another example of Chef Dan and the team's creative, modern take and interpretation of Thai cuisine.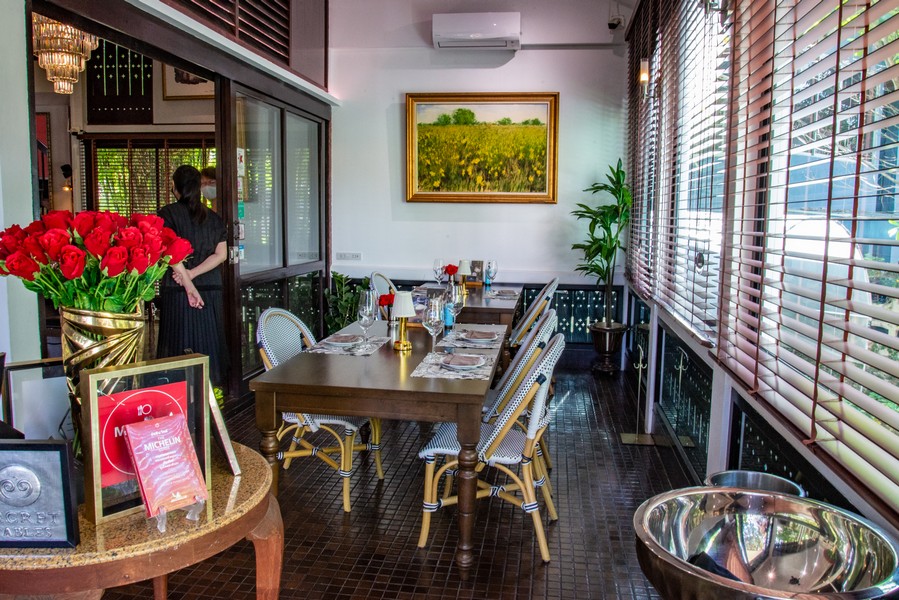 Redbox impressed on many levels from the refined décor, Jim Thompson textiles for the tables, plus table ceramics and table pottery from two great Northern Thailand creative outlets, Doi Tung and Prempracha, are all examples. Through the professional service of the Redbox team, including Chiang Mai's first sommelier, and ultimately, Chef Dan and Khun Pam's innovative take of Thai and Asian cuisine would have this Let's Eat group happily returning for another food journey.
Redbox restaurant operates daily except Tuesday for lunch (11:30 am to 2:00 pm) and dinner (5:30 to 9:00 pm). They can be contacted on 092 979 4542 or via their website www.red-box-thailand.business.site and social media pages.
By Michael Cullen