Discover exquisite flavours of Cambodian gastronomy at Embassy Restaurant in the leafy streets of Siem Reap's French Quarter. Opened in 2015 and relocated to its current location in February 2023, Embassy is a must for Siem Reap visitors wanting to discover Khmer cuisine.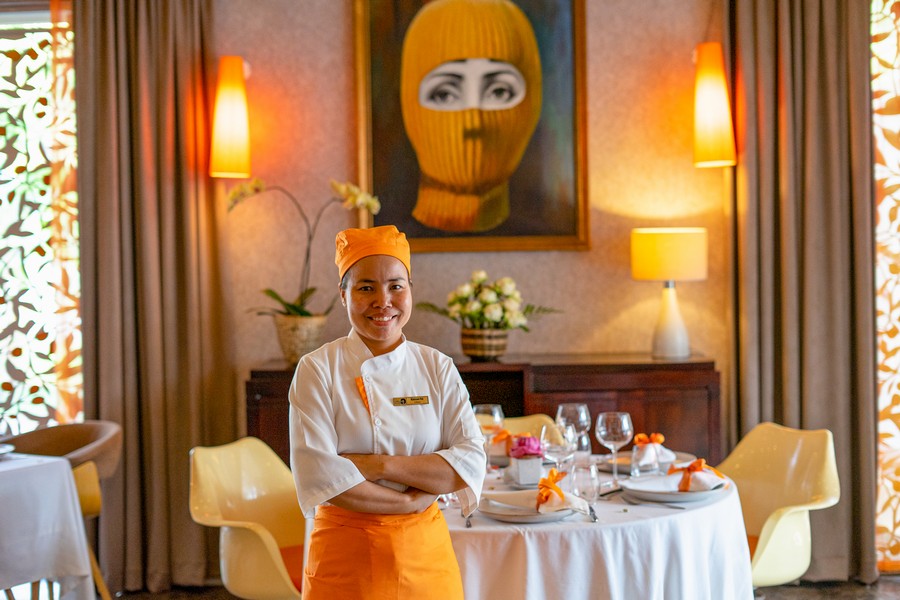 Helmed by Chef and Culinary Director Kimsan Pol, the Embassy restaurant is staffed by an all-female team. Yes, the kitchen and service staff are all female, with the continuing desire to promote the strength and talents of Cambodian women. And that talent starts at the top. Chef Kimsan Pol is French trained in Cambodia and has completed additional skills development elsewhere in Asia and France under Michelin awarded Chefs. She has also been highly successful in international culinary competitions.
Embassy's dining experience is centred on a five to six-course set menu that changes monthly. All dishes are inspired by and use seasonal local ingredients from Cambodia's provinces. Guests can take the four-glass wine pairing or an organic herbal tea pairing to accompany their meal. Each is crafted to suit the menu.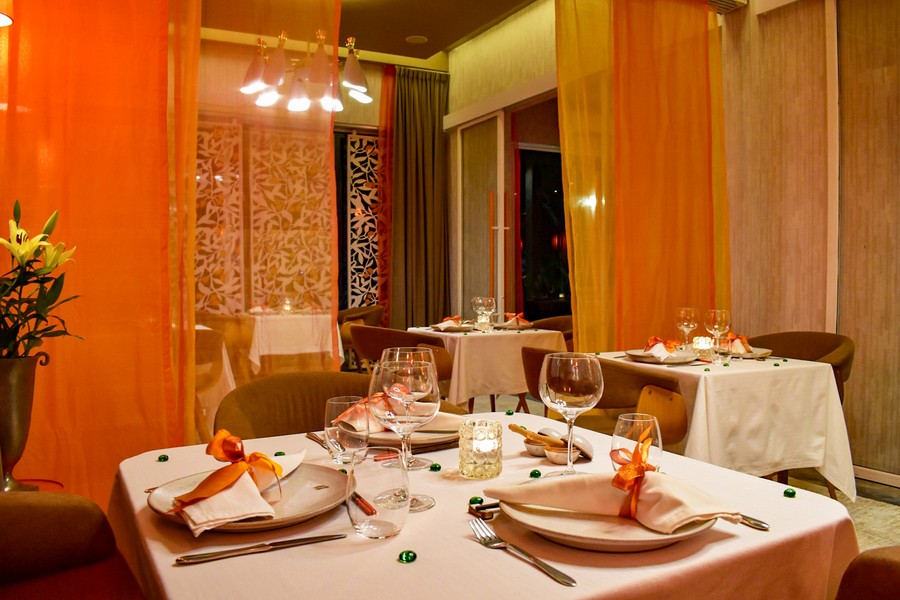 Embassy's elegant and spacious dining space is subtly divided into zones with artistic metal panels and part walls creating partitions. Various warm shades of orange are present throughout, be it light fittings, a curtain, the predominant tone in a hung painting, and even the apron and head coverings of the kitchen team. Chef Kimsan Pol's kitchen is on full display, glassed like a fish bowl, and it gleams as one would expect a show kitchen (rather than a working commercial kitchen) to do.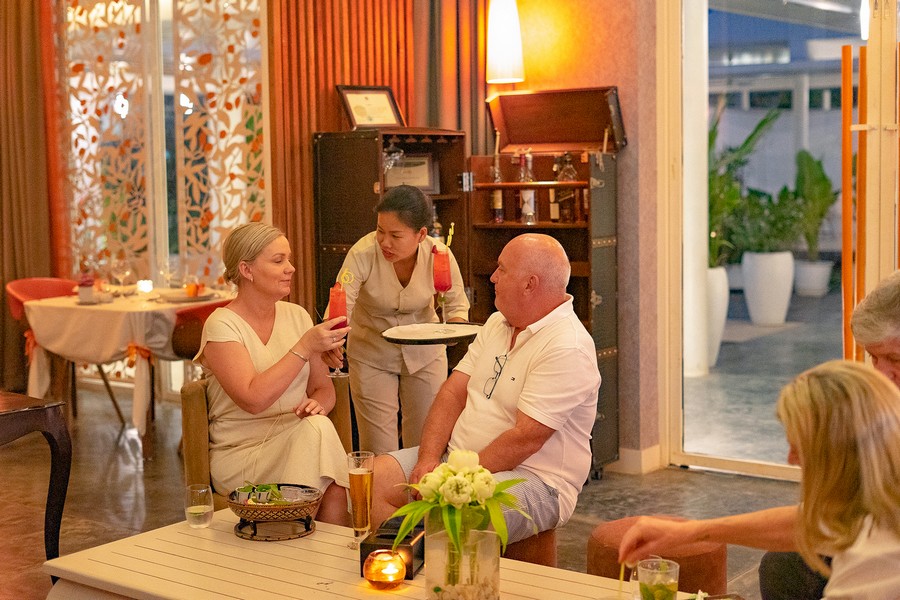 Arriving guests are ushered to a lounge adjacent to the open bar for pre-dinner drinks. The evening's menu is also explained, and a small shared plate of Khmer street food is presented. Food presentation is refined with an artistic flair, as expected in an upscale restaurant. Embassy's service style is polished, with the females in each group of guests receiving deferential treatment. It is as if an international industry-wide norm where males are automatically treated as the hosts is being subtly rectified.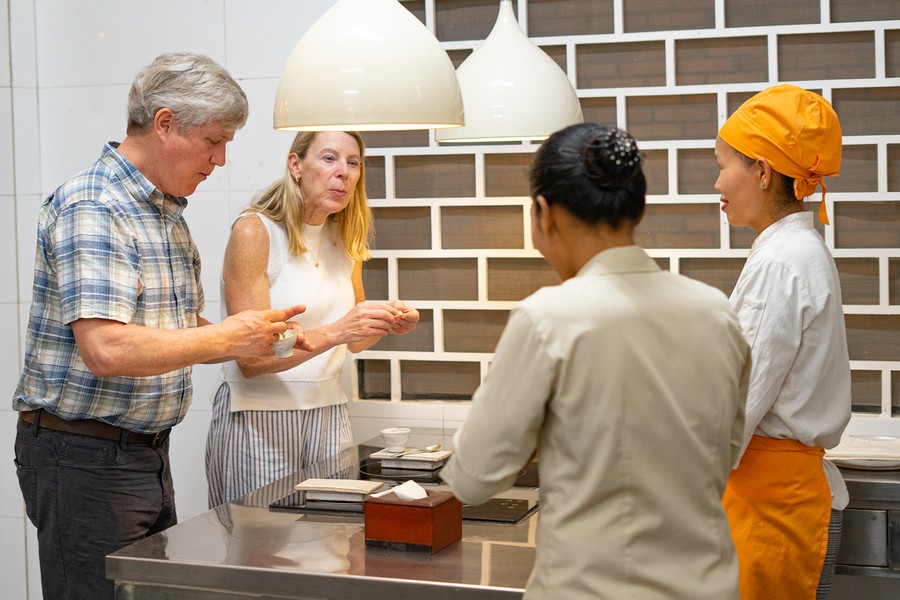 With pre-dinner drinks enjoyed and the street food snacks sampled, diners are welcomed into the kitchen. Here, Chefs present the first (official) dish of the evening's food journey. An Amuse Bouche (mouth amuser if literally translated from French). For our visit, this was a delicately spiced Crab Curry with Crispy Rice Crackers for dipping.
On arrival at our dining table, a small platter with many ingredients used in the evening's menu is presented. Varying from month to month, it could be vegetables, nuts, herbs and spices, funghi, lotus roots, tropical fruits, and other elements. Each is patiently explained with their Cambodian origins and where they fit into our food journey. The Embassy dining experience is more interactive and pleasingly involving than many we have had.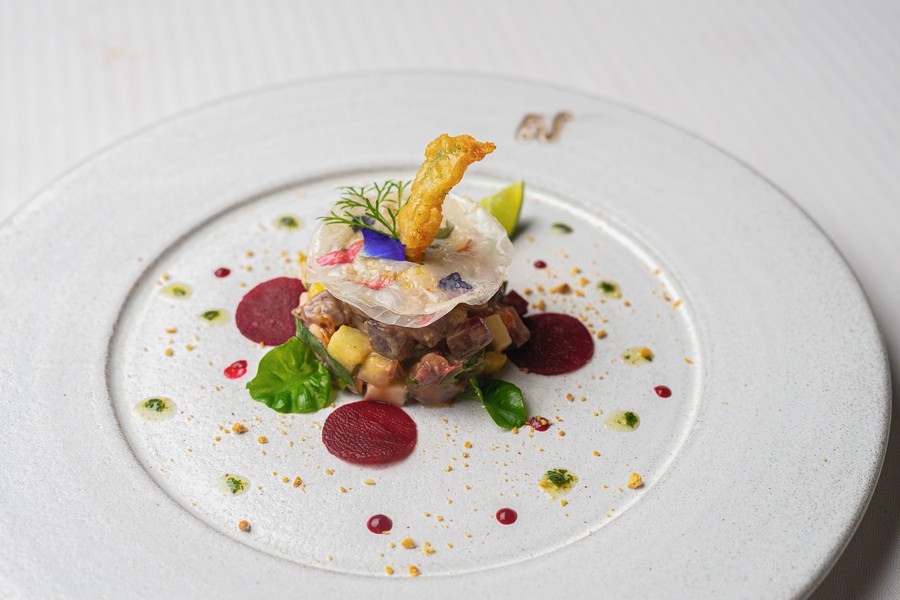 Appetiser was a homemade Smoked Duck Salad with red Kampot pepper. The spicy, fruity and intense flavours of Cambodia's famous pepper are ideal with the smoky character of the duck, and all are set off with the crispy rice wafer crunch on top. With its raspberry nose and pepper flavours on the palate, a Grenache from France was a most suitable wine pairing.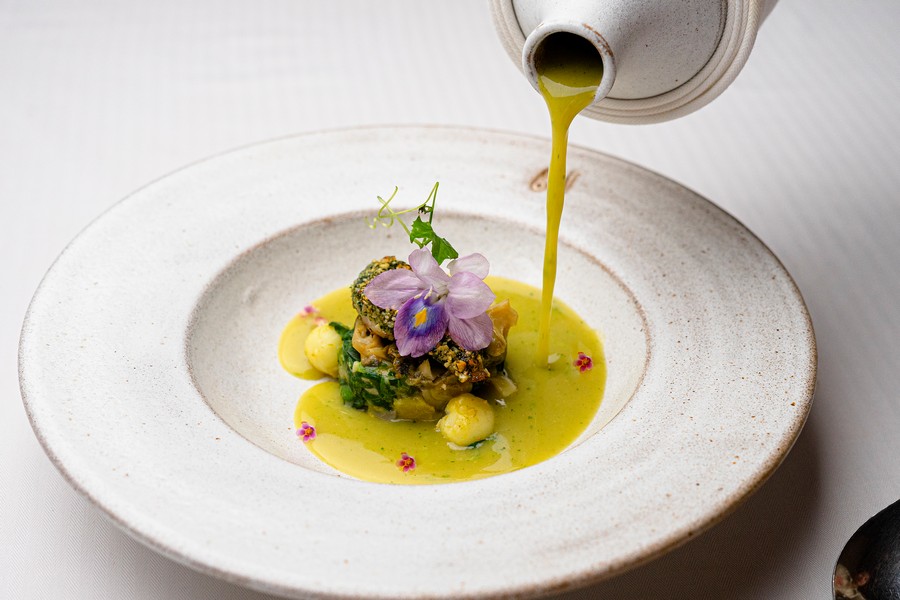 Next, the soup showcases a signature dish from Svay Reang Province, bordering Vietnam. This traditional soup is cooked with Khmer spices, taro, ivy leaves, rice balls and Wallago River fish fillet. A palate-cleansing sorbet of tamarind and crushed salted chilli sorbet, which truly speaks to these South East Asian flavours, is served between the soup and main course.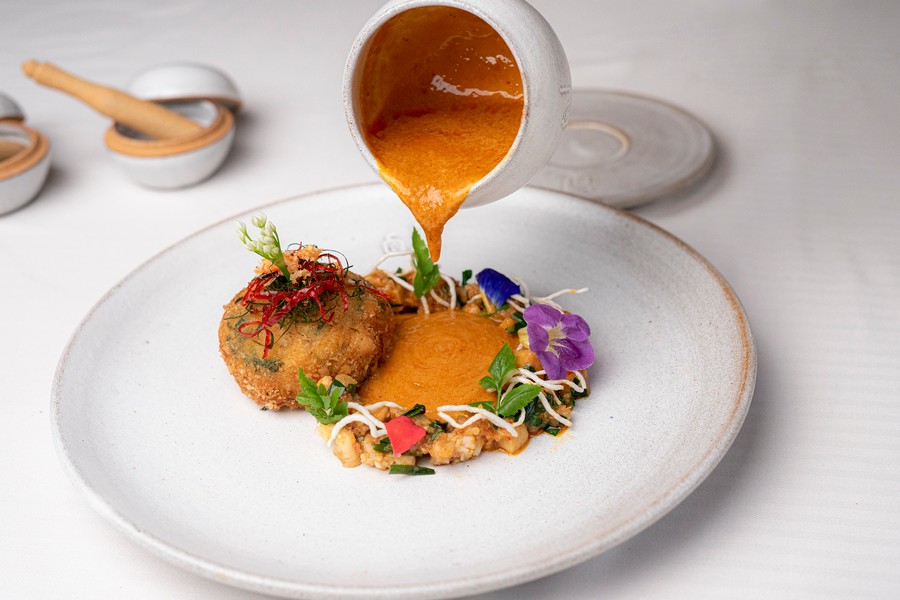 There are two main dishes sized to not overwhelm. A Crispy Prawn Dumpling served with vermicelli, chive leaf, tofu, and a Kapi (fermented shrimp paste) sauce. And the Slow-cooked Beef Cheek is artistically presented with fresh coconut cream, rounds of eggplant, and a sweet and sour tromoung leaves sauce. Both are delectable and elegant in their taste and presentation. Once again, the wine pairing was inspired – either a South African Pinotage or Chilean Pinot Noir-Monastrell.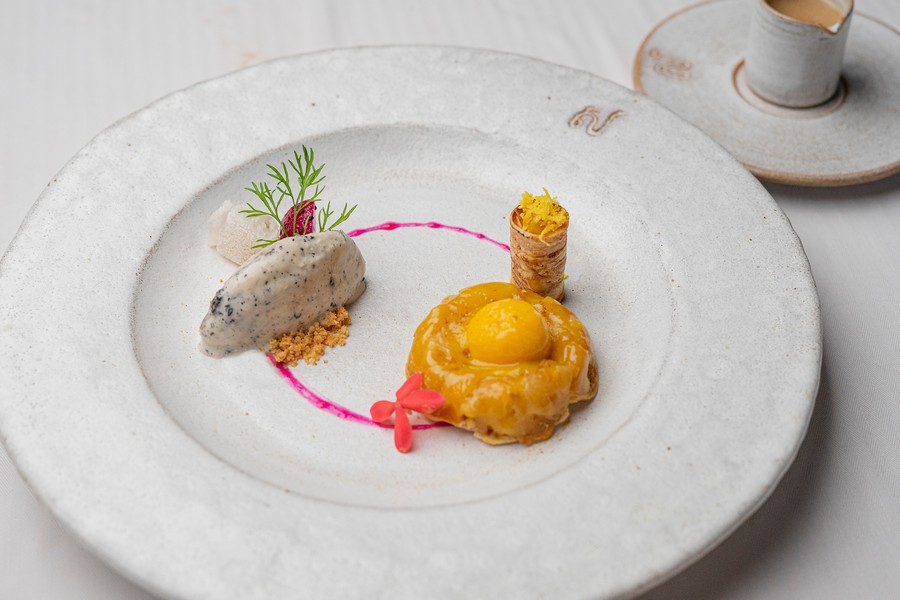 Dessert concluded the evening and spoke to Chef's accomplished hand at showcasing Asian ingredients in a compelling, decidedly tasty and refined manner. The Baked Keo Romeat green mango is one of Cambodia's favourite species and is served with palm sugar and a moreish sesame seed candy ice cream. Sparkling Cava from Spain was the perfect wine partner.
Though our dining experience finished at that point, we, like other diners, were presented with a small branded bag of restaurant-made items to take home, including the yummiest macarons. These were presented in person by Chef Kimsan Pol as she made her way around the tables to chat with guests about their dining experience and thank them for their patronage. This is an excellent example of the true sense of hospitality.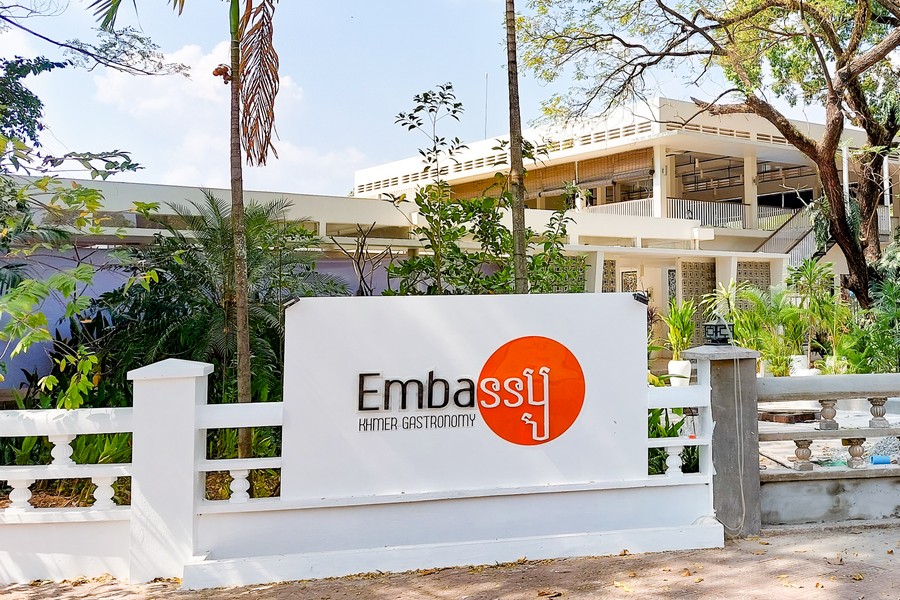 Embassy restaurant is open evenings six days a week and closed Tuesdays. To learn more, visit their website https://www.embassy-restaurant.com/
If you're looking for traditional Khmer cuisine with a gastronomic twist, then Siem Reap's Embassy Restaurant needs to be on your list.
Michael Cullen