To great fanfare, InterContinental Bangkok officially reopened in June 2023 after a multimillion-dollar renovation and spectacular makeover. Part of Bangkok's landscape for two decades, this impressive makeover reestablishes InterContinental Bangkok as a hub of contemporary living. A clear example is SoCal, Bangkok's first Californian-inspired restaurant, and one of several of the hotel's new dining offerings.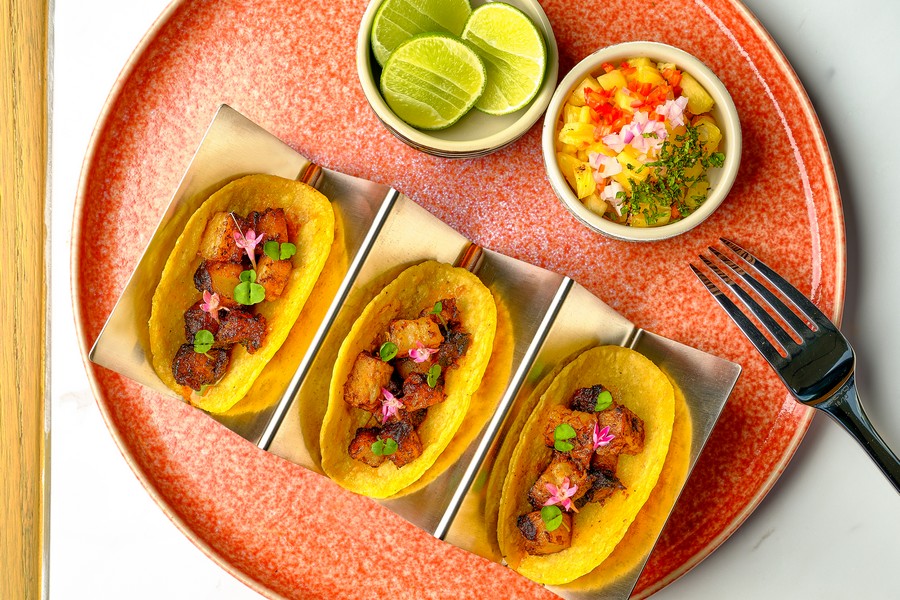 Reflecting its dynamic and inventive spirit, California's cuisine embodies a vibrant fusion of Mexican, Mediterranean, Asian, and American influences, celebrating fresh, local produce. From iconic Mexican dishes like tacos to inventive seafood creations and artisanal products, the region's diverse flavours come together in a laid-back, sustainable, and health-conscious dining scene.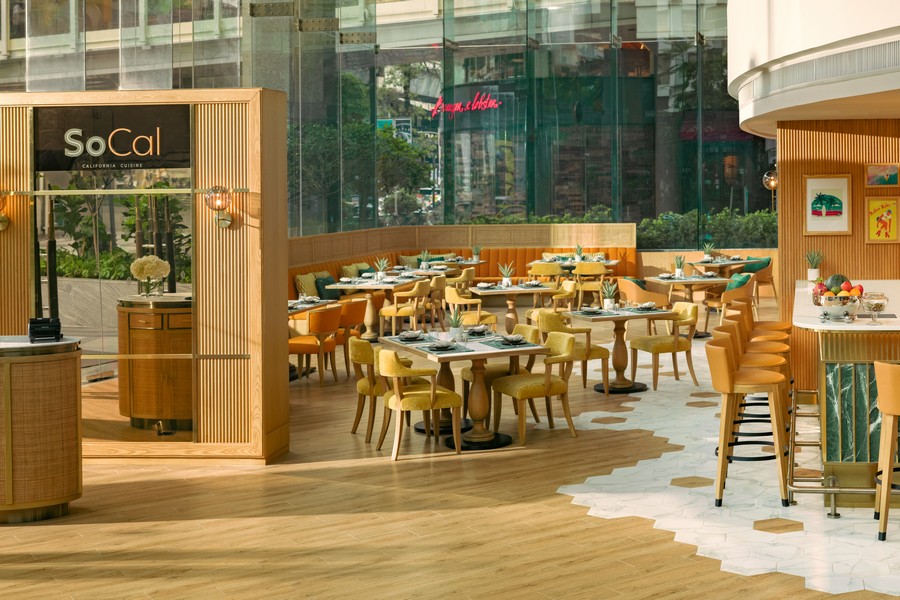 SoCal's dining environment exudes brightness and light, with floor-to-ceiling glass, burnt orange splashes like the famous west coast sunsets, vibrant citrus tones, Pacific Ocean blue greens, and warm blonde pine textures. Whether you are dining solo, as a couple or in a group, SoCal is a welcoming and casual space. The additional pavement-side alfresco dining deck is ideal for those balmy evening get-togethers.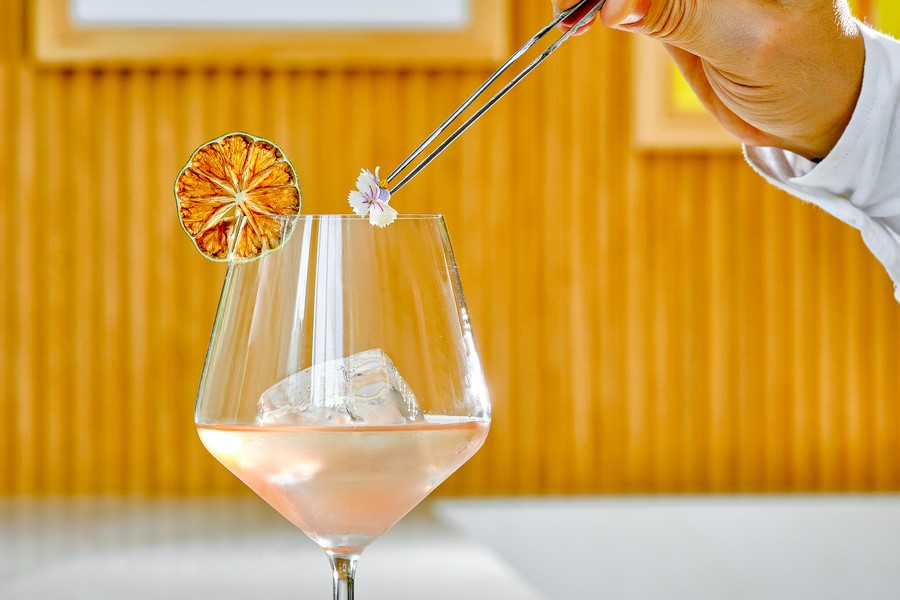 Perching at the SoCal bar is an excellent option on arrival as you watch skilled mixologists create signature and classic cocktails. The bourbon-based California Sour and its lemon, raspberry, and mulled wine notes appeal, as does A Day is Tijuana, blending tequila, Aperol, watermelon, lime and ginger beer. For beer lovers, there is a selection of US-created IPA brews, and with forty-seven Californian wines on an exhaustive wine list, your choice of US West Coast libations is well catered for.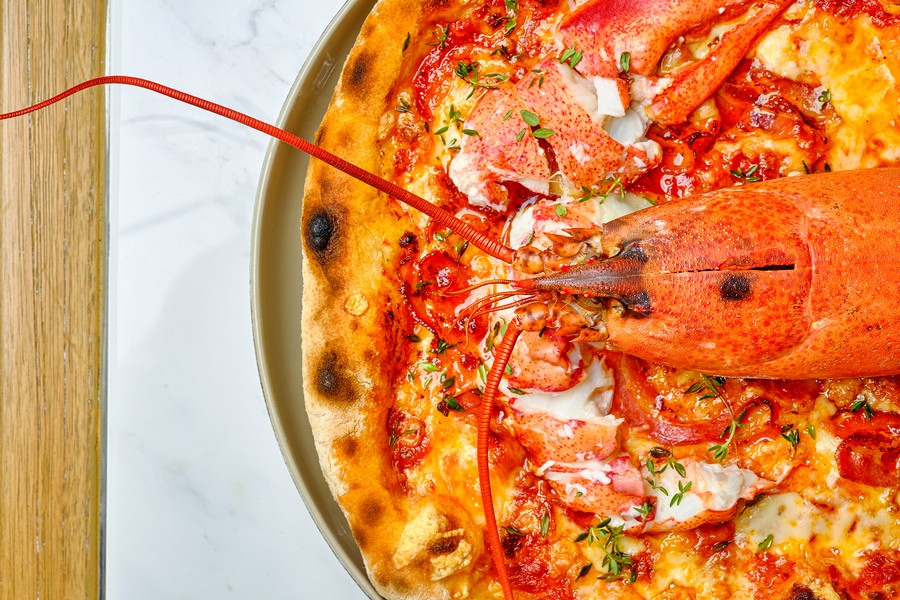 On the food side, Head Chef Dominic Hong Dongxie (Chef Dom to the team and dedicated clientele) showcases the best of Californian cuisine. His menu gives options like the seafood-focused Raw Bar, starters including house-made soft-shell tacos, appealing flavour-filled salads, California Pizza, including an indulgent whole lobster version, mains, sides, and a soon-to-be-expanded dessert section. SoCal's menu lends itself very easily to sharing or family-style dining, making for a fun dining experience.
Our food journey started with Tuna Tartare sitting atop a creamy and lightly spiced avocado crema, fresh mango and coriander salsa and topped with delicate crisp ribbons of cucumber with warm hints of sesame oil and ginger. A dish bursting with freshness and gloriously balanced flavours. The chilled Prawn Ceviche of cured tiger prawns in a spicy Mescal Bloody Mary sauce with crunchy fried tortillas made for scrumptious mouthfuls of heat and texture.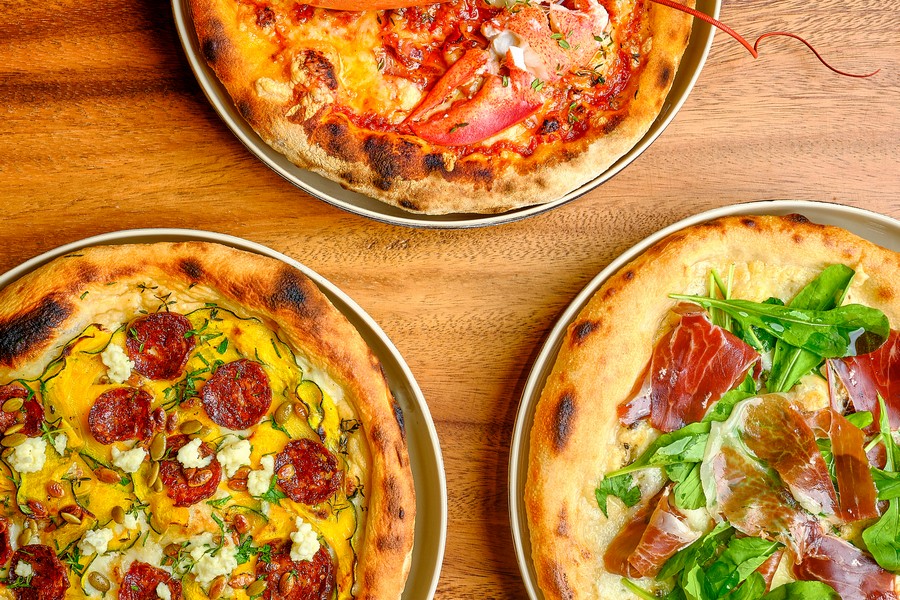 Chef's Baja Fish Tacos – soft shelled made in-house – pickled cabbage, warm flaky-yet-firm halibut, chipotle aioli and classic Mexican Pico de Gallo salsa were a delight. The wood-fired pizza choices include San Marzano tomatoes and fresh mozzarella; seasonal wild mushrooms with leek and garlic confit; black truffle and prosciutto; or Kabocha Squash.
This last option was our choice. Fresh from the oven – puffed crust with slightly blistered and charred outer edges and that distinct wood-fired flavour topped with manchego and ricotta cheese, thinly sliced Kabocha Squash and pepperoni. This topping combination could quickly become a firm favourite.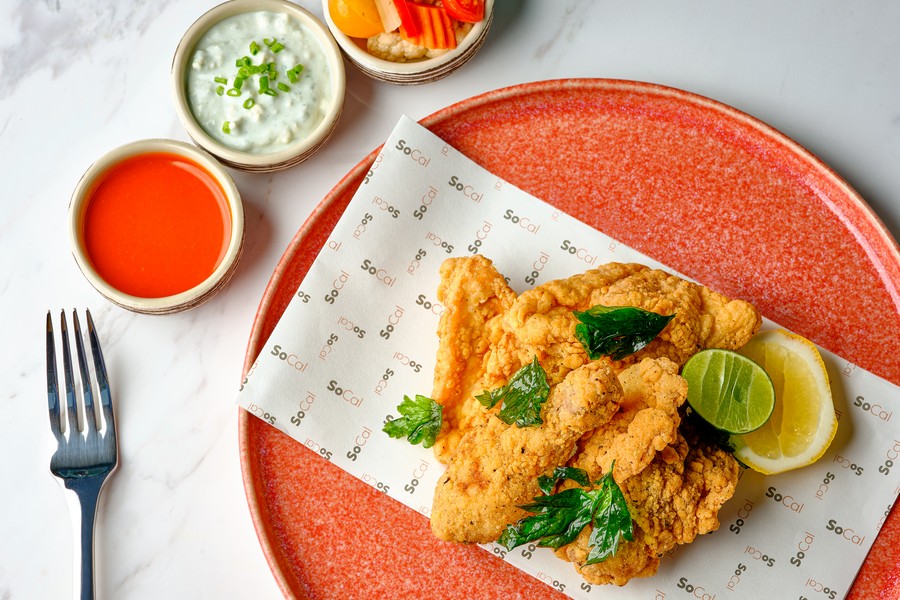 Main course choices range from highly favoured Ranger Valley steaks, buttermilk fried chicken, pasta dishes, roasted fish filet, San Francisco-style seafood stew, and a big Wagyu burger. We chose the Barbacoa (Caribbean)-style slow-cooked lamb neck covered with a luscious meaty jus and balanced by a clean and tangy fennel, orange and banana pepper salad. An absolute treat.
We selected two sides as partners to the main. Baked Kabocha Squash, or Japanese pumpkin, featured crescent-shaped baked squash pieces caramelised with maple sherry glaze and accompanied by toasted pumpkin seeds and crunchy sourdough crumbs. A dish that even people adverse to vegetables would want to order again. And crispy Duck Fat Potatoes topped with lashings of grated Parmigiano Reggiano. Here's a tip. Order a second serving of these to-die-for potatoes so you don't have to share them with anybody else.
There are four dessert choices currently, though Chef tells us a couple of additions are forthcoming once he finishes the fine-tuning. Chef's nod to America's much-touted apple pie presents as a French-inspired Tarte Tatin with its puff pastry base and generous cinnamon-rich baked apple pieces made even more luscious with ice cream and vanilla and cinnamon-scented sauce. The light, fruit-rich Strawberry Mouse sat on a biscuit crumb, surrounded by marinated strawberries and topped with a thin slice of airy meringue. Both desserts offered glorious endings to a fab food journey.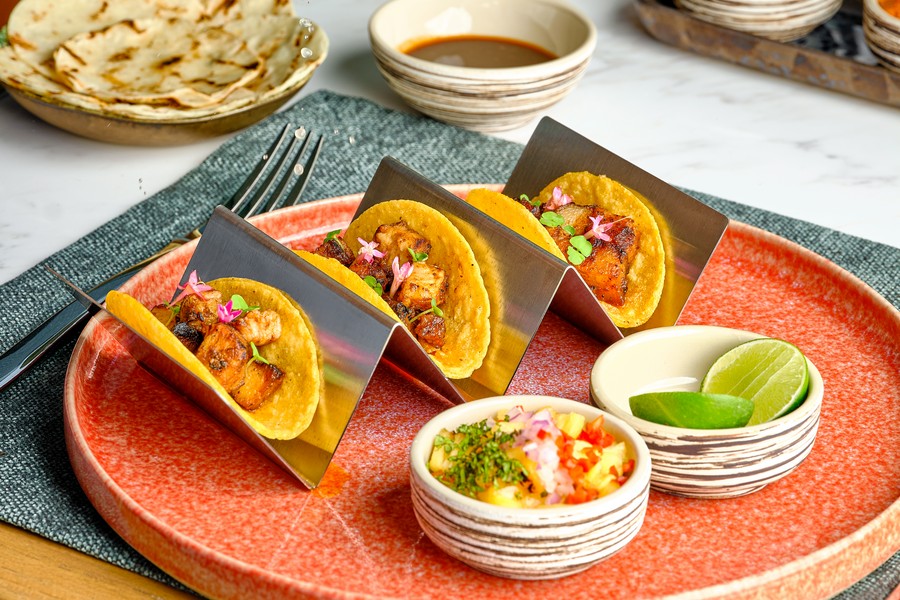 Those wanting to take a taco deep dive must make a beeline for SoCal's Taco Tuesdays. Available every Tuesday from 11:30 until 22:30 hours. Choose a set of three tacos priced at THB 280++ or concoct your own, selecting from the choices of proteins, fillings and sauces for a special price of THB 99++ per taco. Ideal for a tasty lunch or quick dinner when you get the crew together. No matter the reason, SoCal's tasty Taco Tuesday could be your new weekly 'best' thing to do.
SoCal at InterContinental Bangkok exudes a sun-soaked ambience and heroes the laid-back yet innovative cuisine of California's coast. A dynamic fusion of Mexican, Mediterranean, Asian, and American flavours creates a rich taste tapestry. SoCal is a fantastic addition to the central Bangkok dining scene. Located on the ground floor of InterContinental Bangkok and operating daily from 11:30 to 23:00. Call +66 (0) 2 656 0444 or email dining.bkkhb@ihg.com for reservations or further information on SoCal.