Chiang Rai is Thailand's northernmost region and is often overshadowed by the more internationally recognised neighbouring region of Chiang Mai. Chiang Rai is a developing city, with many people worldwide introduced to it due to that Cave Rescue, which had the world watching with bated breath for 18 days mid-2018.
As the primary gateway to the Golden Triangle, Chiang Rai is also growing as a tourism hub thanks to its towering mountains and lush forests, rich Hill Tribe heritage and burgeoning community-based tourism. The regions pre-eminence as Thailand's major coffee and tea-producing region with organic farming a key component is also an attractor. Further tourism infrastructure is also developing with this growing visitor interest.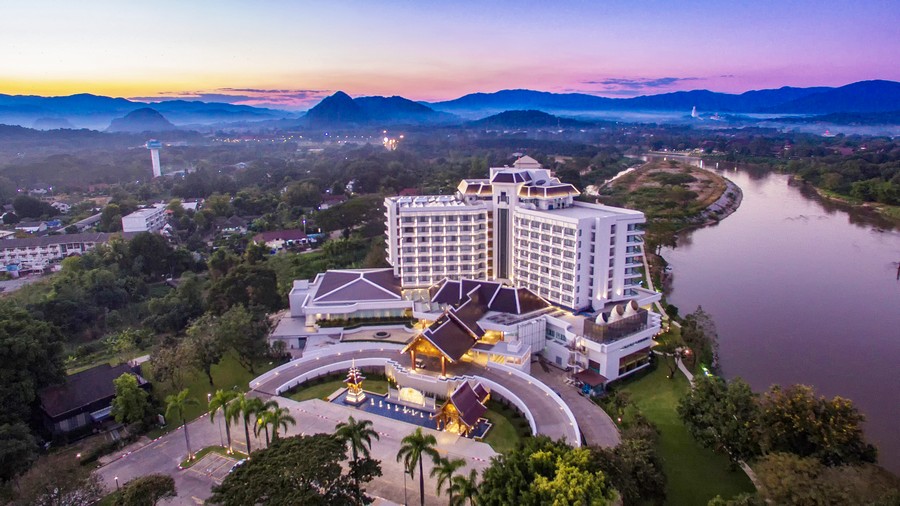 When talking infrastructure, one of Chiang Rai's leading five-star hotels must be The Riverie by Katathani, nestled in its tropical oasis with mature trees and expansive gardens encircled by the River Kok. Initially operated by the Dusit Group, the recently renovated and upgraded 271 room property is located on an island in the middle of the Kok River, just minutes from central Chiang Rai. The Katathani team has created a contemporary five-star hotel to satisfy the most selective of travellers.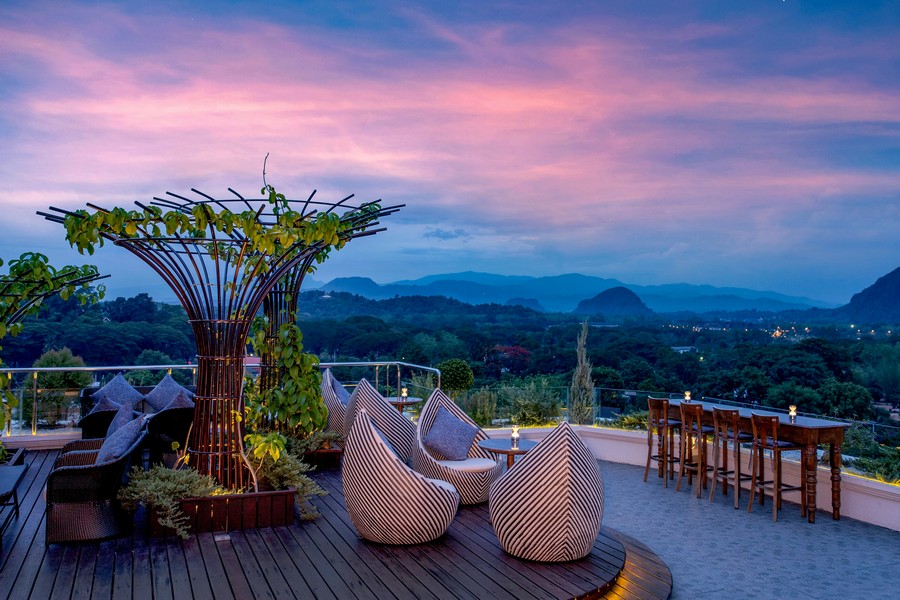 Captivated by this property, the Let's Eat team had to experience the hotel's restaurant offering, with the rooftop Peak Wine and Grill capturing our attention. With expansive district and distant mountain views, it's worth a trip to the 10th floor just for late afternoon drinks and stunning sunsets.
The polished timber flooring, muted caramel and chocolate tones, and floor-to-ceiling windows providing 180-degree views are the first things that grab as we enter the restaurant. Stepping past the bar and onto the open deck is when the vista becomes even more captivating. This space has two distinct areas: casual seating for sunset or evening drinks and a separate slightly raised timber deck for alfresco dining, complete with ornate metal balustrading, light curtains, subtle lighting, and Kok River views.
As a promising beginning to our food journey, a breadbasket with house-made focaccia and crusty breadsticks was presented once the professional, alert, and attentive staff had taken our orders.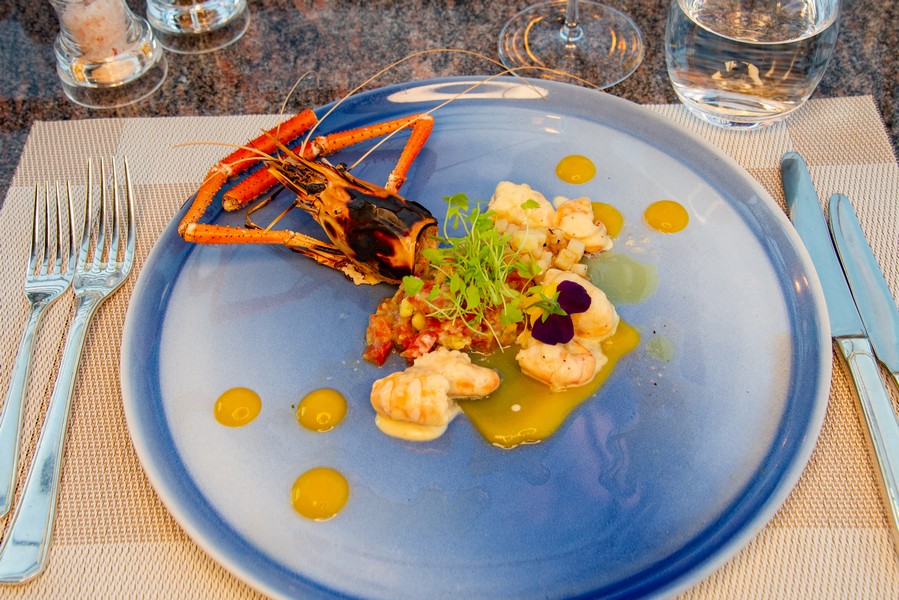 Chiang Rai River Prawns start our evening with the succulent sweet meat, cooked in a wine cream sauce and accompanied by a tomato and corn salsa, local potato salad and mango fruit gel. Also local was the Smoked Duck Salad. Lightly smoked tender duck breast pieces with orange segments, tomatoes and olive with a white grape and mustard dressing, and sunflower seeds for crunch.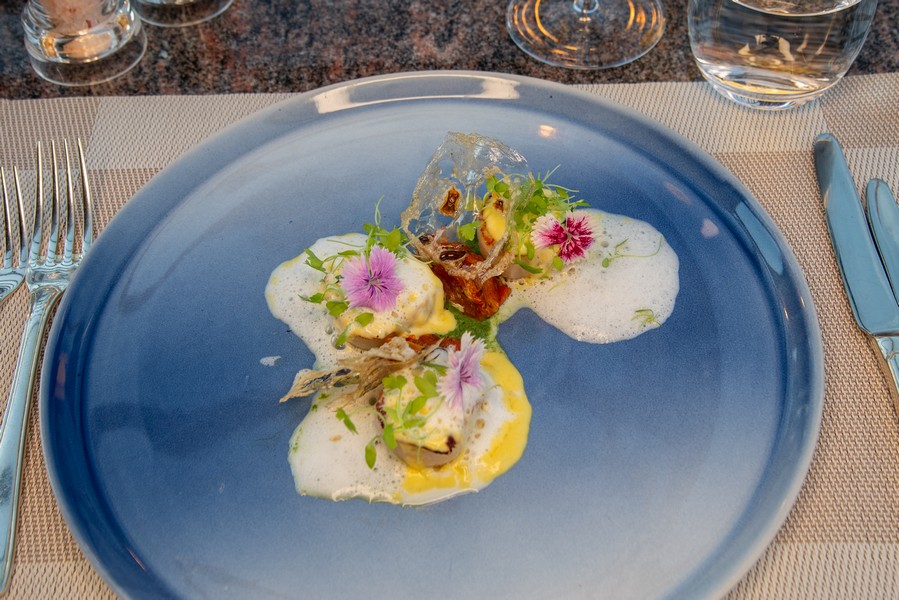 Our third starter was Seared Hokkaido Scallops with the lightest sear on the scallops, dressed in a white wine foam and saffron cream, plus sundried tomato and glass potato chip. All beautifully presented and prepared with a skilled and delicate touch.
Between courses, we were served a passionfruit sorbet as a palate cleanser. A wonderful surprise and another example of the thought restaurant management have put into the guests dining experience.
Our mains took us from Thailand to the Pacific and down to Argentina. First, well-rendered and cooked pink Grilled Thai Duck Breast was partnered with a rosella sauce, sweet potato and date mousse, sauteed shimeji mushrooms and crispy pistachio crumb. Next, the Pacific for a Pan-seared Salmon Fillet atop a chickpea puree, fresh caper berries, a luscious Hollandaise sauce, and an assortment of lightly cooked vegetables.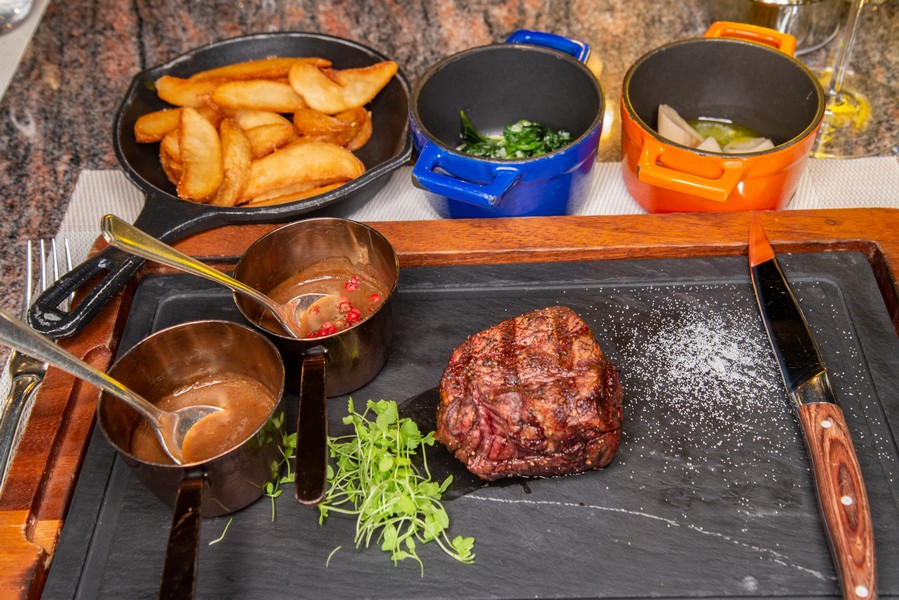 Our final main was a 250-gram Argentinian Tenderloin Steak cooked how we asked and impressively presented on its wooden board. A choice of two sauces and three sides, including crispy fried potato wedges, creamy sauteed spinach, and king mushrooms, were all perfect accompaniment for a quality piece of beef. The red wine and pink peppercorn sauces added to the luxury of the dish and fitting partners to an excellent steak.
Dessert time and what a delectable choice we had. First, a tropical twist on a traditional French dessert with Pineapple Tarte Tatin. A pastry base then light cake topped with the caramelised pineapple ring served with a butterfly pea coloured coconut ice cream.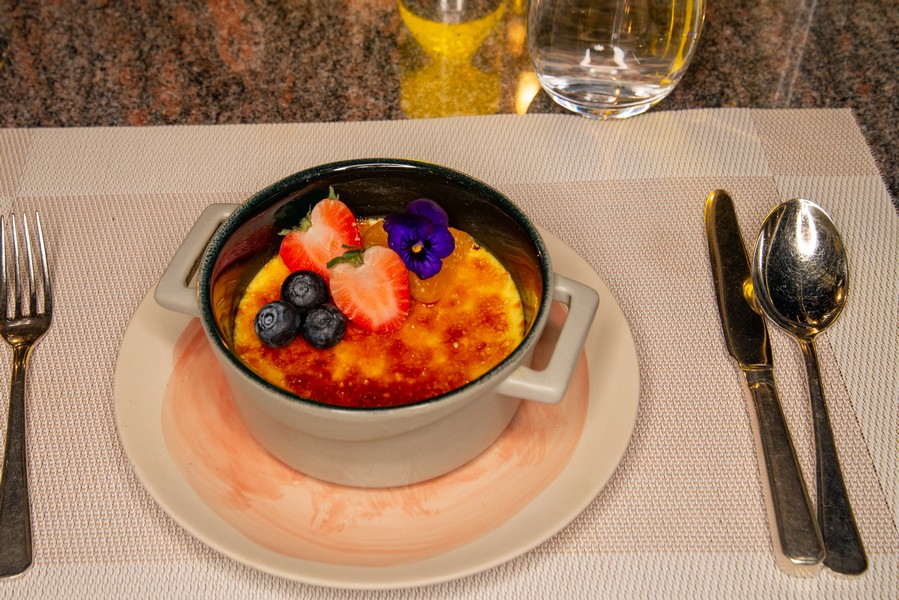 A generous serve of the classic Crème Brulée shared our dessert table. Its custard interior—rich in texture, warm and familiar in its vanilla flavour with that crunchy burnt sugary crust, the "Brulée". The seasonal berries added a fresh counterpoint to creamy lusciousness.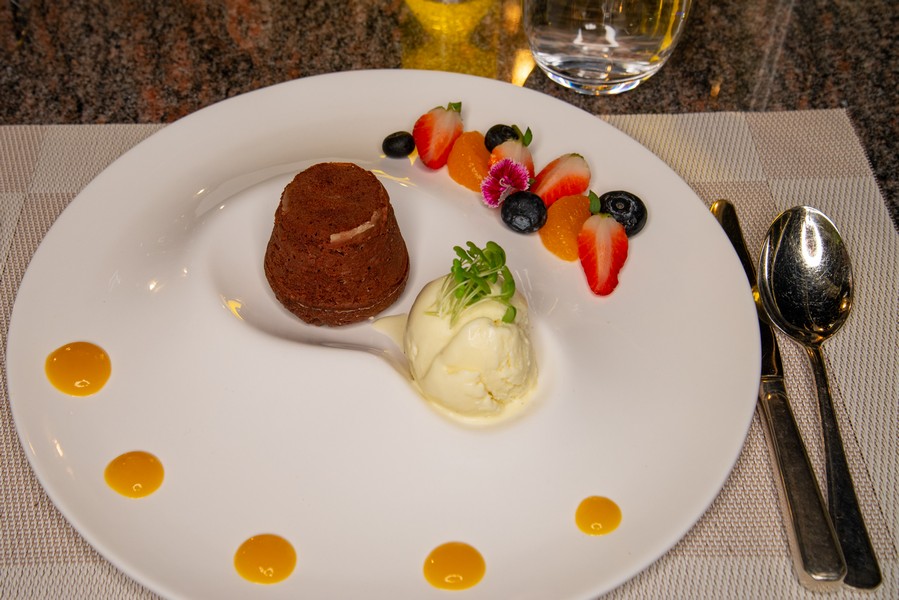 Organic chocolate from northern Thailand always captures our attention. Use that fabulous ingredient to create Lava Cake – warm with a gooey chocolate centre – and you have our hearts. Add homemade vanilla ice cream and mango gel drops, and comfort foodie heaven is beckoning. This Organic Chocolate Lave Cake rounded out our desserts perfectly.
The Peak's rooftop bar has to be one of Chiang Rai's must-visit spots for sundowner or evening drinks and opens at 17:30. Stay on for dinner in Chiang Rai's highest restaurant savouring the gourmet delights with your companions.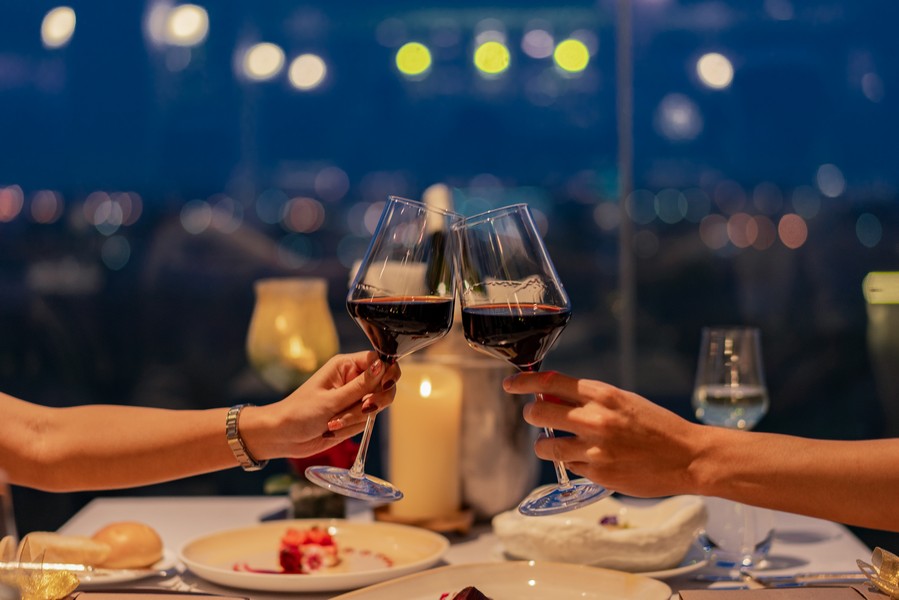 Overlooking the river with the city's twinkling lights, the enchanting and even romantic atmosphere is sure to charm.
The Riverie Resort has three dining outlets – their all-day Blossom Restaurant, China Garden focused on Cantonese Dim Sum and authentic a la carte Chinese, and the rooftop evenings-only The Peak Wine and Grill. If our experience at The Peak is anything to go by, the other two outlets are also a must-try!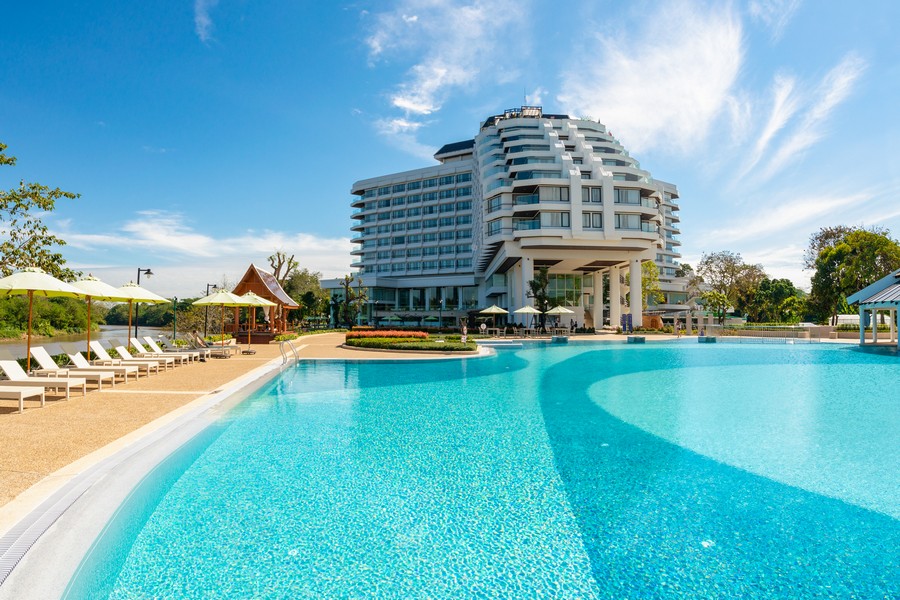 For further information on the hotel and its restaurants, visit www.theriverie.com or call + 66 (0) 53 607999. The Peak Wine and Grill at The Riverie by Katathani is a must-visit when next in Chiang Rai.
By Michael Cullen