GranMonte Winery in Khao Yai's Asoke Valley has been cultivating grapes since 1999. It started as a hobby for soon to retire Bangkokian Visooth Lohitnavy. Some 22 years on, it has grown from the experimental 10 acres under vine to a vineyard of 40 acres plus a further 35 acres in the neighbouring Wang Nam Khiao region.
This family-run business currently produces 120,000 bottles a year, with just under a quarter exported to Hong Kong, Japan, and European markets. GranMonte wines have gained international recognition and won over a hundred medals and trophies from international wine competitions in France, Austria, England, Hong Kong, Japan, Singapore and Thailand.
Our "Let's Eat" team believes that no vineyard is complete without an onsite restaurant where the local wines can be enjoyed alongside suitable food accompaniments. And that's precisely what GranMonte's VinCotto restaurant is all about.
Dine on the timber deck, under broad umbrellas overlooking the quaint lagoon, or indoors in light-filled spaces with verdant garden outlooks. VinCotto offers two comprehensive menus – Thai and European, and then there is the extensive wine list with an excellent range by the glass.
Many of the dishes featured on the menus came from matriarch Sakuna Lothinavy's family recipes. Join us on our VinCotto food journey, and you will soon realise, as we did, that Khun Sakuna has an outstanding culinary repertoire that has now passed to the restaurant's kitchen team. And then there are the simple touches like the 'wine salt' present on each table. A salt infused with a Cabernet Sauvignon reduction, dried and crystalised, reinforcing the overall wine theme.
Two appetisers from the European menu plus one from the Thai started the journey. Pan-seared Foie Gras atop grilled apple slices, a balsamic glaze, grape, and verjuice sauce. Creamy, buttery, rich grilled liver offset nicely with a slightly sweet and sour sauce—indulgence on a plate. Next, Chicken Wrapped in Vine Leaves. Bite-size pieces of marinated chicken, wrapped in vine leaves and lightly fried, delivering soft, tasty crisp mouthfuls.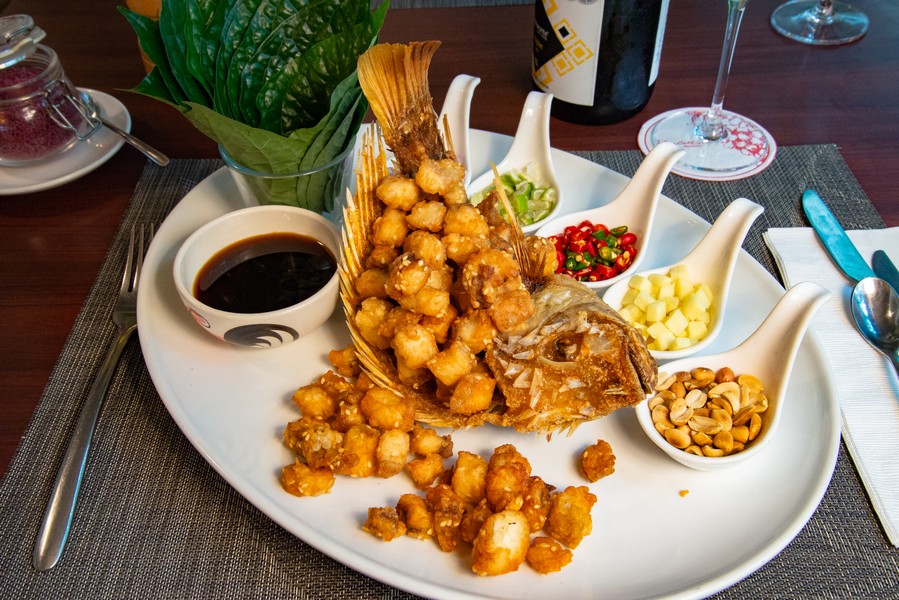 Two or three people would ideally share our Thai appetiser – Mieng Pla Tub Tim or deep-fried pieces of Red Talipia. This is a traditional snack from the central and Issan regions of Thailand, though elevated at VinCotto with the use of fresh fish (Pla) instead of dried shrimps. The name Mieng Kham translates to 'one bite wrap.' Take a highly nutritious cha phlu leaf top it with fish, diced pieces of shallots, chilli, ginger, roasted peanut, and some sticky sweet tamarind sauce, fold it, and pop it in your mouth – simply delicious.
Our Thai main is Kanom Jean. Unlike the street food and market versions of this Thai staple, VinCotto has created a refined restaurant version of this classic dish. The thin glistening white rice noodles remain a central element, as does the flavour-filled curry sauce. The vegetables, typically served fresh on the side, have been lightly battered and quickly fried for this rendition. Crumbed and fried prawns are also an addition, while pickled daikon and beans add a crunchy fresh element—a Royal household-worthy dish.
Our other two main dishes transported us straight to a cosy French restaurant, and GranMonte's iconic 2015 Asoke Cabernet Sauvignon-Syrah was the perfect companion to both. The slow-cooked Lamb Shank in Red Wine with braised vegetables can best be described as fall-off-the-bone heavenly yum.
We also came to understand why the Coq au Vin is a Lohitnavy family favourite. Our deep wine-braised whole chicken leg was a comforting and flavourful delight with the accompanying potato, carrots and king mushrooms adding extra lusciousness to the sauce. Edif Piaf or Louis Armstrong's version of La Vie en Rose playing gently in the background would have entirely transported us to that French Bistro.
Not only does winemaker Nikki make outstanding wines, she grows and preserves Vanilla beans, and this gentle but distinct flavour features in our first dessert. Apple Crumble with Vanilla Sauce and ice cream. The crunchy crumble atop oven-baked apples and raisins with hints of lemon married well with the warm vanilla-infused, not overly sweet sauce: the ice cream a delightful bonus.
Grapes were the other theme in the remaining two desserts, though table grapes and not wine grapes. A creamy and suitably wobbly Panna Cotta topped with a grape preserve. And a biscuit crumb-based cheese pie with fresh grapes. All crowd-pleasing finishes to the meal.
VinCotto opens daily from 7:30 am to 8:00 pm, with reservations recommended in the high (winter) season, long weekends, and holidays. Drop in for one of their Breakfast Sets if needing morning nourishment, or swing by for lunch or dinner. Contact details for reservations plus further information on VinCotto can be found here.
Before or after your meal, spend some time in the GranMonte Shop for GranMonte wines and grape juices, plus local artisanal food products. Or be sure to sign up for a vineyard tour and wine tasting to better understand the vineyard and wine production process before sampling its award-winning wines. GranMonte Wine Cottages may be a great option if looking for a romantic overnight or weekend stay in the vineyard.
Mid to late February is typically when the long-cared-for fruit on the vines are picked and handed to the winemaker for the next stage in its evolution. This is a time of celebration, and Granmonte's Harvest Festival is something that the public can participate in. Do keep an eye on their Social Media pages for news of this coming year's festivities.
GranMonte and VinCotto are well worth your time when next in Thailand's Khao Yai region.
By Michael Cullen