Hua Hin has a brand new beachside dining experience, bringing the vibrant flavours and cooking styles of South America to Thailand's idyllic Gulf Coast shores. The grand Dusit Thani Hua Hin is where this new venue – Nómada – can be found, and if the "Let's Eat" team's experience is anything to go by, it needs to be added to your 'must try' dining list.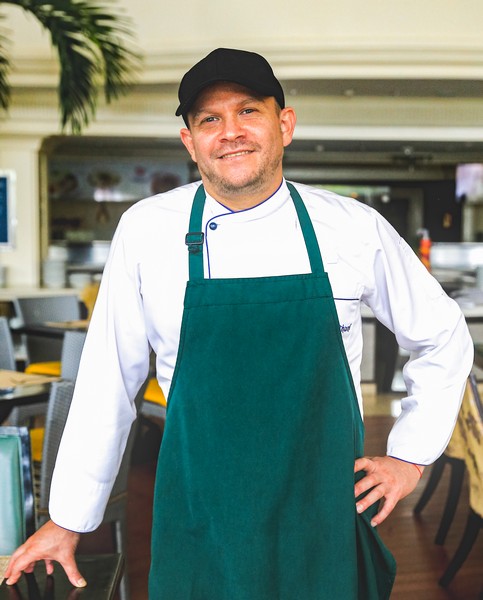 Following 20 years in leading restaurants in Chile, Peru-Argentinian Chef Andre Josef Nweh Severino takes the reins of the kitchen brigade. His menu marries the fire of the Asado (Argentinian barbecue), Peruvian and Chilean love for spicy peppers, fresh seafood, and quality meats, all prepared and presented with distinct Spanish influence. Nómada also is a nod to South American indigenous cuisine – taking its name from nomadic hunters, gatherers, and fishers that sustainably live off the land.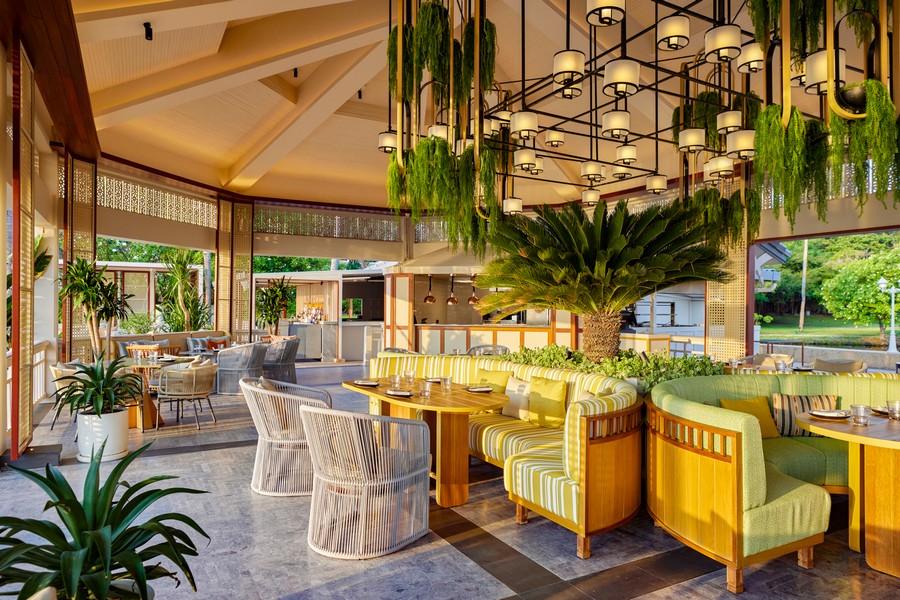 Replacing what was formerly the resort's Rim Talay Bar & Grill, Nómada boasts a fresh new and contemporary look with an understated design that oozes elegance, comfort and warmth. A beach facing spacious semi-open central pavilion with an open kitchen and indoor garden serves as the main dining area. Rattan lanterns and wall panels, carefully positioned plants, a centrepiece lush garden and statement light feature create a welcoming space for leisurely dining. If alfresco is more your preference, cosy nooks where you can sink into oversized loungers or bean bags on the outdoor terraces are ideal for sharing refreshing drinks and Chef's Tapas style Small Plates.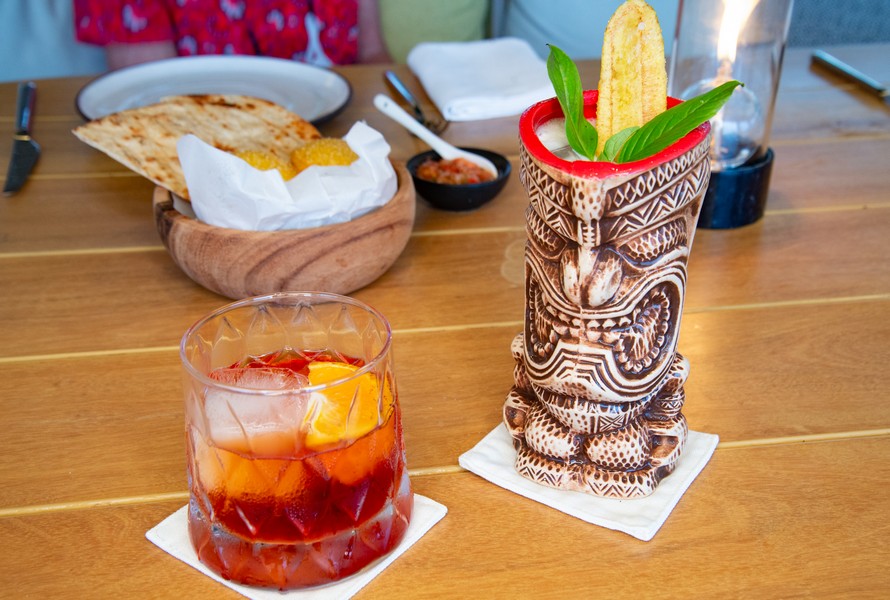 Nómada's beach bar is where it's at with craft beers, fine wines, healthy juices, plus classic and signature cocktails. Try the peppery and sour Piñapeño (House-made fermented pineapple skin liqueur, rum, plum sugar, and jalapeño) or the bitter and fruity Tegroni (Tequila, Campari, burnt citrus, and sweet vermouth). With the beach just meters away, Nómada's bar offers snug private wooden cabana hideaways and open lounge spaces for mingling by the sand.
Having headed the kitchen of Pulmay Restaurante – rated among the top seafood restaurants in Chile's capital Santiago, fresh seafood is essential to Chef Andre. In his own words, "The seafood here is so fresh and so sweet without strong aromas. It is so good!" Having access to produce from the resort's expansive organic farm helps with Chef's desire for sustainability. His biggest love, though, is his barbecue grills (Asado), where a lot of his cooking happens, from infusing smoke into individual elements to slow or high-temperature cooking of sides and main dish ingredients.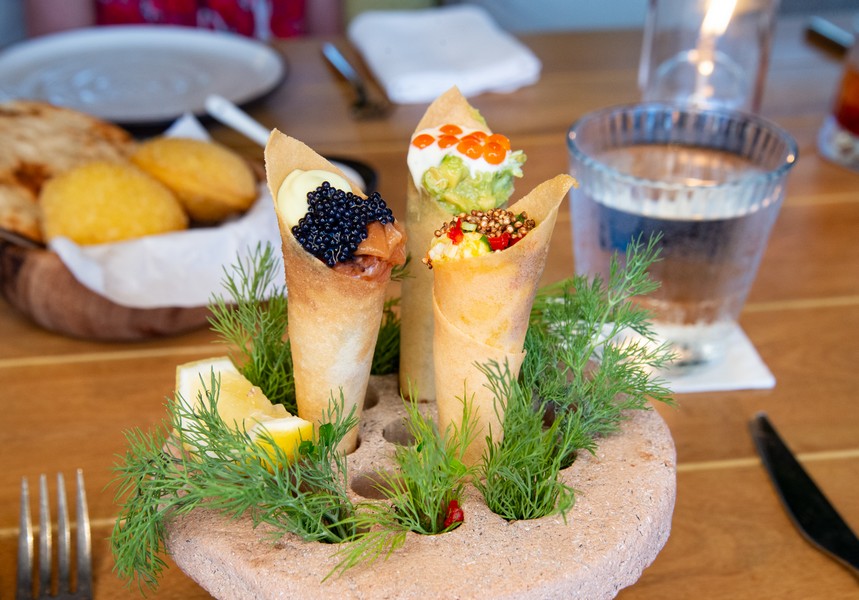 Our Nómada food journey started with sampling Chef Andre's Small Plates. Crispy Cones – three cone-shaped fried spring roll wrappers, each filled with a tartare of seafood: salmon with soy and sesame oil, shrimp with house-made mayonnaise and crispy quinoa, crab with avocado brunoise. Petit is size, bursting with fresh flavours and served in a custom stone cone holder. Tiradito of Fish and Shrimp – sashimi-style sliced raw fresh local Sea Bass and just seared prawns on a Chilean yellow chilli sauce with chives and Pebre. A gently spiced Chilean salsa akin to an Argentinian chimichurri.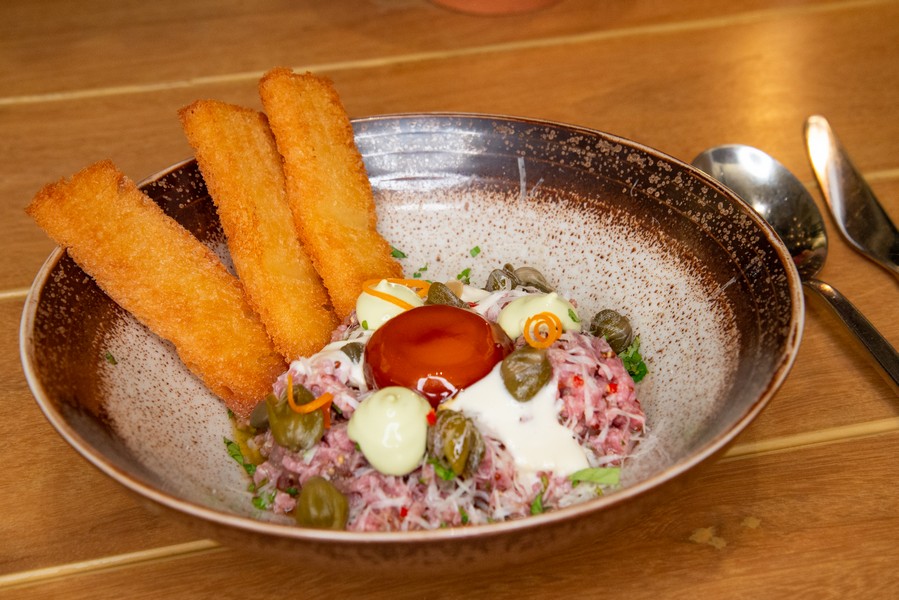 Scallops – in their shell, topped with Parmesan, yellow pepper and leek sauces, crispy quinoa and then cooked atop the grill, taking on a lightly smoky, almost bacon-like tones. Delicious delight on a shell. Our final Small Plate was Beef Tartare. House-smoked shredded raw beef fillet seasoned with local spices and topped with a soy-cured egg, avocado mousse, milk emulsion, plump capers, and accompanied with generous fried bread fingers to spread your tartare across. An enjoyable take on a classic and, like most of Chef's Small Plate, great for sharing.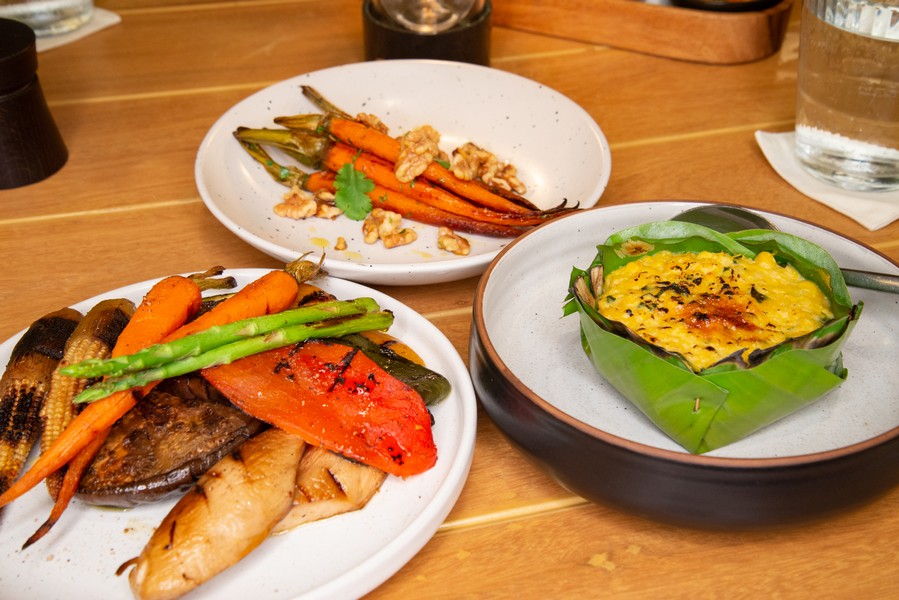 Nómada's menu has the main dishes listed under the heading of Wood & Fire and invites diners to "discover the fragrant aromas and sumptuous flavours of perfect-for-sharing meat and seafood signatures cooked over fire with South American flair". Dishes are served elegantly though simply, with the hero item, requisite sauces and simple adornments. Vegetables and other sides are ordered separately with choices like Corn Tamale, Grilled Vegetables, Baby Carrots with Walnuts, two Potato dishes and Garden Salad – all in generous portions.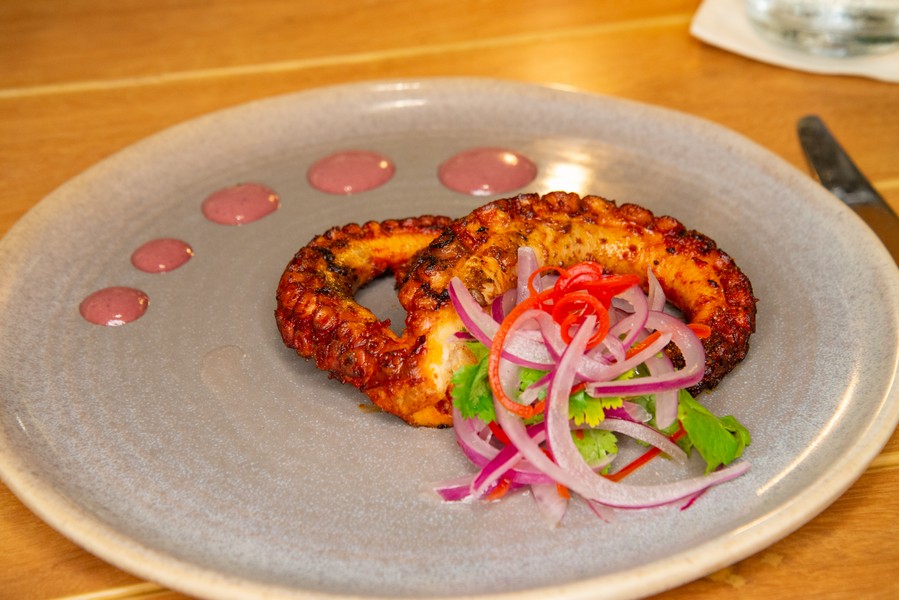 We sampled four dishes starting with Octopus. Wine marinated tentacles flavoured with paprika, then slow-grilled and served with black olive tapenade, and dressed with fresh coriander and pickled onion. The smoothly blended tapenade with the olives' salty, slightly bitter notes and perhaps a bite of capers, anchovy and garlic was a supreme marriage with the meaty yet tender Octopus. Mediterranean delight on a plate.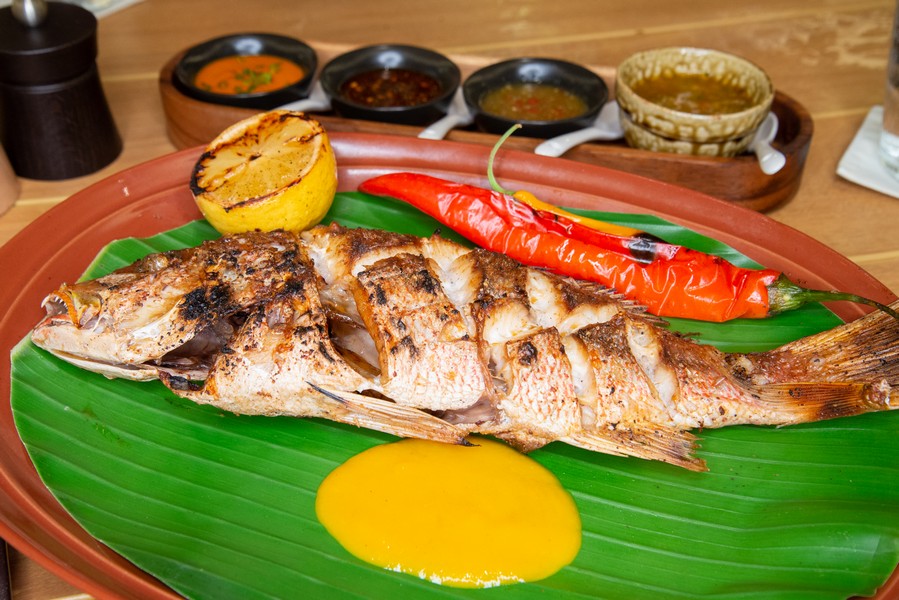 Keeping with the seafood theme – Whole Fish – specifically a plate-sized whole snapper. Barbecue grilled, served on a banana leaf with Chef's smoky, sweet and spicy yellow chilli sauce and a grilled half lemon which generously released its juices when squeezed over the fish. There is something special about barbecued food, and this crispy-skinned, though still moist fall-off-the-bone snapper was no exception.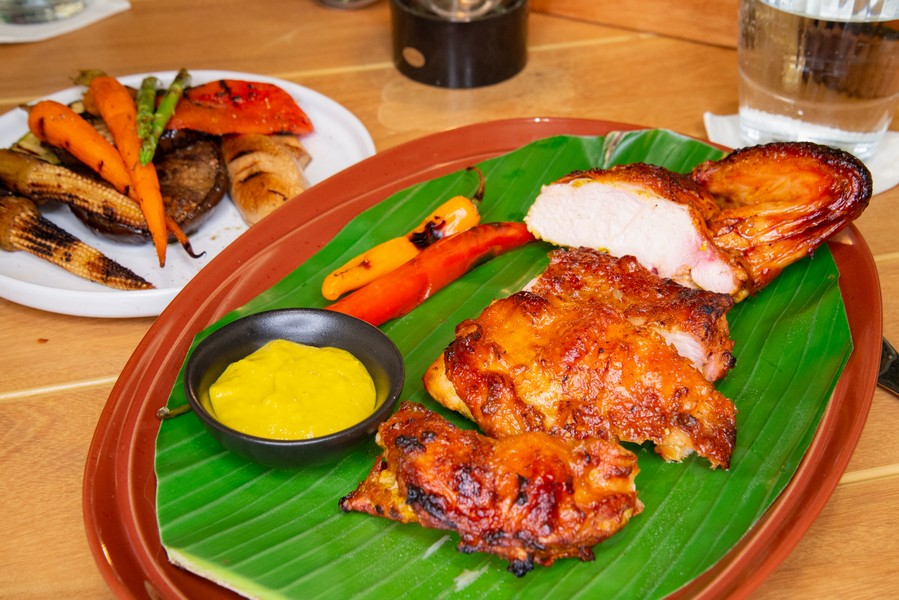 Main dishes come with four sauces – Chef's flavour-filled and spicy Chimichurri, Aji Rojo – a Peruvian-style chilli sauce, Thai "nam jim seafood", and Thai Roasted Chili Sauce "nam jim jaew." And all had a place like with – Chicken – a boned out half-chicken, marinated for 24 hours with Peruvian-style chilli paste and local spices, then barbecued. Juicy, soft, succulent, smoky and tender with gloriously caramelised crispy skin. Or the final main, the famous South American Pichanha (beef rump cap) slow grilled and served sliced. Beautifully tender, juicy, and so moreish.
Nómada's dessert selection offers three choices, and sweet lovers, that's all you need. Starting with Pineapple – local pineapple grilled for the smoke rather than cooking with a dark toffee sauce, crumble and house-made coconut ice cream. Cheesecake – a small dome of creamy passionfruit and papaya mouse cheesecake atop a tin biscuit disc and enhanced further with drops of papaya gel. Finally, Cocoa – decedent molten chocolate lava pudding, vanilla ice cream with touches of berry sauce and fresh seasonal fruits. All equal favourites, or so adjudged by our team.
Hua Hin residents and visitors, take note – Nómada delivers a new stylish beachside dining experience. Replete with tropical abundance, incredible freshness, skilful use of spices from two cultures, and the open flame and flavours of the grill as the hero. Perhaps it's time to make your way to Dusit Thani Hua Hin to check out Nómada for yourself.
Nómada opens Wednesday to Sunday with lunch from 12:00 to 15:00 and dinner from 18:00 to 22:00. Nómada Bar stays open a little late on weekend evenings. For more information or reservations, call +66 (0) 3252 0009.
By Michael Cullen