Siem Reap is a bucket list destination for many travellers. Angkor Archaeological Park, an iconic UNESCO-listed World Heritage Site and ancient capital of the Khmer Empire, tops most visitors' must-do. And, thanks to a recent visit, I can confirm Siem Reap is much more than a land of temples and ruins.
This beautiful city offers a rich cultural heritage, thriving arts and creative vibe, fantastic dining, peaceful countryside, warm and welcoming people, and world-class hospitality facilities. A breadth of immersive activities for all ages awaits. Be sure to allow time in your travel itinerary to give sufficient exploration of Siem Reap's enchanting and exotic offerings.
Post-pandemic visitors to Siem Reap will also benefit from the now-completed USD150 million infrastructure makeover. The city boasts new roads from the airport, all through town and out to the Archaeological Park. Add to that broad and level pedestrian-friendly footpath, plus dedicated cycle paths in all key locations, including out to Angkor Wat. With power and telecom cabling now underground, Siem Reap's French-influenced architecture, tree-lined streets, and picturesque river running through town are even more attractive.
Ancient Temples
The Angkor Archaeological Park covers an area of approximately 400 square kilometres and is what remains of the ancient Khmer capital. From here, the Khmer empire oversaw much of Southeast Asia from the 9th to the 15th century. It was the largest pre-industrial city and home to more than a million people then and remains the world's largest religious monument. Attracting millions of visitors yearly, it is considered one of Southeast Asia's most important archaeological sites.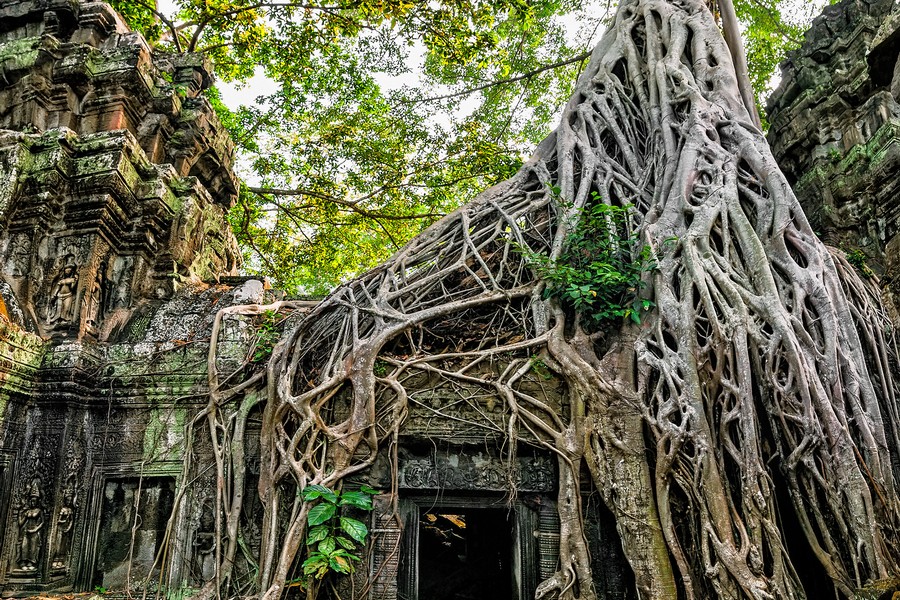 The Archaeological Park is home to numerous temples, reservoirs, and other structures, with Angkor Wat being the most famous of these structures and the centrepiece of the park. Other temples worth exploring include Bayon Temple, renowned for its massive stone faces. Ta Prohm Temple, famous for the trees growing around and through the ruins, and Banteay Srei, with its intricate carvings. In addition to the temples and other structures, the park contains several reservoirs used for irrigation and as water sources for the population, including the largest, the West Baray.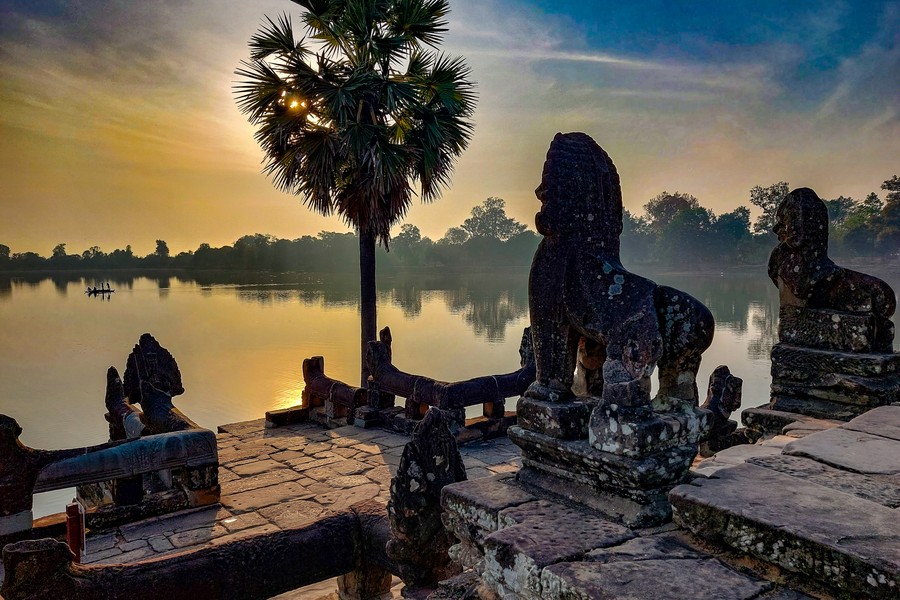 One-, three- and seven-day Passes can be purchased at the new Archaeological Park ticket office. You must show this at each temple, so keep it handy. Once armed with your Pass, visitors can explore the ruins independently or on organised tours. Local Tuk Tuk drivers will also take you around, but be sure to have a registered guide to understand the details of what you are seeing. For something different, operators like Grasshopper Adventures have half and full-day bike and e-bike tours. While Vespa tours with Adventures Cambodia are a great option.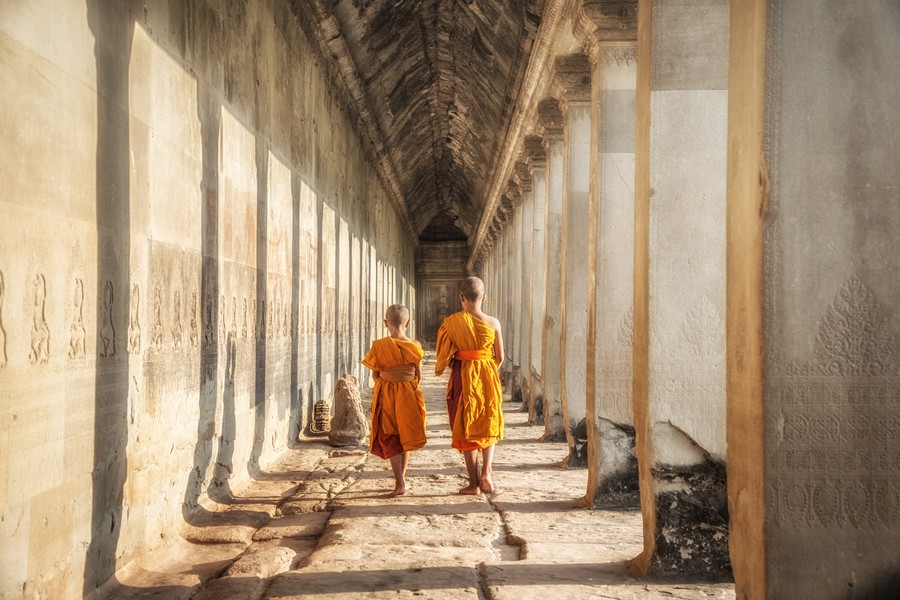 Museums and History
Visiting the Angkor National Museum before touring the temples provides excellent insight and perspective on the historic site. The displays are well-signed, and an informative audio guide is available.
Opening the door to another part of Cambodia's history, the civil war is NGO APOPO. Cambodia is one of the most land mine-impacted countries. APOPO, with its HeroRATs, is helping clear the country of these heinous and deadly leftover munitions. A tour of their visitors centre will help you understand and support the life-saving work they are doing. The Landmine Museum also divulges a wealth of information about this sad part of Cambodian history.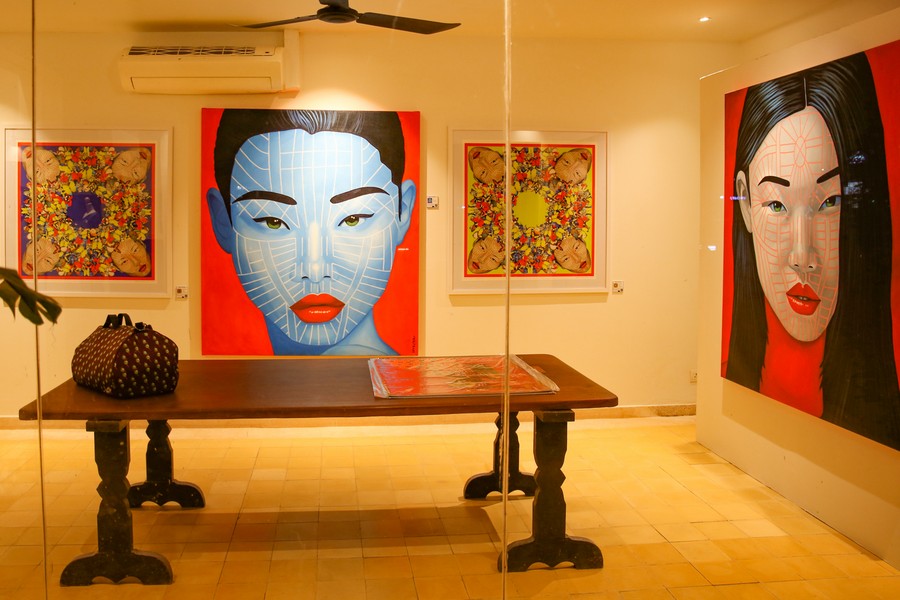 Arts, Crafts, and Creative Industries
The Civil War resulted in a colossal loss of intellectual, educated, and artistic Cambodians, as many were killed. A few lucky ones managed to flee the country. Since then, a revival driven considerably by NGOs and expats supporting, training, and educating locals has achieved remarkable results.
When it comes to fine arts, Theams Gallery presents exquisite visual arts, an authentic insight into Khmer culture, and a workshop with young apprentice artisans sculpting, painting and lacquering. Christian Develter Gallery at Avani FCC presents striking, distinctive portraits of Asian women. Stocker Studio creates stunning decorative items using Cambodian natural lacquer and textures employing disadvantaged Cambodians to produce magnificent pieces.
High-end fashion from Ambre by Romyda Keth grace the Paris catwalks. Eric Raisina fabrics and fashion items are world acclaimed. Kandal Village has many quality clothing and accessory stores supporting women in employment. Handicrafts and art can be found in markets everywhere. However, if you want sustainable, handcrafted, authentic products, check out SATCHA, a new artisan cooperative reviving ancient Khmer crafts.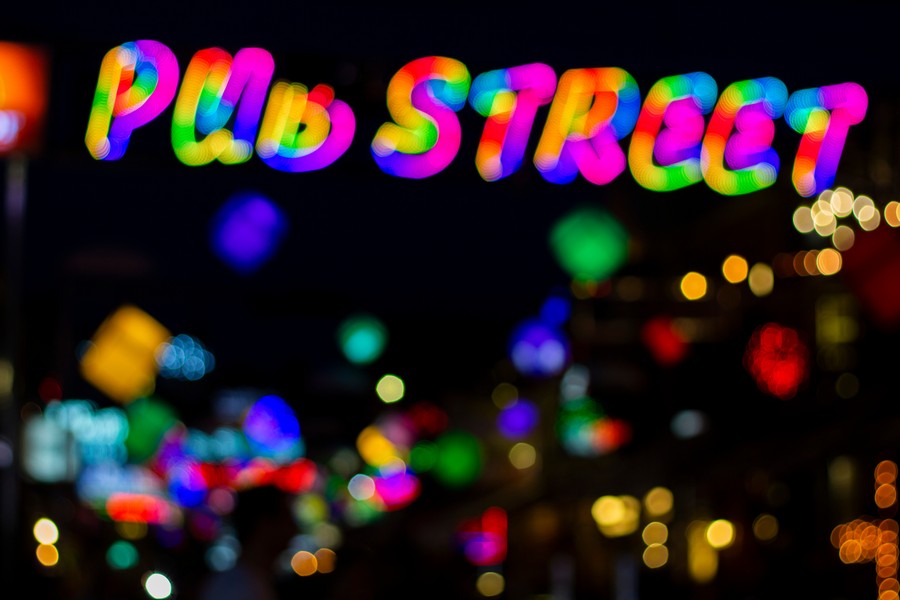 The Food and Drink Scene
Naturally, many restaurants and markets offer tasty food at inexpensive prices, featuring Cambodian and international cuisine. Thanks to their IndoChine colonial era, French overtones can easily be seen. Visitors will be surprised by the abundance of excellent dining options with inspiring stories.
Pub Street is an entertainment hub with pubs, clubs, restaurants, and cafes. Becoming increasingly popular is the Wat Bo precinct, with more low-key, laid-back restaurants, bars, and lounges. The following are some standouts from Wat Bo. Cuisine Wat Damnak offers a regularly changing, beautifully presented, delicious Khmer Tasting Menu. For authentic home-style Cambodian cooking, book a table at The Sugar Palm. Featuring fantastic cocktails, quality drinks, and sharing-style dishes in a picturesque setting is Miss Wong.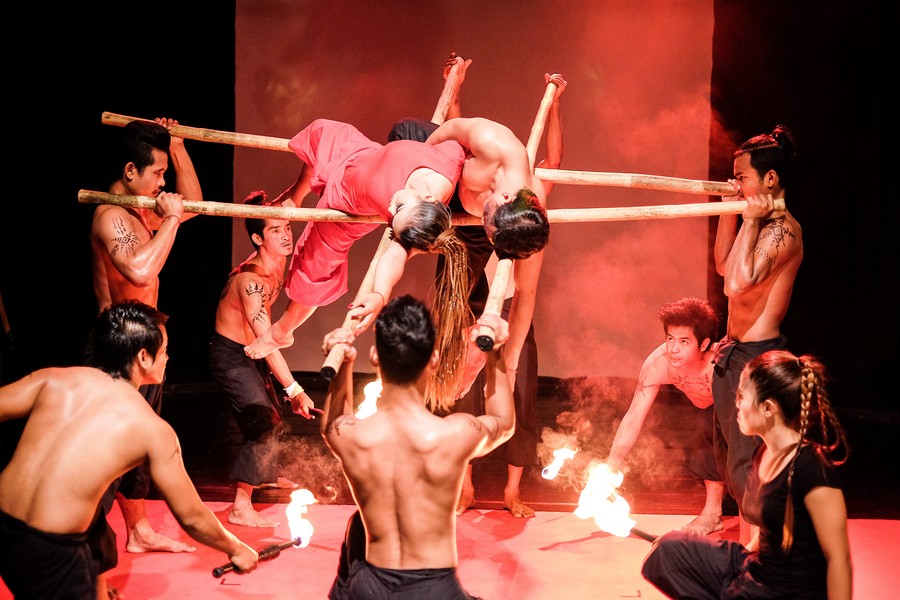 Sightseeing and Activities
Not to be missed is Phare Circus, a unique, authentic, top-rated attraction. Phare performers use music, dance and modern circus techniques to relate contemporary, folk and historical Cambodian narratives. These remarkable young performers astound audiences nightly with their energy, enthusiasm, humour, and compelling humanitarian story.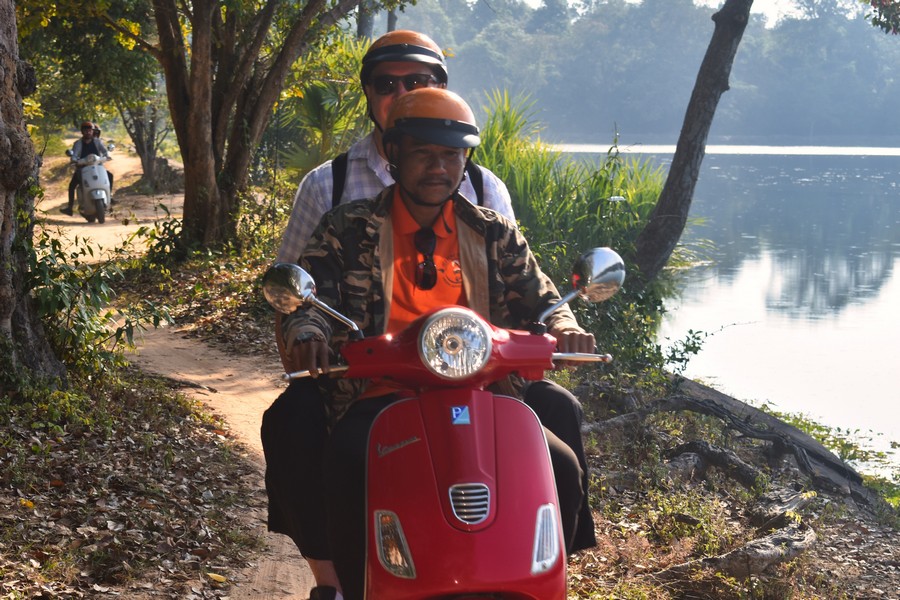 The countryside surrounding Siem Reap is relatively flat and easy to explore by bicycle, with kilometres of sealed bike paths. Bike tour companies offer itineraries through temples or rural Cambodian countryside, providing an enriched experience. Vespas and motorcycles are also a great way to explore.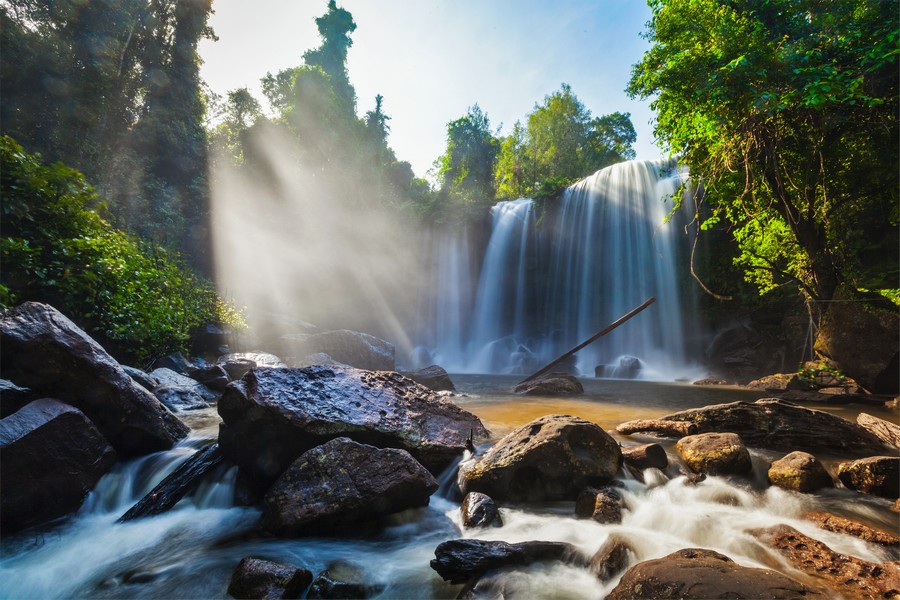 The Phnom Kulen National Park mountains to the north of the city are home to two waterfalls. Their pristine settings and fresh, cool water make a refreshing change and a wonderful day trip. Towards the entrance to the park, the banks and bedrock of the Kbal Spean River are famous for 1,000 lingam carvings – phallic religious symbols – as well as Buddhist imagery.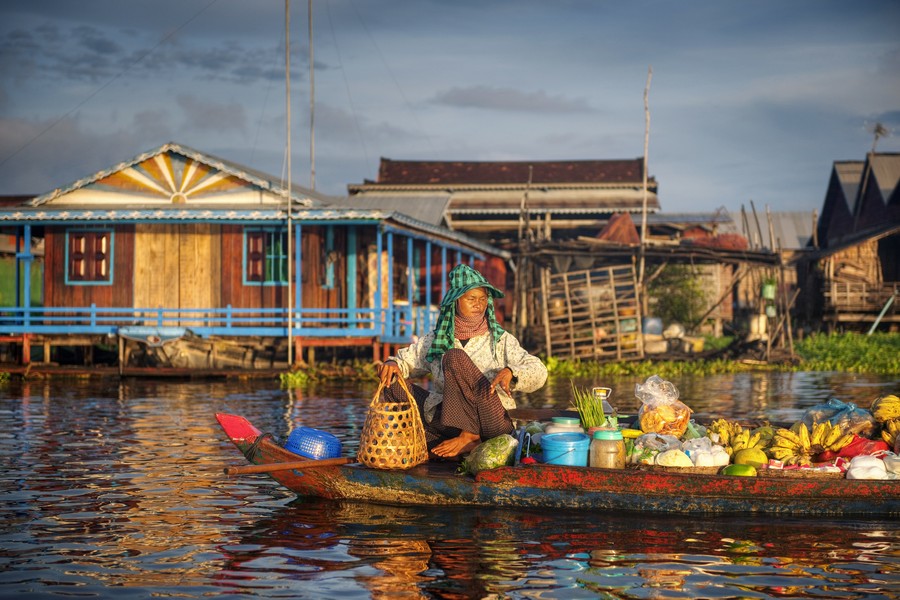 Tonlé Sap lake, part of the Mekong River system, is the largest freshwater lake in Southeast Asia. It is a highly diverse and productive ecosystem designated as a Biosphere Reserve by UNESCO. People live in stilted or floating houses in several locations around Tonle Sap, with fishing being the main livelihood. Taking a tour of this unique destination is a highlight.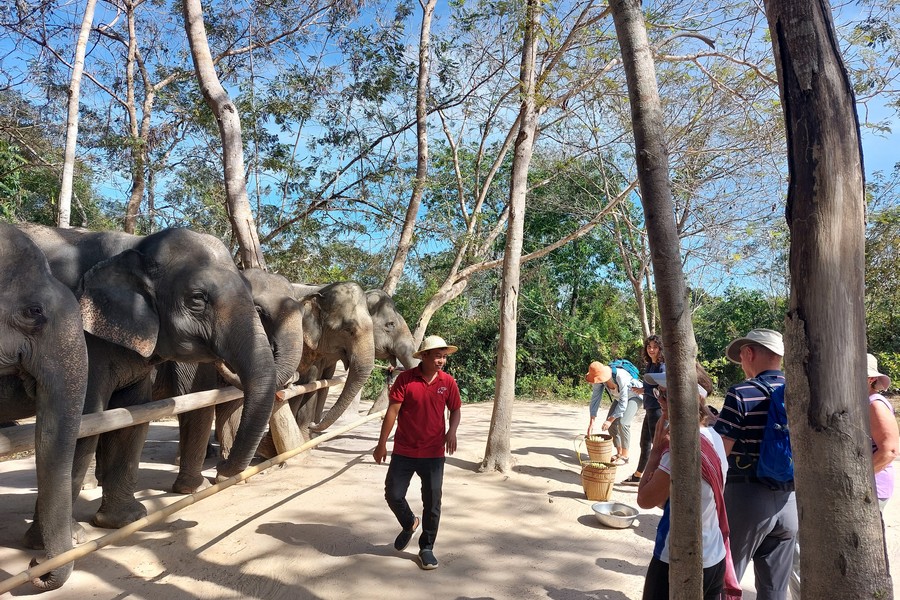 Kulen Elephant Forest is home to retired elephants who used to carry tourists around Angkor Wat. Now you can observe these captivating giants eat, roam and play at their leisure. Ziplining, quad biking and jeep expeditions offer exciting experiences in Siem Reap and the surrounding areas. Wildlife lovers can enjoy birdwatching, especially in the dry season, with many birds wintering around Tonle Sap.
Why Siem Reap?
Sure, come for the temples. Stay those three to five extra days for the rich cultural experience, unique nature and countryside, fabulous art and fashion, splendid cuisine, great shopping, and warm, welcoming hospitality. And given Siem Reap is an easy one-hour flight from several Thai airports, visiting Cambodia's cultural capital is an exceptionally easy option.
Photos Courtesy of: Michael Cullen & FCC by Avani
Michael Cullen