Are you searching for a getaway that will engross all members of your family or group? Regardless of gender, age, or season? Search no further than the much-loved district of Khao Yai.
Just 3 hours from Bangkok, Koh Yai offers wide-open spaces, and clean air, all surrounded by the best lush greenery that mother nature has to offer. It is a haven for both nature and adventure lovers and an all-in-one destination where you can pack as many or as few activities as you want in one day. Whether it be a waterfall hiking trip, a round of golf, farm tours, wine tours, scenic mountain biking, or a fun theme park with horseback riding, ATV adventures, and combat-style games, it's all here.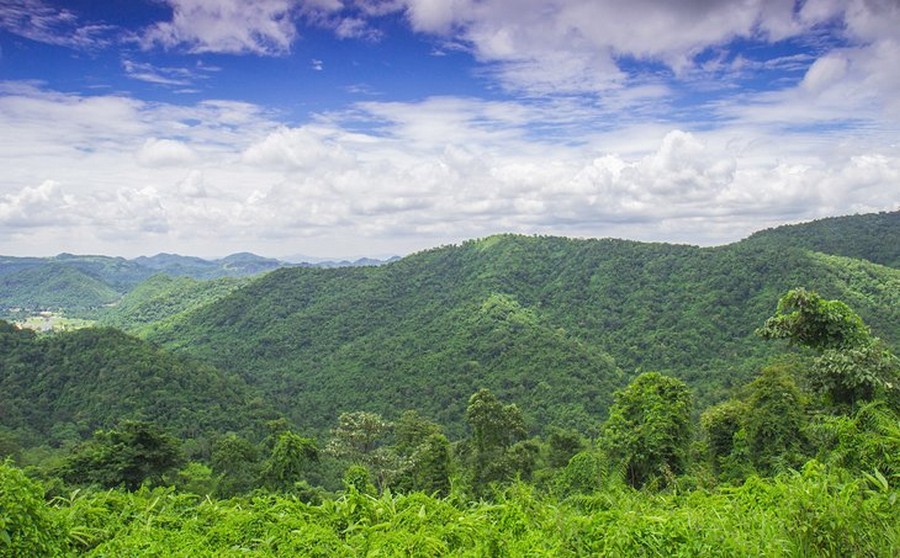 Khao Yai is also home to one of the best national parks in the Kingdom. In short, Khao Yai is a perfect destination for family, friends, or just the two of you.
The Khao Yai National Park is a UNESCO World Heritage Site and one of the most visited national parks in the country. It spreads across four provinces, namely Saraburi (west), Nakhon Nayok (east), Nakhon Ratchasima (north), and Prachinburi (east). The highest peak, at Khao Rom, is 1,351 metres above sea level. At the foot of the mountain, you can already feel the drop in temperature and refreshing scents of damp earth as you approach the Park's main gate.
The abundant wildlife within the National Park includes over 300 species of birds, almost 70 different mammals, and 2500 plant types. Animals like monkeys (including gibbons), deer, hornbills, porcupines, and bats are everyday sights, but you may also stumble upon wild elephants, Asian jackals, bears, and even leopards and tigers in these forests.
Cutting north to south through the Park, the jungle-shaded main highway winds through the heart of Khao Yai's lush wilderness, shooting off at several points where trekking routes begin and disappear into the dense forests.
Street signs warn about the presence of wild animals, and often, you can spot monkeys idling in the middle of the highway. This main two-lane highway passes through all natural attractions and scenic points within the Khao Yai National Park. Heow Suwat (Suwat Abyss) and Heow Narok (Hell's Abyss) Waterfalls are two of the most visited sites, and as their names suggest, they shoot straight down from a high cliff in one forceful plunge. In the rainy season, Heow Narok can be extremely slippery and dangerous.
It's recommended to drop by the Park's visitor centre to pick up a map to plan your journey. Enjoyable tours include hiking along the five scenic routes, wildlife watching at Nong Pak Chee or Mo Singto, and visiting various scenic viewpoints and the Park's highest summit at Khao Rom. The road to the top, though, is very steep and rough, with deep potholes, depending upon when you go, and there are no hand railings, but the views of Khao Yai's sweeping mountain ranges from the summit are more than worth the effort.
Once you have fully discovered the National Park, you'll still have plenty to take in, and the GranMonte Estate is a good start. Just before you pass the National Park's main gate, there's a small side street that turns into an expansive valley where grapes are grown, harvested, crushed, and turned into fine wine. GranMonte Estate brought a slice of Tuscany's sun-drenched vineyards to Khao Yai's verdant foothills in 1999. The main highlight here is the cellar-door shop and the VinCotto restaurant, which whips up delicious pastas, salads, and hearty Italian main courses and desserts. The best time to visit is October-February, and guided tours of the vineyard are available on weekends.
If you have spent any time in Thailand, you have undoubtedly heard of the Jim Thompson silk brand and perhaps even visited the Jim Thompson House and Museum in Bangkok. If you've taken a guided tour of the museum, you will already know about its humble beginnings and how one man's vision transformed Thailand's silk industry.
But only a few people know that the rural heartland north of Wang Nam Kheo called Pak Thong Chai is the throbbing heart of Jim Thompson's silk empire – where its fine quality silk comes from. Here, learn all about how Thompson's 30-year dedication helped save this cottage industry from disappearing forever. Plan to visit in December or January so that you can take a guided tour of the expansive silk farm, the cultivation of top-grade silkworms, as well as its picturesque vegetable orchards, botanical gardens, and the 'Isaan village' – a collection of traditional Isaan houses and a living museum of Isaan culture.
The Lam Phra Phloeng reservoir is on the way to Khao Paeng Ma and Khao Yai National Park, from Wang Nam Kheo. Fronting one of Khao Yai's verdant ridges and surrounded by a vast expanse of green fields, the reservoir offers a delightful break from long car journeys. It is a beautiful recreation area where you can enjoy fishing, bird watching, or lunch with a view. Should the reservoir's laid-back pace beckon, you can hire a long-tail boat and journey up the river to Khun Jone and Khlong Ki Waterfalls.
If your idea of visiting a vineyard is to immerse in the whole viniculture experience, then head straight to PB Valley, the pioneer of winemaking in the Khao Yai area since 1989. Pass through endless rolling vineyards before arriving at the information centre, where you can sign up for a guided tour of the vineyard and Khao Yai winery, as well as a cellar wine-tasting session.
If you'd rather skip the full glamour – and also save a few baht – then drive around on your own or head to the shop and pick up a few bottles. There's also The Great Hornbill Grill, which serves up western and Thai dishes accompanied by breathtaking views of the vineyard.
No matter where in Thailand you end up, you are never at a loss for shopping. While in Khao Yai, you'll want to spend some time at Palio Village. Palio is a picturesque shopping centre themed around a Tuscan village.
Speaking of Tuscany, you'll be remised if you don't stop by Toscana Valley. This stunning mixed-use development features several hotels, multiple restaurants, a golf course (known as Khao Yai's most challenging and exclusive), plus a country club along with opulent private residences.
The love for cowboys and the American Wild West runs deep in the Chokchai family, so deep that they decided to bring a huge slice of it to Khao Yai. It all began in 1957, with a small herd of cows and a piece of land. Today it has become one the most popular tourist attractions in Khao Yai, with exciting cowboy shows, cattle herding, farm tours, horse-drawn cart rides, and ATV adventures. An overnight package comes with a campfire dinner and accommodation in its boutique tent – with all modern luxuries thrown in. Call a week ahead to book tours and activities, as the place is booked up fast, especially on weekends.
Before expansive grape hills and adventure theme parks arrived on Khao Yai, golf was already a favourite pastime. Your choices range from the Jack Nicklaus designed course at Kirimaya – one of the most luxurious and best-kept – to Toscana Valley's breathtaking Tuscan-inspired landscapes to standard courses set on a verdant sprawl at the picturesque foothills.
With increased competition from newer and more modern-looking hotels, The Greenery Resort has stepped up a notch by adding a theme park to its name. Now it's back on the Khao Yai tourist map as a family destination that offers a wide range of fun activities, from rope adventures and an interactive water park to an obstacle course and thrill rides (e.g., ATVs, Go Karts, Nano bikes, hovercrafts). There's also a giant balloon – Khao Yai's first – that takes you high up into the sky for 360-degree panoramas of the entire area.
For those who enjoy Agrotourism, Khao Yai is an ideal location where you can interact with local farmers and help sustain their livelihood through your purchases. Farm visits are hands-on, fun, and educational. Wang Nam Kheo, with a relatively cool climate all year round, is like one colossal farm where winter vegetables and flowers are grown and sourced. You can perhaps get your daily dose of vitamins and minerals simply by visiting organic vegetable farms and fruit orchards in the area. Mushrooms, oranges, grapes, milk jujubs, organic pumpkins, carrots, red oak lettuce, and green salads are among those grown here – simply take your pick.
Khao Yai is accessible by two different routes from Bangkok, but the Saraburi-Pakchong route (Highway 2) is the most popular because it passes through many tourist attractions along the way. The Prachinburi route runs through Wang Nam Kheo and its steep slopes with sharp turns. No matter which route you take, these two merge at Khao Yai National Park's headquarters.
Although you can take a bus from Bangkok's Northern Bus Terminal to Pak Chong, then transfer to a song taew to the Park's headquarters, it is not recommended because you will not be able to hitch a ride to visit various attractions once there. It's better to rent a car or hire a van with a driver to experience all that Khao Yai offers.
With so much to do, a day trip to Khao Yai is doable, but spending several days is a much better idea. A gentle reminder, If you happen to spot an elephant while driving through Khao Yai National Park, please don't beep your horn as the noise can be highly unsettling to these magnificent ambassadors of Thailand.