Phuket has reopened, and we believe now is the best time for a first time or rediscovery visit to the "Pearl of the Andamans." But first, let's cover some simple entry requirements for visitors.
Since July of this year, international visitors have entered Phuket under the 'Sandbox' program. As of 1 November, fully vaccinated international travellers can now enter Thailand quarantine-free thanks to the more relaxed 'Test and Go' program. And from mid-October, fully vaccinated domestic travellers are free to visit Phuket by registering in advance via the website www.gophuket.com.
And despite an 18-month closure, Phuket has not lost its international appeal. Indeed, US NEWS ranked Phuket number 8 in their 2021 top 30 "World's Best Places to Visit", noting its outstanding sights, culture, scenic beauty, food scene, plus accommodation, boat trips, spa and wellness for all budgets as reasons for their endorsement. We wholeheartedly agree.
One strong positive to come of no visitors is the island's natural resources have had time to rest and rejuvenate. Always part of its allure, the island's forests, beaches, coral reefs, surrounding islands, marine and land-based wildlife have all thrived and are in the best condition people can remember.
Phuket has some of the most amazing beaches in Thailand and all of Southeast Asia. Phuket's west coast beaches are known for their stunning beauty, fantastic sand quality, clean, calm waters, and the potential for spectacular beach sunsets. Here are some favourites.
On the lower west coast, Kata and Karon Beaches, with their long, broad expanses of sand, are relaxed, family-friendly holiday locations. Both offer an abundance of accommodation, eating and entertainment venues behind the beach, meaning they are self-contained holiday destinations in their own right.
Patong's famous 2.5 km long beach remains inviting, with its water sports and choice of speed and longtail boats ready to whisk you out on excursions and day trips. The entertainment and shopping strips immediately behind the esplanade are just starting to reopen, though slowly. It will be a while before Patong's famous nightlife rebounds.
Kamala's 2 km long wide beach with its beginner and intermediate surf breaks remains uncrowded. Beachfront restaurants and branded resorts await your business, along with Café del Mar, a beach club rivalling its famous Ibiza (Spain) parent.
Surin, Bang Tao, Nai Thon, and Nai Yang further north along the west coast all have great stretches of sandy beaches, resorts for most budgets, and even fewer crowds. Nai Yang and neighbouring Sirinat National Park are favourites for those looking for extra space, gloriously long beaches and sufficient facilities to make a holiday.

In this post-pandemic reopening to tourism, many people are looking for activities outdoors and not in crowded places, and Phuket's beaches and associated water sport certainly provide that. The island offers many more opportunities to explore while keeping you and your travelling companions safe. Here are some of our top recommendations.
Phuket Old Town.
History buffs and photographers will relish the Sino-colonial architecture, historical buildings and museums found around Phuket Old Town. The Thai Hua Museum on Krabi Road is an excellent place to start, delving into tin mining history and Phuket Town itself. It also has a fantastic display of historical buildings around the Town Centre and a paper map to create your walking tour.
Be sure to return Sunday evenings for the Walking Street Market. Stretching along Thalang Road with restored Sino-Portuguese houses as the backdrop, this is a market worth visiting. Stalls line each side and middle of this busy walking street, with entertainment, food, ice creams, drinks, and arty nicknacks. Boutiques, cafes, bars and galleries in some of the buildings are also open. A great market to sample the diversity of Phuket street food.
Ethical Elephant Encounters – Visitors can find several elephant sanctuaries in Phuket, though Phuket Elephant Sanctuary is recognised as the most ethical in their care and treatment of these revered pachyderms. No riding or bathing with the elephants, yet lots of opportunities to be close and see these rescued giants being themselves. The sanctuary's new, 600-metre-long and 6-meter-tall canopy walkway means elephants have maximum freedom to naturally roam, forage, bathe and socialise in the jungle below. Visitors can observe them from above and from a safe and respectful distance whilst hiking through the 30-acre sanctuary on guided tours.
Big Buddha (Phra Phuttha Mingmongkhon Akenakkhiri) is a 45 meter tall seated Buddha covered with beautiful Burmese white jade marble. The sculpture sits high on a hill and is visible from many southern parts of the island. The views provided over Chalong Bay alone are worth the visit.
Wat Chalong (Wat Chaitararam) is the highly revered and most significant temple in Phuket. Locals claim to experience miracles, and it is known for its healing role in fighting between Chinese secret societies in the late 1800s. The wat is on the way to Big Buddha, making it convenient to experience the two in one outing.

With at least ten viewpoints overlooking the island's cities and beaches, you can go to a new one every day. Some are harder to access than others, requiring some trekking or scrambling.
Promthep Cape, on the southern tip, is one of the most popular, especially for sunsets and has a large car park. And just 1.5km north is Windmill Viewpoint, between Nai Harn and Prompthep, with fabulous views west. You can also catch sunrises from there. Rang Hill lies northwest of Phuket City, providing city and distant beach views. Photographers might prefer to visit in the early evening, as the lights start to twinkle across the island.
Panwa Viewpoint, also known as Khao Khad Views Tower, offers 360° views over southern and eastern Phuket. Located on the way to Cape Panwa, this lesser-known viewpoint has ample parking. The stairs are a bit of a climb yet more than worth it once at the top

Well known islands like Koh Lanta, Koh Phi Phi, and Phang Nga Bay, with its towering karst outcrops, including the famous James Bond island, are all accessible day trips.
Phuket has 32 smaller islands, some just 15 minutes by boat. Koh Racha and Koh Hea (Coral Island) are popular, as are Koh Maiton and Koh Khai, with visits that include swimming, snorkelling and other water fun. Take your pick of a longtail boat, speedboat, or catamaran tour for day visits.
If you seek something a little different, Koh Yao Yai and Koh Yao Noi are two larger, though less visited islands in Phang Nga Bay. Swim in secret lagoons, be in awe of the imposing limestone karsts, catch glimpses of traditional island life, spot hornbills, and dine on fresh seafood at quaint beachside restaurants, with the catch coming directly from the fish and lobster farms immediately offshore.
Since 2015, Phuket has been designated a UNESCO Creative City of Gastronomy, making it the first city in Thailand. Phuket's Baba cuisine was the reason for this listing and recognised the traditional food of Baba-Peranakans. Descendants of the early, mainly Hokkien Chinese who migrated here. The famous Blue Elephant restaurant features Baba-Peranakan dishes and is a must-try for a memorable Phuket dining experience.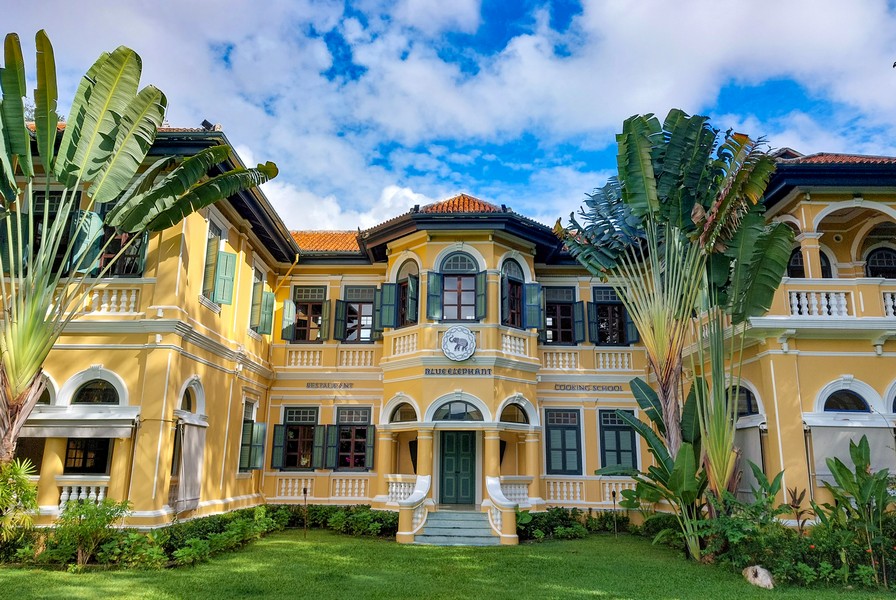 Other dining options can be found in Thailand's Michelin Guide. Yes, there is a Michelin plated fine dining restaurant listed. There are a further 46 other eateries, from simple Thai cafes to more upmarket restaurants. All are deemed worthy of inclusion by the Guide's judges. Your taste buds and your wallets will be surprised.
We've only scratched the surface of what awaits Phuket visitors. Think fabulous shopping, outstanding spa and wellness, and activities for all ages along with those pristine beaches and islands, nature at its best, and free from significant crowds. Now is the time to make the most of reopened Phuket and all this glorious island has to offer.
By Michael Cullen