Sometimes one chooses to go to places, not because of the stereotypical appeal towards the white sandy beaches and the young coconut shells but because of the magnificent amalgamate of rich history. At these times, the perfect destination to vacation in gathers culture, strong fascinating tradition, enthralling history and great sightseeing that are even more appealing when we're revealed the stories behind them. One of those destinations in Thailand is Ubon Ratchathani, Ubon Ratchathani is one of the four major cities that you will find in the Isan region, which is Thailand's largest region. Along with Khorat, Udon Thani and Khon Khae, they are known by their local alias "The Big Four of Isan". Located in the northeast of Thailand, it is the administrative region of the Ubon Ratchathani Province and borders both Laos to the East and Cambodia's famous Preah Vihear region to the South.
The history of Ubon Ratchathani is quite impressive. Ubon Ratchatani is a relatively young city. But it's the manner in which it was founded that evokes a sense of wonder. In the late eighteenth century, a young Thao (a title that was previously used to refer to Lord Steward in the Thai royal and noble society) founded the city.
Thao Kham Phong ran away from the Kingdom of Vientiane in what is today modern Laos to escape the authority of King Siribunsan. Thao Kham Phong, who was a descendant of Phra Wo and Phra Ta, thus arrived to the former Kingdom of Siam (modern-day Thailand) while Taksin the Great ruled the nation.
Thao Kham Phong would eventually go onto being presented with the title of "Phra Pathum Wongsa" and this allowed him to become the first ever ruler of Ubon Ratchathani. Thus under him in 1792, the province of Ubon Ratchathani was born too.
This wouldn't be the end of Ubon Ratchathani's struggle though. French forces marched in during the midst of World War Two as payback for the Thais having attacked French Indochinese posts (Modern day Vietnam). However, this illustrious city was able not only to hold on to its glory but to rapidly expand as a significant hub in Thailand.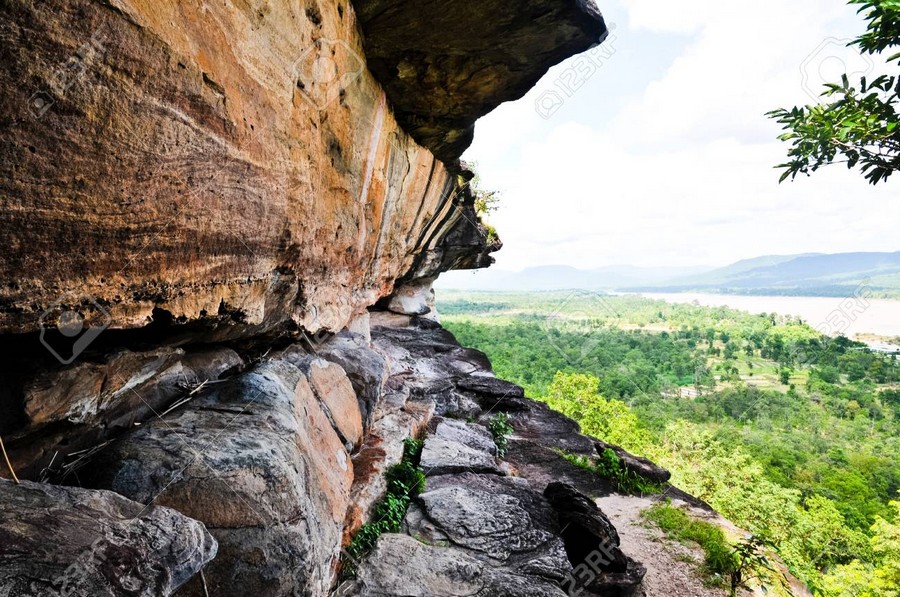 There are a large number of leisure activities when visiting Ubon Ratchatani. Some highlights include a visit the Pha Taem National Park, which is a beautiful forest setting of fifty four square miles with a natural border between Laos and Thailand by the iconic Mekong River. Featuring magnificent plateaus, weaving hills and imposing cliffs of sandstone formations, this park is carpeted in deciduous forests and wildflowers. But the most impressive features of this park are the prehistoric caves that include scores of paintings dating back to one thousand and two thousand years before Christ. Saeng Chan waterfall is another beautiful attraction of this iconic sight. Peaceful and flowing, it is enough to put a smile on anyone's face any day.
The next must-do activity is one that is once again, covered in rich historical connotations. That is to visit the beautiful village of Ban Pa Ao. This place infuses tradition and culture with wonder and amazement. The ancestors of the villagers here escaped Vientiane and settled there two hundred years ago, but did not reject their traditions. Thanks to this, the manner of crafting bronze ware and weaving beautiful silk by the inhabitants of Ban Pa Ao has remained true to their roots. It is the only village in the whole of Thailand that confections its beautiful brassware and other objects with metal through wax molding techniques.
Another place worth visiting is the Woen Buek village, where a fascinating natural spectacle awaits. At a fateful intersection of waters, the mighty Mekong River meets the Mun River, which because of the color of the waters, grants a beautiful show of coalescence that is truly calming: the Mekong being of a crimson reddish-brown, greets the tributary of the Mun, which with its blue dashes creates a delightful mix. The line where the separation takes place can actually be seen, and boat tours to witness the beauty of Manam Song Si ("Song Si" literally translating to "Two Colours" in Thai) can be arranged from several upstream locations. The boat trip is a delightful way to spend an afternoon, so try not to miss it.
As with all major areas of Thailand, you cannot leave without savouring the culinary delights of this fantastic place. As is usual in Thailand, food is found all over the streets and establishments of the city. Most popular are the steamed buns with bamboo shoots, which infuse an intense and flavourful combination of spices to the palate combined with the moist and soft touch of the fluffy exterior. If you want an option that will fill you for lunch or dinner, then Khem Mak Nat is a must. This very typical dish consists of a catfish cooked in saline water and chopped pineapple, which truly answers for the customs and culinary traditions of Ubon Ratchathani.
Once you have filled your stomach, the next step is to probably go out shopping. Ubon Ratchathani has a wide variety of memorabilia to offer for the traveler's fond memories. One of the most special are the khit pillows along with their hand-woven cotton, the basketry as well as the aforementioned silk products and brass and bronze metallurgic ornaments. These can be purchased in the many souvenir shops along the streets, be it from individual vendors or established businesses.
Try to go to Ubon Ratchathani between December and February to find the most accommodating climate; this will make it easy to travel without worrying excessively about the heat. As per transportation times and methods, Ubon Ratchathani is around eight to eleven hours from Bangkok by land, buses leave Hua Lumpong station and prices are affordable. Equally if you feel adventurous, you can always take the train, much cheaper, much noisier and much more fun! But if you're in a hurry to get there, try the direct flights.
As a whole, Ubon Ratchathani is a genuinely marvelous and exciting place to visit: rich with history, filled with impressive natural beauty and boasting fantastic cuisine and culture.