Anantara Angkor Resort provides an ideal, luxurious and tranquil base for your next trip to Cambodia's cultural capital, Siem Reap. This beautiful boutique all-suite resort combines traditional Khmer architecture with modern amenities giving guests an unforgettable experience. Conveniently located halfway between the town centre and the international airport and just a 15-minute drive to Angkor Wat and the Archaeological Park, all of Siem Reap's attractions are within easy reach.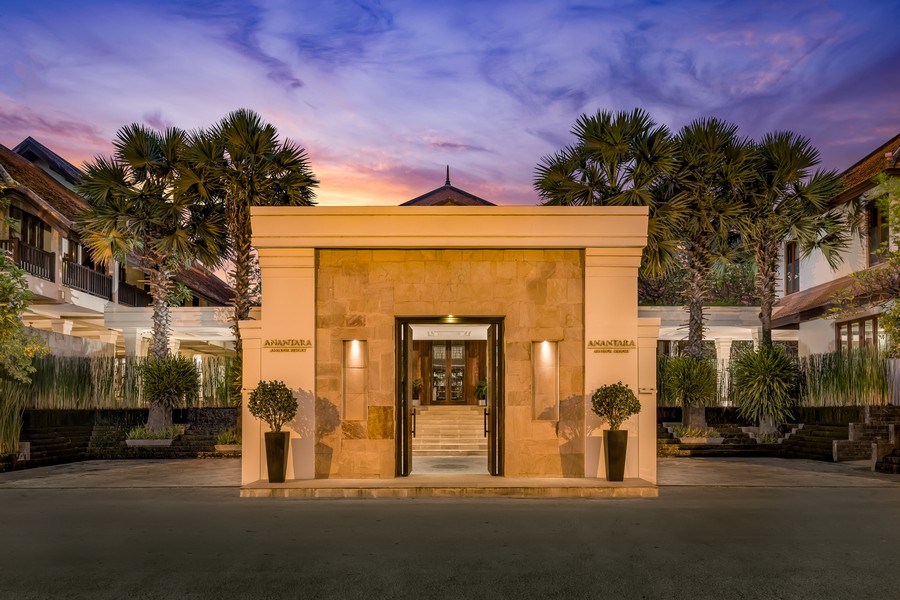 From an aerial view, the resort is designed to resemble Angkor Wat, while from ground level, it resembles a regal Khmer villa. Cambodia's cultural influences, like carved stone pillars and wooden figures, depict Khmer history, while the central courtyard draws inspiration from ancient royal bathing pools. Contemporary touches like the Henry Moore-inspired giant sculpture of a mother and child by the resort's main pool add to the aesthetic.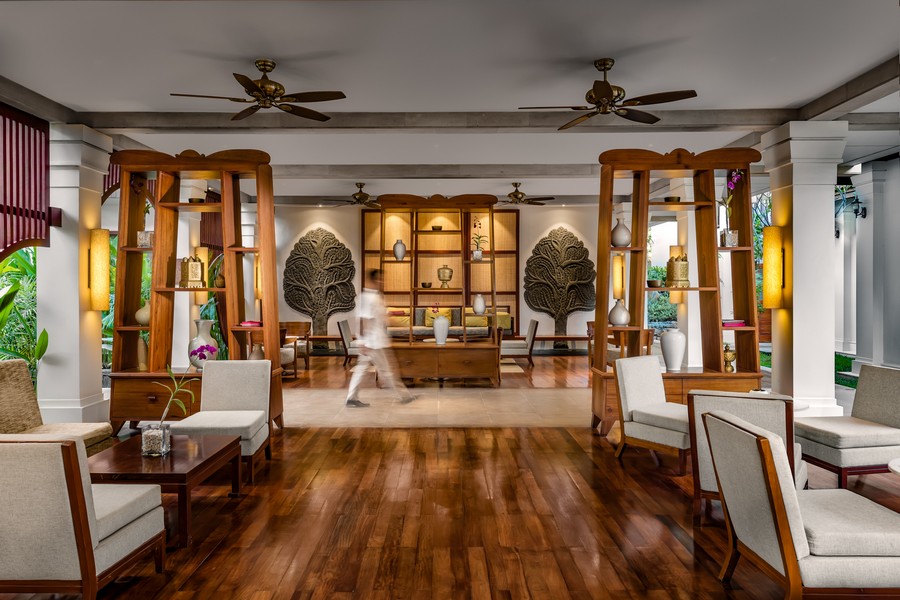 Your Anantara Angkor experience begins with an airport pick-up for a smooth transfer, followed by a soothing foot ritual on arrival. Your Experience Butler is on hand to welcome you.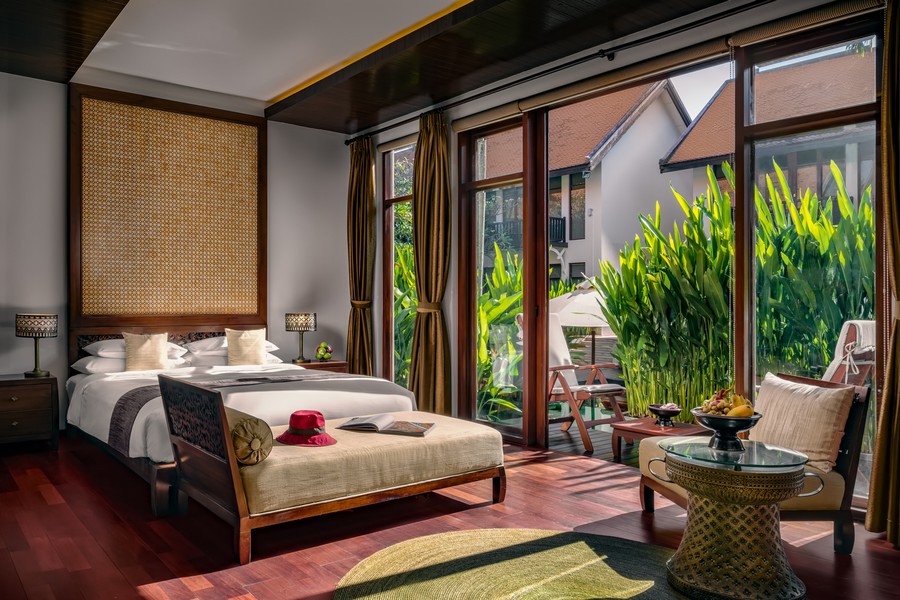 All 39 suites are designed in a contemporary Cambodian style and feature fine Khmer silks, teakwood floors, and modern luxuries such as an in-suite smartphone, Nespresso machine and minibar. Each suite has the added luxury of a balcony overlooking the courtyard pool. Anantara Angkor offers the most spacious suites in Siem Reap, starting at a very comfortable 46 sqm. With exquisite attention to detail, the suites are ideal for couples, and interconnecting suites are perfect for families.
Offering 78 sqm of comfortable elegance, the tastefully decorated Anantara Suites' elevated position affords unobstructed views of the central pool and surrounding gardens. Cherish an evening of blissful privacy, share a meal at the in-suite dining table or settle in for a night of relaxation in the connected lounge. Slip into the tub or step under the separate rain shower. To indulge even further, enjoy an inclusive 30-minute daily spa treatment.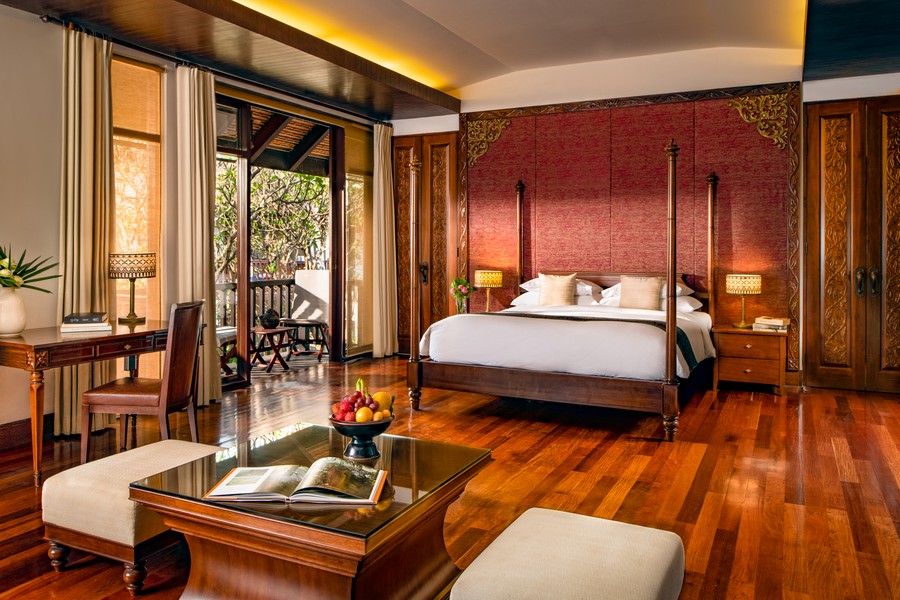 At a generous 112 sqm, Sothea Suites are havens of indulgence and feature an expansive deck offering unobstructed views over the resort's pool. Complimentary daily pampering is available in your in-suite spa, which features two treatment beds and a whirlpool Jacuzzi bath. While your in-suite open bar is available for refreshments.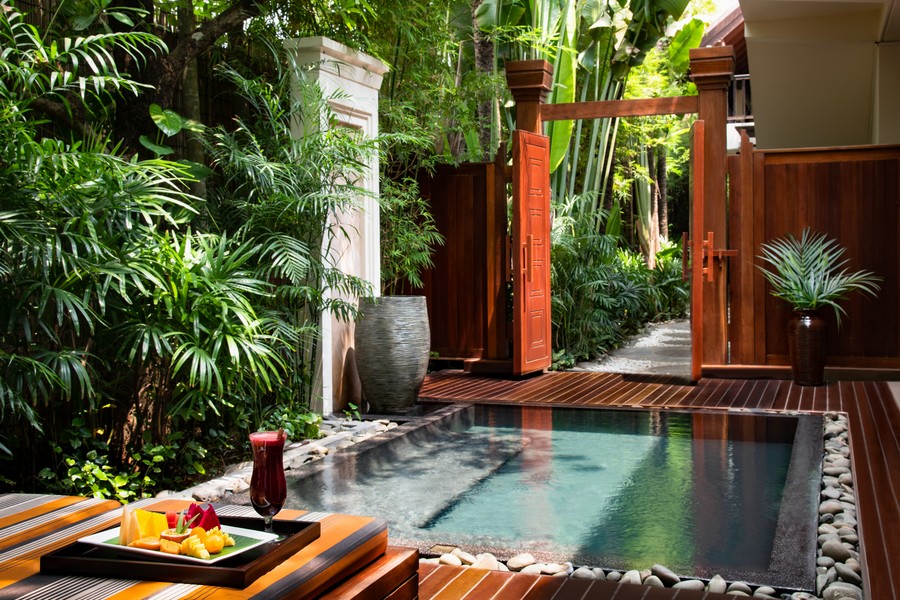 Inspired by the intrepid explorer Jim Thompson, the Anantara Explorer Suite has a private plunge pool surrounded by lush greenery. Settle into furniture draped in vivid colours and lush Thai silks after a day of adventure. End your day with a complimentary treatment at your in-suite spa and luxuriate in the 178 sqm of space this suite offers.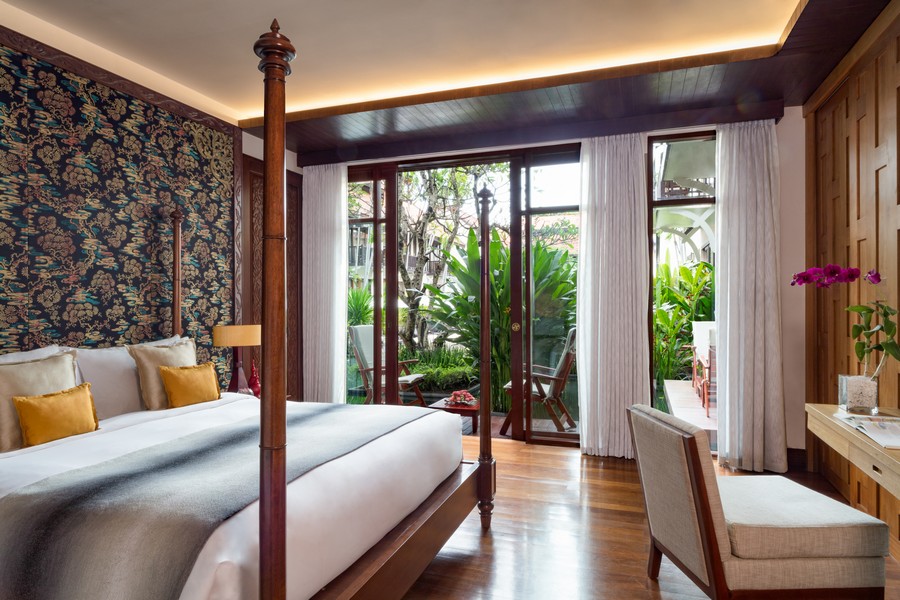 Honouring the French naturalist and explorer who alerted the West to the ruins of Angkor, the Henri Mouhot Two Bedroom Suite is reminiscent of a Khmer summer home. Bold colours and luxurious silk from the coveted Jim Thompson collection unfold across 235 sqm. Sip a cooling beverage from your bar in the expansive lounge. Laze by the private pool or take solace in the quiet library. Luxuriate in a Jacuzzi bath or rain shower in two spacious marble bathrooms. Revel in a daily indulgent hour-long spa treatment by trained specialists at the in-suite spa.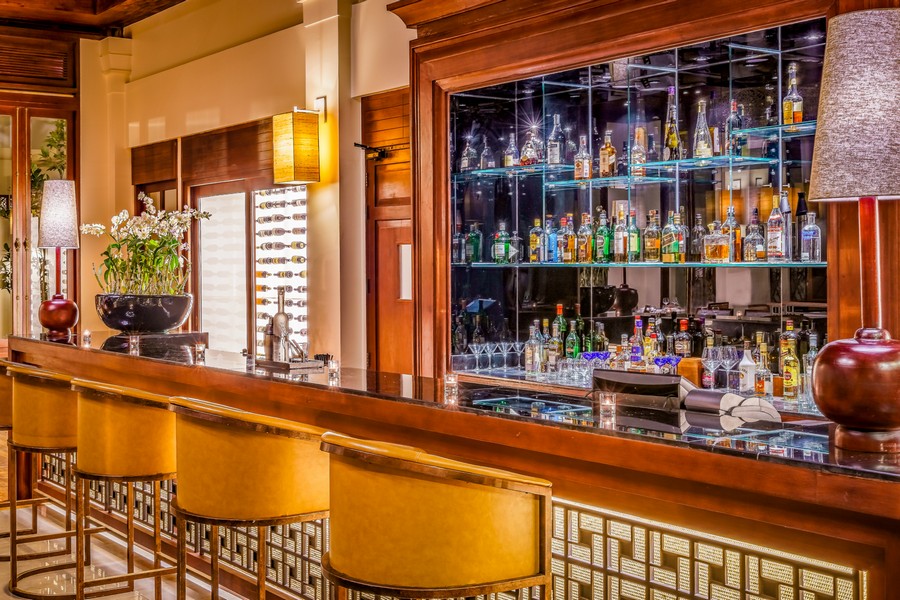 When it's time for nourishment, Chi, the resort's all-day restaurant, serves vibrant Cambodian and pan-Asian cuisine with divine flavour pairings. Intricately layered creations are passionately fashioned by experienced chefs, combining fresh market produce with inventive combinations of spices, herbs and seasonings. Enjoy a flawless meal or simply stop by for a refreshing cocktail or wine from our extensive list at Chi Bar.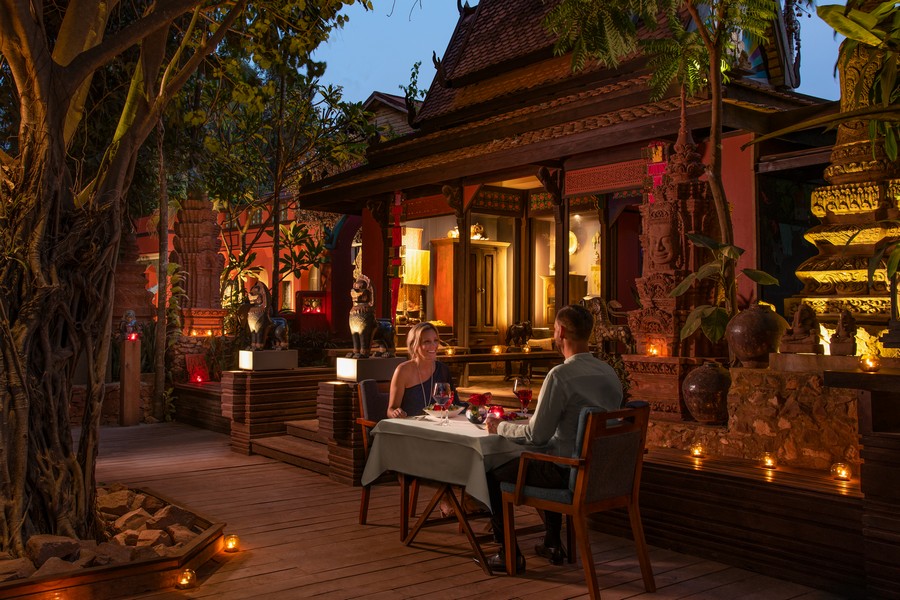 Dining by Design is Anantara's signature private dining concept that offers an utterly bespoke, undeniably romantic and completely unforgettable journey. Dine in Royal Khmer style amidst the resort's traditional courtyard, and be enthralled by your private Apsara Dance performance. For the ultimate Dining by Design experience, the resort offers a private temple dining experience in the lesser-known sites of Angkor Archaeological Park. As well as pleasing history lovers, this Angkor Wat dining experience would make the perfect proposal or anniversary celebration.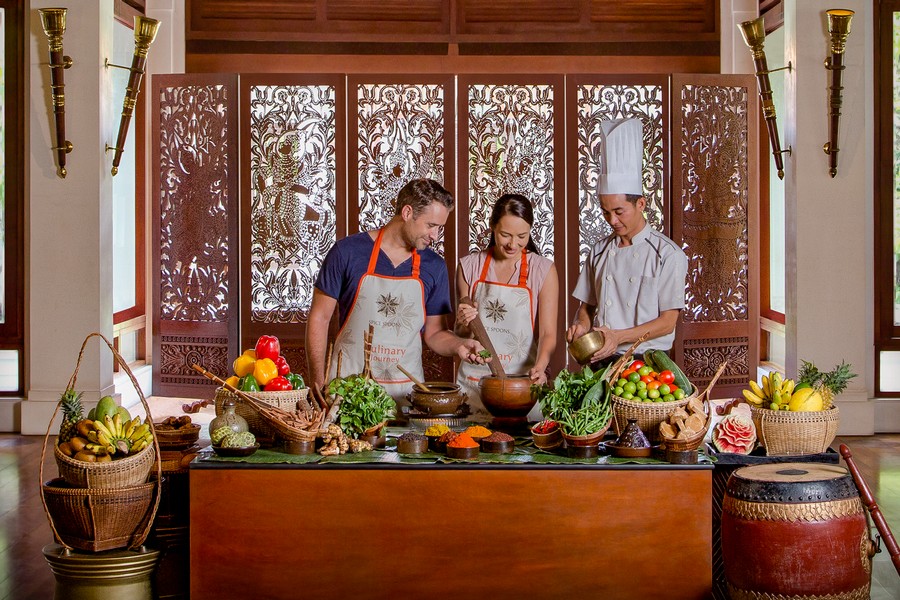 For those wanting a hands-on introduction to Cambodia's distinctive cuisine, a Spice Spoon cooking class with the resort's Chef is a must. Begin with a trip to the local market, selecting a range of fresh ingredients before returning for a step-by-step class. Discover the unique culinary characteristics of traditional dishes from this one-off cooking class and return home with new skills to impress friends and family.
After a day out exploring, luxurious pampering in the tranquil sanctuary of Anantara Spa can't be missed. Put your beauty and wellness needs in the hands of highly trained and intuitive therapists. Explore Khmer massages and ingredients drawn from centuries of local know-how. Choose from the hand-picked spa and wellness packages to suit your needs, mood and preferences.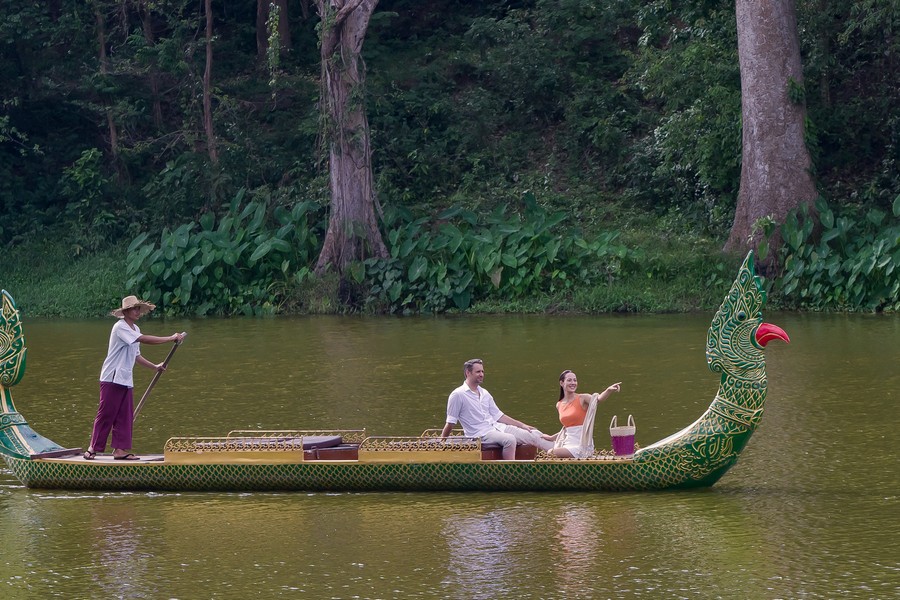 To ensure you make the most of your time in Siem Reap, the resort's Experience Butlers are ready to recommend tailored journeys of discovery. Immerse yourself in local culture with Anantara's range of Signature Experiences, like guided tours of Angkor's monumental heritage with their resident Temple Guru. A traditional boat tour along Angkor Wat's reservoirs allows unrivalled immersion into Angkor's history. Or culinary journeys, including dining and cooking classes or private market tours with our Streetwise Guru. Perhaps a sunset picnic with a jeep experience.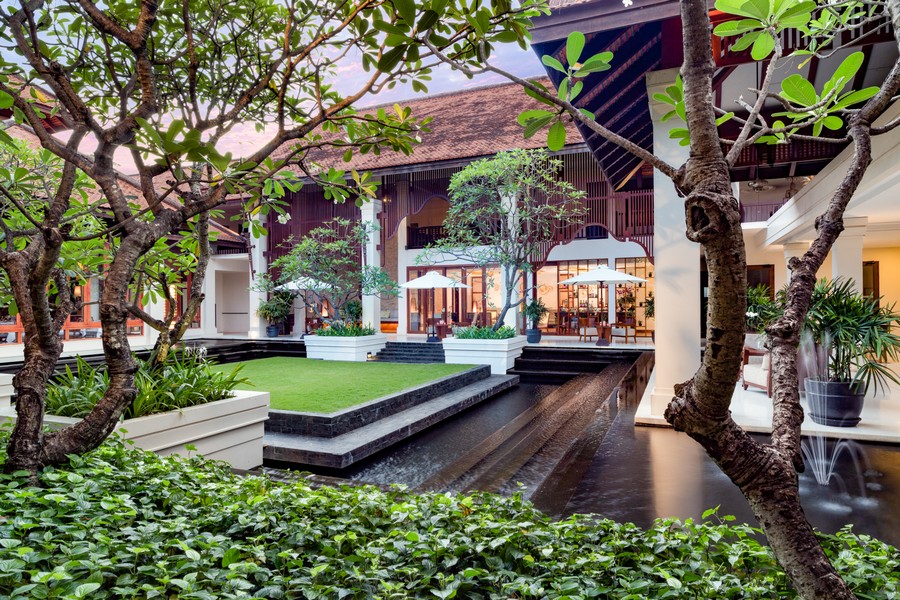 Anantara Angkor opens the door to explore a city that combines ancient and modern cultures by day while allowing you to rest like royalty by night. Anantara Angkor Resort is the ideal base for your next trip to Southeast Asia's must-visit destination, Siem Reap.
Michael Cullen