Turning from the main road into Anantara's Golden Triangle Elephant Camp and Resort feels like we are entering some grand estate. The drive curves beside manicured lawn, with splashes of colour from tidy tropical gardens and clumps of ancient bamboo leading up to the grand walled resort entrance.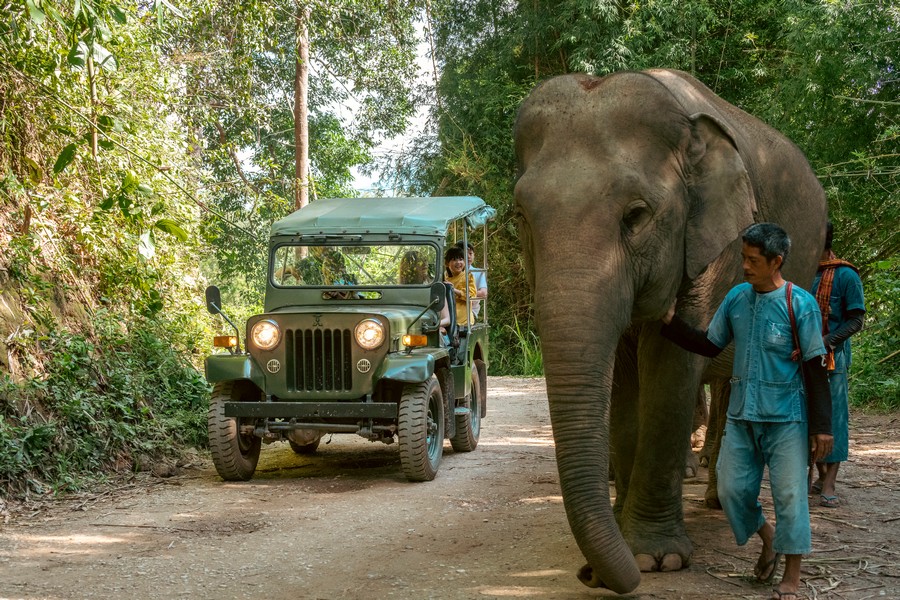 Liveried staff are quick to welcome. Army green safari jeeps and two gleaming classic Royal Enfield motorbikes with sidecars are ready for guest outings. Elephant motifs, busts and statues are part of the entrance court's décor. Everything our eyes set upon suggests this is not the typical hotel arrival.
The Bellperson rhythmically starts a drum beat and not a cursory ceremonial tap; he launches into a steady, upbeat musical announcement of our arrival. We learn later that this performance is called Klong Sabad Chai and is traditional Lanna art played to wish welcome and good fortune.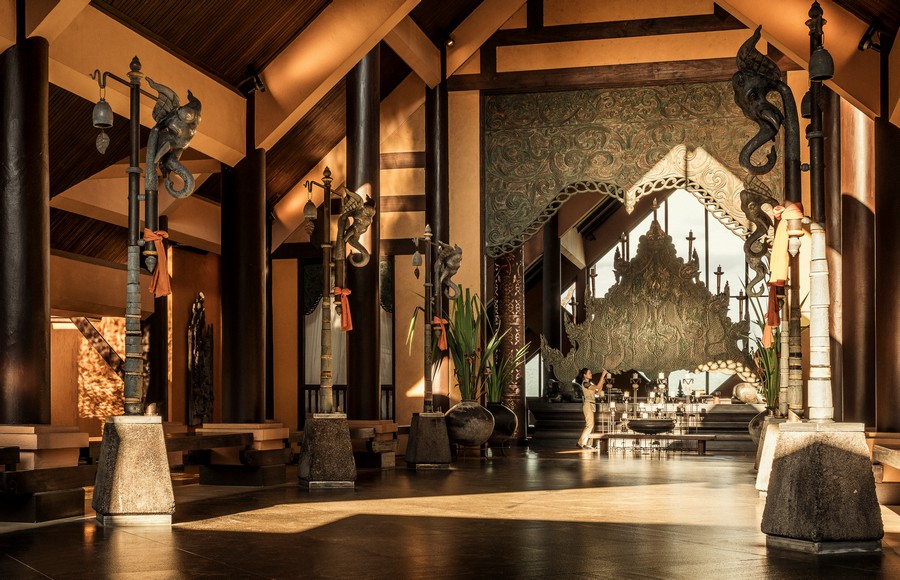 Entering the main lobby, recycled-teak floors waxed to a warm glow offer a welcoming invite. The 12 meters tall angled ceiling gives the sense of entering some grand Lanna palace or venerable Thai temple. A majestic wooden candleholder resting on the backs of three carved elephants dominates. So the scene is set for our time at Anantara's Golden Triangle Elephant Camp and Resort.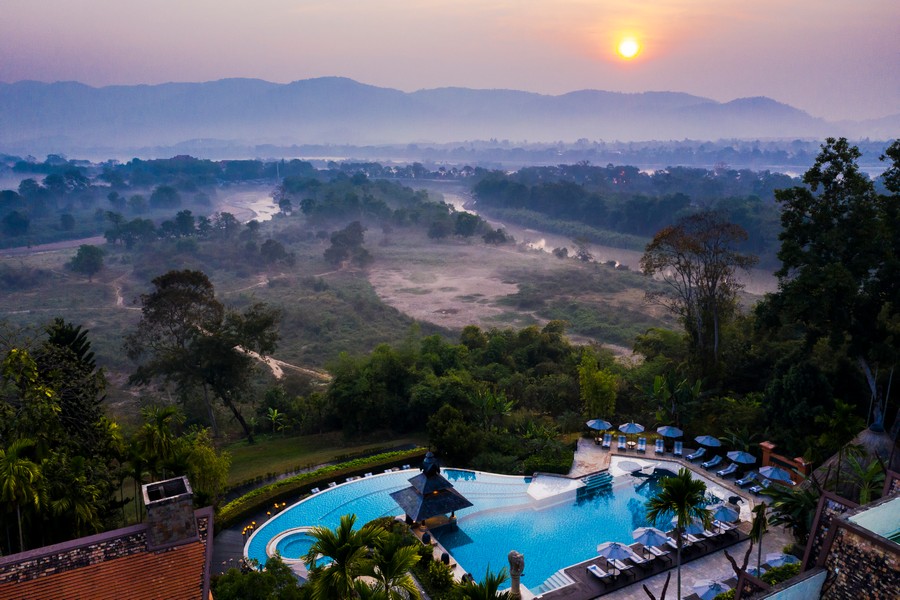 We are less than a kilometre from the Myanmar and Laos borders in Thailand's most northern province, with the Ruak and mighty Mekong Rivers denoting the boundaries. The resort's position atop a ridge provides the ideal outlook to the rivers and verdant lowlands. These river grasslands and the 20 or so rescued elephants that occupy this space separate us from the neighbouring countries. The city of Chiang Rai and its airport is just 71 km south.
All sixty-one guest rooms and suites enjoy aspects of those three-country views, all with comfortable balconies to drink in the vistas at your leisure. Lustrous teak floors and rich Thai silk accents add extra deluxe touches to the spacious guest rooms. All the mod-cons are present from a flat-screen TV, espresso coffee machine, and Bluetooth speaker for maximum comfort.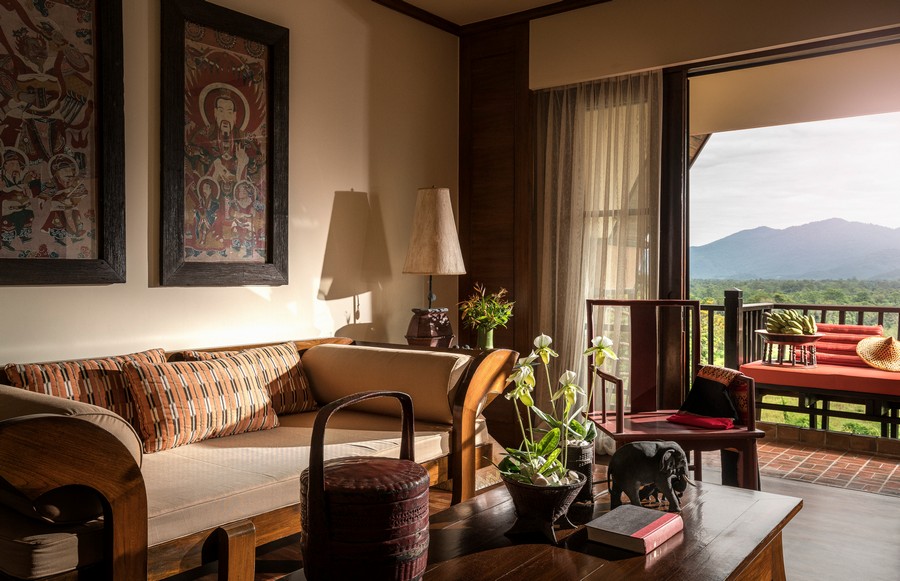 The Three Country Suites enjoy 64 sqm of space with two inviting day beds on the double balcony. In the bathroom, the terrazzo soaking tub could easily fit two and comes complete with a choice of three Anantara Spa bath salts. A soap menu provides handmade soaps with four natural fragrances. Rooms are equipped with air conditioning though the ceiling fans and insect screens mean it's easy to enjoy the cooler fresh northern air.
For something especially unforgettable, guests can spend a night observing Thailand's majestic elephants in their natural habitat from the comfort of their own transparent Jungle Bubble. Perched on a raised wooden deck in the forest, your luxurious bubble offers uninterrupted views of the Elephant Camp's gentle giants, as well as the stunning starlit sky above.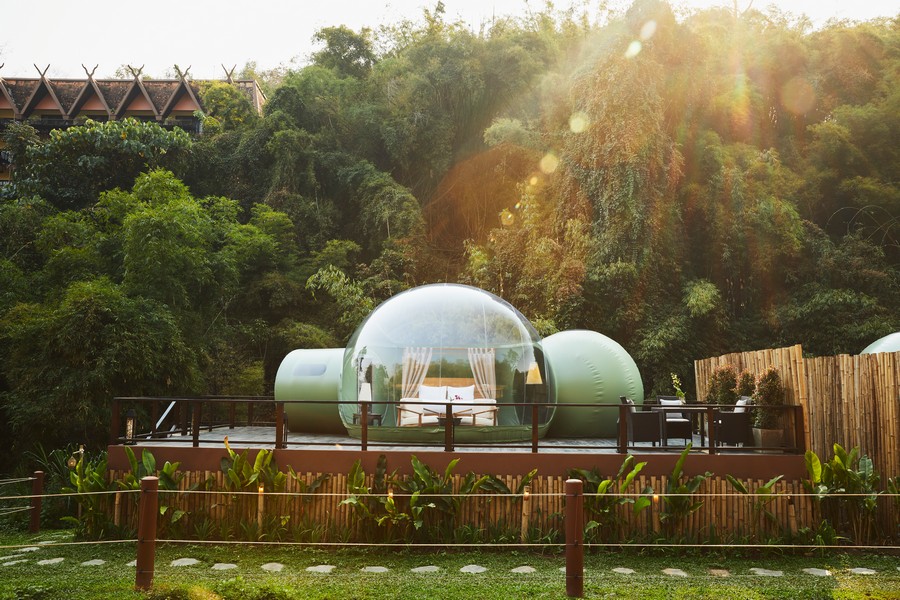 The overnight stay comes complete with a candlelit picnic dinner and all the in-room luxuries, from a king bed and seating area under a transparent roof to a nontransparent en-suite bathroom. Additional touches include bathrobes and slippers, exquisitely soft bed linen and luxury bathroom amenities, 24-hour in-room dining service and tea and coffee making facilities.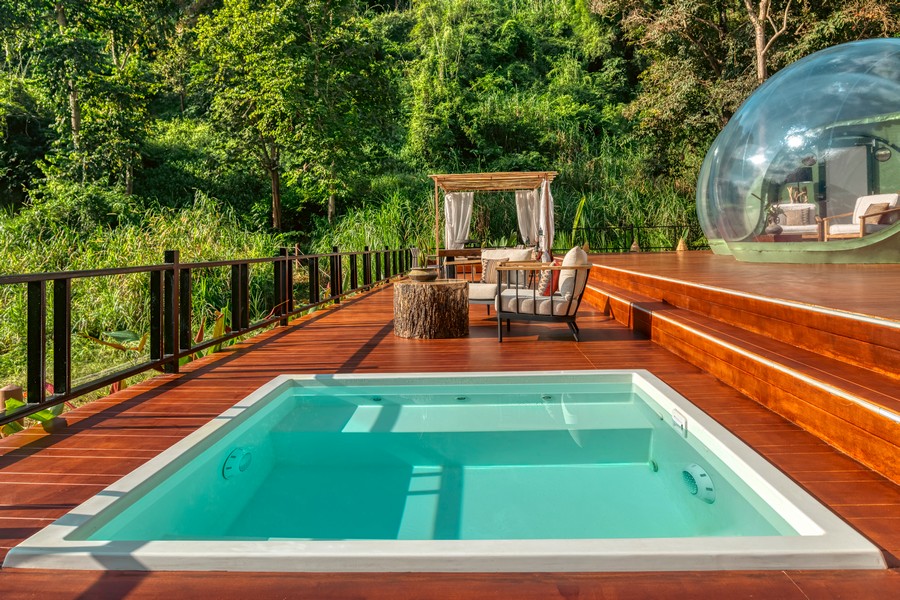 Family or friends travelling together will find the expansive Jungle Bubble Lodge the ideal option. With two bedrooms, a separate communal living space, and a generous outdoor deck with a plunge pool and alfresco lounge area. This luxurious lodge will elevate your night in nature to a whole new level.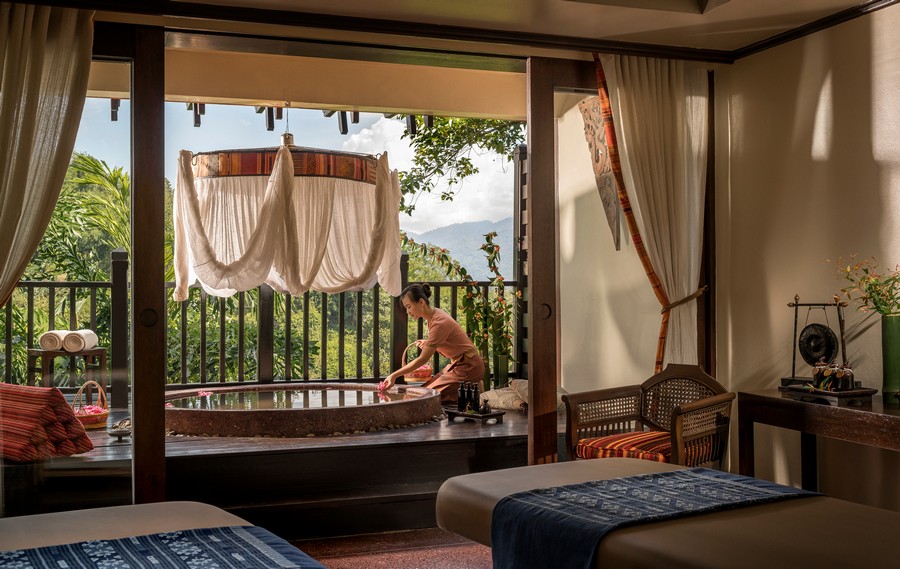 Anantara Spa is a haven for pampering and relaxation. Enter the three-storey open-air pavilion overlooking three countries, lemongrass scent in the air, and ascend to the reception area to check in for your treatments. The spa menu draws on centuries of northern wellness traditions and indigenous and medicinal ingredients. The teak and terrazzo treatment suites offer sanctuary. Two with shower, herbal steam room, and outdoor terrace with sunken terrazzo tub. Two deluxe treatment rooms have an alfresco massage balcony, or choose the Spa by Nature massage pavilion set in the rice paddies. All-inclusive Spa Discovery Packages allow you to mix and match depending on your particular requirements.
Sala Mae Nam's magnificent double-storey pavilion situated below the lobby is your setting for morning breakfasts, which in the cooler months could include misty valley views. Lunch and dinner feature northern Thai cuisine, street food favourites from across the kingdom, and fresh, organic ingredients from local Royal Projects. An Italian menu is currently on offer while the resort's Tuscan inspired Baan Dhalia is receiving some refreshment.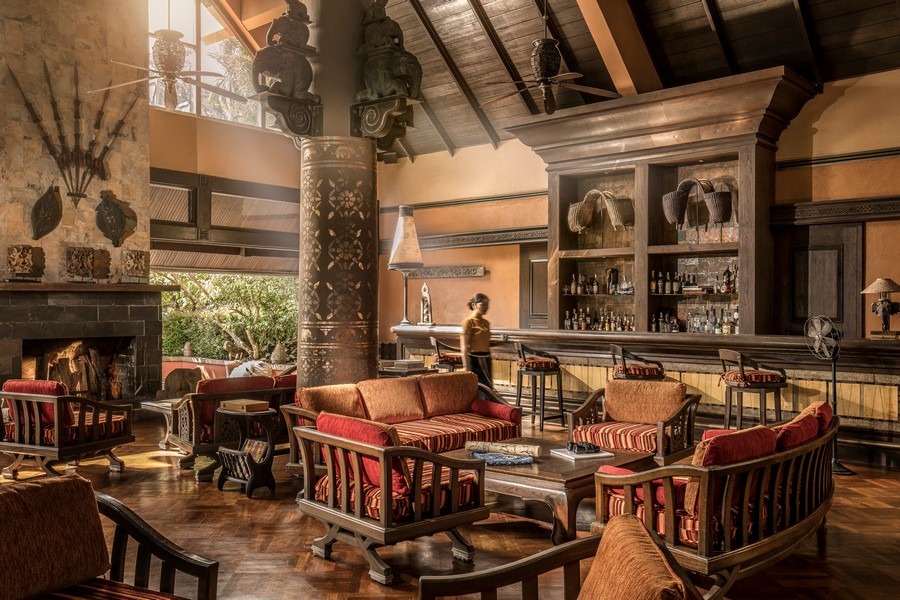 Overlooking the expansive resort infinity pool, Elephant Bar offers refreshing drinks, Lanna-inspired cocktails, and local craft beers. All-day dining options including bistro fare, Italian dishes from Baan Dhalia and Thai favourites from Sala Mae Nam are also available. Check out the Happy Hour specials, or drop in for after-dinner drinks – perhaps around the roaring fireplace during the winter months.
Elephant Bar also offers one of the world's rarest coffees, Black Ivory Coffee. It is produced from Arabica coffee beans consumed by the resort's elephants and collected from their waste. The taste of Black Ivory Coffee is influenced by elephants' digestive enzymes, which breaks down the coffee's protein. Black Ivory Coffee could be the most distinctive and exclusive cup you will ever have tried. Proceeds from sales of the coffee support The Golden Triangle Asian Elephant Foundation.
Anantara Golden Triangle is an aspirational venue for weddings, events and business meetings. The Rim Khong room can host 24 delegates, and the Mae Khong room a grand event for 144 people, accompanied by an outdoor terrace with a capacity for 150. The Golden Triangle's enchanting landscapes and rich local culture provide much inspiration for fairytale weddings.
To make the most of your stay, Discovery Experience packages that combine luxury accommodation with excellent all-inclusive benefits like full-board dining, airport transfers and more could be the ideal way to capitalise on the resort's unique facilities and destination. In the Discovery Experience, guests choose one activity from four categories for each night stayed, and the highly acclaimed Elephant Camp offers the most popular adventures.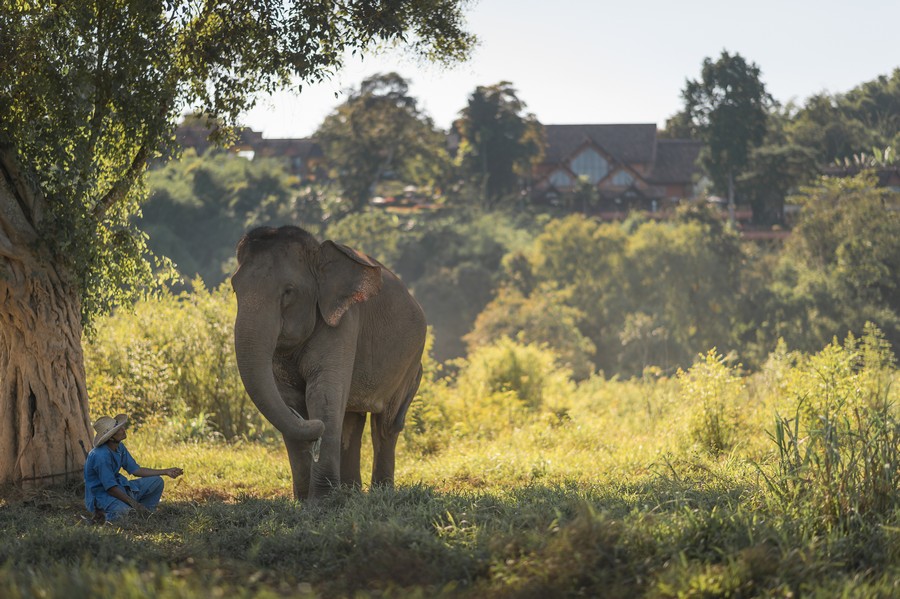 The Mahout Experience immerses you in the life of a mahout and the strong bond they share with their beloved elephant, from learning Thai commands and riding on their gentle giant's neck through natural jungle habitat to river bath time antics. The Elephant Learning Experience is differentiated by fascinating elephant biology and scientific research presentation and observation of social interaction with the insightful guidance of an elephant expert. In Walking with Giants, guests join the elephants' free-roaming stroll with the mahouts and the resident vet or biologist and enjoy the splashing fun of shower time.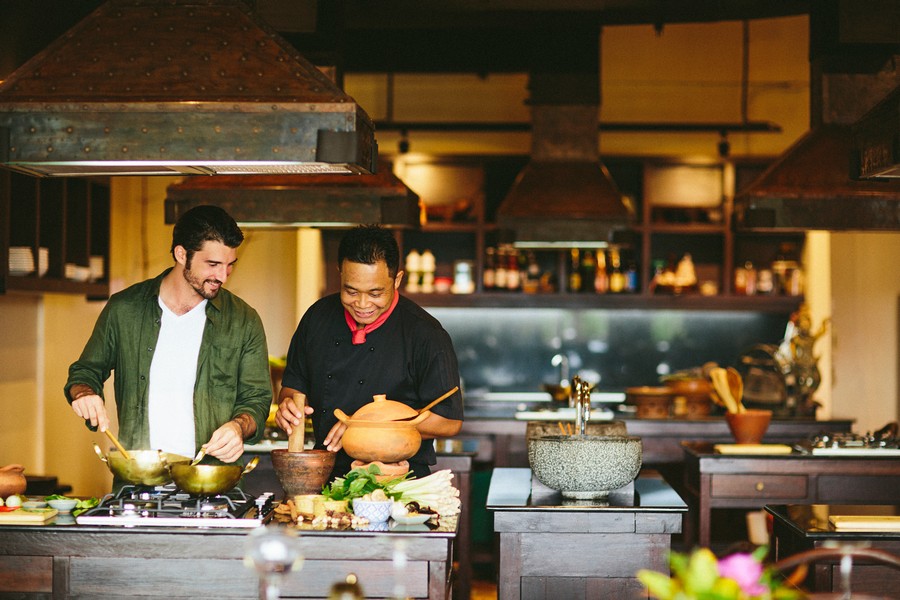 Anantara's Spice Spoons Thai cooking school is another all-inclusive activity option. Richly interactive, the experience begins in the former Lanna Kingdom capital of nearby Chiang Saen with a chef guided market tour and coffee with the locals, followed by a temple offering and breakfast picnic in the temple grounds. Back at the resort, students tour the herb garden before donning aprons for the step by step cooking class, learning how to recreate Thai cuisine's unique four flavour balance with a master chef.
Or perhaps, all-inclusive Golden Triangle Private Excursions exploring the unique character and traditions of Thailand and Myanmar, with the option of adding a Laos experience. The cultural trip incorporates market, temple and ancient Lanna experiences, tuk-tuk and longtail boat, with an experienced guide providing language assistance and regaling insightful facts and stories.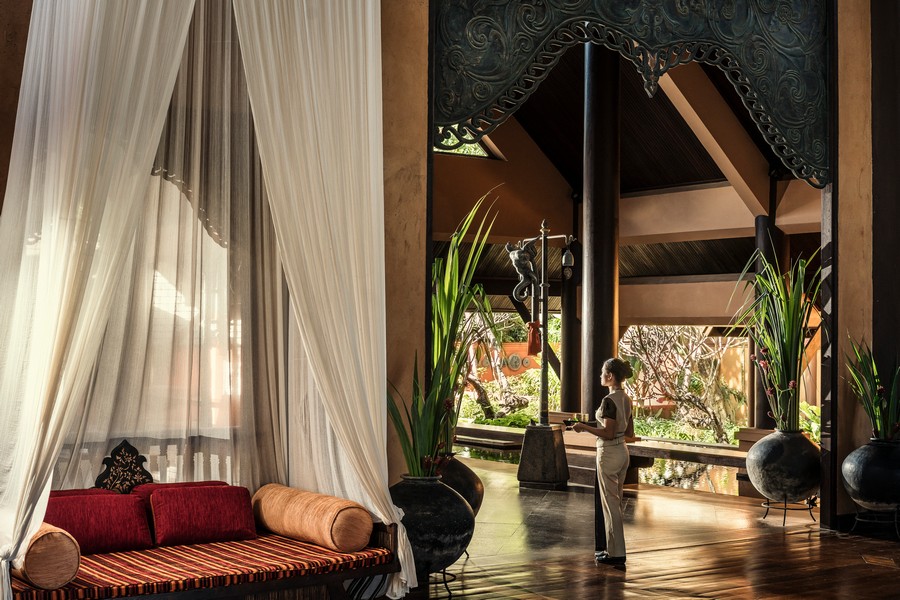 It's easy to understand why Anantara Golden Triangle Elephant Camp and Resort is consistently voted one of South East Asia's Best Resorts. Its northern jungle location, unique on-site activities, and all-inclusive Discovery Experience packages make for the best possible Thailand escape.
Anantara Golden Triangle
Elephant Camp & Resort
229 Moo 1, Chiang Saen,
Chiang Rai 57150
goldentriangle@anantara.com
www.anantara.com/en/golden-triangle-chiang-rai
By Michael Cullen