There are genuinely spectacular hotels in the world, the Hotel Du Cap Eden-Roc in the French Antibes, Raffles in Paris, Burj Al Arab in Dubai, and the Plaza in New York to name a select few. A little over four hours by air from Bangkok's Suvarnabhumi International Airport (once countries open up) is the Indonesian island of Bali, where a multi-award winning hotel awaits your visit. Capella Ubud Bali is so extraordinary it was awarded the "Best Hotel In The World" at the Travel + Leisure World's Best Awards 2020. In 2018, Capella Ubud was recognized as the "Best New Hotel in the World" at the ULTRA travel awards.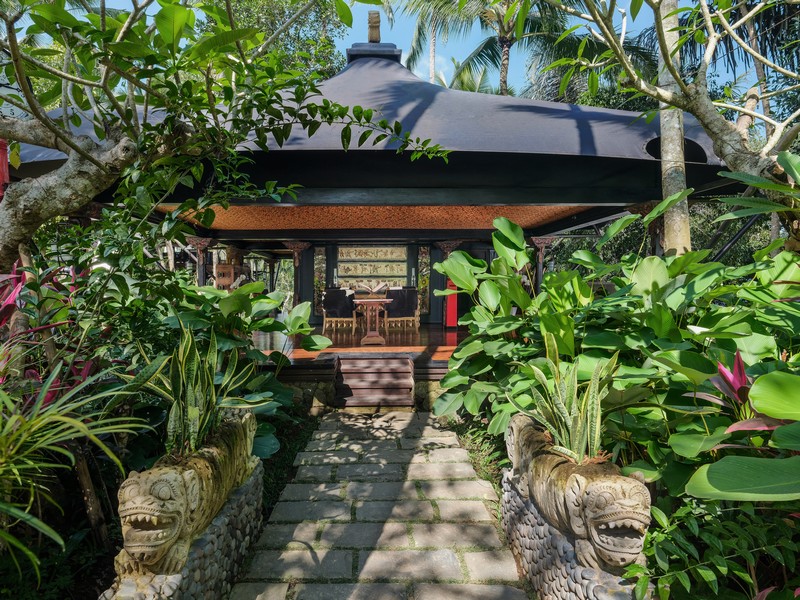 Inspired by the early European settlers from the 1800s, celebrated architect Bill Bensley conceptualized Capella Ubud, Bali, as a tribute to their spirit of adventure. Set within a dramatic terraced landscape and nestled between lush rainforest, rice paddy fields, and the sacred Wos River, this refined Tented Camp is a hidden sanctuary that encapsulates the essence of Ubud's untouched natural surroundings.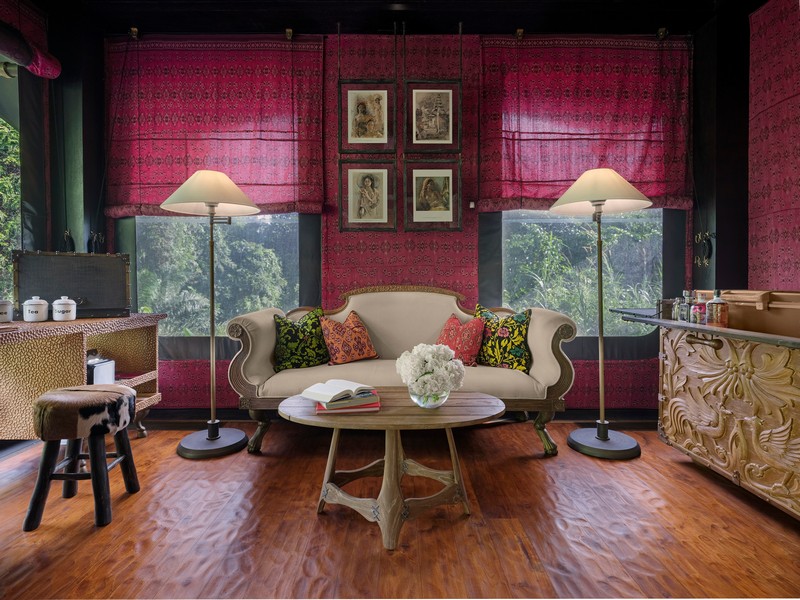 The Camp is adorned with handpicked valuable antique artifacts, books, paintings, drawings, and furniture, some of which are from the owner's treasured private collection. It pays homage to the local craftmanship and rich cultural heritage of Indonesia.
All 22 one-bedroom tents and the single two-bedroom tented lodge are individually styled with a wink back to the early 1800s, balanced by modern conveniences, and feature a private pool and large outdoor decks.
There are four different categories of one-bedroom tents, all offering distinctive, unique experiences and 173 square meters in size. You can choose a Terrace Tent, of which there are five located near the main Camp and the paddy fields, with an outlook to the rainforest. There are four Rainforest Tents with a rainforest setting and view. Eight River Tents provide a tranquil Wos river experience. The tents are secluded and on a gradient very near the Wos river. The Keliki Valley Tents, of which there are five, offer the most dramatic, unobstructed, and elevated Keliki valley view and have the largest pools.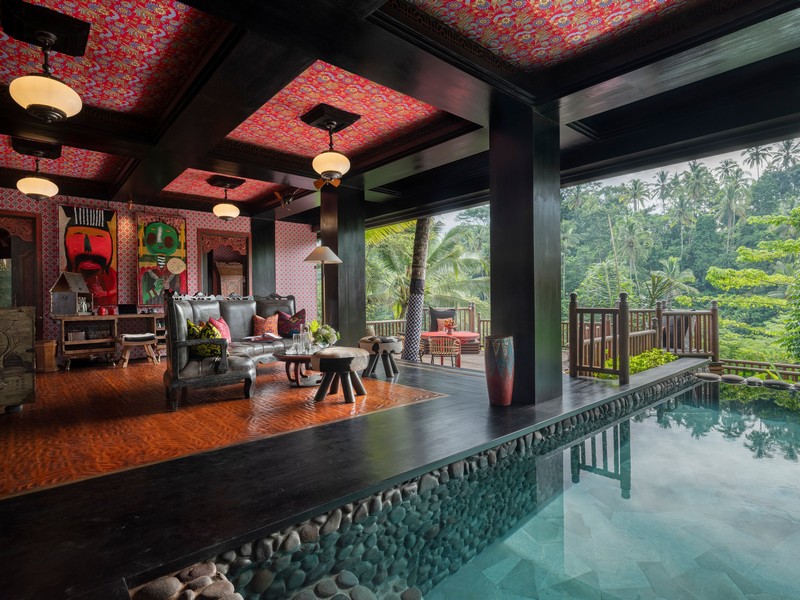 The single two-bedroom Tented Lodge offers a spacious 217 square meters of space blended into the terraced landscape. It is best suited for a small family or a group of friends travelling together.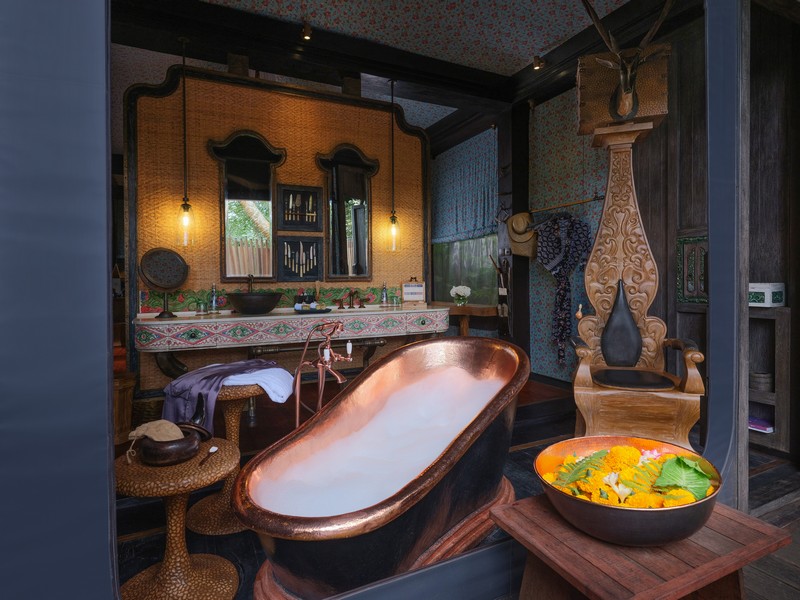 Amenities abound and include; Premium wireless Internet, Indoor and outdoor rain showers along with a stand-alone hammered copper bath. Bespoke organic toiletries and a soap menu can be found in the bathroom. Within your tent, you will find a refreshment trunk offering daily complimentary non-alcoholic beverages and selected snacks plus a premium coffee machine, a tea station, daily seasonal fruit, and infused water. You will also receive a welcome duffel bag on arrival containing camp essentials.
While encamped, you'll enjoy a complimentary daily breakfast, return airport transfers for stays of 2 nights or more, and daily return transfers to Ubud centre. You'll also have access to the Officers Tent, 24-hour exclusive access to The Armory and The Cistern. Low and high-impact guided group activities are also available, as well as the use of mountain bikes.
Culinary experiences abound and include Mads Lange. The Camp's split-level tented dining room is named in honour of the famous Danish spice trader, entrepreneur, and peacemaker of Bali, Mads Johansen Lange, nicknamed "The White King of Bali." Mads Lange offers an elaborate array of classic Indonesian dishes, designed for sharing in the manner of "Rijsttafel," and served with a variety of locally harvested rice, using ancient recipes inspired by the spice trail across the Nusantara archipelago along with international favorites.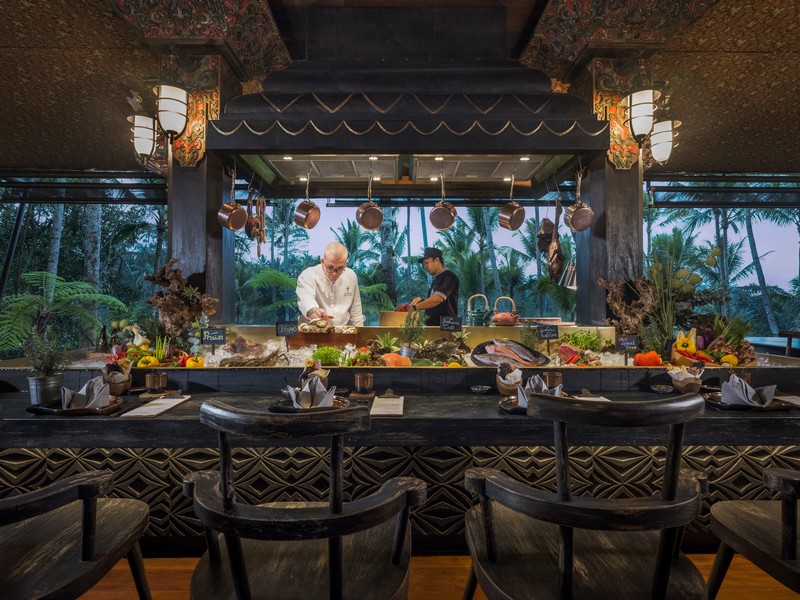 Inspired by the Sanskrit word meaning "fire to the soul", the chefs at Api Jiwa create bold flavors served in a lively and uniquely designed open-air restaurant. Watch the magic happen around the Chef's counter or at a private dining table for a course by course journey through unexpected bites and exciting tastes showcasing the best local produce from Bali.
The Mortar & Pestle Bar offers light poolside snacks, health-conscious options, and a wide range of cocktails and potions. All beverages are locally inspired and handcrafted using traditional methods such as a manual ice crusher to not interrupt mother nature's beautiful rainforest sounds and delights.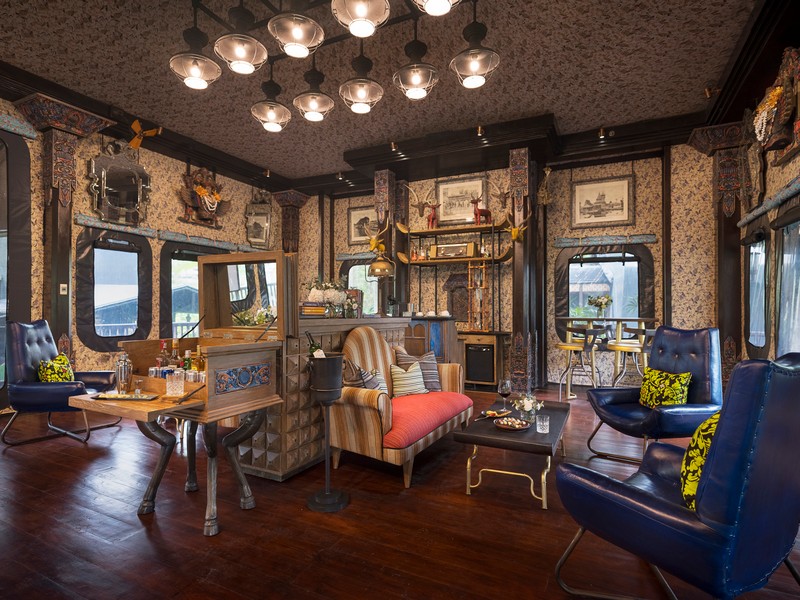 Exclusively reserved for camp residents, The Officers Tent is the Camp's living room where morning coffee, afternoon tea, and evening cocktails and canapés are served. You'll also find a wide range of books, International magazines, a billiard table, and board games available for relaxed entertainment.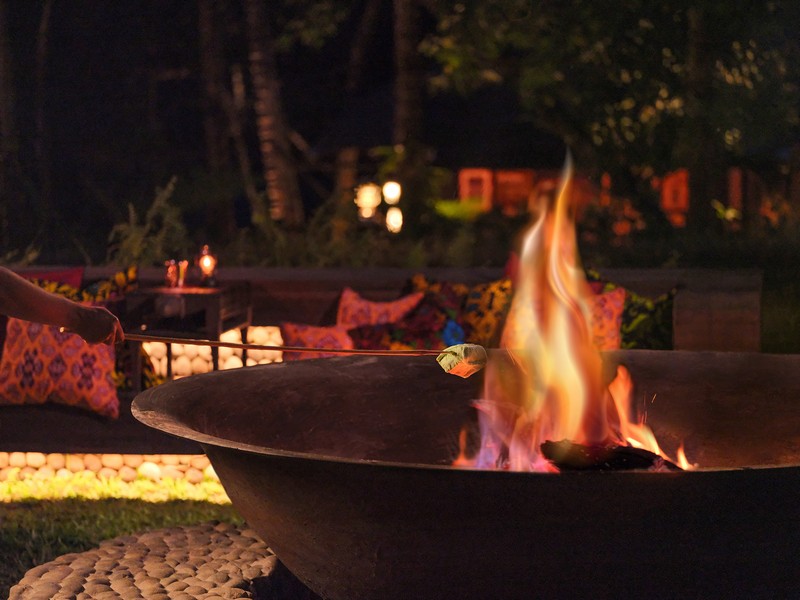 At The Camp Fire, you'll meet a local storyteller over hot chocolate and toasted marshmallows. While under the stars, you can enjoy a silent black and white movie showcasing the Bali life of yesteryear or take part in a casual campfire supper.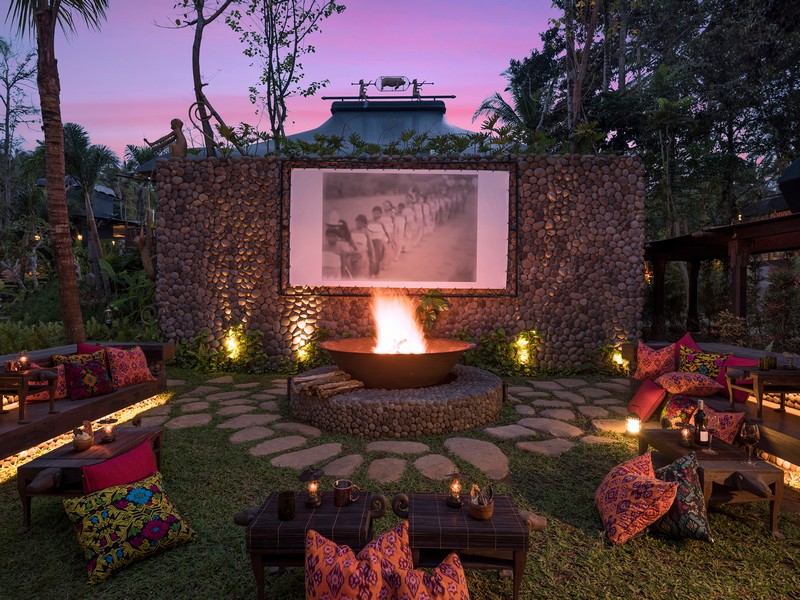 In-Tent dining takes on an entirely different role at this camp where an assortment of stacked tin boxes forms the basis of your private buffet dinner that is wholly prepared to your liking.
Bespoke private dining can be arranged on request, ranging from intimate candlelit dinners to private picnics and barbecues at marvelous jungle and rice paddy locations.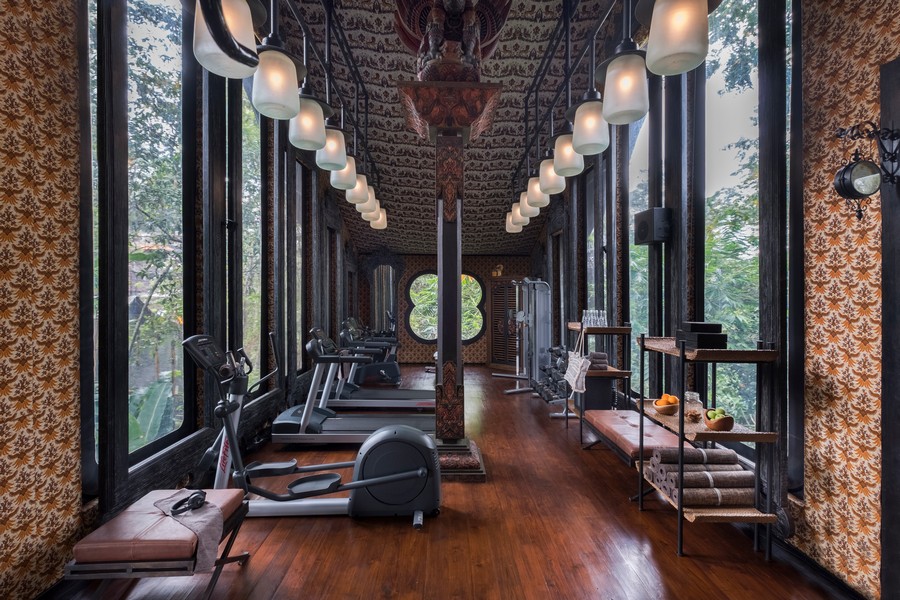 If you over-indulged on the campfire toasted marshmallows, you will want to work out in style at the Camp's jungle-based tented gymnasium called The Armory. Here you'll find a state-of-the-art line-up of workout equipment, free weights, TRX strength stations, and the barre for barre-based classes.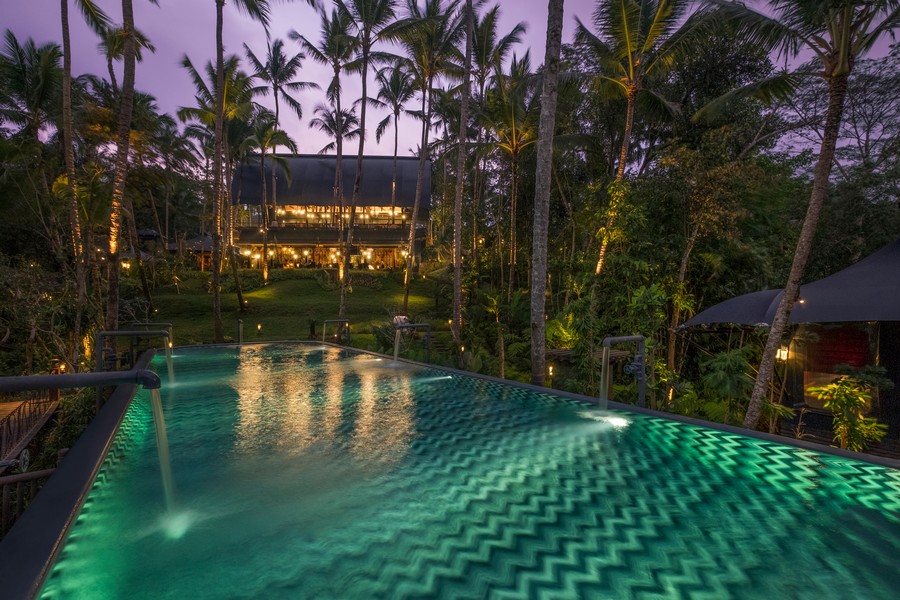 The Cistern is Capella Ubud's 120 sqm outdoor rainforest pool, located at Camp central. The large pool lends itself perfectly for laps: Camp Rangers offer a series of low and high impact guided adventures, while activities, ranging from yoga to jungle boot camps, Tae Bo, rice paddy tracking and, village biking are all available.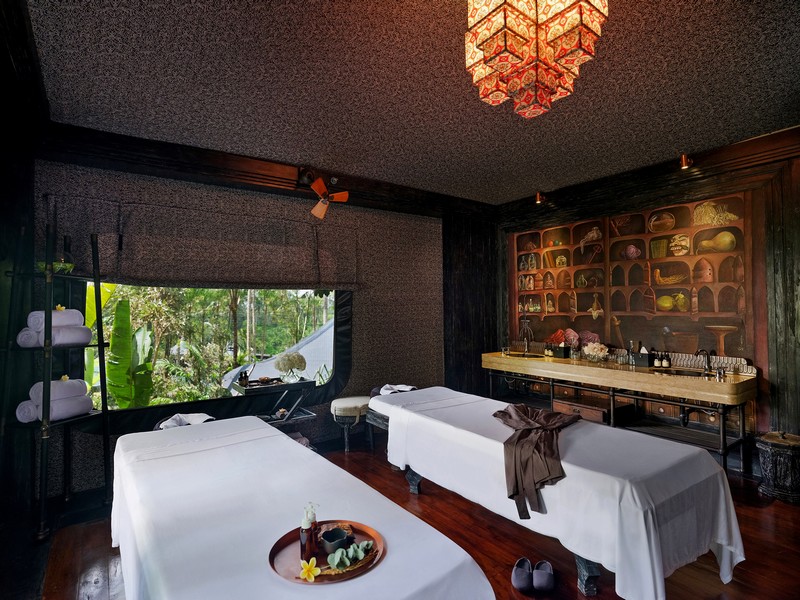 Auriga Wellness, named after a constellation in the northern hemisphere, bases its unique and distinctive spa approach on the different lunar cycles in line with the local Balinese and Hindu traditions. It features a diverse choice of pampering and healing spiritual journeys. Auriga Wellness offers nomadic treatments and employs highly specialized local healers to complement their on-site expertise and modalities further.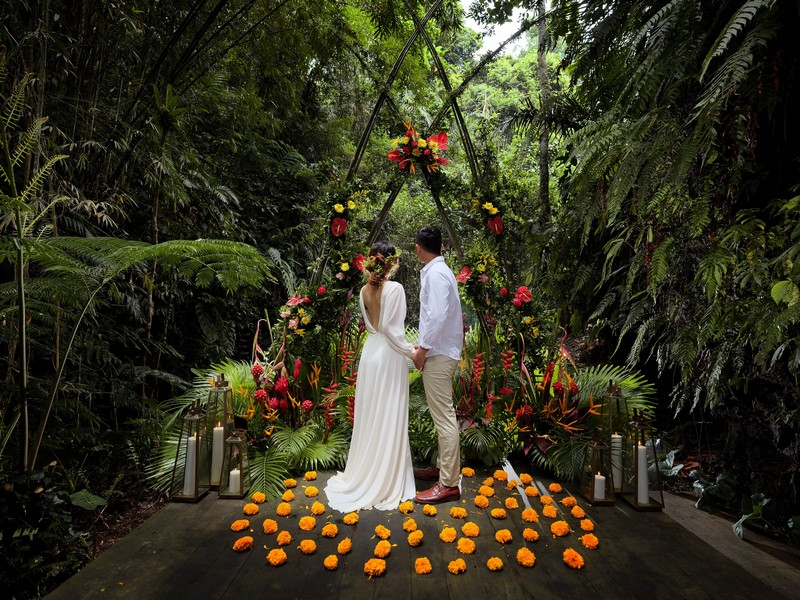 Capella Ubud is the perfect place to host the most intimate of unions and anniversaries to the grandest of marriages in their uniquely special rainforest setting. Locations available at the Camp include the Wos River Deck, the outdoor deck of your private tent, or the Lodge's outdoor deck, each accommodating up to 12 guests. For larger celebrations, The deck of The Cistern can accommodate up to 50 celebrants.
And to wrap it all up with a bow, a Capella Culturist is on hand prior to your arrival and throughout your stay, attending to your every desire so that your start to finish experience is truly remarkably memorable. As it should be, for a hotel, voted The World's Best.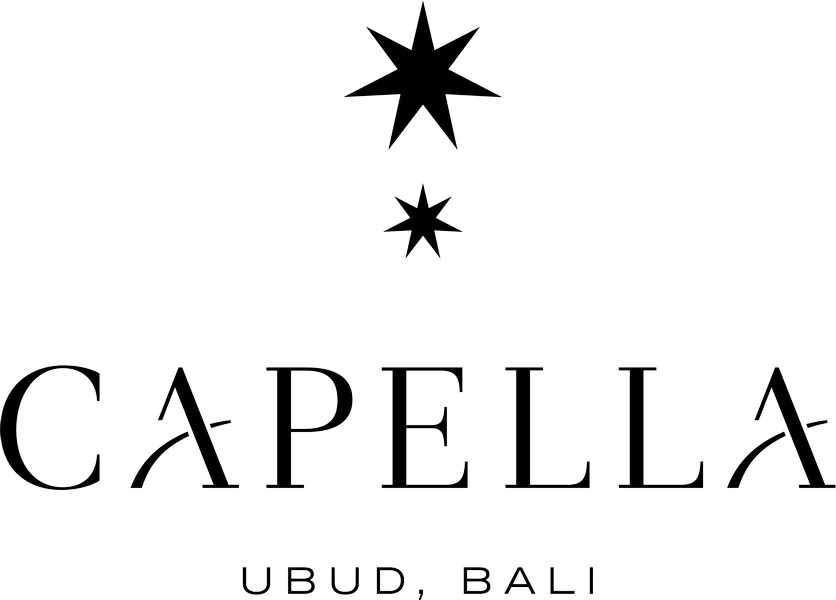 Capella Ubud, Bali
Jalan Raya Dalem, Desa Keliki,
Tegallalang, Gianyar,
Bali Indonesia 80561
capellahotels.com/ubud