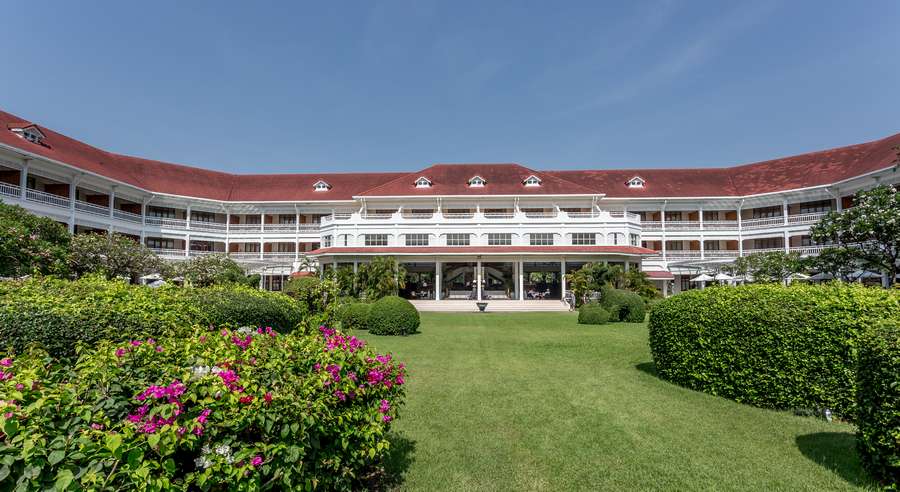 The historical elegance of Old Siam has been redefined at Centara Grand Beach Resort & Villas Hua Hin. Built along the classic lines of the 1920s, this colonial style resort was originally known as the Railway Hotel, when the new railway line to Malaysia was transforming the sleepy fishing village of Hua Hin into Thailand's first beach resort. After Centara Hotels & Resorts acquired it in 1985, the hotel has been sensitively extended and renovated yet Centara Grand retains its air of that bygone age of elegance. Set on the beachfront, with a wide expanse of gardens perfect for strolling and enjoying the sea breezes, and with a prime town center location ideal for exploring and shopping, the resort is a prime destination for couples and families.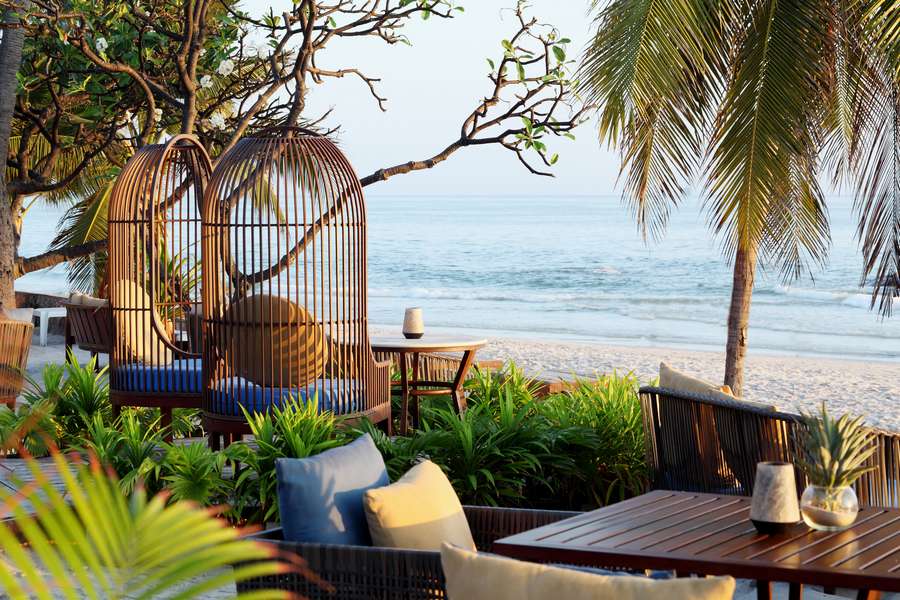 Hua Hin is situated on the sunrise side of the stunning Gulf of Siam and remains Thailand's oldest and most desired beach destination. Being known for the warm, soothing climate along with its serene beach, Hua Hin gradually became a vacation destination for the kings, the royal households and noble families.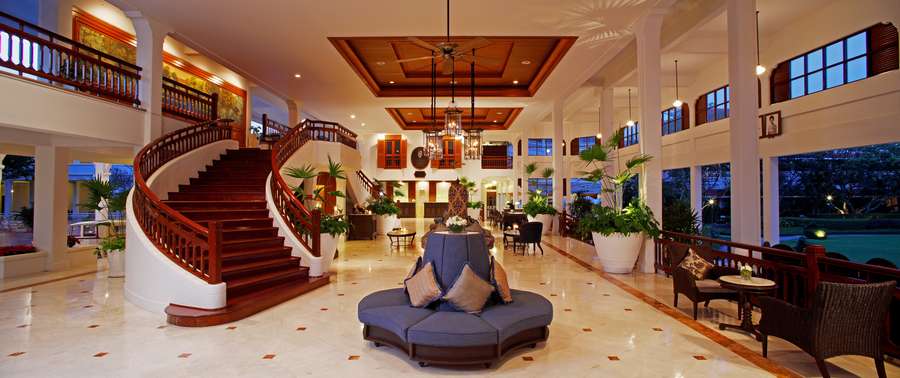 Centara Grand evokes that old-world charm of Hua Hin with its teak furnishings, high ceilings and gracious décor in all of its 209 luxuriously appointed rooms and suites. Each guestroom has a private furnished balcony overlooking the landscaped gardens, the swimming pools, or the Gulf of Thailand. The suites feature generous living space ranging from 60 to 170 square meters, including the option of duplex accommodation. In addition, 42 villas are set amid the extensive gardens in a separate area and feature a colonial décor and the option of an outdoor Jacuzzi or a private pool. Each villa provides absolute privacy while the Premium Deluxe Pool Villas are a luxurious retreat with private pool and outdoor pavilion. With all of its quaint furnishings, the resort does have modern amenities including a bedside control panel, safe deposit box, mini-bar, satellite channels and Wi-Fi for ultimate comfort and convenience.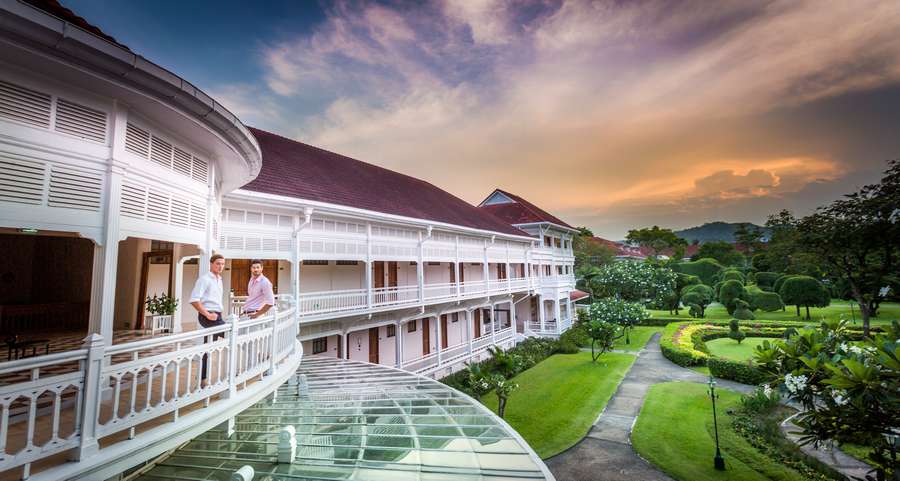 Recognizing the charm of Hua Hin, in 1921 the director of the state railway, Prince Purachatra personally oversaw the construction and when it opened in 1923, the Railway Hotel became an instant favorite among Thais and foreigners alike as the most luxurious and modern hotel in the region. During the chaos of World War II, stories of Hua Hin's tranquility continued to spread throughout the East. In 1986, Central Hotels and Resorts and Accor re-launched the hotel as a Sofitel after two years of extensive refurbishment and their efforts were praised by The Architects Association of Thailand who awarded the Sofitel the grand prize for "outstanding conservation" in the category dedicated to preserving historic Thai buildings. In 2007, the Sofitel was renamed Sofitel Centara Grand Resort and Villas, Hua Hin—the "cen" coming from Central and "tara" which means water in Thai.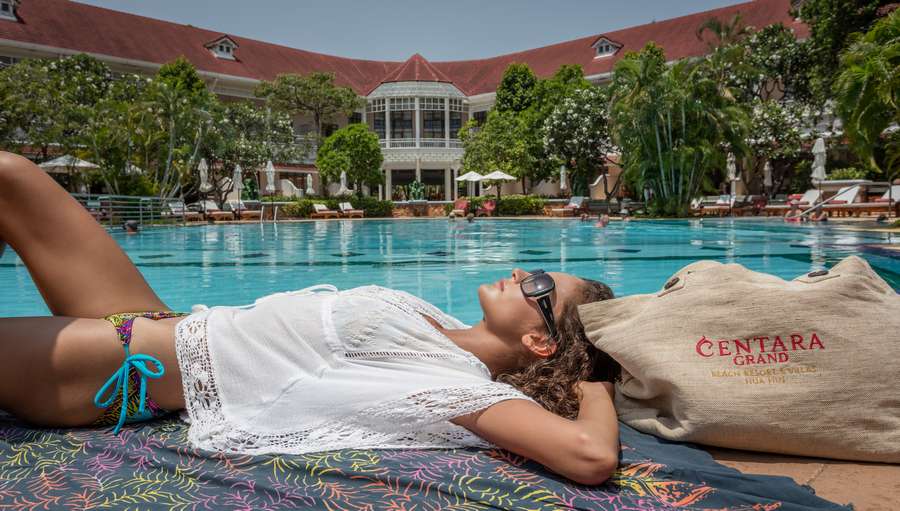 Centara Grand ensures that guests' leisure and recreation time is well spent on the grounds of the hotel itself. There is a wide range of leisure activities available, from four swimming pools, the fitness center, tennis courts, badminton, croquet, snooker, giant chess, table tennis, boccia/petanque, and water sport activities. For your little ones, the hotel also features a Kids' Club (Camp Safari and E-Zone) and daily activity programs as well as a babysitting service. Housing almost a hundred different varieties of heritage flowers and ornamentals, the hotel's magnificent topiary garden provides a magical charm to the overall scenery of the hotel. Spanning over 16 hectares of prime beachfront land, the garden is definitely a romantic setting for a gentle stroll with your significant other.
In a country with thousands of spas, SPA Cenvaree Hua Hin has set itself apart with their attention to detail and care. The spa offers a full service menu of treatments and spa journeys that goes beyond the usual trappings of a city spa, with therapists on hand to design a personal approach that takes into account all aspects of the individual's current health, fitness level and lifestyle. Keeping with Centara's brand, the name 'Cenvaree' is a portmanteau of two words –"cen" is taken from the first few letters and 'varee' is a Sanskrit word meaning 'water'. Inspired by traditional Thai architecture, the spa is set within the tranquil gardens of the hotel. It features seven suites for singles and couples, with a separate venue for manicures and pedicures. SPA Cenvaree prides itself on the "soft power of touch". By acknowledging the association of softness and nurture with power, this innate strength embodies the healing touch of SPA Cenvaree-trained therapists. Under the careful eye of Mie, the Spa Manager, SPA Cenvaree offer a unique blend of Southeast Asian therapies, including Ayurvedic and Balinese, with a special focus on traditional Thai treatments, all designed to provide guests with an experience that lingers long after their holiday ends. Some of their popular treatments include their full-body aromatherapy massage, a deep tissue massage with a hot salt pot compress, and a detoxifying massage known simply as Wanalee "A Royal Treat" which combines the richness of Thai herbs and organic plant essences. Explore over 60 therapies, whether its flower-scented body scrubs, traditional Thai spa rituals, muscle-melting body massages or heavenly facials, SPA Cenvaree has you covered from head to toe.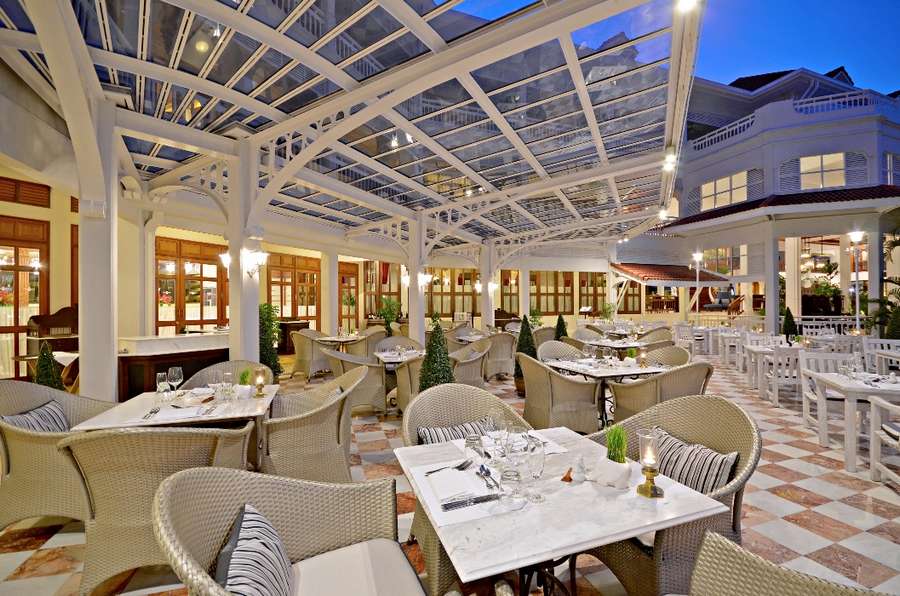 Centara Grand combines delicious international cuisine with stunning views of the beach. Sate your urges through a selection of seven options—from the sunny Coast Beach Club and Bistro to the exquisite Museum restaurant. The Coast Beach Club and Bistro is the newest addition to the hotel where you can relax in the sunny afternoon haze and sip your way through until dusk with an array of exotic cocktails. If you feel like treating yourself, Hagi's menu presents carefully crafted Japanese specialties including teppanyaki, a wide selection of sushi and sashimi, exquisite tempuras, and many other traditional recipes. Soak in the Elephant Bar's relaxing ambience and enjoy classic concoctions, innovative cocktails and a choice of prime whiskies. Savor The Museum's acclaimed Afternoon Tea, a signature offering with finger sandwiches, cakes and homemade biscuits, and scones, cream and jams served on silver stands under the veranda, or enjoy a selection of hot beverages to accompany light snacks and pastries. Dinner is a special affair, especially at the Railway restaurant. With its elegant wooden décor and mementos of the railway era, The Railway restaurant offers a worldly selection of cuisines from the tangy flavors of Thai cuisine to refined European specialties. Further restaurant choices include their Rajpruek Lounge, 24-hour room service and Suan Bua which is located poolside by the villas and showcases delectable Thai home-style cuisine and regional specialties.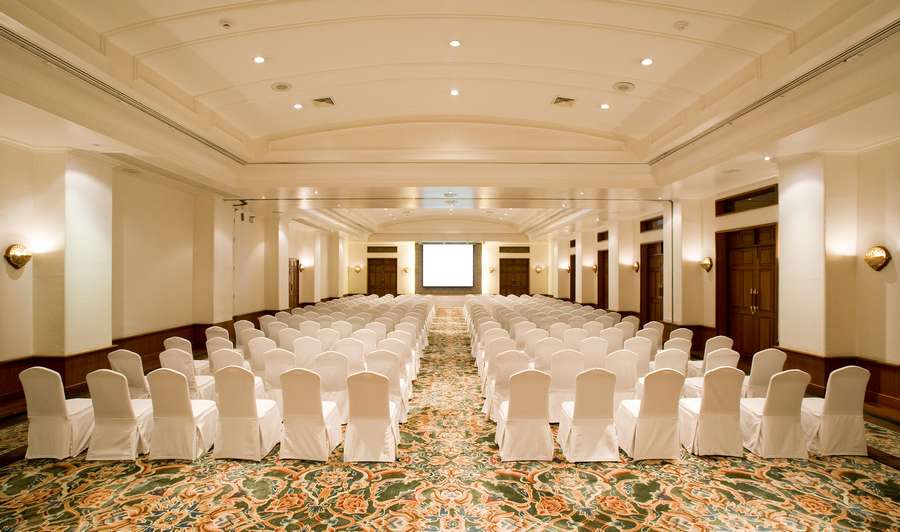 One of the better aspects about the Centara Grand is its look toward service and social gatherings. An events specialist is available to ensure that planning and implementation work perfectly. The hotel can cater for a wide range of events, from corporate retreats, product launches, beachside gala dinners, weddings and private parties. The Colonial Hall has a maximum capacity of 300 people theatre-style and can be divided into two smaller venues. With its 5-metre high ceiling, this is a very flexible venue. And though it is smaller in size, and also divisible into two separate sections, Hua Hin Hall takes up to 80 persons theatre style. There is also a boardroom with all the necessary audio-visual equipment including free Wi-Fi. Outdoors, the resort can handle large events of up to 700 guests, at the beach, poolside or by the putting green. Complementing the meticulously restored colonial-era architecture are artistically trimmed and shaped gardens adding to the hotel's splendor and framing the golden sands of Hua Hin Beach for an event to remember.
With a well-trained staff versed in several languages including Chinese, English, Filipino, French, German, Spanish and Swedish among others, guests will find an impeccable service for their every need. The scale of restoration and improvements over the last 80 years reflects not only the needs of today's modern traveler, but also the building's rich history and heritage. It is this unique combination that stands as a testament to the beauty and tranquility of a bygone era.
Centara Grand Beach Resort
& Villas Hua Hin
+66 (0) 3251 2021 -38
Email: chbr@chr.co.th
1 Damnernkasem Road,
Hua Hin 77110, Thailand