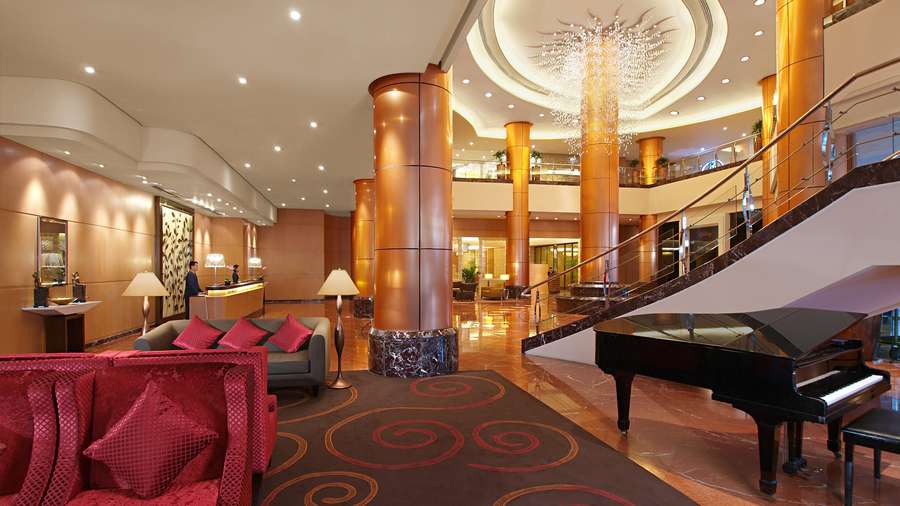 In a city which can often stand out for its hectic rush hour and its hustle and bustle, it is always important to have a safe space where one can retire and take some time to relax – or simply stay a few nights away from the noise and the constant high tempo. One of such cities is Quezon City, in the east of Manila. Not only is it the most populated in the entire Philippines, but it is also one with great attractions. This month HOT Magazine ventures to the perfect place in which to recharge your batteries before heading out again into the hustle and bustle of Quezon.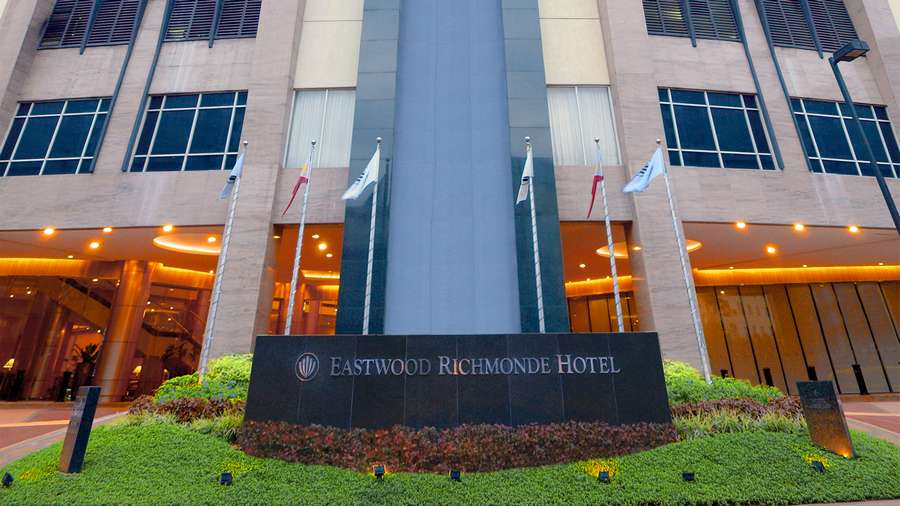 Optimally located in Quezon City, the Eastwood Richmonde Hotel is one of the most convenient and luxurious hotels in which one can spend time during a trip to the country's former capital. Stocked with a large array of different rooms and facilities, it is very practical for those who want a touch of class added to their vacation.
The Eastwood Richmonde Hotel presents four types of distinct rooms, each suited individually to the specific needs of any guest. The levels of luxury vary amongst them. Each of the rooms however contain an in-room safe, hot and cold water, toiletry sets, daily sets of drinking water, a shower and a bathtub, desk with a chair, a hairdryer, an electronic key card system to access the room, telephones in the bedroom and the bathroom, coffee and tea makers, free WiFi access, a DVD player, air conditioning and every guest's favourite part: a minibar.
Perhaps one merely wishes to have a pleasant stay with great care and top class facilities but isn't seeking overflowing pampering. In such case, the perfect pick is the Superior Room, the hotel's standard facility. with 48 units throughout the hotel, it is best suited for lone travellers or couples. Coming with your loved one after a long flight and looking for some rest before setting off to visit the city? This is a stocked but not overly glittery option, working just as well for the tired businessman or the lone explorer.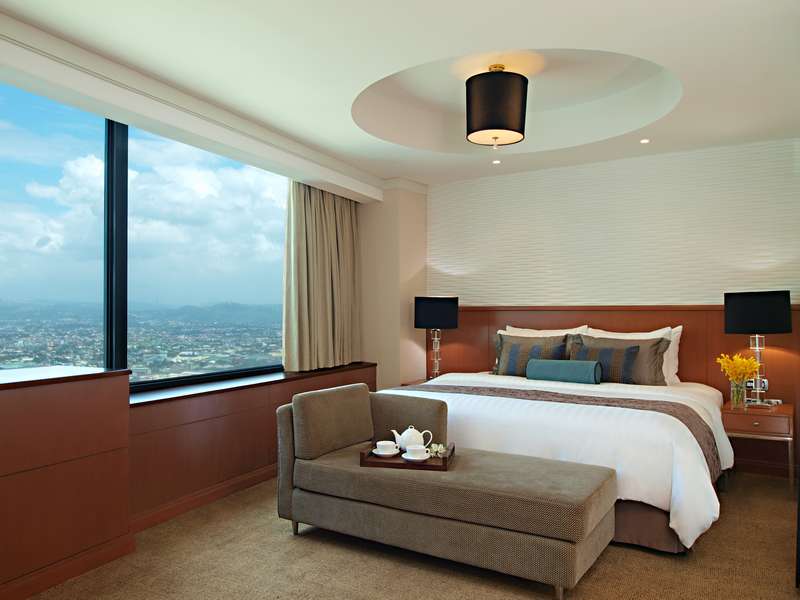 If you're looking for a little more space – perhaps for your child or your trio of friends – the Deluxe Room is well equipped to satisfy your needs. If the trip is longer than a few days, the added space really makes it stand out and makes of it a more homely room. Bed sizes can be ordered in accordance to the guests, alternating between king size beds, queen size beds, twin beds or even a sofa bed.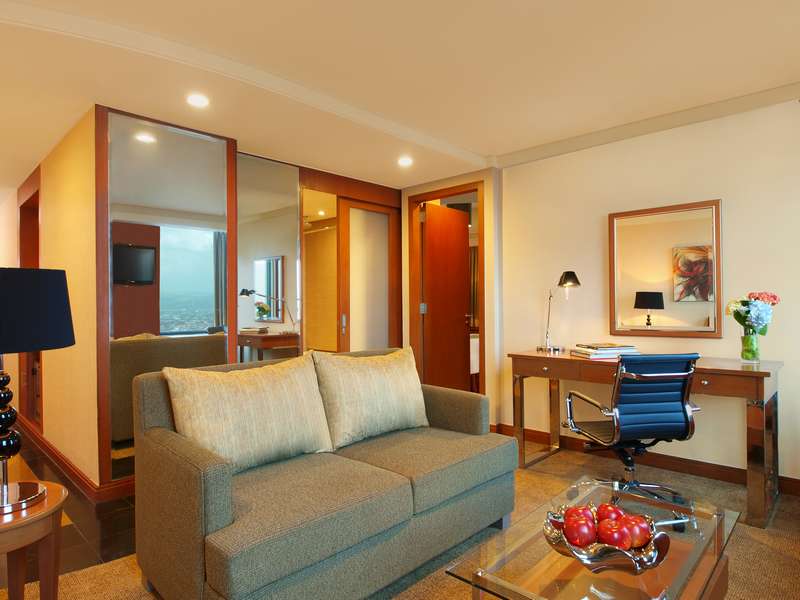 If the holiday is an extended one and one foresees the arrival of guests while on the premise – or simply prefers to stay indoors more enjoying the hotel's great facilities, then the perfect room is the One Bedroom Suite. Living rooms and bedrooms are separated in two quarters, and it is docked with an LCD television and DVD player. This allows for the guest to have a private rooms while guests separately reside in the living room. Ranging from the regular at 48 square metres to the premier suite at 71 square metres – this last one including a dining room and pantry – these are not to be missed by the luxury traveller.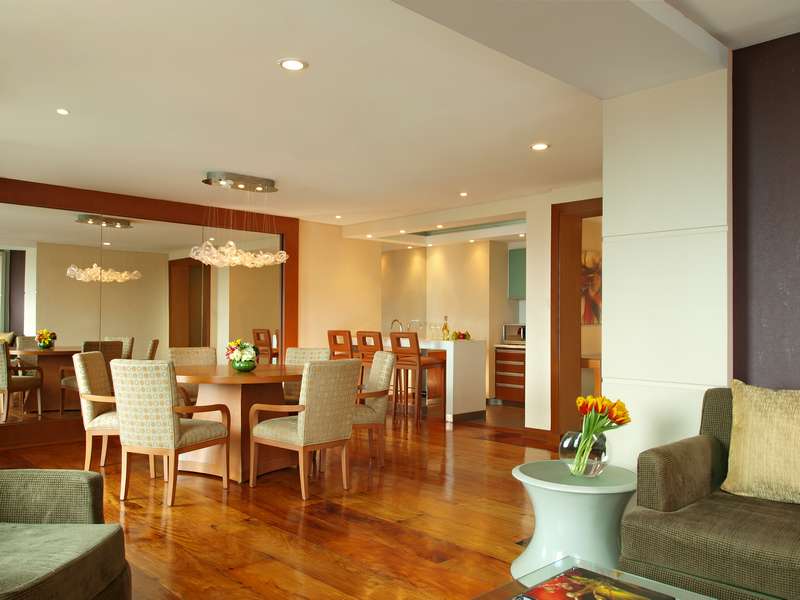 The Two Bedroom Suite allows for grand comfort throughout the guest's stay, extending a spacious 104 square metres and a full bar and pantry area. It is the ultimate delight for a perfect stay.
The Eastwood Richmonde Hotel offers an extensive array of dining options at its multi-purpose Lounge. Why not gorge on a local chicken adobo? Or perhaps you feel more international and opt for the Japanese, Italian or French selection of food. Perhaps a coffee would do well after that, and if you find the dusk has set in and you're ready to find the drinks, head over to the bar where mixologists lead the way to pamper you with their creations.
And if you're finally having to tend to some last minute work, the business centre is the place to be, where one will be provided with all the necessary amenities to complete work in a suitable environment.
If the work has worn you out and you're ready for a workout, the fitness centre is the place to go. Personal trainers can assist those who are just beginning with their expertise and put them to work in the well equipped gym. The burnout can be easily coupled with a cool down at the pool and a sunbathing session before indulging in the spa.
All in all, the Eastwood Richmonde Hotel is a truly relaxing and well equipped hotel in which to spend your stay while you visit one of the Philippines' most iconic cities. Next time you visit, be sure to check it out.
Eastwood Richmonde Hotel
17 Orchard Road Eastwood City,
Bagumbayan, Quezon City 1110
Philippines
Tel. No.: (632) 570-7777
Email: erh@richmondehotel.com.ph
www.eastwoodrichmondehotel.com.ph