Evason Hua Hin Resort is all about restoring balance to your life, and it is your senses that feel that rebalancing first.
Scents of floral, sweet and herby pandan, the heady fragrance of frangipani, and the fresh, salty sea breeze fill your nostrils. The sounds of waves gently washing against the sea wall, the rustle of leaves in the bamboo stands, the sway of fronds atop the towering palms – all combine to calm the mind.
A feeling of tranquillity slowly overtakes as you wander the 20-acre of lawns, gardens, curated waterways, lotus ponds, and giant shade trees. Adding to the peaceful nature is the absence of vehicles other than the electric golf carts quietly ferrying guests to and from the carpark, and bicycles used by staff to navigate this sprawling resort.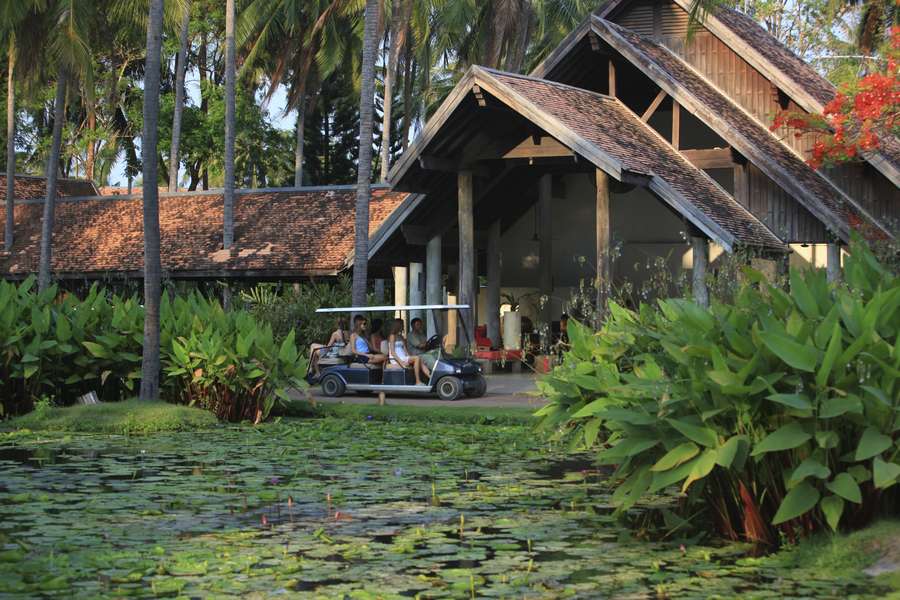 Located in carefree, seaside Pak Nam Pran, just 30 minutes south of Hua Hin township, this is Thailand's Royal Coast at its most authentic and picturesque. So, let's look at the resort's facilities in more detail.
With 196 guest rooms, Evason Hua Hin Resort is a mix of guest rooms, suites and private pool villas. All offer eco-friendly designs with a relaxed ambience highlighting natural fabrics and calming hues. Guest rooms overlook the parkland lawns and offer comfort and modern conveniences complete with in-room daybed, private balcony, ensuite bathroom and luxuriating rain shower. Large mosquito nets suspended above the inviting beds add a tropical, romantic touch.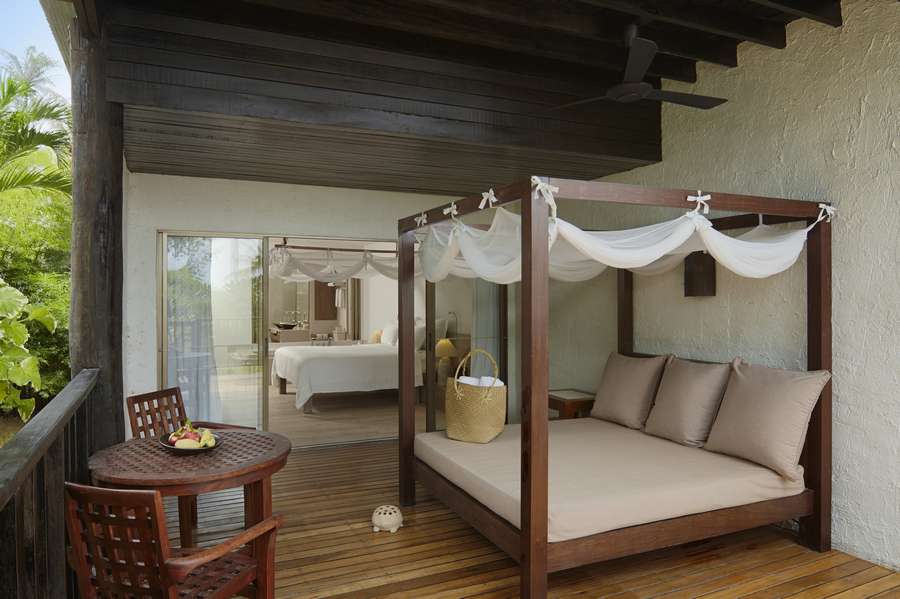 Evason Studio rooms, with their garden views, feature a large terrace including a generously-sized daybed. These studios offer the perfect combination of comfort and space. Ideal for those who enjoy the tropical outdoors on the terrace. In some studios, families with two small children can also be accommodated on bunk beds.
One- and two-bedroom suites offer a separate bedroom and living room with entertainment system, dining table and pantry. The suites have an extra-large terrace, outdoor daybed and a dining setting. Two-bedroom suites offer spacious living areas in which families can reconnect.
Pool Villas are in an exclusive enclave close to the resort's restaurants, Six Senses Spa and oceanfront. Generously proportioned, they offer complete privacy within a walled garden. Enjoy a dip in your own plunge pool, soak in the large outdoor bathtub, or simply recline in the outdoor Sala.
For that romantic interlude, honeymoon, or special couple's celebration, the spacious, airy sea view studios may be the answer. The open style bathroom has double vanities, a separate bathtub and a rain shower stall. Overlooking the pool gardens, the expansive terrace with your private daybed and dining table have a gravitational pull. Awake with the dawn for a perfect sunrise experience as you take in the entrancing Gulf of Thailand views.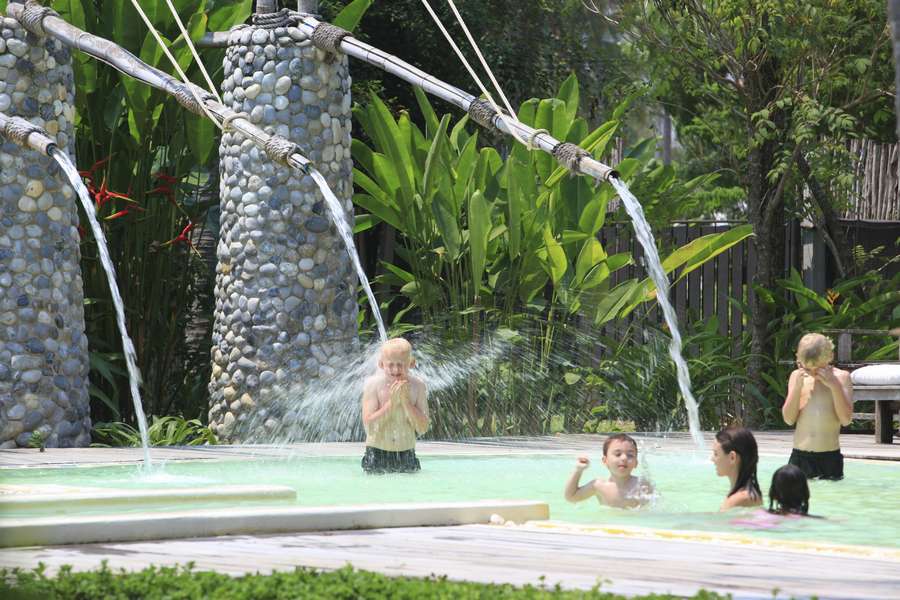 As part of the renowned Six Senses luxury hotels & resorts, Evason properties are couple and family-friendly and provide a strong value focus while offering a vast array of guest services and personal attention. Evason Resorts continue Six Senses commitment to sustainable practices and ground-breaking wellness initiatives.
This wellness and pampering come together at Evason Resort's Six Senses Spa. You are offered a comprehensive menu of speciality treatments focused on essential tropical ingredients that keep your skin free from unnatural products and provide a truly relaxing and revitalising experience. The spa evokes a sense of healing and calmness through the gentle sound of flowing water and Himalayan singing bowls. It blends traditional Thai features with a range of facilities, treatments and programs to help you kick-start your wellness routine. There are ten treatment rooms, four of which are surrounded by lush gardens and lotus ponds. Guests can avail themselves of the sauna and steam rooms at any time during the Spas operating hours.
Six Senses Spa also provide a range of complimentary classes and activities across the week including yoga starting from complete beginners for both adults and curious kids; mindfulness meditation techniques including meditation for kids; or learn to create your homemade body scrub or coconut oil.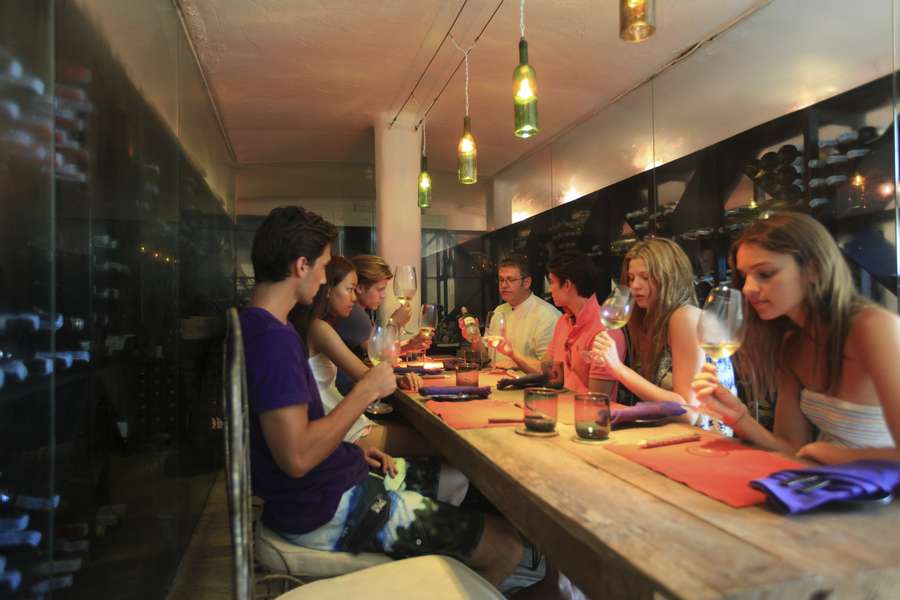 Whether it be for early morning laps or time lazing on a sun-bed gazing out to the ocean, the resort's two-tiered 49-meter pool has space for everyone. Attentive staff set-out your towel and are ready to furnish tropical juices or specially created cocktails. Perhaps an ice-cream from the poolside gazebo.
Simply named, The Bar adjacent to the pool offers cooling beverages, snacks and ala carte meals, either poolside or in its covered yet open-air dining area. As the day ends, stay around for The Bar's "No Rush Hour" happy hour, or drop back to catch resident musical duo Quezon providing the entertainment as the evening progresses.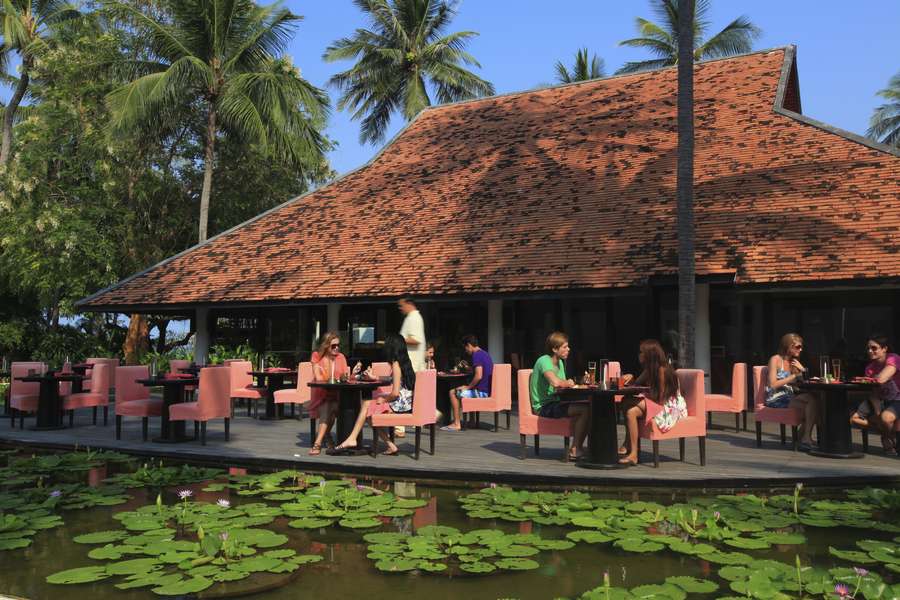 Taking advantage of the cooling ocean breeze is the sea-facing Coast restaurant offering Mediterranean dining in an alfresco setting each evening. If Thai is tempting, Kieng Sah provides a truly authentic Thai dining experience presenting flavours from all corners of the Kingdom. The surroundings, complete with shimmering lotus pond, create a beautiful setting.
Evason's meeting and events facilities are ideal for live-in retreats, team-building get-aways, and conferences thanks to the flexible meeting room configurations. What about a wedding beachside or cocktail reception on the terrace and gardens?
Looking at maintaining your fitness regime, family time together, or learning new sporting skills – it's all available. Coconut Grove is the resorts main activities centre. Play pétanque, learn archery or get a team together for beach volleyball on the full-sized court. The four tennis courts await or try your hand at Pickleball. Pak Nam Pran's paved oceanfront esplanade is perfect for biking and bikes are available for rent at Coconut Grove with the resort's recreation hosts happy to suggest cycling routes. The well-equipped fitness centre provides an indoor air conditioned workout alternative.
One of Southeast Asia's leading plant-based education centres, Blue Lotus initially opened in partnership with American celebrity chef, entrepreneur, author, and educator, Matthew Kenney. It now has its own team of Chef instructors offering introductory, weekend intensive, and week-long certificate classes. Learning is hands-on and delves into all aspects of plant-based cuisines. Check out their website for class details and schedules.
In line with Six Senses approach to environmental responsibility, Evason Hua Hin Resort has systems and practices in place for water use reduction, waste management and recycling, energy use minimisation, sustainable purchasing programs and carbon emission reductions. The resort's sustainability practices are also demonstrated in other practical ways.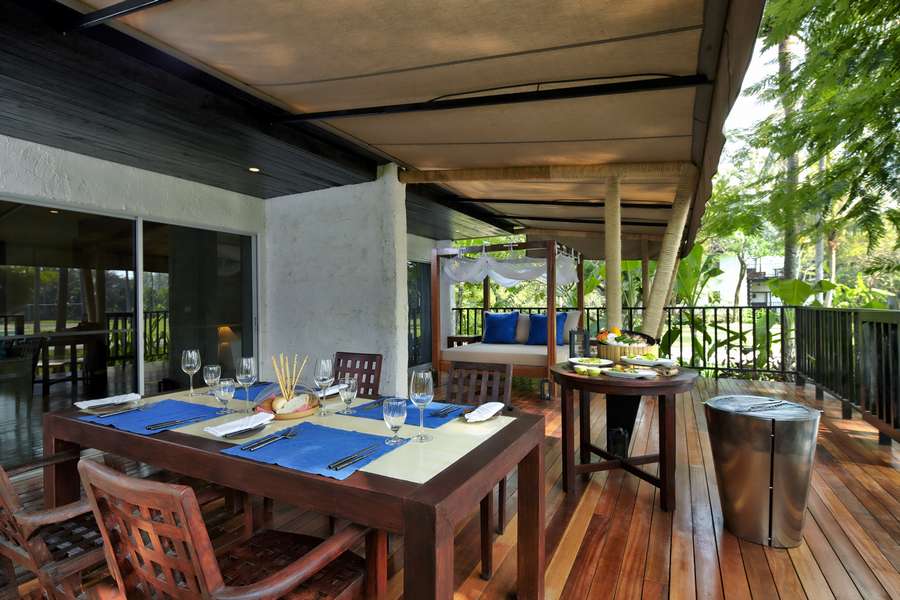 Blue Lotus and all other Evason dining facilities have access to the resorts expansive on-site vegetable and herb gardens, and mushroom hut, ensuring freshness, organic authenticity and no food miles. An on-site reverse osmosis water purification system produces all the resorts drinking water needs. Additionally, the use of plastic is not evident with refillable glass water bottles in all guest rooms and outlets. Guest room toiletries are supplied in small elegant, reusable ceramic dispensers and filled with the resort's signature organic lemongrass-infused amenities. All examples of the resorts ongoing environmental commitment.
For Hua Hin region residents, Evason Hua Hin offers several opportunities to avail of the resort's facilities. A "Far from the Maddening Crowd" accommodation package including overnight in a resort room, dinner for 2, breakfast for 2, and a 10% discount at Six Senses Spa. Although not available during peak season, it will be after Chinese New Year 2020. Other restrictions may apply. Use of the pool, fitness centre and even the tennis and pickleball courts are available on a day-use rate — contact reception for details.
So, if you are feeling the need to get away, re-centre, relax and take time for you and your loved ones, Evason Hua Hin Resort on peaceful Pak Nam Pran is awaiting.
Evason Hua Hin Resort
9 Moo 5 Pak Nam Pran Beach,
Pranburi, Prachuap Khirikhan 77220, Thailand
Tel: +66 3263 2111 Fax: +66 3263 2112
reservations-huahin@evasonresorts.com
www.sixsenses.com/en/evason-resorts/evason-hua-hin
by Michael Cullen