There are hotels that can make a trip all that more memorable. Be it due to their immaculate attention for detail, for their magnificent infrastructure, the layout or the setting. Some of them merge all of these aspects into one to create for guests an unforgettable experience and bringing them the most reputable and well-established taste of luxury within the most exotic setting imaginable. This month we take you to the Mandalay Hill Resort, a hotel like no other which boasts of its advantages to provide guests their ultimate experience in the ancient capital of Burma.
The Mandalay Hill Resort is a luxurious hotel at the foothills of the famous Mandalay Hill, from which the city gets its name. Located about a forty-minute drive from the main city, the resort provides visitors with a five star experience, from the minute they arrive until the moment in which they depart. Laden with more than two hundred rooms, all of an impeccable setting, they are the first thing to remark.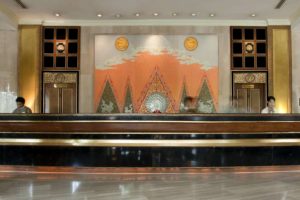 The standard room at the resort is the Superior Room. Containing all the most basic amenities, it is a fantastic way to enjoy just enough luxury on your own, your friend or with a partner, especially if you will spend most of your time outside of the hotel. This 32 metre square room comes equipped with a television with cable channels, a minibar, free WiFi, a safe, air conditioning and 24 hour room service.
Then comes the Deluxe Room, at 38 square metres. This is ideal for a small family, such as a couple and a child. It comes with all of the above amenities and a large space for a three people to be at ample comfort at all times.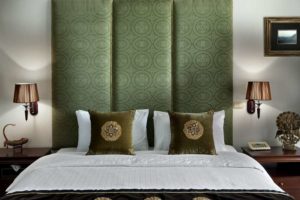 Next in line is the Junior Suite, which is ideal for a slightly larger family or a couple who want some separation between their bedroom and their living room. This room sleeps three grown adults and up to two children, making it ideal for those who holiday in greater numbers. With all the standard amenities, this is a must for those who wish to enjoy their holiday with their children.
The Executive Suite is next in line. A 55 square meter space allows you and your family to truly enjoy the luxury of a spacious room, allowing for plenty of separation between the sleeping, living and leisure areas.
Finally, there is the Suite Spa Villa, the uppermost tier of the room chain at the Mandalay Hill Resort. Equipped with all the usual amenities, this 60 square metre space provides a fantastic chance for a large family to gather in this immaculate bungalow holiday setting, with access to all amenities and a bathtub of the utmost luxury, it features classic architectonic styles to truly summarise the essence of Myanmar in one simple setting.
The spa at the hotel is one of the highlights. Sporting an array of different treatments, from reflexology to traditional massages to yoga, it couples to perfection with the serene setting of the resort, which loses the guest in its lush and enormous stretch of greenery, making of it a perfect place to unwind. The swimming pool is majestic, facing a large shrine and surrounded by flora, it truly allows guests to relax and relieve themselves from any stress.
Fancy a bite to eat? Treat your taste buds to the magical a la carte dining from Yadanabon Café's a la carte fine dining to Ming's Asian Kitchen's Myanmar, Thai and Chinese culinary delicacies. Fancy a drink instead? Kipling's Lounge offers the opportunity to sip on some fancy cocktails or classic spirits and beverages. A light snack or tapas can accompany the sound of the live band on any given night.
The Mandalay Hill Resort is in definitive the most hospitable and welcoming hotel in the city. Boasting an array of marvellous facilities along with a great variety of reflexology and relaxing treatments, coupled with marvelous restaurants and bars, it really presents the ultimate setting for any visitor to enjoy during their stay in the ancient capital. If you have yet to visit Mandalay and are doubting where to stay, the Mandalay Hill Resort is definitely a great option.
Mandalay Hill Resort
No.(9), Kwin (416.B), 10th Street At the foot of Mandalay Hill,
Tel: 95 2 35638, 35672, 35674, 35675
Fax: 95 2 35639
E-mail: mandalayhillresort1996@gmail.com
Website: http://www.mandalayhillresorthotel.com