A traditional Japanese guesthouse, a ryokan is a quintessential experience that most visitors to Japan have on their 'must-do' list. Ryokans date back to the Edo period (1603-1868), providing overnight lodgings for lords, samurai warriors and other travellers walking between villages and regions. After a long day of travel, guests could bathe, enjoy a tea ceremony, have a good meal, perhaps washed down with some sake. Nowadays, ryokan from traditional to more stylised versions can still be found and enjoyed across Japan, especially in the thermal spa districts.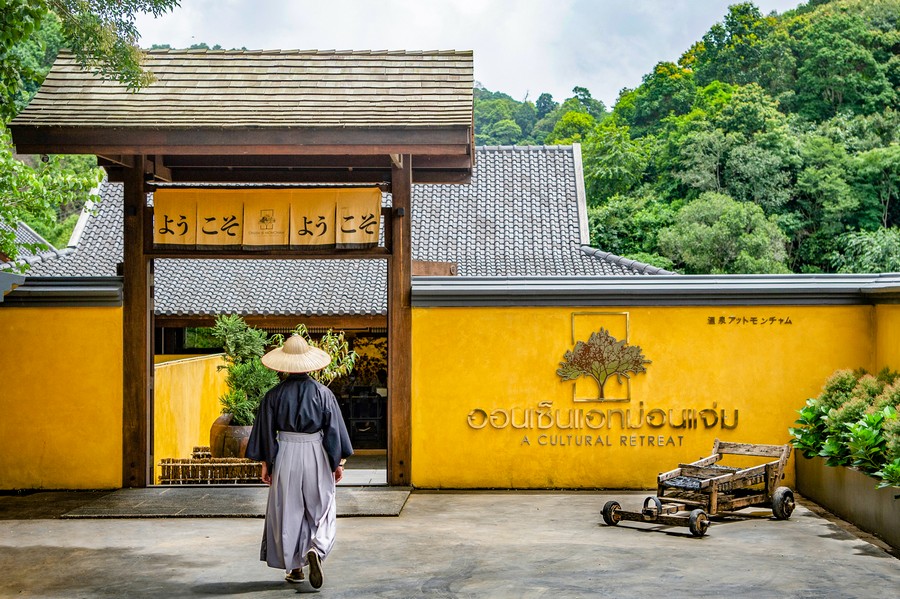 But wait! Now you do not even have to leave Thailand to experience and enjoy the whole ryokan cultural experience. At 1200 meters above sea level and an hour, north-west of Chiang Mai in the Mae Rim district is Onsen @ Moncham. A mountain ryokan nestled in a naturally abundant, verdant and peaceful environment.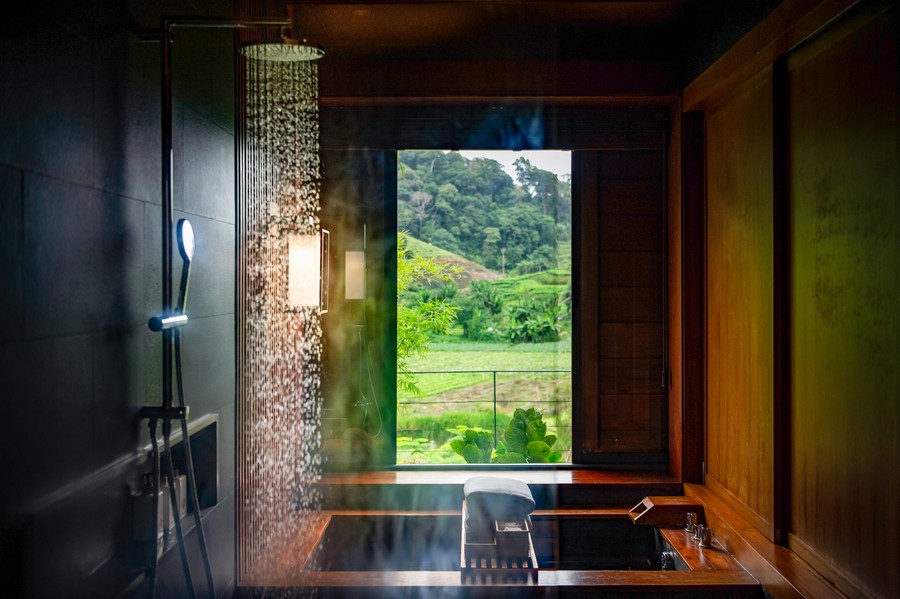 This artisanal cultural retreat is complete with Japanese inspired onsen, dining outlets and a boutique gym set in traditional sculptured gardens. The retreat's sixteen unique, hand-curated guest rooms and suites are luxurious, restful havens. Onsen @ Moncham harmoniously blends Japanese ryokan rituals and style with a Northern Thai ethos, creating an environment where wellness, balance, and perhaps even a sense of zen await.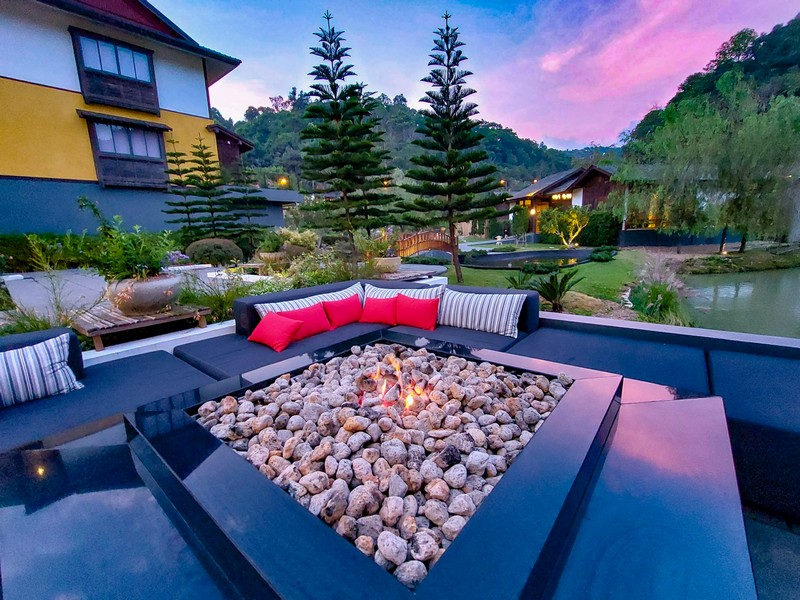 The classic ryokan design philosophy remains, though the tatami mat flooring, paper-thin shoji sliding doors, and rollup futon beds have been updated for added guest comfort. Polished timber floors, sink-into-and-sleep-soundly mattresses complete with luxurious bed linen, smart streaming TV, spa rain shower, Japanese inspired washlet toilet and refreshment centre with a tea set and coffee machine are features. A nest of two zaisu (or tatami) chairs and a small table complete the picture.
One ryokan tradition immediately evident when entering your guest room is the beautifully soft Yukata, folded neatly on your bed. Although it is no longer the principal use, Yukata translates to 'bath robe'. Kimono, the more formal dress robes are often made of silk and feature the wide and elaborately decorated obi or wide sash. A yukata retains the classic t-shape of a kimono yet is a much more relaxed unlined garment typically made of cotton, linen, or hemp. This light garment is offered to guests to wear during their stay. The idea is to don the Yukata for your bathhouse visits and around the ryokan, allowing you to fully immerse yourself in tradition.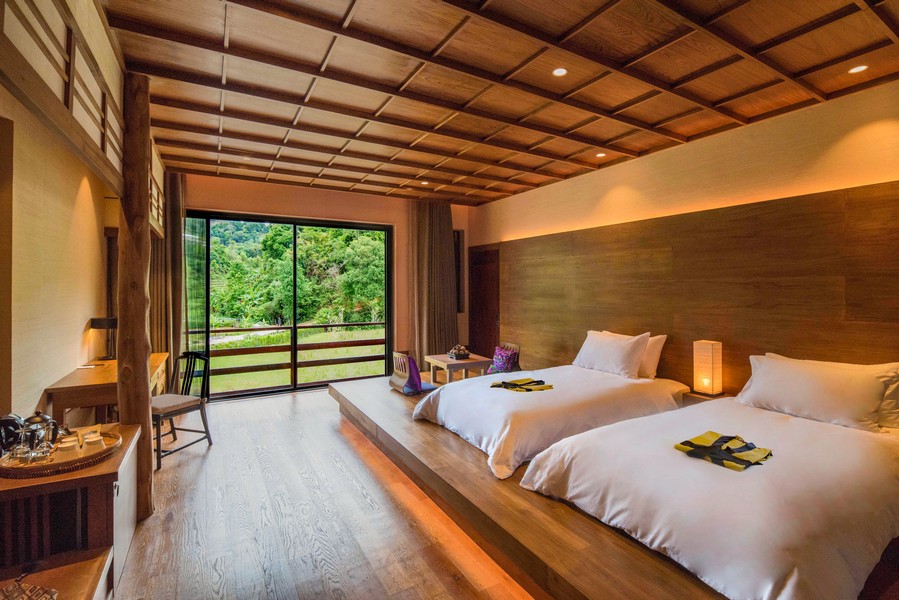 Onsen @ Moncham guest rooms start with the 45 sqm Grand Mountain View Room in a twin or double configuration. With a similar layout, the 60 sqm Grand Terrace Suite offer the addition of an outdoor terraced living area perfect for a morning coffee or a family dinner. A two-bedroom Grand Terrace Suite is also available. For a group of friends or extended family travelling together, the Majestic Family Suite's eight 'train style' bunks could be ideal.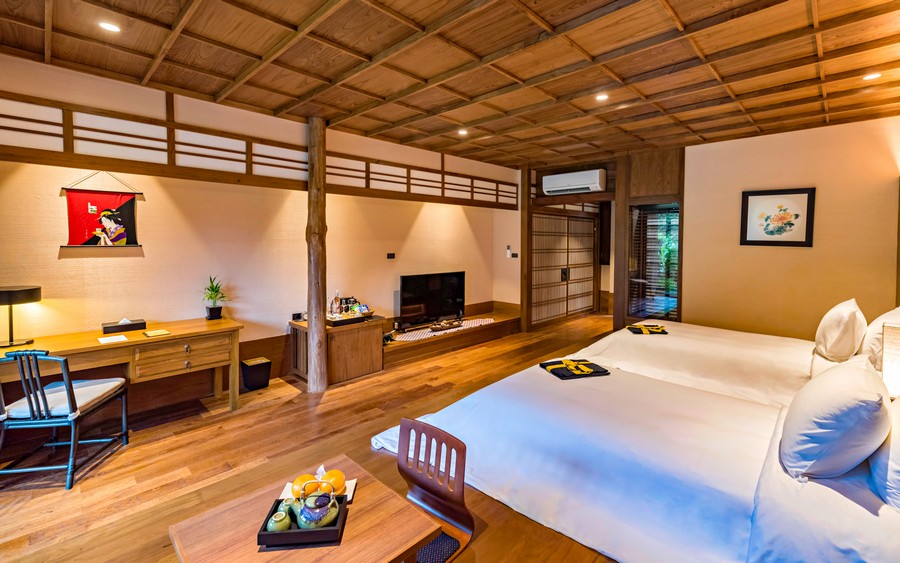 If your own in-suite onsen is preferred, the following may appeal, starting with the Grand Terrace Onsen Suite, which has a steaming hot Japanese Onsen Tub on the terrace. Imagine enjoying a healing soak under the stars or a refreshing hot tub start to the day. The 70 sqm Imperial Onsen Suites with Slumberland latex mattresses for more authentic style also has a private onsen soaking bath. While the Grand Imperial features an oversized balcony with a bubble therapy Onsen tub and an indoor Japanese soaking tub.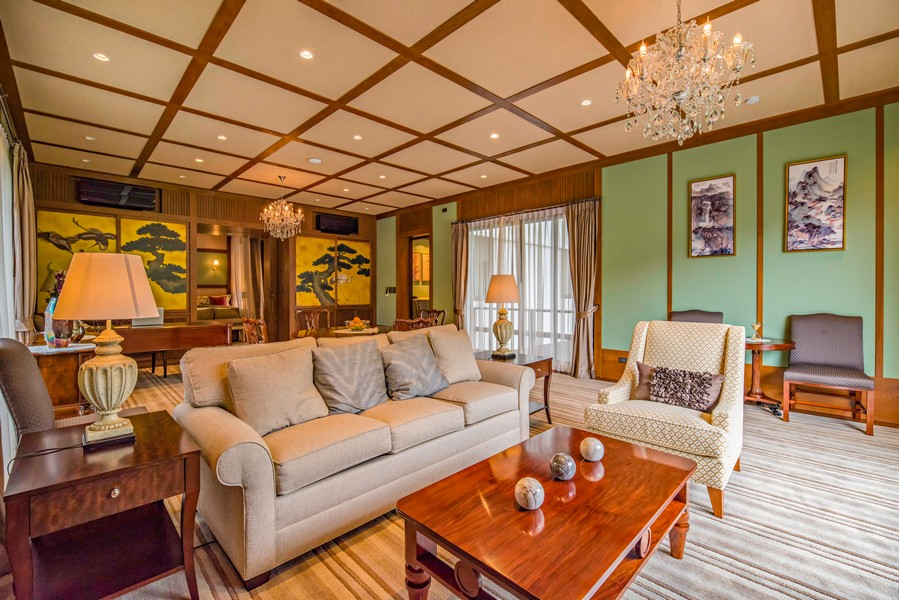 Encompassing 140 sqm, the Emperor Suite features a parlour for entertaining guests before entering your private living room designed with the grand palaces of Europe and Japan in mind. Your silk laden living room has unparalleled views plus a private dining area for four. Hidden behind sliding doors, you will find your own 'carriage' or 4-poster bed, walk-in closet, dressing table and a bath complete with a 2,000-litre onsen tub, Japanese bathing area, separate rain shower and much more.
Truly a home away from home, the 300 sqm One-Bedroom Royal Residence comes complete with a butler, waiting to escort you through the entrance to your oversized living room, equipped with a dining table, kitchen area and ensuite bath. The spacious master bedroom has a walk-in closet, Japanese washlet toilet, and spa shower. Out on the terrace, enjoy the Jacuzzi with a view. Both the Emperor and Royal Residence can be extended to two or three-bedroom configurations thanks to interconnecting rooms.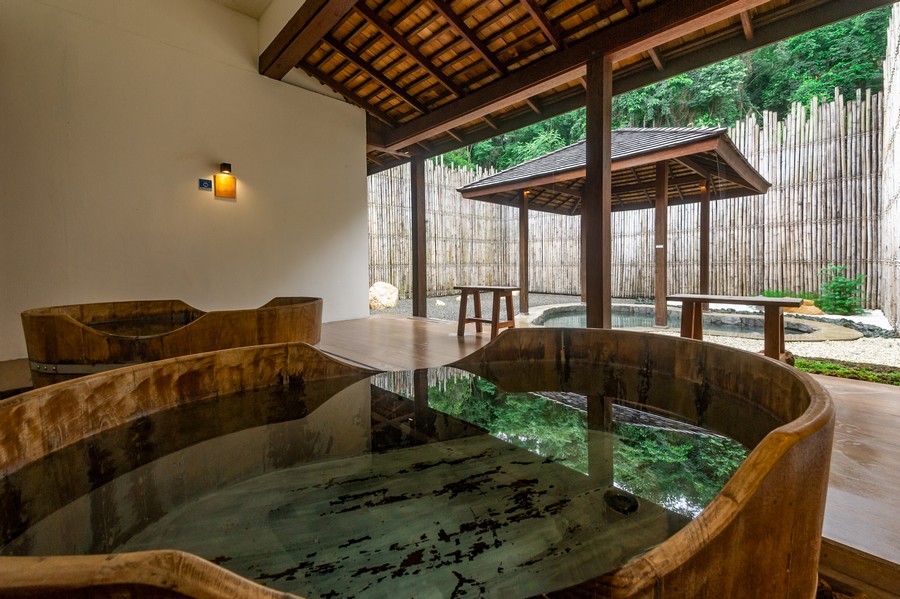 The heart of the resort is The Onsen which offers a uniquely relaxing experience modelled on the famous hot springs of Japan. The gender-segregated baths provide indoor and outdoor therapeutic pools and traditional bathing areas. They all draw mineral water from more than 100 meters below ground for a naturally therapeutic experience. These restorative waters combine copper, magnesium, zinc, calcium and sulfate ions. A natural tonic to purify the skin, body, and mind.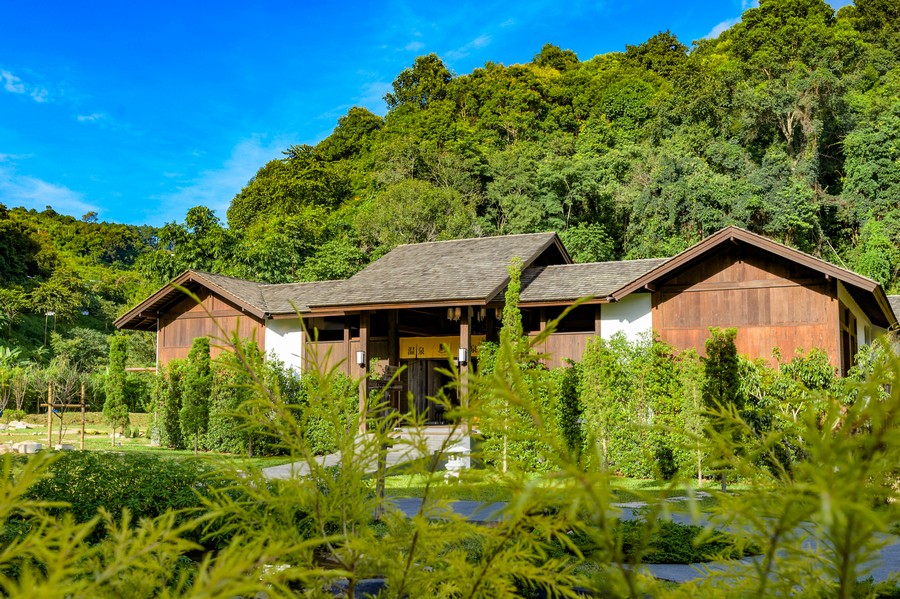 As with traditional onsens, these communal baths are for soaking in rather than washing yourself. When entering the bathing areas, the ritual is to shower, shampoo and rinse off before getting in the heated waters of the indoor and outdoor thermal pools. All guests have unlimited bathhouse access during their stay though Onsen bookings are required to help manage numbers and guest comfort.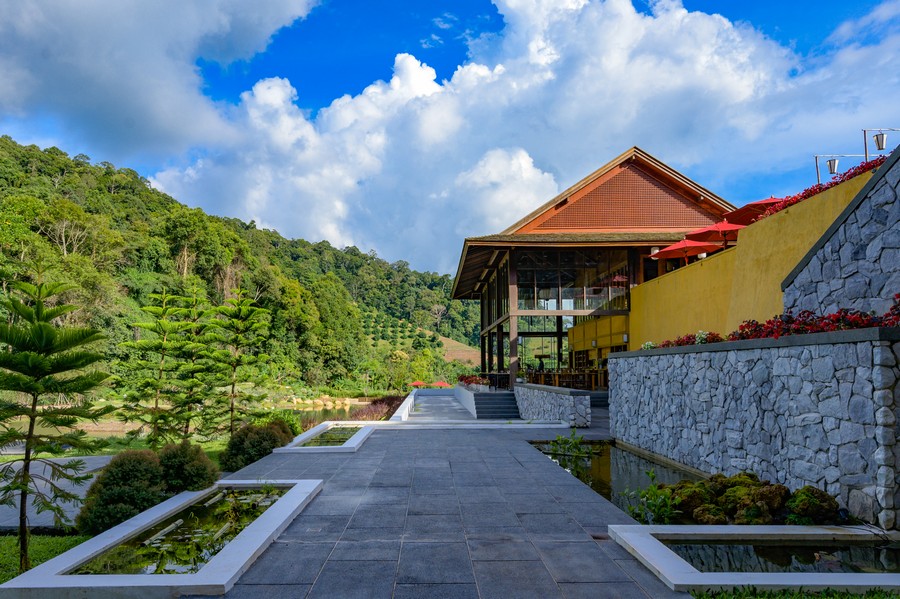 Mee | Zu | Nam is the resort's all-day dining venue and overlooks the sculptured gardens, and ornamental carp filled ponds. Several broods of ducks, including the iridescent-green head and bright yellow-billed Mallards, also call the ponds home.
The restaurant's menu combines a palate-pleasing blend of Thai and Japanese cuisines and a selection of European favourites. All inspired by the abundant natural produce of the local area. Sashimi and sushi are standouts along with a selection of Donburi dishes, and if cooking for yourself at the table appeals, the Shabu and Yakiniku are sure to tempt. Sake selections and good wine pairings add to the dining experience.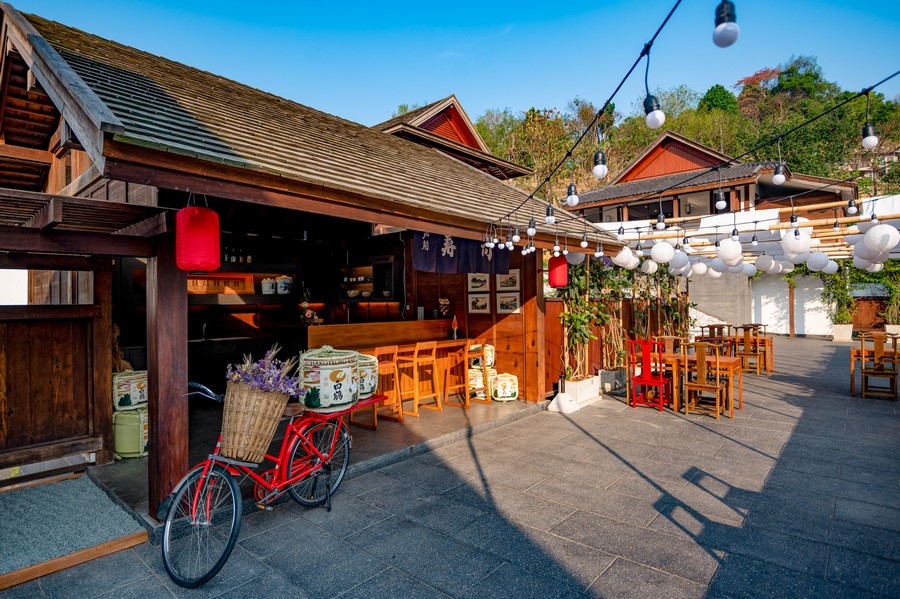 The alfresco Hi De | No bu is fashioned on a Japanese Izakaya. Often translated into English as a Japanese-style tavern, izakayas are fun and social places and perfect to sample a mix of hand-crafted Japanese snacks while enjoying cold beers or other suitable libations.
Ko | Sake is where you go to enjoy pre-dinner drinks or stop by before bed to enjoy the perfect nightcap in a vibrant, artistically inspired lounge. With a broad selection of beers and an enticing choice of Sake, Japanese and other Whisky, premium spirits plus Japanese Plum Wine, your evening is full of opportunity.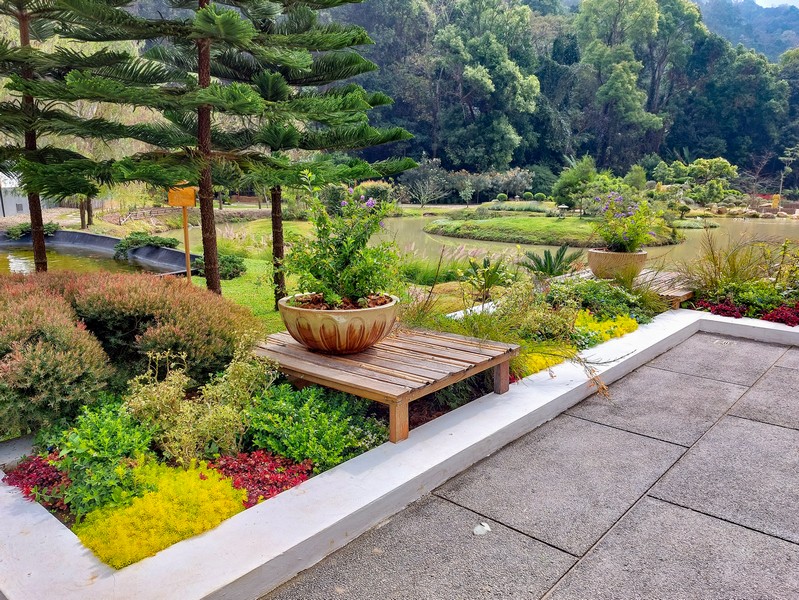 Onsen @ Moncham Japanese-styled garden is a place of harmony and beauty made up of natural elements arranged uniquely to invite exploration and set visitors at ease. The rocks, plants, bridges, paths, ornaments, and ponds contribute to the calming aesthetic, while height and texture come from the Monterey Cypress, Norfolk Pine and Weeping Willow. Australian grevillea, rose, peach, and tamarisk add colour and scent, as do lavender and juniper. Low to the ground purple willow, crimson fountain grass, wax begonia and golden dewdrops add further texture and flashes of colour.
The resort sits in the fertile region of Mae Rim with an abundance of commercial flower and market gardens. Visit during the winter and early springs months to enjoy fresh strawberries straight from the fields along with the abundant blossoms of the Sakura (wild cherry) and White Bauhinia. Daytrip to neighbouring waterfalls or explore Queen Sirikit Botanic Garden and Canopy Skywalk, a short drive away.
Onsen @ Moncham is indeed that cultural retreat fashioned so exquisitely on traditional Japanese ryokan. It is well worth discovering – as an alternative to visiting Japan, a precursor to, or simply an ideal mountain escape with a difference.
Onsen @ Moncham
293 Moo 2 Tambon Pong Yaeng,
Amphoe Mae Rim, Chiang Mai, 50180, Thailand
reservations@onsenmoncham.com
www.onsenmoncham.com
By Michael Cullen