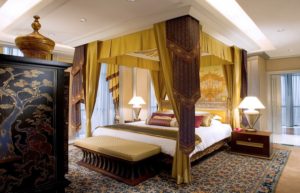 There are hotels that just provide you with a complete sense of utmost luxurious comfort. Urban abodes that would allow one to spend hours indoors without ever feeling the need to leave the premises. This month, HOT Magazine takes you to the Plaza Athénée, a Royal Méridien Hotel – A place that entirely fits the description above. Those of you who adore a life of full, as Frank Sinatra said, should definitely read on.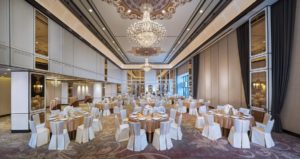 The Plaza Athénée is located in the middle of centric Bangkok. It rarely gets as centric as this, at a three minute walk away from the Ploen Chit BTS station and an equal distance away from the Central Embassy shopping and leisure mall, the hotel is at an ideal walking distance from the most attractive spots in Sukhumvit – Something remarkably rare, considering that arriving to most places in Bangkok takes at the very least a short taxi ride of some sort.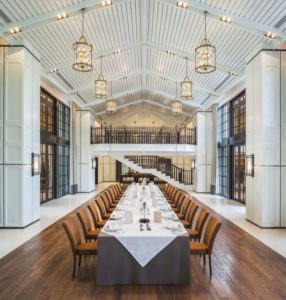 Bangkok's Plaza Athénée recently completed an extensive remodel where it was modernised and sustainably repurposed. In designing the award winning new interior, the designers and architects paid special attention and tribute to its royal roots. The hotel is built on the site of Kandhavas, the royal palace of H.R.H. Princess Valaya Alongkorn, 43rd daughter of King Rama V and the new design reprises the Thai-Colonial style that the princess, herself a renowned aesthetic expert, inhabited in her lifetime.
Something remarkable about the Plaza Athénée is the marvellous range of rooms it accommodates. Ten different types of quarters grace this hotel. The standard rooms, known as the Athénée Rooms, are located between the seventh and the twenty third floor. Having been recently remodelled, the rooms bare colonial styled decorative traits. The room possesses a king bed, a sofa, a desk with an ergonomic chair, comfortable and commodious bathrooms with rain showers, complementary services and WiFi – known to be, and officially categorised as the best in Bangkok at a 100 Mbps bandwidth access.
At the other end of matters, we have the most prominent of suites in the form of the Ratanakosin Suite, an absolutely stunning space of 350 square metres filled with everything anyone would require for a memorable stay. Ratanakosin recalls the ancient capital of the kingdom that went by the same name, and was attributed to this suite for the quantity of invaluable artefacts, Thai silks and original artworks displayed within it. A majestic living room adorned with an awe-inspiring chandelier and marvellous armchairs brings uncontested allure to the suite, along with the beautiful mahogany dining table and the enviously equipped contiguous kitchen. All the complimentary services are of course included, such as butler service, access to the Club Lounge, Spa Fitness and daily breakfast buffet. One thing that never ceases to be maintained, regardless of the scale of luxury though, is the attention to detail and the caring service provided: the sign of a quality hotel.
The Plaza Athénée is equally abundant in places to dine in all the superfluity imaginable. Fancy a taste of the land? Well then their restaurant Smooth Curry will always suit your palate with a fantastic display of Thai cuisine, ranging from all four regions of the country. Staying in Asia, Silk Road is then the place to go to, a fantastic Cantonese restaurant with beautiful Chinese culinary representations. Why not a mix of contemporary sushi dishes? Utage will bring you this and more, with a beautiful balance between the classic and the modern traits of Japan's finest food. But if you're craving continental, Reflexions restaurant will provide you everything you need – after all, it wouldn't be a French hotel chain without a stunning French restaurant! Creative, classic and contemporary dishes will grace the most sophisticated of palates, bringing to life all the sensations that gourmet cuisine so characteristically does.
On Sunday's, something spectacular takes place at Plaza Athenee, that being their Sunday Brunch, widely regarded by Bangkok locals as one of the very best in Krung Thep.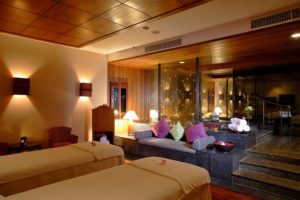 The Spa Athénée is the place to reinvigorate your body. Situated on the fifth floor, it is a majestic mix of French delight and Siamese care. With numerous treatments ranging from the four hour Immunetra Retreat, to the simple half an hour Deluxe Herbal Steam, the Spa Athénée offers an absolutely replenishing repertoire of options to fuse yourself with tranquillity and bliss.
As great as the Plaza Athenee is as a holiday hotel due to its central location, it is also a great business hotel and a hotel to hold special events such as weddings and large parties. The hotel has over 5,600 square meters of spectacular meeting space. Plaza Athenee boasts 27 meeting rooms with its largest being over 1,000 square meters in size. From elaborate celebrations in their Crystal Hall to flawless festivities in their top floor Pimarn Siam Hall Ballroom, they can accommodate your every wish and do so on a daily basis.
The Plaza Athénée is an absolutely beauteous hotel, inspiring awe and comfort, as well as a homely sensation that will want to keep you checked-in indefinitely. If you have yet to go there, it is strongly recommended that you do so pronto.
Plaza Athenee Bangkok
A Royal Meridian Hotel
61 Wireless Road (Witthayu)
Bangkok 10330
+66 (0)2 650 8800
Lemeridien.com/plazaatheneebangkok