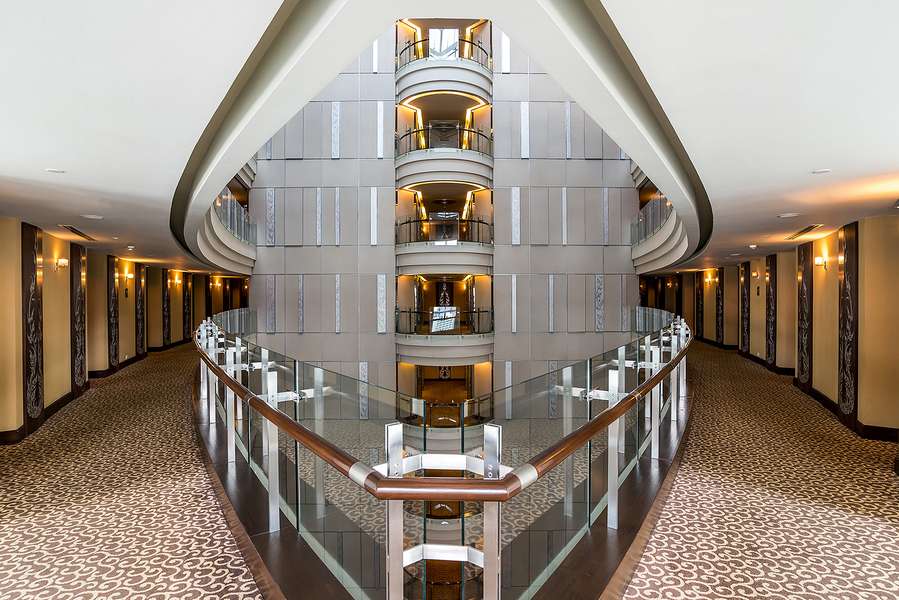 Set in the very beating heart of Sukhumvit, near Asoke Junction, Pullman Bangkok Grande Sukhumvit is the perfect base for your Bangkok's exploration. Featuring a sleek sail-like glass facade, Pullman Bangkok Grande Sukhumvit reflects the skyline of a city that is always on the go. This architectural landmark is reminiscent of the world famous Burj Al Arab Hotel in Dubai. The interior is subtle but no less impressively styled in a tasteful marriage of luxury designs and modern technology.
When you think of the interior design, imagine sleek lines, suave leather upholstery and a warm, soothing color palette. For that perfect balance of simplicity and sophistication, all 325 guestrooms and suites are designed for business and for pleasure, each boasting dramatic views of the Bangkok skyline. Guests can take their choice of rooms or suites, from the subdued relaxing vibe of the Deluxe Rooms or the spacious Deluxe Executive rooms and Premium Deluxe rooms. Last but not least, the Pullman Presidential suite is a spacious corner suite located on the 28th floor. For paramount pleasure and sheer indulgence, the Presidential Suite features two bedrooms, a dining and a lounge area as well as a fully-equipped working station and a large cloakroom, not to mention a mesmerizing view of the city. With striking design and plush furnishings– the Pullman Presidential Suite is a perfect home-away-from-home.
Each room is soundproof and the beds are fitted with high quality bedding guaranteeing a great night's sleep while in the heart of Bangkok. From comfortable desks to spacious bathrooms and bathtubs with the iconic C.O.Bigelow body care products, Pullman has all the amenities you need for the perfect work-life blend. Additional amenities include complimentary wireless Internet access, a personal safety box and a mini-bar. Not to mention their 24 hour room service which offers an extensive selection of regional and international cuisines. Guests staying in the Executive Rooms and Suites can enjoy access to the Club Lounge, and all the privileges that go with it such as complimentary beverages, breakfast and happy hour, to name just a few.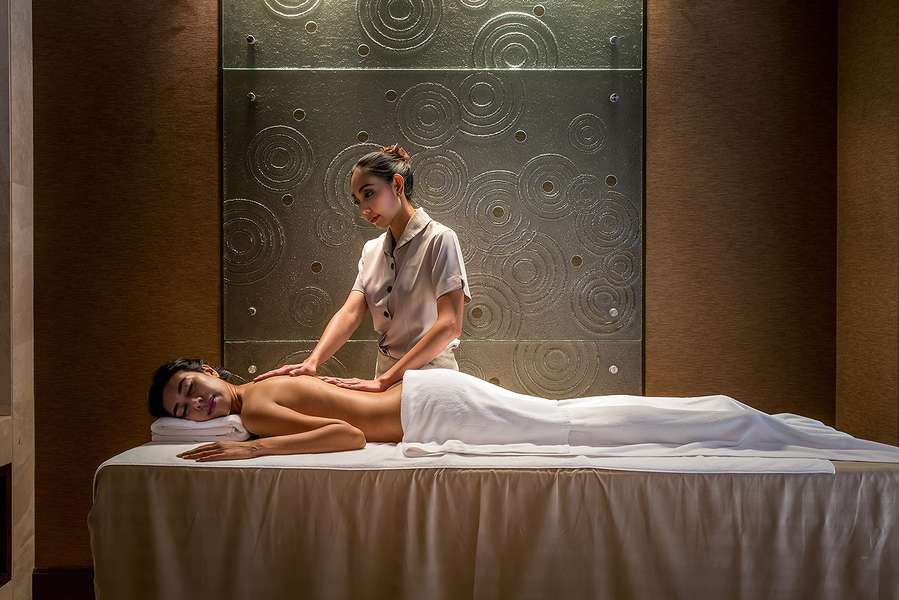 Escape from the bustling city of Bangkok and take a break at The Antidot Spa which offers massages, body treatments, and facials. If you're looking for recreational opportunities, you'll find a fitness room, a tennis court, an outdoor pool and a sauna. Or do both? Guests can work up a sweat in the fitness room then head to the spa to ease tired muscles. So whether it's been a hard day at work or a long day of shopping, or if you simply want to relax even more while on holiday— The Antidot Spa is the place to be. On the menu are traditional Thai, Swedish and aromatic oil massages as well as delightful rituals combining scrub and massage therapies to smooth your skin and relax your body. The spa further provides waxing as well as manicure services. Comprising seven private treatments rooms each with private bathroom, the Pullman spa offers a truly luxurious setting for rejuvenation.
If you'd rather relax the other way, experience Pullman Fitness Centre's technologically advanced equipment, personal trainers, amenities, and various activities such as Yoga, Muay Thai, and even Aqua exercises, for you to work out in style. The fitness centre offers the right environment to keep you motivated all the time. Located on the 7th floor of the hotel, the fitness centre is open 24 hours for guests. Enjoy the outdoor actions at the rooftop-style tennis court surrounded by the Sukhumvit skyline, including a relaxation area for you to cool down with drinks and food.
No event is the same and whether you're in a meeting, a seminar, a product launch or even weddings and receptions, the meeting rooms at Pullman definitely pull out all the solutions to make all of them a success and exceed expectations. Offering 3 dedicated meeting floors, there is a vast array of meeting facilities ideal for your next meeting venue in Bangkok. Along with professional team eager to help you, all the meeting rooms are equipped with modern audio-visual system, large projection screen, and Wi-Fi internet connection for your convenience. For a grander event, the Grand Ballroom is set up for every imaginable event possible and it certainly can accommodate them all. Accommodating up to 550 guests, the Grand Ballroom has a plenty of room for dancing, dining and mingling. The Grand Ballroom is also enhanced with a sky walk way connected directly to the car park building. If you're looking for something a bit smaller, the Junior Ballroom is guaranteed to impress with its configurable layout, flexible capacity and luxurious design. With creative food and beverage options including Atelier buffet restaurant and Tapas Vino for small-private dinner occasions, the hotel has the flexibility to accommodate any kind of small and large events in Bangkok.
Good food, like good work, is a must and with a stay at Pullman Bangkok Grande Sukhumvit, you will be spoiled by a rich selection for eateries. From on-site to outside, from local delights to international flavours – the choice is yours. The hotel itself offers a wide variety of dining options at four original food outlets to satisfy all appetites—Flourworx, Atelier, Tapas Vino and inBLU. Located on the lobby floor, Flourworx is a gourmet shop, serving an array of homemade pastries, light meal and hand-crafted coffee. Should you choose to eat something heartier, Atelier restaurant waits for those who need a casual dining experience with sumptuous seafood and international cuisine. If quality time with your family is a must, then join the Sunday Brunch buffet. Additional to the delicious food, Atelier's Sunday Brunch features children's entertainment which will come to your table in the form of magicians and balloon artists. Also, the tucked-away kids' area that hosts movies, toys, colouring and crafts. Meanwhile, Tapas Y Vino is a modern take on the food and wines. Fitted with Spanish chandeliers and wine cellars, the eatery features an open-style kitchen and serves up authentic tapas, smoky charcuteries, and delicious steaks all offered in a shared-plate dining experience which allows guests to enjoy in a welcoming and homey atmosphere. If you want to relax before (or after) dinner, settle down in the shade of big blue parasols on the outdoor terrace or inside the lounge, inBlU is the perfect place to wind down from a long day, enjoy good company and catch a sensational live band performing while you enjoy their scrumptious food and drinks.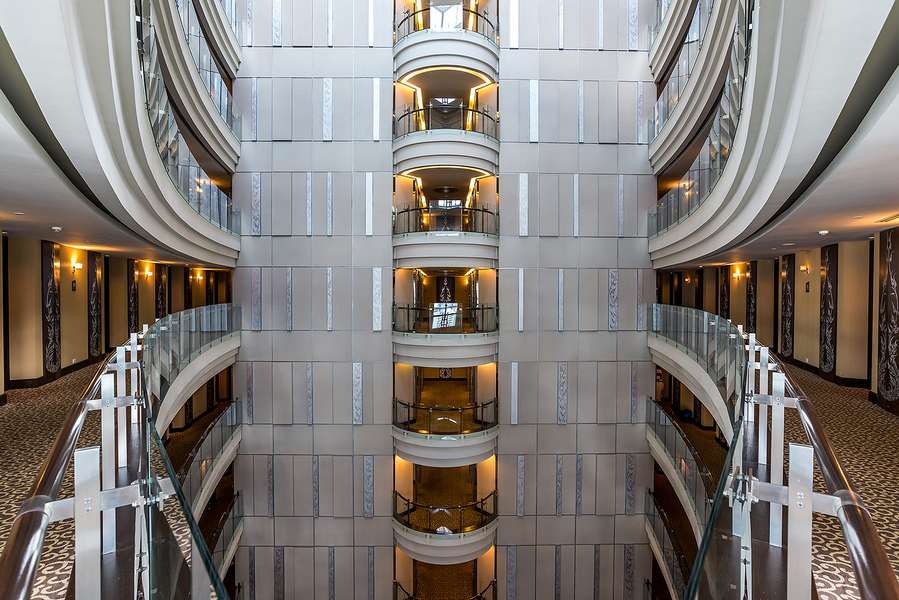 The Pullman Bangkok Grande Sukhumvit is just minutes away from Asoke BTS and Sukhumvit MRT, making it easy to get around the city without being caught in major congestion on the road. Although Terminal 21, the EmQuartier and Emporium are all within walking distance from the hotel, you can easily experience Bangkok's top attractions with many lifestyle destinations and public transports nearby. For those traveling, the ultimate level of style and comfort arrives in the form of a comfortable and convenient limousine transfer to and from Bangkok's Suvarnabhumi and Don Muang International Airports. So, whether you are travelling for business or leisure, Pullman Bangkok Grande Sukhumvit is always the perfect base for all kinds of global travellers.
Pullman Bangkok Grande Sukhumvit
30 Sukhumvit 21 Asoke Road
BANGKOK 10110
Tel: +662-2044000
Fax: +662-2044099
www.pullmanbangkokgrandesukhumvit.com