Pullman Hotels and Resorts is a French multinational upscale hotel brand owned by Accor. The first Pullman opened over 150 years ago and today they have more than 130 hotels and resorts, with a footprint that covers 33 countries in Europe, Africa, the Middle-East, Asia Pacific, Australia and Latin America.
In Thailand, Pullman is well entrenched with seven properties located throughout the Kingdom. In Vietnam, there are Five, Hanoi, Saigon, Vung Tau, Phu Quoc, and their Pullman Danang Beach Resort where we recently had the pleasure of staying.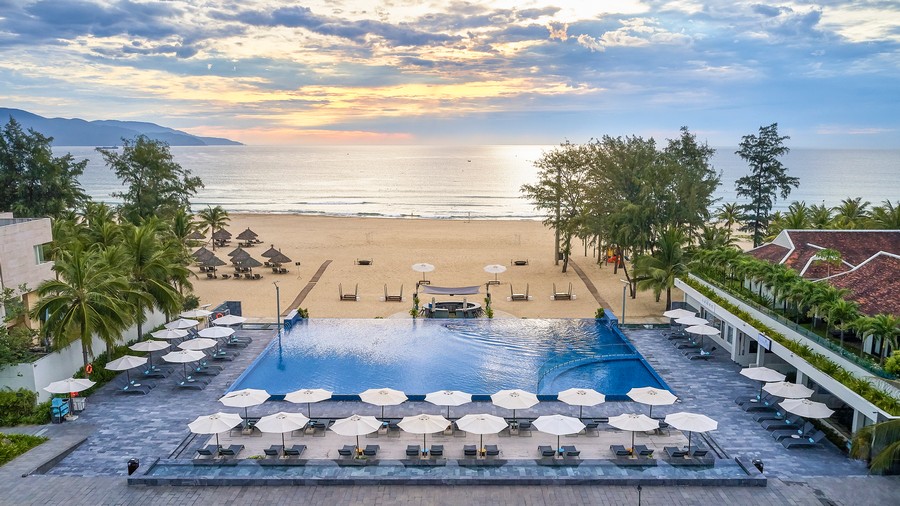 Set along Vietnam's gorgeous gold coast, this exquisite property is just a 15-minute drive from the Danang International Airport and the city. The resort is also just a short drive from three international golf courses and 3 UNESCO World Heritage sites, including the absolute must see city of Hoi An.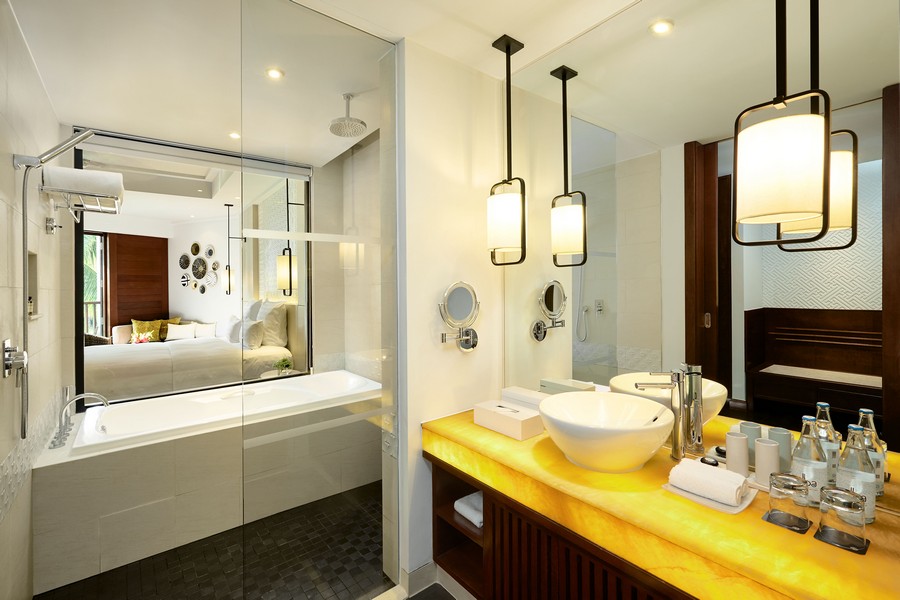 The Pullman Danang Beach Resort offers 186 elegantly-appointed guest rooms, suites, & cottages. Room types include their 42 sqm. Superior & Deluxe rooms, their 72 sqm. Junior Suites, their 122 sqm. Family Suites and their 130 sqm. Penthouse Suites. All accommodations offer private balconies that overlook either the beach, private gardens, or the resort's infinity pool.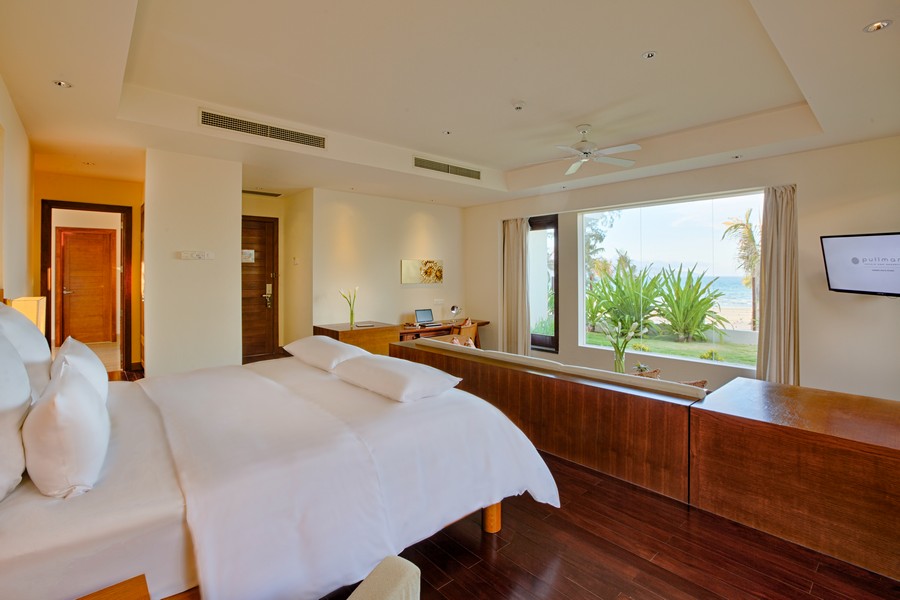 You will also find private luxury cottages that are set apart from the main resort and appear to be more of a picturesque Balinese village. The open-plan living areas offer walls of glass and sparkling mirrors which bring the outdoors in – filling the cottage with sunshine and offering idyllic views of the beach or lush greenery.
To get a true feel of the tropical surroundings, you can bathe, shower and dine al fresco, all in the comfort and seclusion of the cottage's landscaped garden. Their One-bedroom cottage is 130 sqm.'s and their large two-bedroom cottage is 160 sqm's.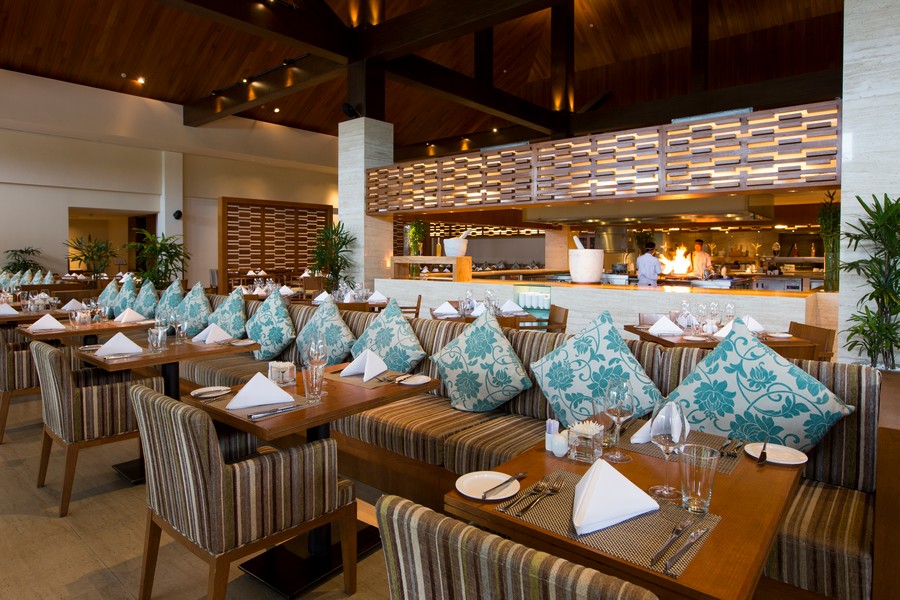 While ensconced inside the Pullman Danang Beach Resort there is no need to travel outside when hunger calls. The resort's restaurant Epice offers arguably the best breakfast in Danang from 6:30 to 10:30AM. From Vietnamese to Japanese, Korean and European food, delicious dishes abound.
The resort's Azure Beach Lounge sits directly on the soft white sands of Danang's shores. Unwind and enjoy the tropical atmosphere, while soaking up the stunning sea views. Azure offers an air-conditioned indoor area, or you can chill out with your toes in the sand.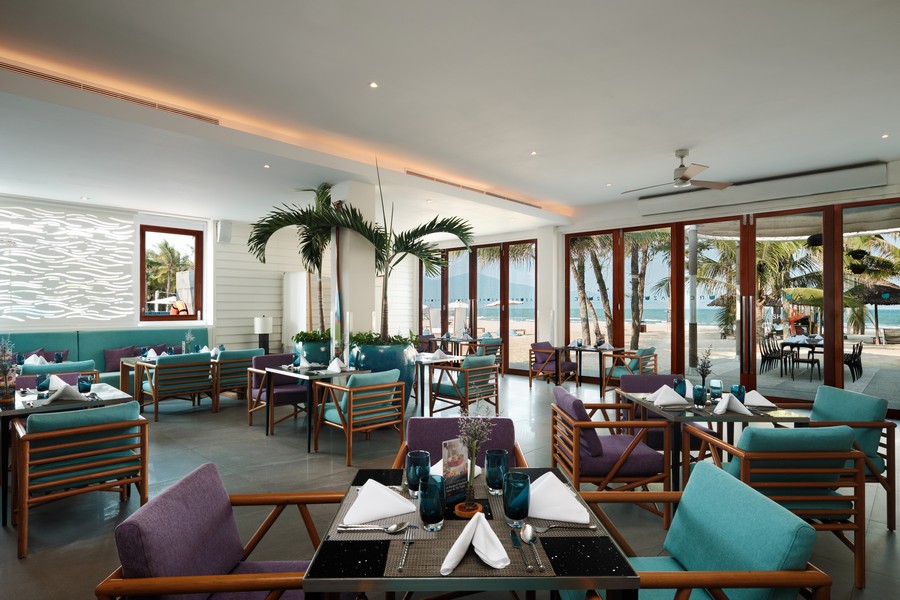 The menu includes an eclectic array of light and healthy options. Fresh salads and sandwiches are served alongside succulent seafood and Asian favorites. Desserts are to die for, and the selection of signature cocktails will quench any thirst.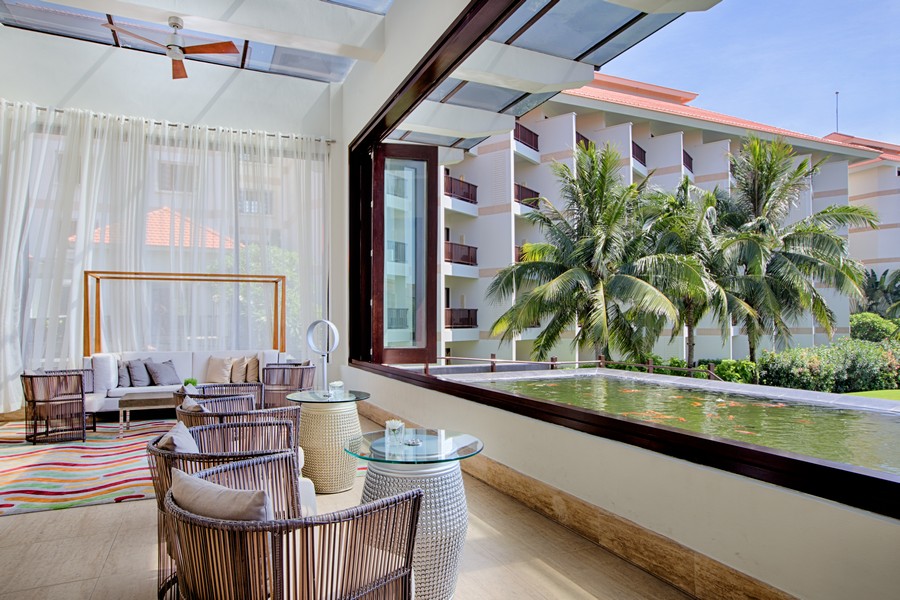 Rounding out the resort's food and beverage offerings is their Infinity Bar, a bar, restaurant and lounge all rolled into one. It's the ideal place to grab a casual bite or a drink while overlooking the exotic turquoise East Sea.

With a full stomach, after a fine meal, what's better than a relaxing soothing massage? The Pullman's The Nang Spa is a heaven of well-being and serenity that offers a wide range of massages, bathing rituals, facials and body treatments. On top of luxurious treatments, guests of the Pullman Danang Beach Resort get free access to the steam room, sauna and plunge pool. Retreat, unwind, revitalize… This is your time-out zone.
When you have reached your fill, (if possible), of relaxing by the pool, the beach, or spa, you can up your resting heart rate with plentiful options both in and out of the water.
Stand-up paddle boarding is one of the world's fastest- growing water sports, offering a fun and exhilarating experience as well as a range of health benefits. It's a great way to lose fat and tone your muscles, as well as being immensely fun.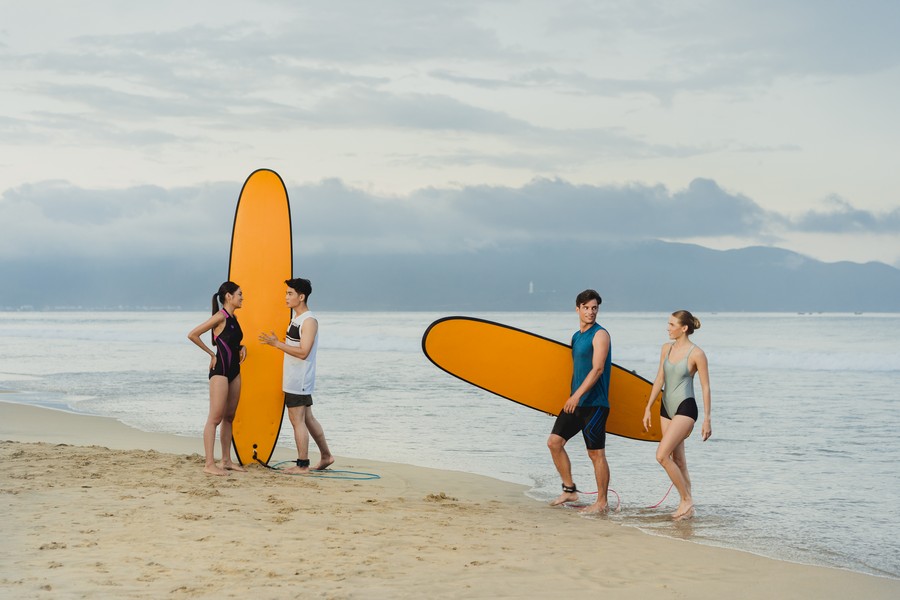 Surfing is arguably the coolest of all water sports, as well as being one of the most challenging. A great cardiovascular exercise, surfers use their upper body muscles to do the paddling work and leg muscles to guide the board across the crests of the waves. With only your natural balance to rely on, surfing provides an intense challenge; but once you've caught your first wave, this sport offers an adrenalin rush like no other!
Kayaking is an activity that is fun, relaxing and keeps you fit. Combining the peace and serenity of gently undulating seas with an aerobic workout that can be as gentle or vigorous as you like, kayaking offers the best of both worlds. All watersports are available every day at the Pullman until 6:00 PM.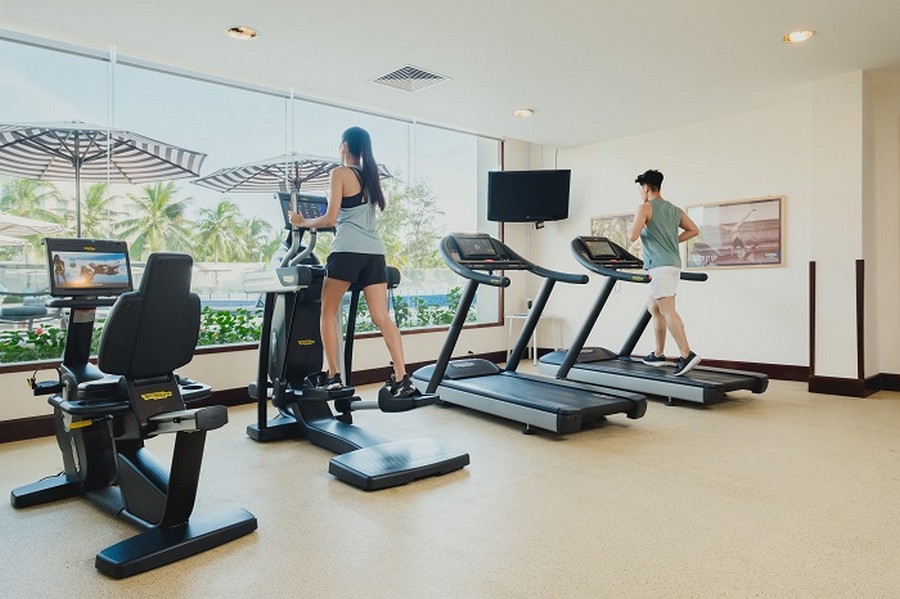 If your idea of fitness is on solid ground, not to worry. The Pullman's Fit Lounge offers aerobic & yoga sessions along with next generation fitness equipment. You'll be able to tread, row, climb and stretch while enjoying some of the best views of the resort's pool and gardens.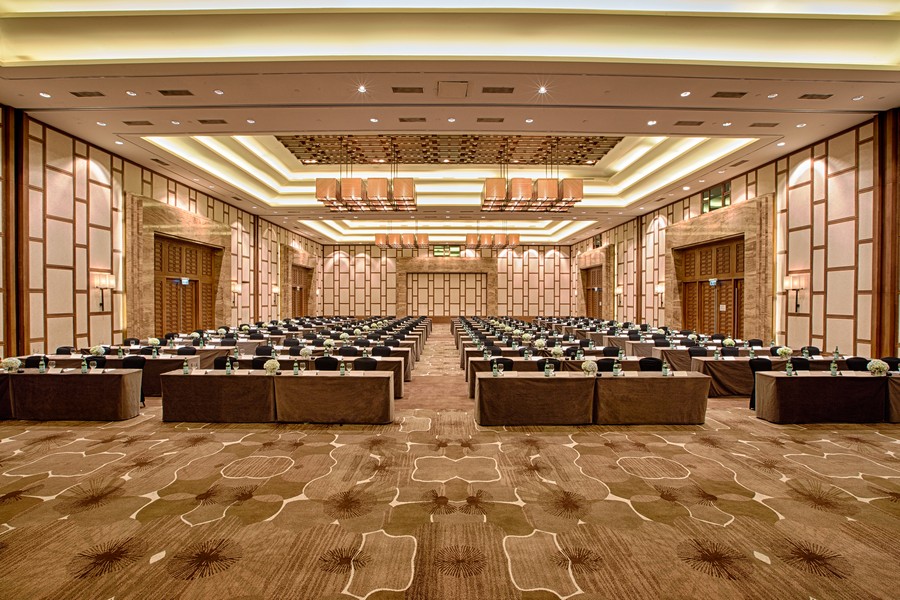 If you have brought the little with you, the Pullman has a Kids' Club filled with daily activities to keep them entertained.
As much as the Pullman Danang Beach Resort is a holiday resort, it's also all business. The resort's exceptional facilities provide function spaces, both indoor and outdoor for up to 1,000 attendees. The resort provides eight comfortable meeting rooms suitable for all types of gathering. The grand ballroom can be divided into separate sections, while the smaller break-out rooms can be customized to suit your needs. All are equipped with the latest audio-visual technology.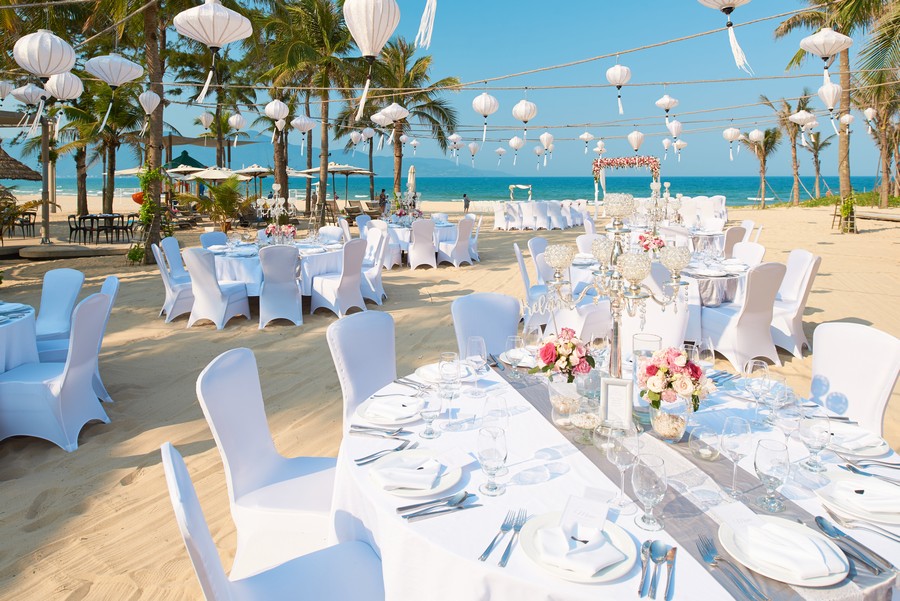 The Pullman is also ideal for your stylish celebrations, including weddings. The resort's team of professional wedding planners will guide you through the entire process of your big day, from selecting the perfect venue to throwing the banquet. With the white sandy beach, blue skies, five-star service, and exquisite cuisine, they insure you and your guests will have unforgettable memories.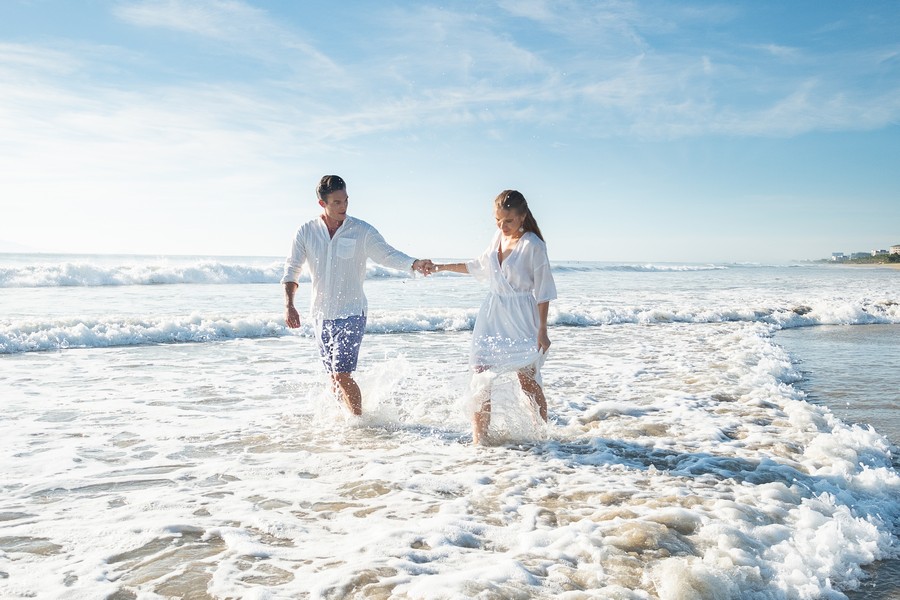 The Pullman Danang Beach Resort is a tropical paradise lapped by turquoise seas, just minutes from the cosmopolitan city center of Danang. With its beautiful beachfront setting, array of international amenities, gourmet cuisine, impeccable service standards, and dynamic business solutions, the resort is the ideal venue for all types of meetings, events and the best of holidays.
Pullman Danang Beach Resort
101 Vo Nguyen Giap Street, Khue My Ward, Ngu Hanh Son District
550000 Danang, Vietnam
Telephone: +84 236 3958 888
Email: H8838@accor.com
Website: pullman-danang.com