Named after Stamford Raffles, Singapore's founder, Raffles opened in 1887 as a 10-room beachfront hotel operated by
Armenian brothers, the Sarkies, who also helmed the Eastern & Oriental Hotel on Penang Island. Declared a National Monument a century later by the Singapore Government, Raffles Hotel Singapore has come to epitomise the romance of travel in the Far East – an intoxicating blend of luxury, heritage and sophistication few hotels can match.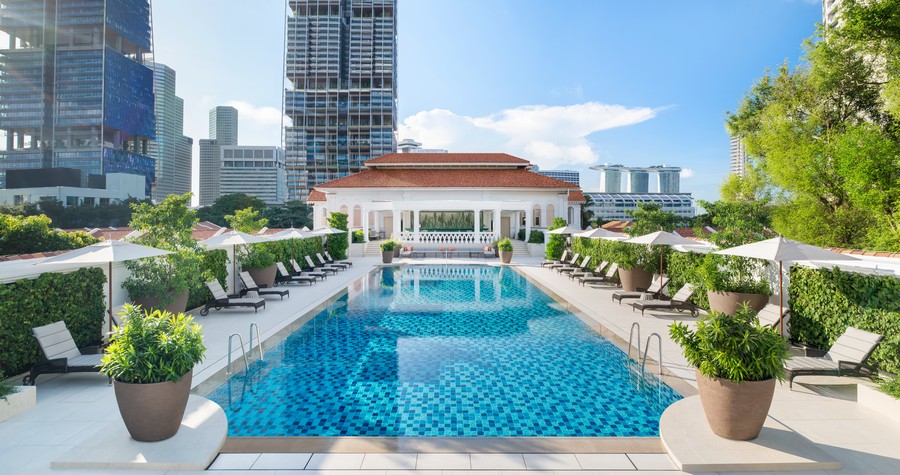 Raffles, like Singapore, has changed and grown over time while still claiming its 1 Beach Road address; the hotel, gardens, adjoining Raffles Arcade, and extensive events space now occupies a small city block. Over the last 30 years,
Raffles has had two significant updates.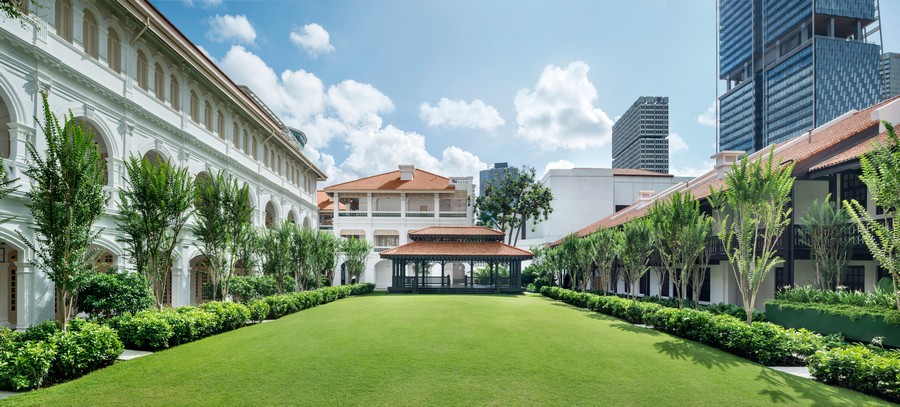 The first, in early 1989, when the Hotel closed for two years to enable a multi-million-dollar restoration. This project returned Raffles to its elegant look of the 1910s and 1920s and its status as one of the world's Grand Hotels.
Closed again between 2017 and 2019, an additional sensitive restoration saw public spaces and suites further
enhanced along with new dining, retail boutiques and other facilities.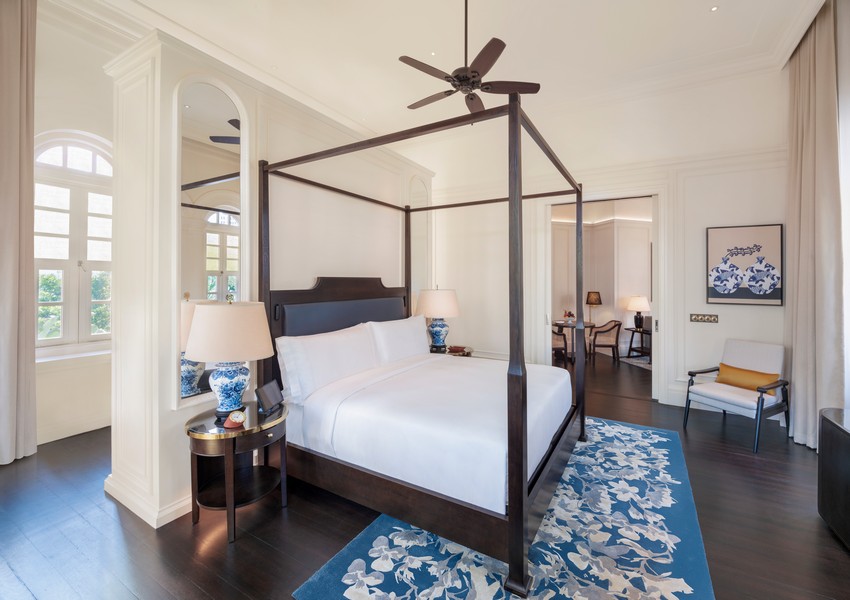 The revitalised Raffles Hotel Singapore offers luxurious all-suite accommodations across nine distinct suite categories: State Room Suites, Courtyard Suites, Palm Court Suites, Personality Suites honouring guests like Elizabeth Taylor, Ava Gardner or Charlie Chaplin, Residence Suites, Promenade Suites, Grand Hotel Suites and Presidential Suites. The total suite count increased from 103 to 115, with Residence, Promenade, and Studio suites the latest additions. All feature
state-of-the-art technology, redesigned bathrooms and pampering amenities.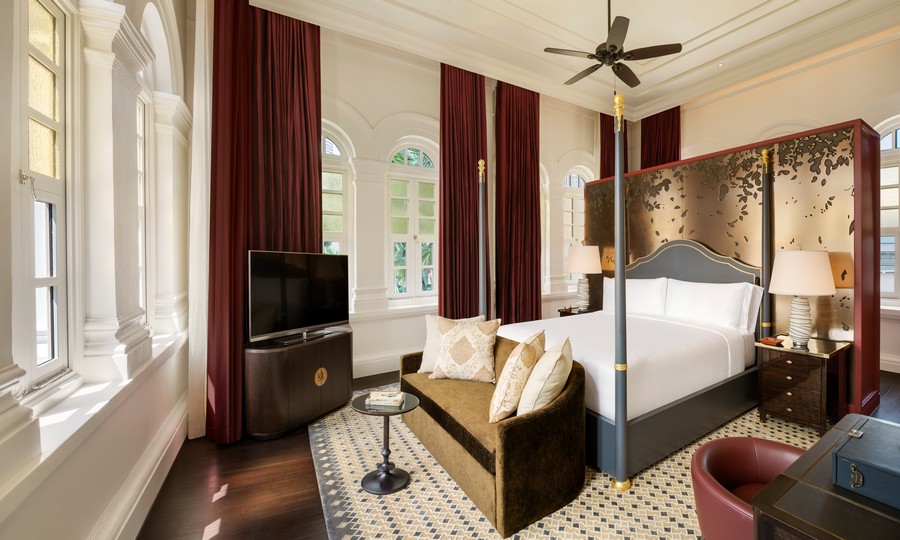 A Raffles suite is your personal sanctuary in Singapore. Original 14-foot/4 metre ceilings, tall double-glazed windows, colonial-style architecture, antiques, polished teakwood floors and expansive marble bathrooms. From romantic studios with garden views (46 sqm) to palatial Presidential Suites (260 sqm), all feature timeless elegance, Raffles' inimitable style, and the legendary (24-hour) Raffles Butler service.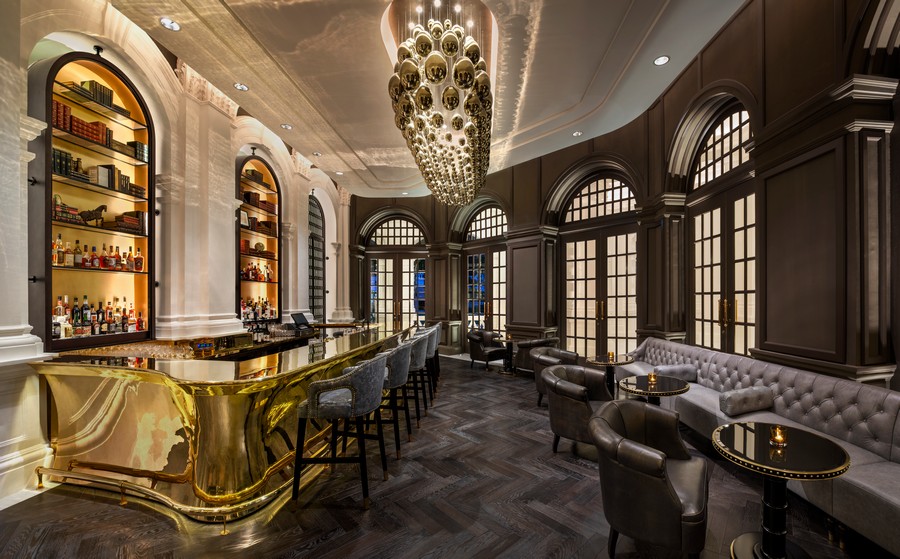 Raffles boasts exquisite drinking salons, well-loved traditional culinary offerings, and contemporary dining concepts by renowned chefs. For example, just off to the right of the hotel's entrance is the storied Writers Bar offering bespoke craft cocktails, wines and spirits in an elegant setting that pays tribute to literary luminaries like Rudyard Kipling, Somerset Maugham and Noel Coward, who have graced the hotel.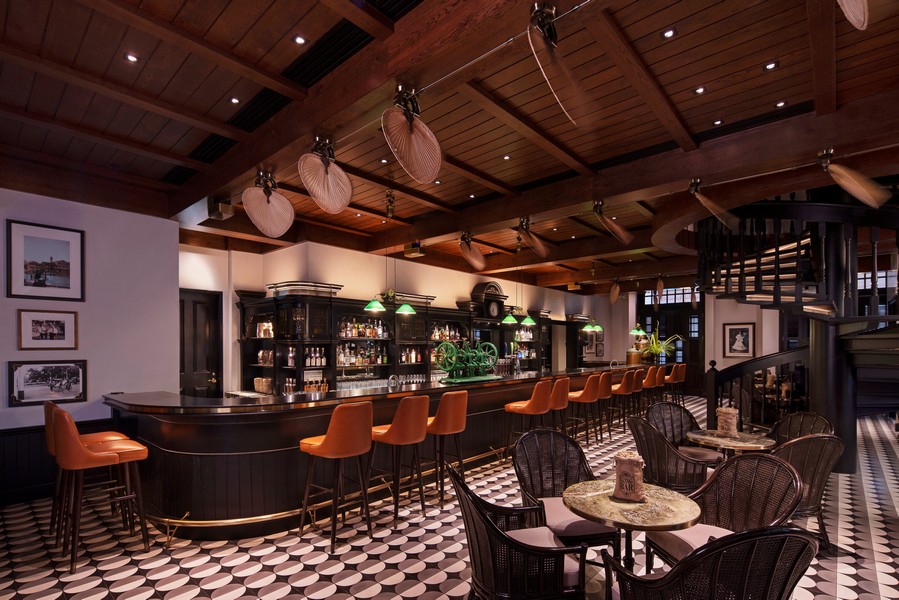 No visit to Raffles would be complete without a Singapore Sling in the Long Bar, where the famous cocktail was created in 1915. With its antique-style ceiling fans, ubiquitous bags of peanuts on every table, and the perfectly acceptable habit of patrons discarding the peanut shells on the floor, this is a Singapore experience on the list of many visitors to the Lion City.
The Raffles Afternoon Tea is reminiscent of extravagant parties once held in The Grand Lobby and is perfect for chic celebrations or a light repast with friends. Amidst this elegant setting, savour finger sandwiches, house-made scones and cakes, and seasonal delicacies – all complemented by a curated collection of exquisite teas and Champagnes.
Raffles Singapore boasts two restaurants overseen by Michelin-starred Chefs. La Dame de Pic is a French fine-dining restaurant just off the Grand Lobby with an outlook to the Palm Court Wing Gardens. In only its third year of operation, it achieved one Michelin star in the 2022 Michelin Guide Singapore, adding a third star for France-based restaurant creator Chef Anne-Sophie Pic.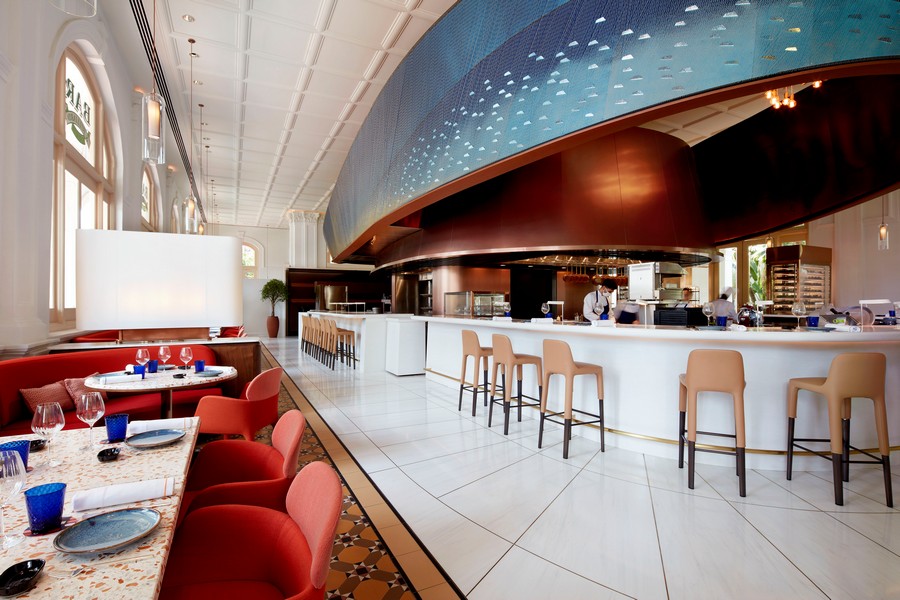 As part of the most recent refurbishment, the iconic Bar & Billiard Room (BBR) in Raffles Hotel is now directed by Michelin Chef Alain Ducasse with his Italian Riviera-themed dining concept. OSTERIA BBR, by Alain Ducasse, presents his modern and energetic Italian concept in an ambience that is fun and relaxed, using an authentic culinary approach.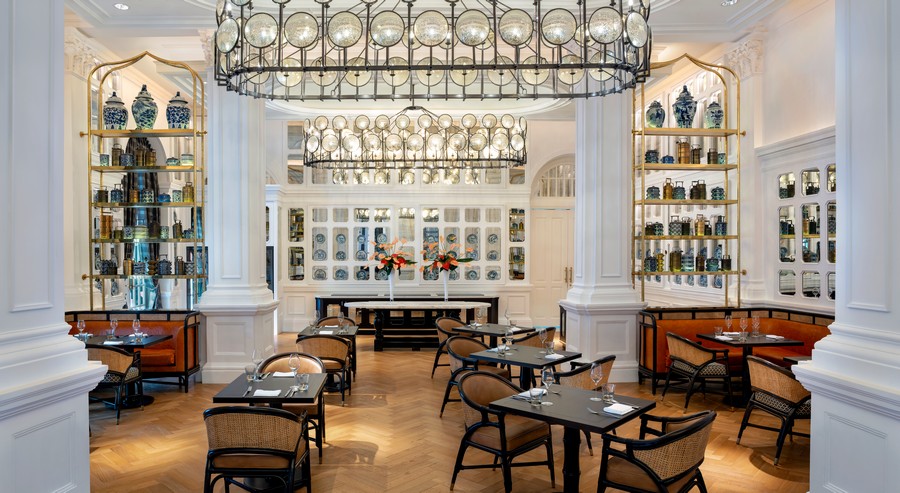 A part of Raffles' history since 1892, Tiffin Room continues to serve delectable North Indian cuisine for lunch and dinner. Authentic specialities, served in tiffin boxes, present an interactive dining experience with tableside service by chefs, complete with freshly ground spices to enhance the occasion.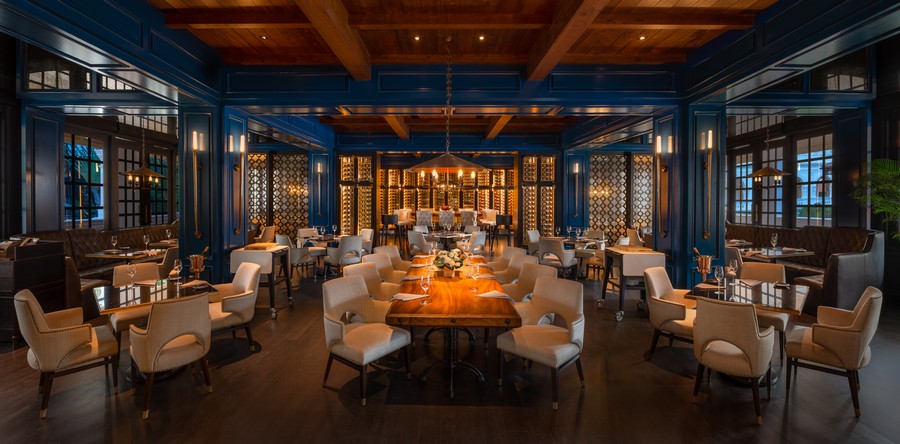 Open for dinner Wednesday to Sunday and brunch Saturday and Sunday, Butcher's Block is an avant-garde dining experience expressing the finesse of cooking with wood fire. Check out their air-dried produce, meats and seafood in the glassed Vault adjacent to the open kitchen. For the definitive Butcher's Block experience, opt for Tour De Force. A
signature multi-course dining experience showcasing an especially curated menu by Chef Jordan Keao. Savour seasonal favourites and off-the-menu creations in this epic gastronomic journey.
Celebrity MasterChef Jereme Leung, one of the most influential chefs in the modern chinese culinary movement, returned home to Singapore to open 兿 yì by Jereme Leung. Alluding to the fine art of Chinese dining, yì is a contemporary restaurant combining Cantonese classics and adaptations of China's ancient delicacies.
Raffles's unrivalled elegance and glamourous colonial grandeur continue beyond the hotel into the refreshed
Raffles Arcade. It boasts an elegant mix of world-renowned international and new-to-market brands, collectively creating a one-of-a-kind retail experience.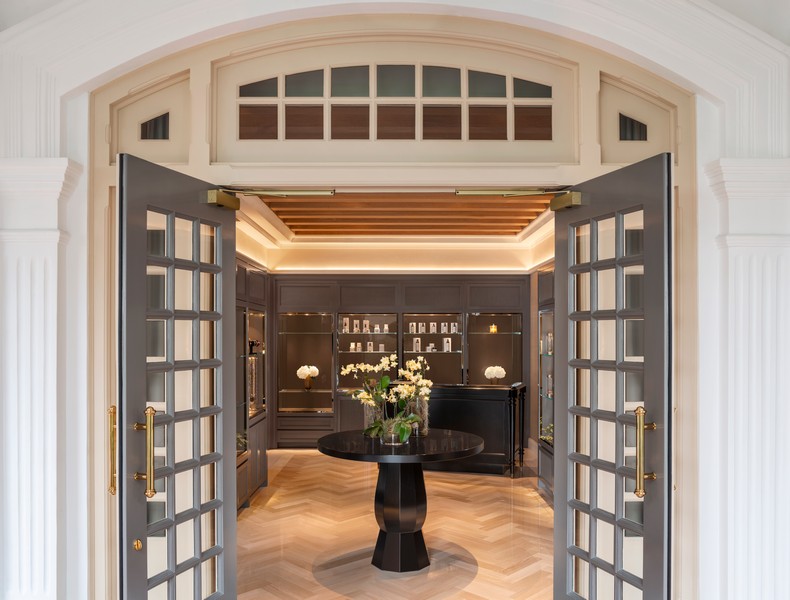 Also within this mix is Raffles Boutique, presenting a selection of beautiful gifts and souvenirs for visitors to take a
piece of the iconic landmark home. Raffles Spa is similarly found within Raffles Arcade – a holistic sanctuary offering pampering spa experiences and renewed well-being to hotel guests and the community. Treatment rooms showcase an elegant and serene ambience. Enjoy bespoke, restorative treatments such as authentic Raffles Spa journeys inspired by the wellness philosophies of Asia, hydrothermal experiences, soothing massages, and personalised facials.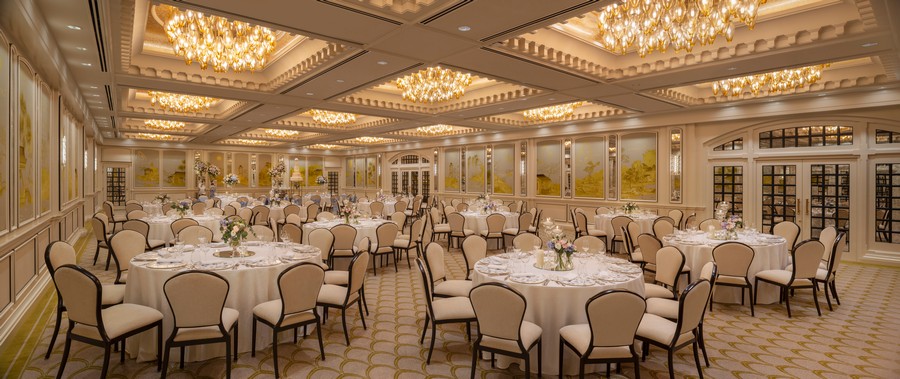 Raffles Hotel's extensive meeting, event and banqueting facilities can be found on the North Bridge Road side of Raffles Arcade. Raffles Singapore has your meeting needs covered with six indoor and one outdoor event space totalling 2,500 sqm, including two ballrooms. Well-planned meetings, events and celebrations complemented by impeccable service, charming decor and exceptional catering all come together to create an unforgettable experience.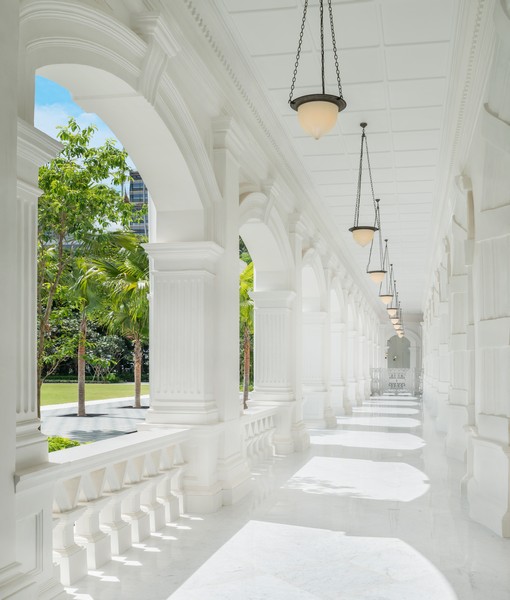 Raffles Singapore is where heritage meets modern hotel craft and is a must for business or leisure travellers to this Island State. It also sets the standard for Raffles Hotels & Resorts in key international locations, including Paris, Istanbul, Dubai, Maldives, Udaipur, Phnom Penh, and Bali. Upcoming flagship openings in Doha, London and Boston are well underway. Progressively shaping the future of luxury hospitality as part of Accor, Raffles benefits from a world-class infrastructure and is a participating brand in the Group's lifestyle loyalty and guest recognition programme, ALL – Accor
Live Limitless.
Raffles Singapore
1 Beach Road, 189673, Singapore
+65 6337 1886
www.rafflessingapore.com
Photo courtesy of Raffles Hotel
Singapore
By Michael Cullen