When entering the grand lobby of Bangkok's Athenee Hotel, a Luxury Collection Hotel, you know right away that you are in for a regal stay. Situated along the tree-lined Wireless Road, in the centre of Bangkok's business and embassy district, this iconic hotel stands on the site of Kandhavas, the royal palace of HRH Princess Valaya Alongkorn. Princess Valaya was the daughter of King Rama V and was renowned for her ability to elevate European style with a Thai aesthetic.
Princess Valaya's influence was seen in everything from interior design to flower arranging. It was her mastery of these pursuits that are integral aspects of the modeling of The Athenee Hotel.
The Athenee won a prestigious Five Star Asia Pacific Property Award in the "Best Hotel Interior Thailand" category after a comprehensive refurbishment a few years back. You will see the award-winning level of luxury and refinement in all of their 374 guestrooms and suites, each drawing inspiration from Princess Valaya Alongkorn's summer palace. Rooted in the present, however, are contemporary comforts such as LED TVs, the latest wireless technology, and an illy capsule coffee machine.
Every accommodation features a Luxury Collection bed dressed in pure white cotton, topped with feather pillows and a lightweight duvet. In the bathroom, you'll discover a large bathtub, a separate shower with a handheld showerhead, plush bathrobes and slippers, and a generous selection of signature bath products.
If the occasion calls for extreme pampering, you'll want to check yourself into one of their Royal-themed suites.
The 178-sq.m. Royal Pimai Suite is a contemporary interpretation of the Khmer period and the grand Pimai Temple built in northeast Thailand in the 10th century. This palatial two-bedroom themed suite blends stone and marble accents with ambient light to create an earthy, relaxed residential environment.
The 190-sq.m. Ruern Thai Royal Suite is decorated in the style of an authentic Thai house from the prosperous Ayudhaya period. This exotic two-bedroom suite is richly decorated with wood paneling and exquisite handwoven silks.
Inspired by the Vimarn Mek Palace, the 19th-century summer residence for King Chulalongkorn Rama V, is the Athenee's 190-sq.m Vimarn Siam Royal Suite. This elegant two-bedroom suite is decorated in the period's European style.
The palatial 350-sq.m. Ratanakosin Royal Suite is inspired by the majesty and grandeur of the Rattanakosin period, founded by King Rama I in 1782 at the start of the Chakri Dynasty. The two-bedroom suite is resplendent with exquisite silks and ornate local artifacts and is the perfect choice for relaxation and entertaining in a luxurious, expansive space.
With an elegant and serene ambiance, the Royal Club Lounge is available for guests booked into Club Room's or Suites. Here, a made-to-order continental breakfast buffet greets you each morning, while fresh illy coffee, tea, and soft drinks are available throughout the day. Enjoy a formal High Tea every afternoon with finger sandwiches and pastries. Later you can wind down after a day exploring Bangkok with hors d'oeuvres and a selection of drinks from the open bar during their three-hour Happy Hour.
Business travelers will appreciate the complimentary use, up to two hours, of the lounges private meeting room, furnished with a long conference table, modern leather armchairs, and the latest audiovisual equipment.
With restaurant closures during the Covid lockdown, the Athenee offers in-room dining from all of their eateries.
The House of Smooth Curry offers authentic Thai cuisine from the four regions of Thailand, focusing on recipes from royal palaces and residences, emphasizing the enormous diversity of curries that originate from every part of the country.
Japanese-American celebrity chef Jeff Ramsey serves up the classical Japanese Kaiseki cuisine. While remaining true to its ancient roots, Chef Jeff explores the potential of daring new directions at Kintsugi Bangkok by Jeff Ramsey.
The Rain Tree Café is the hotel's all-day dining venue serving a wide variety of gourmet international cuisines for breakfast, lunch, and dinner. Talented chefs at live cooking stations (when not in Covid lockdown) prepare dishes a la minute.
The Silk Road plates Classic Cantonese cuisine with a 21st-century edge. Chef Cheng Kam Sing creates dishes that are rooted in age-old traditions yet inspired by modern interpretations.
The talented young chef Jaruwat "Jojo" Ouprasert prepares European haute cuisine using only the highest quality ingredients, imported internationally, at Athenee's The Allium Bangkok restaurant.
Currently closed because of Covid alcohol restrictions are the hotel's Glaz Bar & The View. The Glaz Bar is their sophisticated venue for cocktails, tapas, & music where you can chill out in style. The View is the hotel's pool bar that serves up gourmet delights, from exquisite appetizers to delicious sandwiches as well as signature cocktails, freshly squeezed juices, and much more.
Renowned as one of Bangkok's most impressive venues for meetings and events, The Athenee Hotel includes the multi-functional Atheneum Meeting Rooms and Lounge for business events and social gatherings and Pimarn Siam Hall for glamorous weddings and banquets. The hotel is the first hotel in the world to achieve ISO 20121 certification for planning and delivering sustainable events.
The Athenee hotel is close to embassies, cosmopolitan dining, entertainment, and Lumpini Park, the lush urban park in the city's heart. It is also close to Bangkok's vibrant shopping scene with palatial malls and markets nearby, including Central Embassy, Central World, & Siam Paragon. For your convenience, the BTS Skytrain station and MRT Sathorn subway station are just steps away.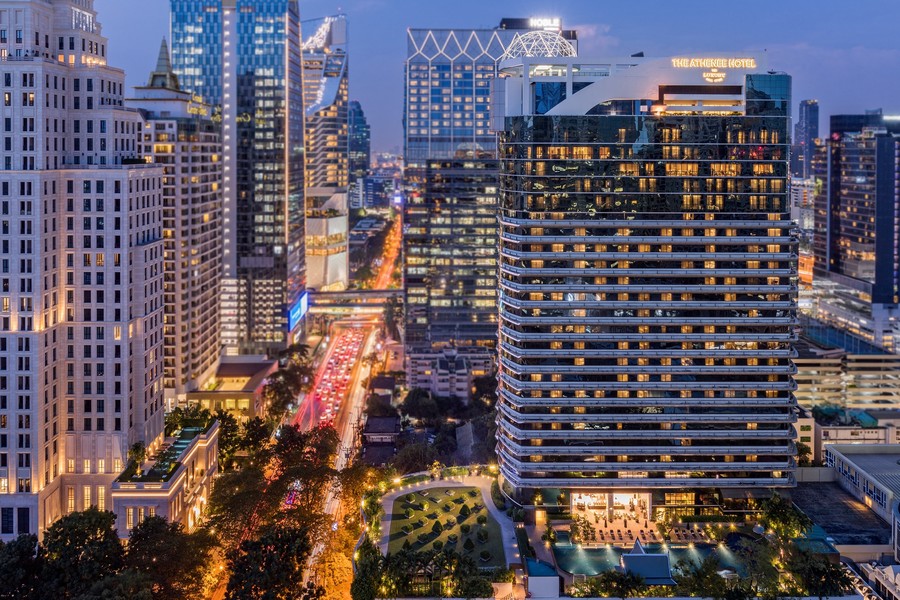 Poet and Playwright Oscar Wilde once said, "I'm a man of simple tastes, I'm always satisfied with the best. If Oscar were still with us, he would definitely be staying at the Athenee Bangkok.
Athenee Bangkok
A Luxury Collection Hotel
61 Wireless Road (Witthayu)
Bangkok 10330
+66 (0)2 650 8800
www.marriott.com/hotels/travel/bkkla-the-athenee-hotel-a-luxury-collection-hotel-bangkok/