The Siam was conceived by creative director and celeb rity Krissada Sukosol Clapp. When Kriss inherited a piece of -prime riverside land, he was instantly inspired to build a hotel on the site to house his substantial collection of antiques. Knowing the gorgeous property deserved something truly special, he brought Bill Bensley on board.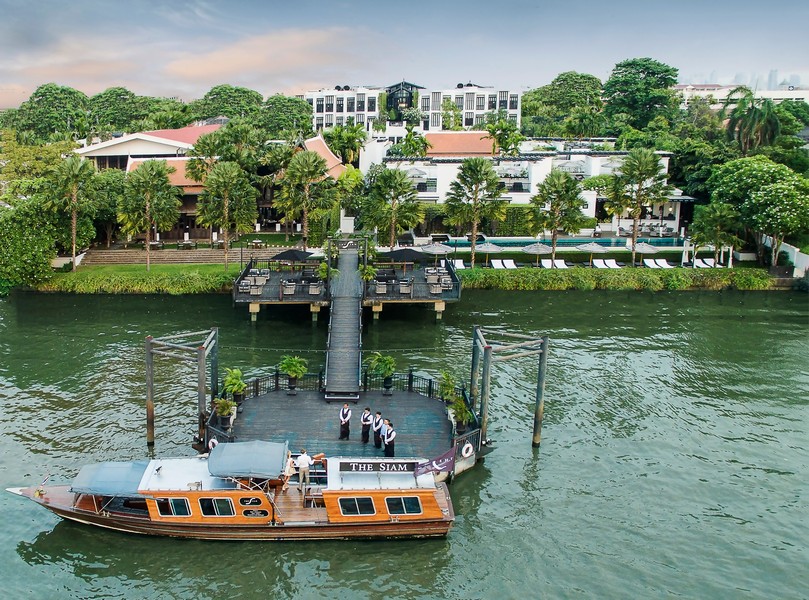 Since 1989, Bill's firm, BENSLEY, has designed some of the world's most iconic hotels, resorts, spas, homes, and sometimes even palaces. Bensley has brought to life over 200 resorts, hotels, and palaces in 30+ countries. Bill has designed a few hotels in the Kingdom, but in Bangkok his masterpiece is Kriss's hotel, The Siam. The 38-suite-and-villa urban boutique luxury resort is located on 3 acres of verdant frontage along the Chao Phraya River in Bangkok's Royal Dusit District.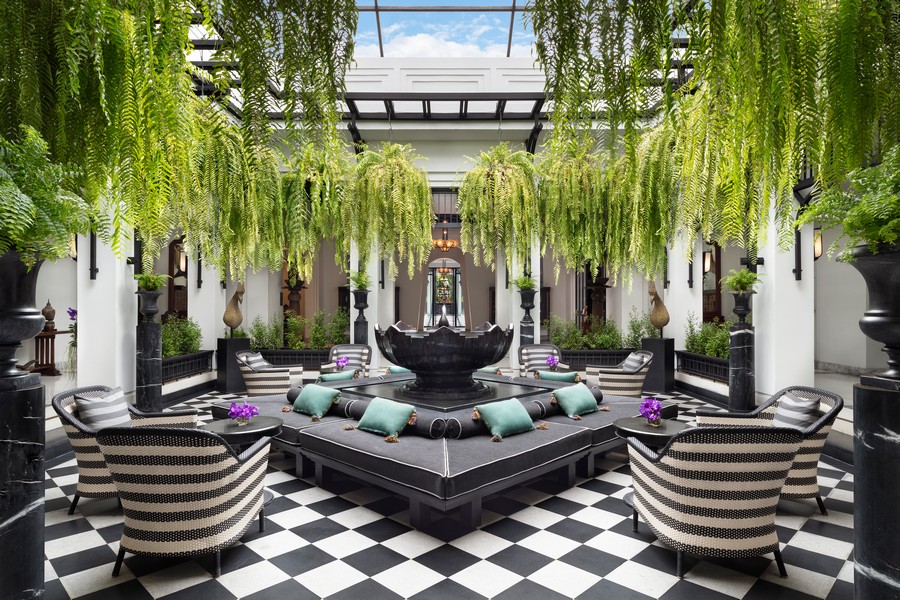 Bensley's design reflects the period of Bangkok's greatest grandeur, under King Rama V (circa 1853-1910), with Art Deco accents and Thai antiques, it is the kingdom's premier resort. The Siam offers seven different room types with the smallest, their Siam, Garden View, & River View suites coming in at a very spacious 80 square meters, (860 square feet).
Their Premier Garden View & Premier River View Suites are 100 square meters (1,100 square feet), and their Courtyard & Riverside Pool Villas come in at a stately 130 square meters, (1,400 square feet). All suites and villas are outfitted with plush furnishing, a super-sized king bed and lofty ceilings. Each is individually designed with original turn of the century artworks, antiquities, and is looked after by a personal butler.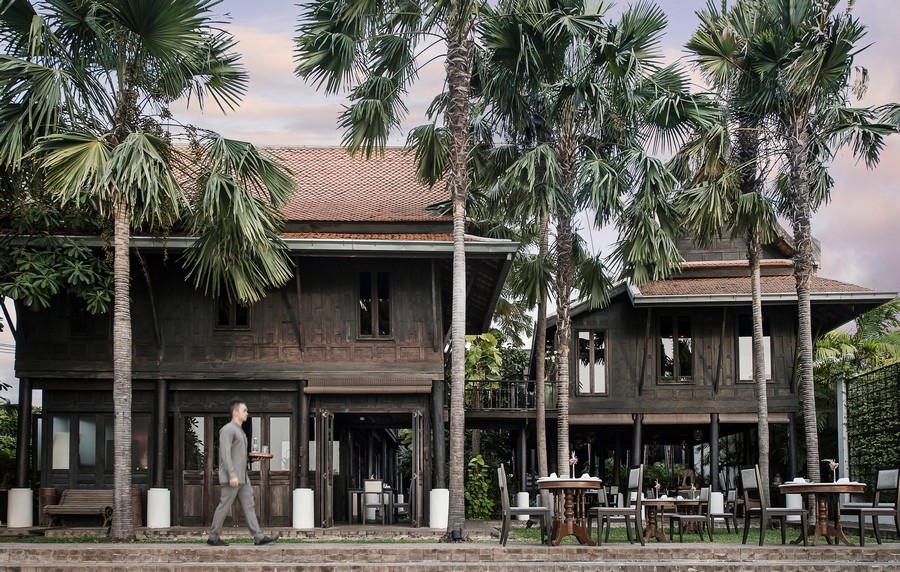 For an unforgettably unique experience, relish the exclusivity of dining or staying in one of their three traditional, century old Thai teakwood houses brought downriver from the ancient capital of Ayutthaya by former owner Connie Mangskau and her silk tycoon friend & fellow spy, Jim Thompson. In these homes Connie hosted an array of cosmopolitan characters, including Jacqueline Kennedy, Henry Ford, William Holden, John Rockefeller and Roger Moore.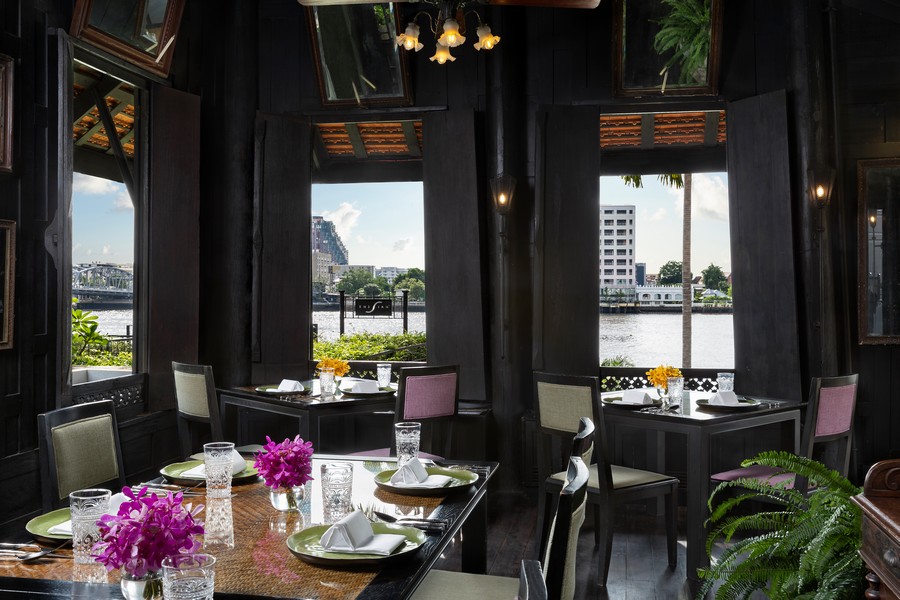 When staying at The Siam, you are treated to culinary experiences like no other. Their Chon Thai Restaurant is the resorts Signature Thai restaurant. The Story House offers Contemporary cuisine with modern flavours, while Bathers Bar, their poolside outlet serves light bites and beverages. The Siam also has their own teak Sala Thai boat offering private sunset cocktail cruises.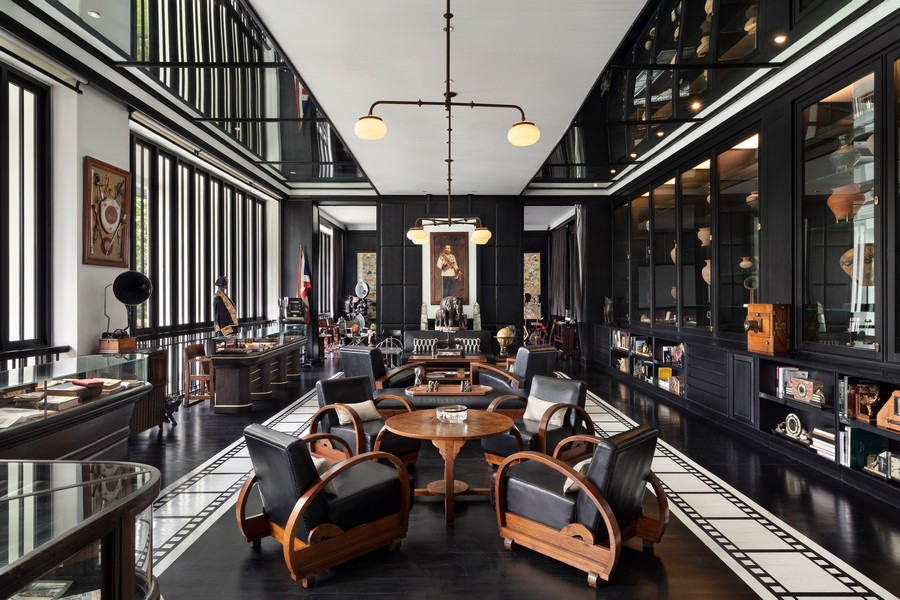 Amenities abound at The Siam and include their riverside infinity pool with children's splash pool, a meeting room that can accommodate twenty, and a library with screening room. You'll also find an antique & art gallery, a vinyl room with a large collection of records & a private pier for river excursions. Finally, there is complimentary scheduled shuttle boat service between The Siam and Bangkok's central Sathorn pier.
The Siam Hotel's Opium Spa is a sanctuary of wellness in the heart of Bangkok. Their exclusive Sodashi therapies and spa products not only regenerate the skin, but also impart a profound sense of wellbeing to spirit and mind. Unparalleled in performance and purity, Sodashi employs only the finest ethically-sourced essential oils and plant actives to visibly heal and nurture.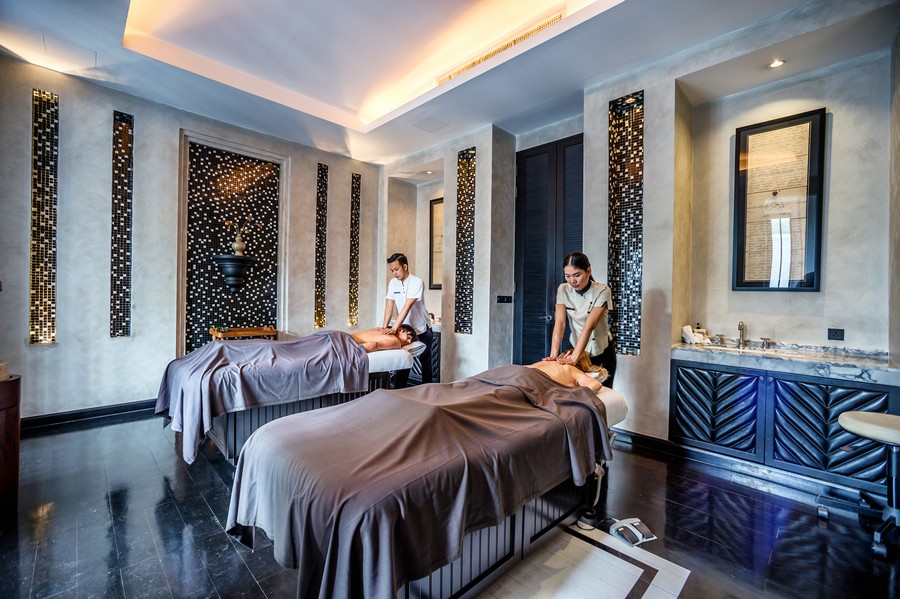 Choose from facial, body and massage therapies, or indulge in a tailored multiday spa package to suit your individual desires. They also offer a kids' and teen spa treatment menu and a full-service hair and nail salon. While visiting the Opium Spa, consider getting a sacred tattoo. Sak Yant tattooing is a traditional form of tattooing magical ancient geometric and deity symbols with Buddhist prayers onto the body. These Yants impart magical powers for luck, protection, charisma, fortune and other powers onto the wearer.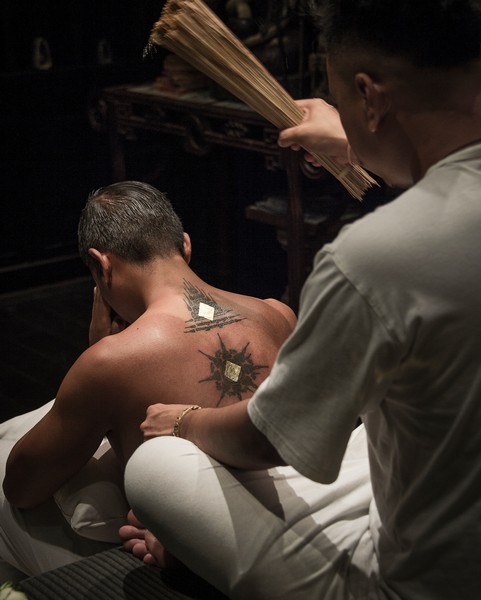 The Thai's believe receiving a Sak Yant is a unique life-changing and near spiritual experience. As such, The Siam chose to support and work with Sak Yant Master, Ajarn Boo by creating a studio within the hotel's Opium Spa where guests could receive their Sak Yant in surroundings honouring the traditional process. Ajarn Boo states "I suggest people to begin with a simple Hah Taew (5 Line Yant) or Gao Yord (9 Line Yant) to see that they can handle the power. Other yants
with different powers are available, depending on what you want and whether I feel it is correct for you. I will not give anyone whatever tattoo they want as I am responsible for the Yants and power that I give people."
The Siam boasts a fully equipped gym with floor to ceiling mirrors and windows. You'll find Life Fitness and Octane equipment alongside original Art Deco gymnasium doors from France, vintage sports posters, old wooden dumbbells and antique leather punching bags. Engage one of their Muay Thai trainers and work out in the gym or take a yoga class on their outdoor yoga terrace.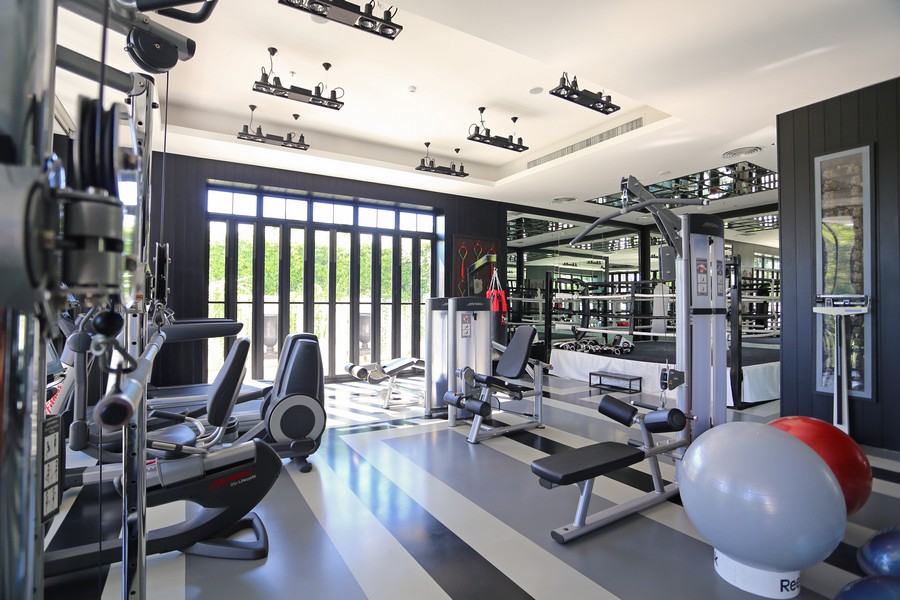 The Siam's spacious period-style library is home to the hotel owner's private collection of rare, first edition hardback books on Siam and Asia dating back over a century, as well as a breathtaking display of his mother's 2100 BC-200 AD
Neolithic pottery.
The Siam's private screening room within the spacious period library seats up to 15 and features original, antique folding wood & red velvet 1930s French cinema seats.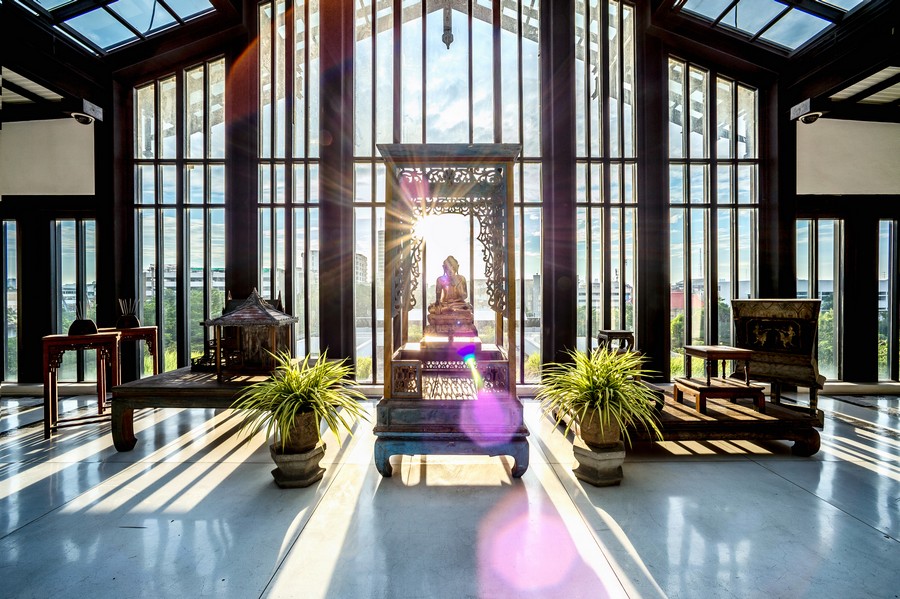 With the uniqueness that is The Siam, it is an ideal locale for joyous unions. From your engagement ceremony, pre-wedding photos, to cherished wedding, their talented team can handle every detail of your oh so very special day. The Siam is your private urban sanctuary in the wild and mad city of Bangkok. It is a stunning luxury hotel replete with exquisite art & antiques, set amidst lush gardens on the Chao Phraya River, with Bangkok's must-see historical and cultural attractions nearby.

The Siam
3/2 Thanon Khao, Vachirapayabal,
Dusit, Bangkok 10300
+66 (0)2 206 6999
info@thesiamhotel.com
www.thesiamhotel.com