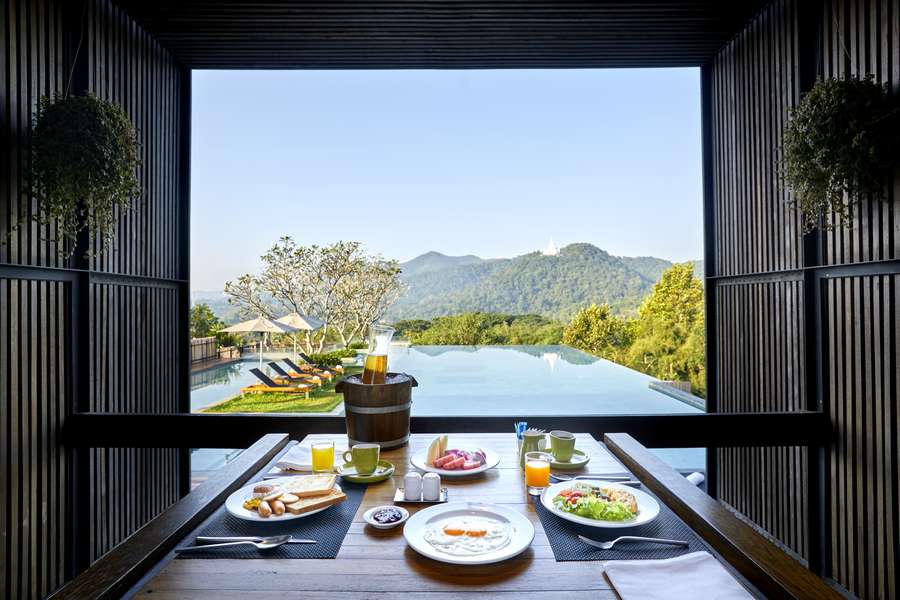 Nestled high in the tranquil hills of Chiang Mai, Veranda High Resort – MGallery, part of Accor's MGallery Hotel Collection, provides a contemporary mountain retreat integrated seamlessly within the rolling hills and valleys. Blending modern materials with elements of traditional Lanna architecture, the result is a stunning fusion of old and new. Striking wood and steel structures are featured in the dramatic open lobby which has been designed to resemble the roof of the royal carriage and a replica wall of the historic fortress that surrounds the ancient city of Chiang Mai is found just beyond. The contemporary designs are ever present throughout the resort—little snippets of Chiang Mai etched in an oasis of calm, designed truly to escape the hustle and bustle of city life.
A short twenty-minute drive from the airport, the resort offers 69 guestrooms and villas, with minimalist interior dominated by stone and timber highlights. There are six different room categories that all feature an indoor-outdoor flow to the natural surroundings, from the Valley Deluxe Escape to the Plunge Pool pavilion. Each offers a scenic view of the city wall replica, the hills or the rice terraces. Rooms have either king or twin beds, covered with comfort duvets, open style bathrooms and a large private balcony, interconnecting rooms are available on request. The Presidential Pool Villa tops it off with 2 bedrooms, private study, living room, swimming pool and Jacuzzi. Veranda High Resort prides itself on their warm and friendly team to ensure their guest's best personal service—for guests to relax, unwind and enjoy the peaceful surroundings.
And why not start at the Veranda Spa? Their signature spa treatments, developed by renowned and experienced therapists, are even more luxurious with the relaxing ambience of the forest setting. Each private cottage is a self-contained spa with large sunken bath, steam shower and twin treatment beds ideal for couples. One of the highlights of the resort is their stunning infinity pool overlooking the distant mountains and offering the most spectacular of sunsets in the evenings. Even for your little ones, there is a shallow wading pool right next to the infinity pool. If they're pruning up, the Kids Club at Veranda High Resort is available for children between 4 and 12 years of age. There is a daily program, including indoor and outdoor activities such as umbrella painting, fan painting and story time. There is also a mini playground with slide, puppets, musical instruments, a doll house, DVD collection and more.
Wander around the resort and you'll find that various cultural activities are available to immerse you into Thai culture. Learn the art of Thai cooking, basket weaving, flower garland making or fruit carving. Private tutelage in traditional Thai music can also be arranged. A complimentary shuttle bus service is available to transport guests to and from Chiang Mai town center. This service is available morning and night, allowing guests to experience the vibrant night market of Chiang Mai. You can also book a temple walking tour, bicycle tour or sign up for Thai boxing, or yoga classes. The resort also offers a fitness center overlooking the hillside, meeting and function space and a library, with rustic outdoor swings.
Veranda High Resort has several restaurants, The Higher Room and Rabiang Cha and if you're too tired, 24 hours room service. The Higher Room is an all-day dining restaurant set above the resort with a European and Thai menu offering an extensive selection of wines and cocktails. Choose to dine al fresco while overlooking the infinity pool and valley beyond, or be seated in the contemporary indoor dining room. Rabiang Cha is located in the lower plains of the valley, with views over the rice and tea terraces. The design is unique, with private dining rooms created to resemble traditional northern rice granaries. Outdoor terrace dining is also available. The dinner menu provided here is a fusion of Lanna Thai cuisine with a modern touch.
With a breathtaking view onto the white pagoda of Banpong Temple, the resort offers a much sought-after backdrop for weddings. The resort promotes several packages to choose from such as a traditional Thai or Lanna wedding ceremony or a western wedding ceremony—their well-trained team is flexibly equipped to make your dreams come true. Additionally, private dinner or cocktail parties can be arranged in a variety of locations throughout the resort to celebrate birthdays, anniversaries or a memorable moment.
The resort combines the rich cultural heritage of the north with the contemporary style of Veranda. So, step off the grid, unwind and let yourself seek comfort, peace and Zen tranquility at Veranda High Resort Chiang Mai, one memorable moment after another.
Veranda High Resort Chiang Mai – MGallery
192 Moo2 Banpong Hangdong
Chiang Mai 50230
+66 (0)53 365007
rsvn-chiangmai@verandaresort.com