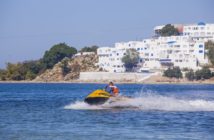 After spending a few days and fully discovering the Unesco city of Vigan, we suggest you travel another 40 minutes south by car to the beautiful coastal town of Santiago and stay a few nights at Vitalis Villas, built around a quiet cove. Inspired by the hillside town of Santorini in Greece, the high end Vitalis Villas are built on a cliff above Santiago Cove.
The villas are built in traditional Greek architectural style and offer the warmth of Filipino island charm with the convenience of modern amenities. All of the villas are painted white in keeping with the Santorini theme, with only the rustic woven curtains in white and blue providing contrast and texture to the Spartan decor.
There are currently three types of villas available; a one bedroom villa, two bedroom villa and a two bedroom villa with pool access. They will soon offer Junior Suites for those traveling as a couple or with small children who don't require the space of the larger villas.
The one bedroom villas range in size from 89 to 125 square meters. Each Villa offers a spacious living area with a 40" LED TV, a dining area, a kitchen with a full size refrigerator, a microwave, induction cooker and a coffee espresso machine. The master bedroom is sizable and includes a luxurious bathroom. Each villa also offers a veranda with sea view. A nice additional feature is butler service to give you the utmost in convenience.
The two bedroom villas are similar ins size and amenities to the above with the difference being the option to have two queen size beds or 1 king size bed and a single bed. The two bedroom villa with pool access is the same as above but located on the pool floor.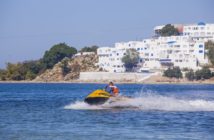 This magical place might have been inspired by the romantic Aegean, but it's warmth and charm is all its own.
Vitalis Villas, Sabangan, Santiago
Ilocos Sur 2707 Philippines
+63 (77) 6046868
http://www.vitalisvillas.ph