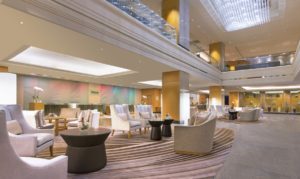 Who would miss out on a five-star hotel in the heart of Bangkok? The Westin Grande Sukhumvit is ideal if your answer is "nobody". This elegant and comfortable hotel is oddly idyllic, a little piece of heaven in the midst of the hustle and bustle of Bangkok's busy street life. It is considered to be one of the best hotels in Sukhumvit which guarantees guests an unsurpassed experience of sheer luxury and leisure. The Westin Grande is conveniently located right next to the BTS Asok Skytrain at a mere three-minute walk which is also linked to the Sukhumvit MRT station. These two modes of public transport will make avoiding Bangkok traffic as easy as it can get.
The surroundings of The Westin Grande have it all; Terminal21, an incredible mall located right next to the hotel with curvilinear glass and steel facades which appear to look like a modern airport in middle of the city. A fun theme which reoccurs inside the mall with its various floors representing different destinations around the globe, from London to San Francisco, and Istanbul to Tokyo. In addition, the surroundings of the hotel have an array of restaurants nearby, shops, movie halls, and entertainment of all sorts which will make guests' stay at the Westin Grande Sukhumvit far off from being boring.
Not only is the positioning of the Westin Grande Sukhumvit key, but the hotel itself is not short of impressing anybody who walks by. It boasts of 362 sophisticated and well-equipped rooms. The rooms are big and spacious, with modern décor, all of which can accommodate a maximum of three people and are equipped with a television, safety box, hot water for tea or coffee, well-appointed bathrooms and incredible views to the city. These are divided into four different categories; Deluxe rooms, Premium Deluxe Rooms, Westin Executive Club Rooms and the Deluxe Suites.
We had the pleasure of staying in their Westin Executive Club One Bedroom Suite. At 70 square meters it was quite spacious and certainly well appointed. Situated on the hotel's upper floors, the one-bedroom hotel suites entail a living room with sitting and work areas, as well as a separate bedroom with a sitting area and their world-renowned Heavenly® Bed. The master bathroom features a shower and separate bathtub while a guest powder room provides convenience. Inclusive of the suite is their exclusive Westin Executive Club Lounge access and all the perks that involves, like evening cocktails. The Westin's Heavenly® Bed is not a feature to just gloss over. Specifically designed for the Westin, the trademarked bed has been so popular with their guests that due to demand they are now sold in high-end outlets throughout America. As one Westin guest said after spending a night on their heavenly bed, "It's sleeping like the dead." Going one step further, the Westin has even designed the "Westin Sleep Well Menu" which is a curated selection of sleep-enhancing superfoods developed in partnership with SuperFoodsRX and exclusively available through their in-room dining service.
For me, when determining what separates a four-star hotel from a five-star hotel, it's the extra touches. Returning to my room one evening, after the maid had been in and completed her "turndown service" I contemplated a nightcap. Eying an ice bucket, I wondered while lifting the lid and sure enough, it was filled with ice waiting for me, without me having to ask.
The Westin offers four dining venues within the hotel; Seasonal Tastes offers its services all day and has breakfast, lunch and dinner buffets whereby you can enjoy international flavours from all over the globe. Their Kisso Japanese Restaurant, (which we reviewed in our August 2016 issue), is for those with a refined taste in both traditional and contemporary Japanese cuisine and who want to enjoy their food in an authentic environment, Zest Bar and Terrace where guests can enjoy the cityscape while sipping on a drink and finally the Pool Bar to enjoy a meal under the magnificent light of the Thai sun. The Westin's daily buffet breakfast is one of the best in Bangkok. My benchmark for a 5-star breakfast is if the egg station offers Eggs Benedict on a daily basis, here they do and I was happily contented.
The Westin Grande has made sure to design special features and amenities to make sure all their guests are treated with the hospitality required during a holiday or a business trip. The Westin Grande Sukhumvit promises to bring their guests back to their best selves during their stay in Bangkok. The hotel allows you to keep up with your usual fitness regimen at the Westin Workout Fitness Studio, which offers the latest in Life Fitness cardio and strength training machines. And if working out is not a preference for you, one can always head to the rooftop pool, which invites guests to enjoy a rejuvenating swim or simply lounge and soak up the impressive and inspiring city views while enjoying a sweet cocktail from the Pool Bar.
In addition, the hotel features an amazing Spa. Nothing helps one relax after a long day of meetings or sightseeing like a luxury spa treatment at the Vareena Spa which not only provides its services at a specially designed area for walk in guests but also offers their services to pamper guests in the privacy of their guest room with the in-room spa services.
The Westin Grande Sukhumvit also has concierge service. This service is available to help guests with everything; from dinner reservations to local area information to travel arrangements, while the tour desk staff organizes sightseeing excursions both inside and outside of Bangkok city. Finally, the fully equipped Business Centre at the hotel ensures that guests remain effortlessly in touch with their offices back in their countries if they wish to, and back home to their families too.
The Westin Grande Sukhumvit in Bangkok has it absolutely all. The rooms are amazing, the quality amenities and facilities are of a high standard and its location will make your trip to Bangkok unforgettable.