Often misunderstood or over looked the Rhône vineyards are the perfect example of a healthy wine region that
associates centuries of terroir, classic appellations and more adventurous wine making practices leading the new
generation forward. However, it has its idiosyncrasies and when talking about the Rhône wines we will often separate
them into 2 distinct areas, Northern and Southern Rhône. Without further ado let's take a trip down the Rhône River.

Up North, The Starks.
They have been here forever; they are somewhat wild but well-mannered and they guard us against the North (Beaujolais). Situated under Lyon often referred as the heart of French gastronomy flowing down south along the Rhône River, the Northern Rhône vineyards cover approximatively 5000 hectares with noble appelations such as Côte Rôtie, Condrieu, Saint Joseph, Crozes-Hermitage, Hermitage and Cornas.

The main grapes in Northern Rhône are Viognier for the whites and Syrah for the red. Marsanne and Roussane, both white grapes, are also widely used and sometimes as lower percentage in a red wine blend to stabilize its color. Northern Rhône wines are probably the most authentic expression of Syrah and any lovers of that grape ought to try it.
Also, if you have a prejudice against Syrah being a full body powerhouse then try to explore some appellations like Crozes-Hermitage where you can find some examples of medium body and more delicate Syrah.
Some of the best examples of Northern Rhône wines available in Hua Hin are the Paul Jaboulet Ainé Domaine de Thalabert Crozes-Hermitage and Hermitage La Chapelle AOC. The latter is probably the most iconic wine in all Northern Rhône. As for the whites you will find that the Paul Jaboulet Ainé Viognier not only is a fantastic value white wine but, as pointed out by Thai cuisine reviewers and wine lovers Leigh and Shane of Feast Thailand, it goes remarkably well with Thai delicacies. Finally, the highest level of Viognier available is probably the Condrieu White "Les Grands Amandiers" AOC. Condrieu is the home of Viognier and the only appellation in Northern Rhône producing only white wines. Those wines are great example of white wines with a good potential for aging.
Down South, The Lannisters.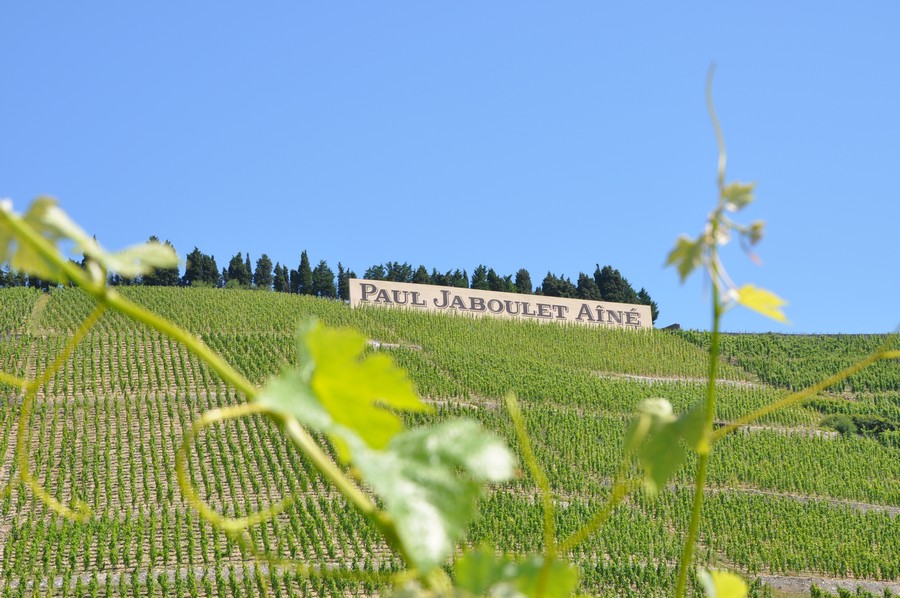 They are regal, they are powerful and rich and sometimes slightly snobby towards their neighbors up North, meet the wines of Southern Rhône. Situated around Avignon, a city with an extensive history and the home of the papal castle, the southern Rhône vineyards are flatter, have a dryer Mediterranean climate and produce many famous appelations such a Châteauneuf-du-Pape, Côte du Rhône, Côte du Rhône Villages, Gigondas, Vacqueyras, Beaumes de Venise and Rasteau.
The main grapes are Grenache often grown on stony soils (galets) which strives in dryer climates and Syrah is also present. Grenache is quite versatile in terms of fermentation and maturation, from cold maceration, whole bunch fermentation producing lively and fruity wines to open top fermentation for the traditional appellations such as Châteauneuf-du-Pape or Gigondas.
Available in Hua Hin you will find that the Châteauneuf-du-Pape Red "Les Cèdres" AOC 2019 by Paul Jaboulet Ainé is a good purchase if you have the patience to let the wine age in your cellar to see it develop over the years. For a wine that is ready to enjoy immediately the Parallèle 45 Red Côte du Rhône AOC is a fantastic value wine that can be enjoyed daily (with moderation).
And if in the George R.R. Martin books almost every protagonist met their maker you can also visit the Paul Jaboulet Ainé estate in France and meet the maker of those fantastic wines, they will welcome you with open arms.
About the Author
Thierry Berno is the Branch Manager
for Italasia Hua Hin. His love of wine
began in South Korea, mentored by
Kwak Dong Young, the first Korean
recipient of the French BP sommelier,
and legendary chef Pierre Gagnaire
whose passion inspired him.
To learn more or to visit Italasia
Hua Hin, call 063 535 2590, or email,
br-huahin@italasiagroup.com.