By Russ Downing
Palm Hills Golf Club and Residences has been one of the premier housing developments in Hua Hin for over 20 years. It has the highest density of luxury homes with some of the biggest land plots of any housing development in the city. Most land plots are one and a half rai, 2400 square meters. The spacious land plots allow for very substantial and expensive haciendas.
Unlike most developments in Hua Hin where your house options are limited to the developer's show house models, here you can build whatever suits your fancy, within reason, of course.
Palm Hills is in the popular North end of Hua Hin with many restaurants, shops and facilities nearby and more popping up on an almost weekly basis. The dual carriageway Canal Road parallels Petchakasem, (the main road thru Hua Hin). It passes right in front of Palm Hills, making it the desired route to get to and from town on busy weekends.
When you drive through Palm Hills you will notice that there are a quite a few empty land plots. They have been purchased as an investment or with a plan to build at a later date.
One of the joys of living in Palm Hill's is the tranquility. It doesn't matter if you play golf or not, living on a golf course is like living in a giant, magnificent, peaceful park.
If you are a golfer, Palm Hills is a good course. It's not the best, Black Mountain & Banyan vie for that honor. It is though a challenging course. You have a choice of 3 tees for men plus a ladies Tee so you can adjust your play to your level and the mandatory caddies are well versed and give great tips, plus they speak English well.
Another reason I like Palm Hills is that it has a much higher proportion of full time residents living there, so you get a real sense of community which is lacking from most housing estates where the homes are mostly holiday homes.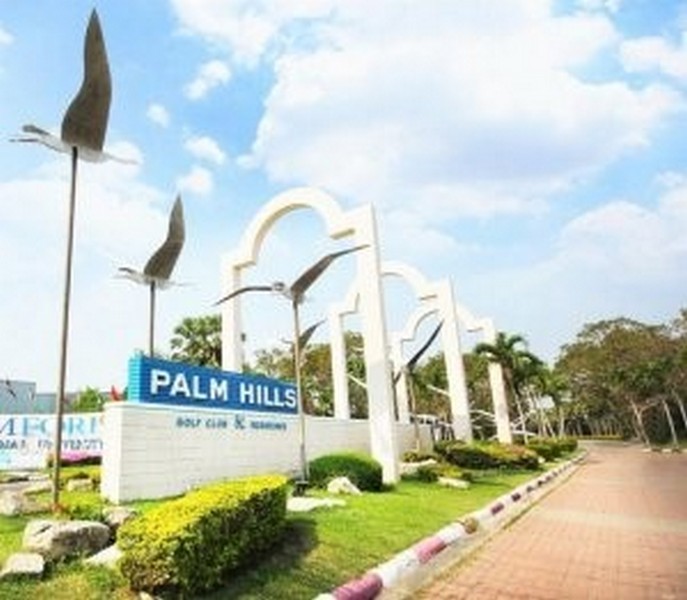 When talking to Palm Hill's owners one of the things they frequently mention is the security they have on the development, with many proclaiming it's the best in Hua Hin. Here you have the requisite guard station checking cars at the entrance but you also have manned guard stations throughout the project.
From an investment perspective, I believe Palm Hills will appreciate at a faster rate than almost all developments in Hua Hin in the next few years. With the building boom of residential projects happening between Hua Hin's airport and Cha Am, the next city to our north, there will be an exponential growth in restaurants, stores and facilities. There will be no delineation between Hua Hin and Cha Am anymore; it will all become one with Palm Hill's at the near center. Location, location, location, as they say.
Purchasing a home or land in Palm Hills not only allows you the ability to buy or build a large luxury home on a substantial land plot, but your home will be close to everything you need. Both Makro and Villa Market grocery stores are nearby, mainstays for expats looking for familiar food items from their home countries. Additionally, when traveling from Bangkok or its International Airport, you won't have to drive through the city to get to your home, saving you plenty of time on busy weekends.
Almost all homes and land plots come with a lifetime membership to the Palm Hills Golf Club and their separate Sports Club, although "lifetime" really means 30 years and "family membership" means a husband, wife, and two children. If the house and land are owned by a company then different membership types apply. If you are buying a re-sale home or land plot you will get a full 30 years memberships but there will be a transfer fee that will need to be paid to Palm Hills to change the membership names.
The Palm Hills Golf Course Club House contains a pro shop, locker rooms, a main dining room, and an outdoor restaurant for light meals and drinks, the 19th hole as they say. The separate Sports Club is quite large and contains outdoor tennis courts, indoor badminton courts, squash courts, a fitness center, snooker tables, table tennis, a large outdoor swimming pool, and a very reasonably priced restaurant.

About the Author
Russ Downing is Managing Director of HOT Hua Hin Property and has for 11 years headed up the Hua Hin judging team for the Thailand Property Awards, widely seen as the Academy Awards for the Thailand Property Sector. Russ's articles have been translated and re-printed in a large popular Chinese magazine and he has had 3 of his luxury listings chosen for the Wall Street Journal's "House of the Day" feature with near worldwide exposure in the WSJ's U.S., European and Asian editions as well as online.
For more information about Palm Hills or to view properties for sale contact HOT Hua Hin Property, 084 387 5699 or info@hothuahin.com. hothuahinproperty.com