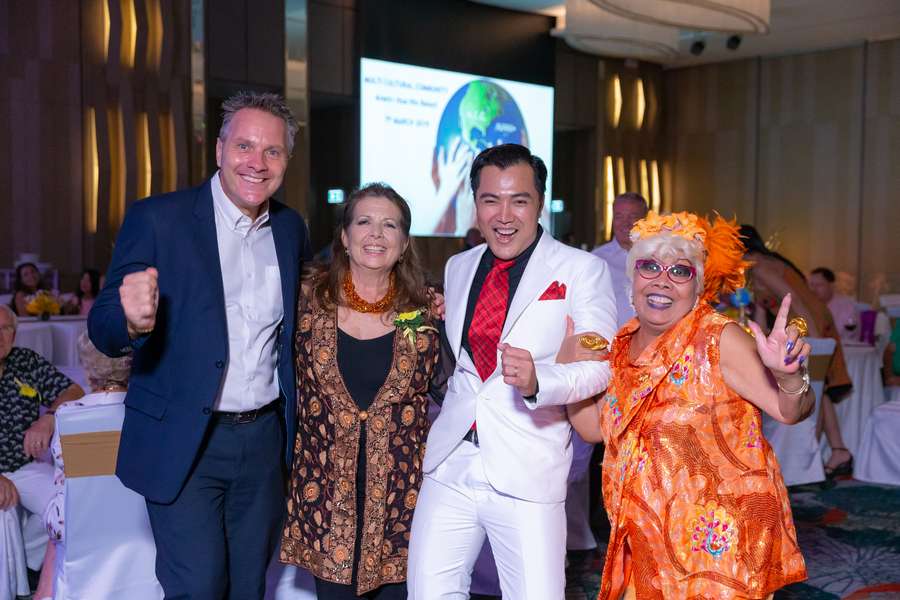 On Thursday evening March 7th at the AVANI Plus Hotel in Hua Hin, Lizzy, the Grande Dame of Hua Hin held court at her well attended MCC event. MCC, which stands for Multi Cultural Community is an event dreamt up by Lizzy five years ago and her MCC nights are looked forward to by expats and Thai's alike.
The special VIP guest for the evening was Mrs. Kathy Heinecke. Kathy, along with her husband Bill are Thai citizens. Bill Heinecke is well known throughout Asia for his high-flying business empire called Minor International which includes hundreds of hotels around the world with names like Four Season's Marriott, St. Regis, AVANI and the brand he built from the ground up, Anantara. Next time you eat at Pizza Company, Burger King, Sizzler, Coffee Club Swensens or Dairy Queen, you'll have Bill to thank. Their restaurants to date number over 2,000 globally.
Other special guests included Khun Montri, Vice Mayor of Hua Hin, Khun Thaweesin Pattanapiras, a member of Parliament and directly from Japan, Mr. Edwin Wiek, Founder and Director of the Wildlife Friends Foundation in Thailand. People Lizzy wanted to thank include the Rescue Phetkasem Association, the Sunshine Ambulance Driver and Thai Contractor / Builder, Khun Kay.
The fun evening was made even more enjoyable as it was a Charitable affair with money raised going to LIzzy's University fund.