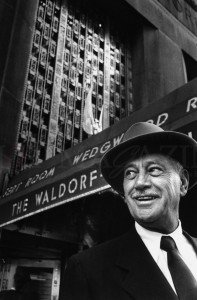 In 1887 a boy named Conrad was born to Augustus and Mary Hilton who lived in San Antonio, New Mexico, a U.S. Territory. The Hilton's were immigrants from Norway. As a young boy Conrad developed entrepreneurial skills working at his father's general store. This was followed by varied experiences, including a stint as a representative in New Mexico's first State Legislature and a career decision to become a banker.
With the intention of buying a bank, he arrived in Texas at the height of the oil boom. When the bank purchase fell through he bought his first hotel instead, the 40-room Mobley, the year was 1919. The hotel did such brisk business that rooms changed hands as much as three times a day, and the dining room was converted into additional rooms to meet the demand.
From those humble beginnings the HILTON brand was born. In Thailand you'll find 5 Hilton's with the most iconic being Bangkok's Millennium Hilton which rises up from the banks of the Chao Phraya River. With breathtaking views of the city skyline from every one of its 533 guest rooms and suites it is an oasis in the middle of the city.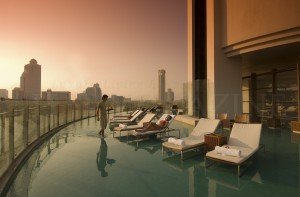 This award-winning Bangkok hotel provides guests with accessibility in and around Bangkok by road, Skytrain and boat. The hotel operates its own shuttle boats, providing guests with complimentary transport to and from the hotel. Visit Bangkok's cultural attractions like the Temple of Dawn, Grand Palace or the flower market. Easily access shopping attractions like MBK and Siam Paragon and then make your way to Asiatique, The Riverfront, Bangkok's night market.
The hotel offers award-winning dining with four restaurants; FLOW is their all day restaurant and where breakfast is served. With 533 rooms comes a lot of guests and Flow is large enough to accommodate. There are five display kitchens, each with chefs masterfully performing their art as they prepare fresh items to the delight of those ready to dine. FLOW also has a large outside terrace and is one of the best venues in town to truly enjoy riverside dining.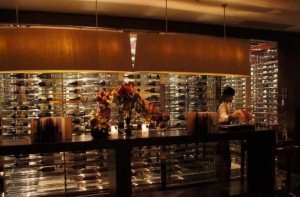 PRIME is their steakhouse which for the 8th year in a row recently won the "Best Restaurant in Bangkok" award from the highly respected national Thailand Tattler magazine. At PRIME soft tones create a relaxed ambience at this sophisticated steakhouse. Sip new and old world wines, savor the finest imported beef or choose fresh live lobster and oysters for dinner in this contemporary restaurant which looks out over the river. For you oenophiles you'll delight with the extensive selection of labels from old and new world wineries. In total, the Millennium wine cellar contains over 3,000 bottles of wine, to practically guarantee the perfect wine choice.
YUAN Chinese Restaurant serves top quality Cantonese that's not only delicious but attractively presented. The service is exceptional and the atmosphere warm with an air of sophistication.
THE LANTERN is the place to go for specialty coffees, light snacks and where Resident Executive Swiss Pastry Chef Urs Rohrbach, who is the soul of all the sweet creations at the Millennium, shows of his artistry creating indulgent rich chocolates, ice cream and pastries. Caesar salad, freshly squeezed juice or a smoothies are also available should you prefer a healthier option.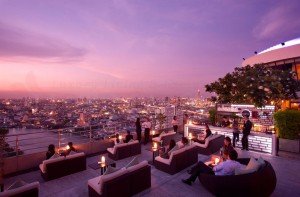 The THREE SIXTY LOUNGE is the Millennium's rooftop bar on the 32nd floor offering 360-degree views of Bangkok. Head Bar Supervisor Khun Lersak Jamkadsin recently won the South East Asian Hilton competition as the Best Bartender for his signature drink which he named "Isan Summer". This creative concoction was inspired by traditional Isan food and flavours. The Isan Summer features 23 year old Ron Zacapa Rum, Thai tea syrup, fresh passion fruit, tangerine juice and kafir lime. With an Isan Summer in hand you can sit back, relax and listen to Thabita King, a well-known U.S. Jazz singer perform Tuesday thru Sunday and famous Thai Jazz Guitarist Khun Prode Tanapat every Monday night while soaking up the sights of Siam.
Guests of the Millennium Hilton are about equally split between business travelers and those on holiday. For the business person the Millennium boasts 2 ballrooms and 15 meeting rooms all located on the 30th floor. Dedicated solely for meeting space you will also find a business center set up to cater to all of your business communication needs. . Great for big corporate meetings as well as Weddings of up to 2,000 people.
Thailand is known for its spas and the eforea spa is one you should get to know. Here you can indulge yourself in one of their twelve private spa suites, the sauna or outdoor reflection garden.
Further amenities include THE BEACH. Located on the 4th floor where sun and specialty cocktails are the order of the day while you relax on a lounger around the infinity pool with garden and river views or work out at the fitness center.
With its 533 rooms and suites, impressive award winning restaurants and a top list of amenities the Millennium Hilton is a vertical resort and one Conrad Hilton would be proud to have his name on.