On July 5th of this year, HOT Hua Hin Co. Ltd., publishers of this magazine held a press conference in Bangkok to announce their acquisition of five male pageants; Mr. National Thailand, Mr. Tourism World Thailand, Mr. United Continent Thailand, Mr. Continental Tourism Thailand and Mr. Amity International Thailand.
On July 28th, they hosted their first pageant, the Mr. National Thailand competition which was held at the WESTIN Grande Sukhumvit in Bangkok with over 400 people attending including national and international media.
On Wednesday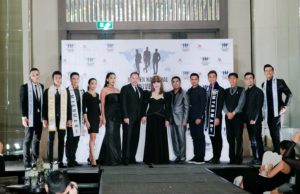 November 9th, HOT Hua Hin Co. Ltd., held another press conference in Bangkok, this time at the Bangkok Marriott Hotel Sukhumvit where they announced that three of their pageant winners will shortly be competing in International contests.
Khun Narapat Sakulsong will be competing at the Mr. Model International Competition in New Delhi, India in November. Khun Warranyoo Suwan will be competing at the Mr. Asian Competition in Manado Indonesia in November and Khun Khun Suphachok Thaveechot will be competing at the Mr. Tourism World Competition at the Unesco World Heritage City of Vigan in the Philippines in December.
A further announcement was made that Bangkok and Hua Hin have been chosen as the host cities for the Mister National Universe Competition which will be held in April of 2017 with contestants coming to Thailand from 25 countries around the world.
Honorary Chairwoman, Khun Sumanee Guna Kasem, was once again in attendance and gave a speech to the guests and media in attendance speaking of how happy she was to see that Thailand will be represented by three such handsome gentlemen and stating that she knew they will do us proud when they travel overseas and she wished them every success in their individual competitions.
The men will be traveling with several pairs of shoes designed for them by the famous Thai shoe designer Khun One Ruk, the only Thai to ever win the coveted Jimmy Choo shoe award. Khun One Ruk took the stage at the press conference to speak of the inspiration he had when designing the shoes for each of the contestants.
As with the more well-known international female pageants, a part of each contestants scoring comes from their National Costume and the men walked the catwalk in the costumes they will soon be competing with.
The press conference ended with Khun Nok Thanyasa, from the Mr. National Universe Organization,
taking the stage to present Mr. Zayyan Hein, owner of Brilliant Entertainment and Modeling Agency,
with an exclusive franchise to the Mister National Universe Pageant for the countries of Myanmar and
Malaysia.