From June 6th thru 13th the Inaugural Mister National Universe Pageant took place in Thailand. Host cities for the event were Hua Hin and Bangkok.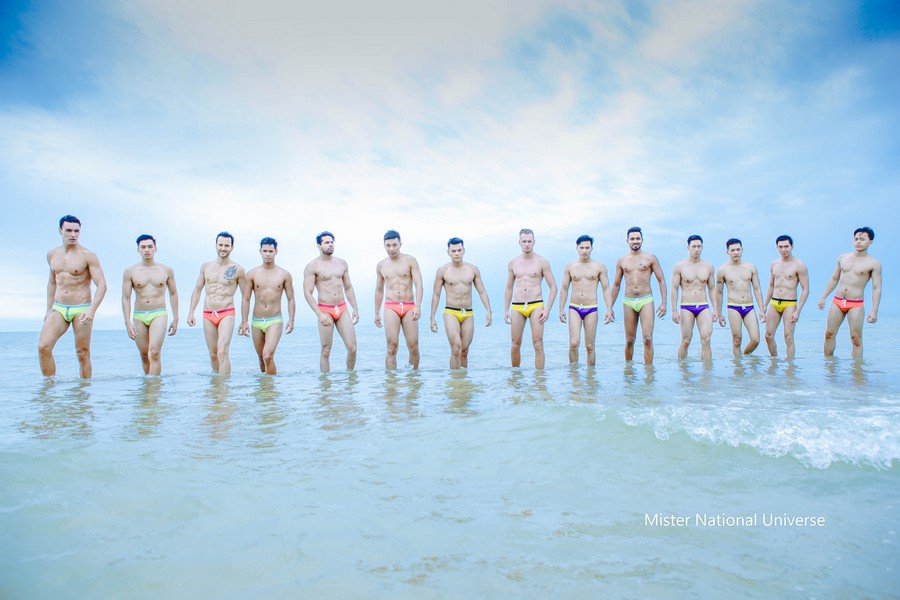 Fourteen men from around the world traveled to the Kingdom to compete for the title of Mister National Universe. Countries represented were, India, Malaysia, Thailand, China, Brazil, Cambodia, Italy, Laos, Myanmar, Philippines, Russia, Sri Lanka, Vietnam & Belarus. Similar in scope and style to the more well-known female pageants, contestants competed in Casual Wear, Formal Wear, Swim Wear, Talent, National Costume & Intelligence. This international pageant for men is owned by Thai entrepreneur, media personality and the creative director of this Magazine, Ms Tanya Siri Vijitsomphong.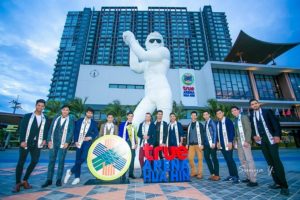 The candidates and the accompanying national and international media arrived in Hua Hin on June sixth and were welcomed by Hua Hin's Lord Mayor Khun Nopporn Vuttikuland and Vice Mayor Khun Montri at a VIP launch party on the rooftop of TRUE Arena Hua Hin. Later the men were given a tour of Hua Hin's premier sports complex, True Arena, and then it was off to LeBar in the center of Hua Hin for the official evening welcome party.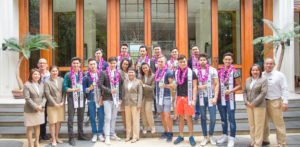 The theme for the competition was "Where Pageantry and Luxury Meet" and it certainly did as the men stayed at the luxurious InterContinental Hua Hin Resort for their first two nights in Thailand's Royal Resort beach town.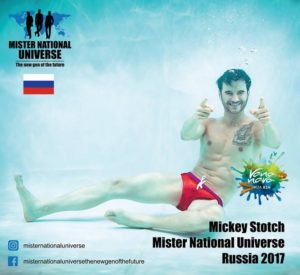 Wednesday June 7th was the official photoshoot day where the men were photographed in sport and formal wear and then headed off to Vana Nava's Water Jungle to engage in some water fun and more picture taking, this time underwater.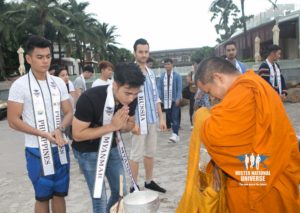 Early morning Thursday saw the men beachside in front of the InterContinental as they paid respect to the Monks by giving them alms as the holy men passed along the beach. Later the guys and media were at the Anantara Hua Hin Resort for lunch and a tour of the property followed by a trip to tour Hua Hin's Police Camp.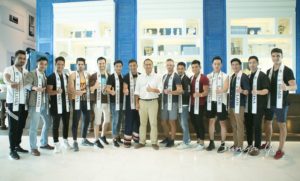 Friday morning saw the guys breakfasting at the Amari Hua Hin Resort and then they made their way to True Arena Hua Hin for a day of sport. Later that evening it was off to a Hawaiian themed Aloha Party party at Electric Mango, where guests and media enjoyed a swimsuit and Resort wear fashion show with both male and female models. Saturday it all went to the dogs as the guys and entourage headed to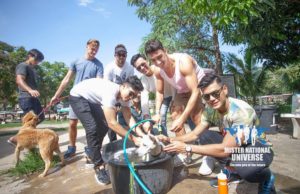 Hua Hin's Rescue Paws Dog Rescue center for a presentation on the great work they do there. Afterwards everyone took turns washing and walking some of the canines that call Rescue Paws their temporary home. Later there was a Hua Hin send-off party at EAST Rooftop Bar and Lounge and later, later at Mad Dog in Hua Hin.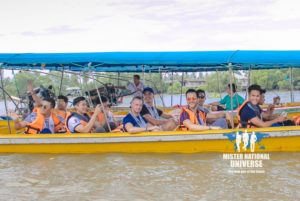 Sunday saw the men and accompanying media board their private coach and head to Bangkok where they went sightseeing on a river boat trip and participated in a photo shoot at Chuchai Buri. That evening there was a welcome party at the N-Siri Resort. Monday was a day of rest and for the men to mentally prepare for the big pageant the following day.
On pageant night, Honorary Chairwoman Khun M.R. Malinee Jakhaphan was on hand as well as the Celebrity Judges who had to make the tough decisions. The judges included; K Watanyoo Mungmai, K. Bryant Olson, K. Chuchai Chailitilert, K. Varayuth Milintachinda, K. Vachini Krairiksh Venvell, K. Num Prasert, K. Akaraj Youbumrung K. Jack Fenix and others. The sold-out affair was live streamed in high definition and had an audience of almost 300,000 people watching on-line. At the conclusion of the competition the votes were tallied and it was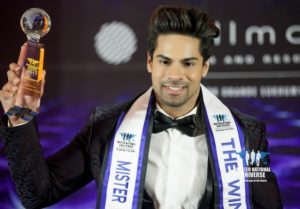 India's Dr. Pankaj Ahlawat who won the title Mister National Universe 2017.
Dr. Ahlawat has had quite an amazing 2017 so far. He recently received his medical degree and he won the Rubaru Mr. India National Universe competition. He describes himself as an ordinary guy from New Delhi with extraordinary dreams.
In an interview with MisterOlogy, the world's number one website for male pageants, prior to coming to Thailand to compete, he said, "I believe that optimism is the key to success and leading a great life. I find happiness in every little thing that life offers. A doctor by profession, I like to help people, not just by medication but in every possible way. It makes me feel extremely happy when I make people around me happy. I like to learn and experience new things by challenging myself to new heights. I strongly believe in the quote, "every time I try something new, either I succeed or I learn a new lesson." He was then asked his thoughts on representing India at the Mr. National Universe competition in Thailand and he said, "I feel so proud and humbled that I have been given this wonderful opportunity to represent my nation at the inaugural edition of the Mister National Universe contest. I would like to thank the Rubaru Mr India Organization for seeing the potential in me and believing in me that I would do full justice to this title. I am determined to give my best and will surely give my best. Other than that, I am really looking forward to explore the beautiful land of Thailand with my new friends and learn about Thai culture."
The Full list of winners were:
Best National Costume went to Nigel Van Andrew from Malaysia
Best Talet Award went to Chathura Dilan from Sri Lanka
Best in Swimwear Award went to Daniel Siu from China
Best Physique Award went to Mickey Stotch from Russia
So Cool Guy Award went to Dr. Pankaj Ahlawat from India
Media Choice Award went to Thotsaphone Sitphaxay from Laos
People's Choice Award went to Dr. Pankaj Ahlawat from India
Other men who competed were Kov Keonarin from Cambodia, Emanuele M. Amboy from Italy, Khon Seng from Myanmar, Renz Lesther Cerezo from the Philippines, Quach Dinh Thong from Vietnam & Dimitrii Slizevski from Belarus.
HOT Hua Hin Co. Ltd and HOT Magazine would like to give a big thank you to all of the sponsors who made the 8 day event possible.