By Agneta de Bekassy
On a sunny morning, I ventured across town with photographer Daniel Herron to the jewel on the river Chao Phraya, legendary Mandarin Oriental Hotel Bangkok, to meet the man behind the relative newly opened store "PRESTIGE Luxury tableware."
By just entering the lobby to this grand hotel, you step into elegance and a sense of history. Since its opening in 1879, the Mandarin Oriental has hosted royalty, actors and other celebrities in all fields in life. Elizabeth Taylor, Audrey Hepburn, Sir Richard Attenborough, late Princess Diana, Mick Jagger, Louis Armstrong, & Tom Cruise are on their "sign-in please" list, among many more. It is ranked as one of the best hotels in the world. To enter the old wing with its light and inviting lounge is like entering a world of calm and elegance. The hotel has lately been renovated for $ 90 million.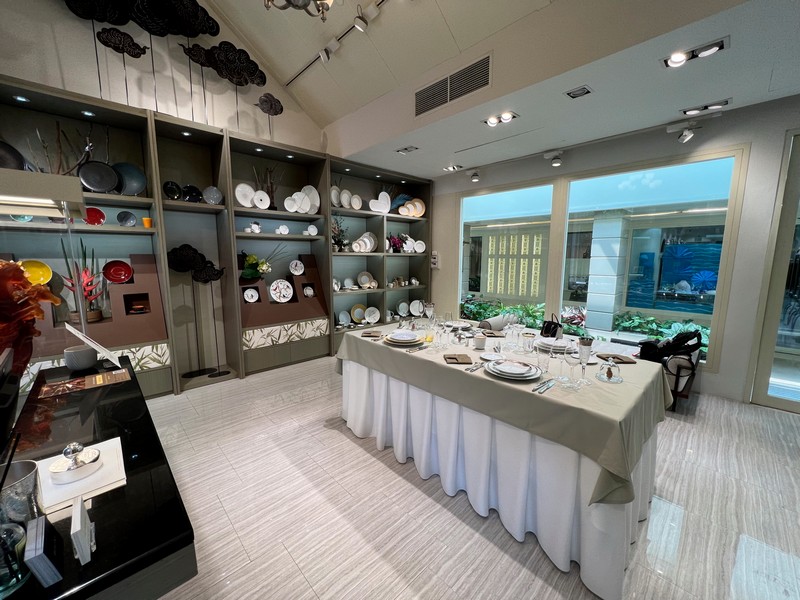 Within the Mandarin Oriental, you'll find the store Prestige. When we visited, we were greeted by Pedro Da Costa, a young, handsome man who openly expressed his passion for exclusive labels, unique fashion, and his belief that good manners matter.
Pedro was born and raised in Portugal, next to Porto City. At the age of 19, Pedro decided to leave his parents and sister and move to Monaco, where he was offered a job in hospitality and the gastronomy field. He then went on to work at the iconic French hotel Cap Estel for seven years.
Pedro has a partner, Eric Guias, who already had all the contacts for the products Pedro wanted to display and sell, and the two men are now working together.
The masterpiece displayed in the store is a huge vase in a glass display case from the French label Daum, founded in 1879, "The Cavalcade Prestige Vase". With its impressive height, this magnificent vase is one of the largest vases in the Daum collection. The colour is amber, and it weighs an astonishing 62.3 kilos. The vase is mounted on a patinated bronze base, and the vase depicts a herd of horses running fearlessly in the wild. The vase has a price of around 100,000 Euros. The vase in the Prestige store is # 9 in a limited edition of 50, but only 26 vases have been produced.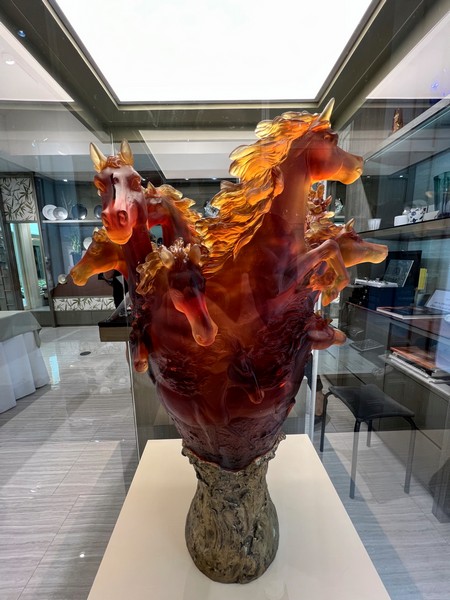 Number 8 is located in Singapore, and it has a bluish transparent colour. A few potential customers have been interested in purchasing this masterpiece, but you can still see the vase in the store as of the date of this publication.
Pedro offers a fantastic variety of famous French labels. A beautifully set table with crystal glasses from the Czech Republic, porcelain from Bernardaut & cutlery from Christofle Paris, plus stunning flower decorations from a shop not far from the hotel constitutes the store's centrepiece.
I had the pleasure of sitting down with Pedro for a little Q & A.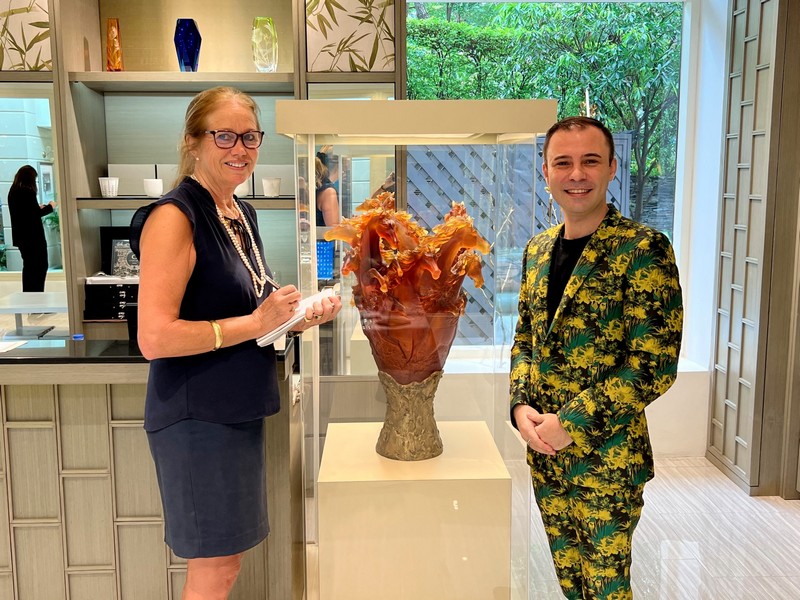 ADB: Pedro, you've now been in Thailand for seven years. What attracts you to the Kingdom?
PDC: Thailand is different from the other South-East Asian countries. It's something with Thailand that attracts me, like a magnet, and I want to learn more about this beautiful country, the friendly people, explore the white sand beaches and the inviting sea. I also like the bustling Bangkok. It's a fascinating city, the only things I'm not keen on is the heavy traffic and the sometimes not too good air. It's a big city, and perhaps that just comes with the territory.
ADB: How did you get the idea of opening the PRESTIGE-store at Mandarin Oriental Bangkok Hotel?
PDC: It started with Covid, all the problems it has caused us and still does. My brain is always working and never seems to stop being creative. I was longing to do something that reflected my background, my professional expertise and the love for good manners and also, not to forget, the Arts of the table. I started Etiquette workshops and that led me and took me all the way to Mandarin Oriental Bangkok Hotel. It was like I pushed the right button at the right time.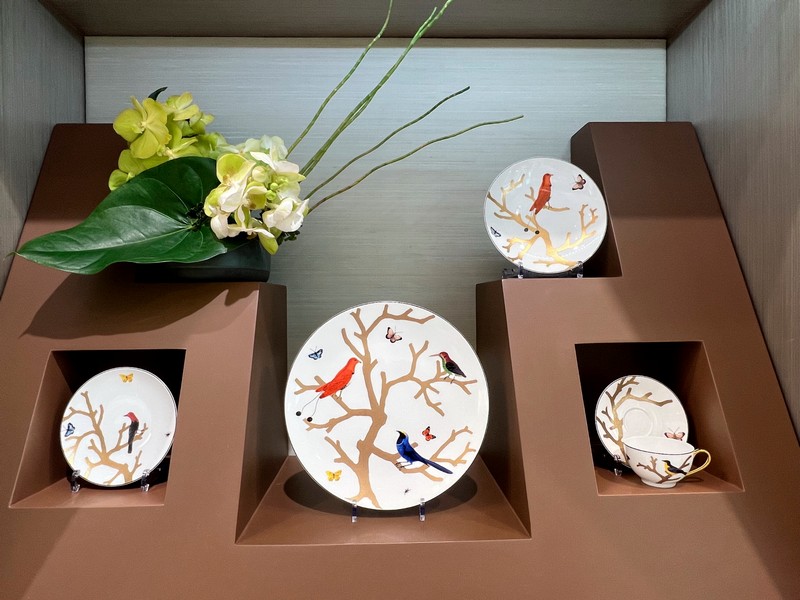 ADB: Who are your customers? Is it the visiting foreigners or the domestic Thais?
PDC: The Thai people have shown considerable interest in our products, especially for the two mentioned brands. The Asian people buy to enhance their lifestyle because of the product's image. Like we sell and feature in Prestige, Labels show a kind of status, a high social ranking. It's not ostentatious, more a showing that you have succeeded in life and that you are proud of it.
ADB: Do you travel around in search of the outstanding pieces showcased in your store?
PDC: No, but the fact that I have been working in the luxury market before makes it easy as I have contacts, like my mentioned partner Eric and the right people helping me to bring products to the Thai market and convince them that we need it here.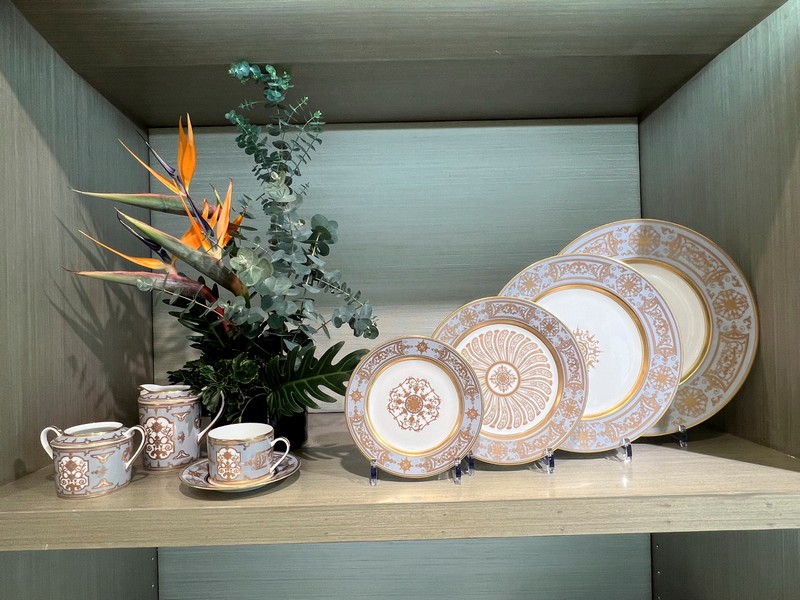 ADB: Do you have any labels you wish to expand into?
PDC: Oh yes, two brands come immediately into my head, VISTA ALEGRE, a Portuguese label that was founded in 1824, dinnerware, vases, decanters and decor etc. and the famous, iconic PETROSSIAN, the Caviar brand that was founded in Paris 1920. Both those brands will be arriving at the store in the near future to enhance the store concept.
ADB: Speaking of enhancing your store's concept, tell us about your Caviar event.
PDC: Yes, we are going to have a very exclusive event when the Petrossian caviar has arrived. We will have a tasting of 3 different caviars along with Champagne or Vodka if preferred. We will also serve a special signature cocktail for our non-alcoholic guests.
The caviar company Petrossian is a family-owned company in Paris and considered the best in the world. Bangkok is ranked as the second city in Asia, after Tokyo when it comes to caviar lovers.
ADB: Have you always been interested in dinnerware and exclusive decorating products?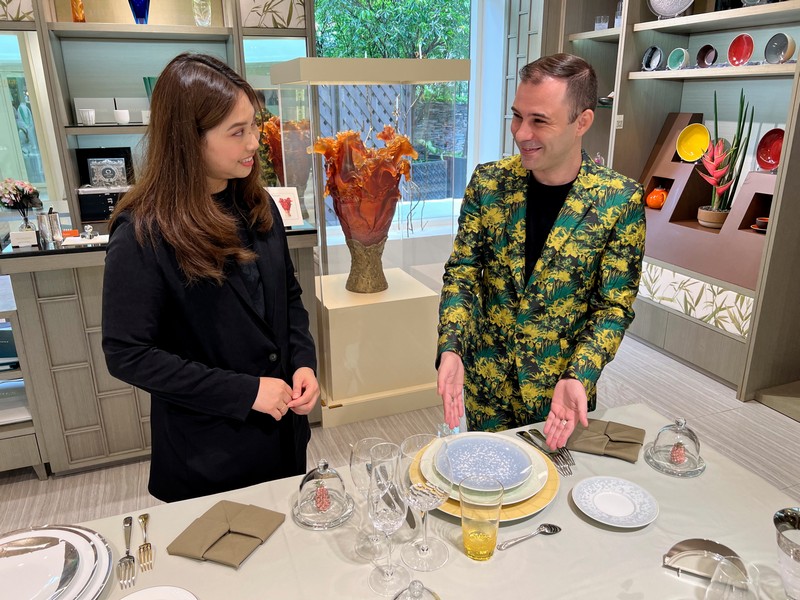 PDC: No, not always, but definitely by everything around the Arts of the Table. To set a welcoming table has always been inside me, and it might originate from my family and the European style. In Europe, we are quite traditional, and in my family, when we gathered together for dinner, we set the table with our best china and cutlery on most occasions.
ADB: You are giving classes to teach people etiquette. Have these classes become popular?
PDC: Yes, indeed they have. I thought it might become a success, but I couldn't dream that it would happen so fast and so easily. Thai people are the most common attendees. Their wish is to improve in how to organize banquets, weddings, private parties etc. and not only the usual Thai way, and they want to impress foreigners, by also adapting to our traditions and way of style. Women are, of course, more open to learning about etiquette, but one can see men start thinking out of the box nowadays. Also, Thailand's sexual diversity gives a kick to etiquette and to adapt our modern lifestyles, and it's amazing to see and follow how it is evolving.
The young generation is most willing to learn and adapt, longing to enhance their skills when it comes to international manners. They are driven by the social media presence that is deeply anchored in their social behaviours that is influenced by Public Individuals.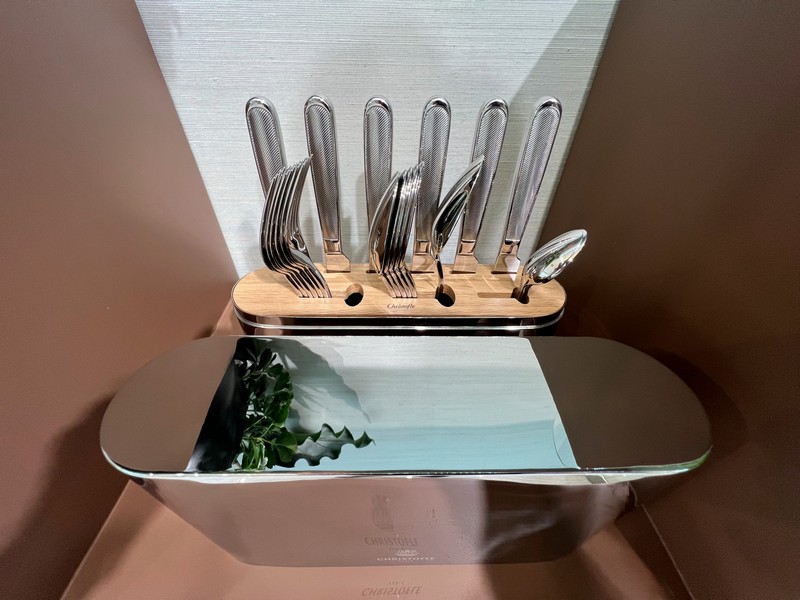 ADB: You are also a man very interested in fashion. You always appear at events in outstanding outfits. Where does your interest in fashion come from?
PDC: Well, I'm obsessed with details, and I quickly can see them, but if you are raised with six aunts and the family has a textile company, it might not be a wonder that I have an interest and eye for fashion. As a young boy, I often walked around in the factory, and I had the opportunity to sew myself. I enjoyed touching the different fabrics and look at the prints. Today I love to mix different styles and the way I dress very often expresses my mood, or my state of mind. I also always respect the dress code on invitations, it's important.
Most of my outfits are made from my own ideas. I really like to mix and match, especially with women's clothes that we men can wear without making a too feminine appearance.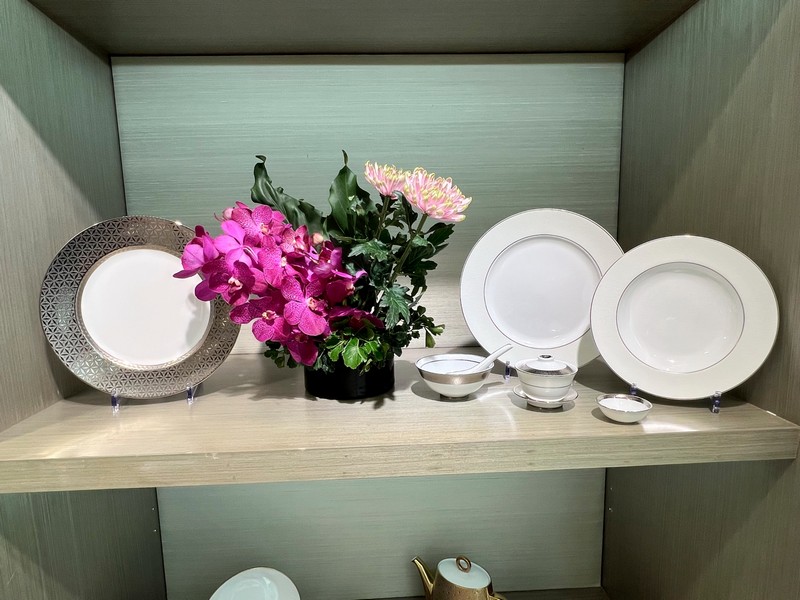 ADB: If you could invite one special person in the world for dinner, who would it be, dead or alive, where would the dinner take place, and what would the preferred table setting look like?
PDC: I would have loved to spend that dinner with my late mother. She passed away 26 years ago, unfortunately. As I am a very social person who really loves spending time with friends, the list can be very long, so I can't tell.
The dinner would, without doubt, take place in the south of France on a summer evening and outside under Olive trees and with the Cicadas playing. I adore outside dinners. The table I would lay very simple, only one nice plate per person, knife, fork and a dessert spoon and fork for a delicious Mille-Feuille dessert. I would absolutely put a white linen cloth and napkins on the table, a few candles to raise the romance. My preferences for the dishes would be salads, smoked salmon, crudites and a lot of well-chilled Rose wine from the Cote d'Azur region.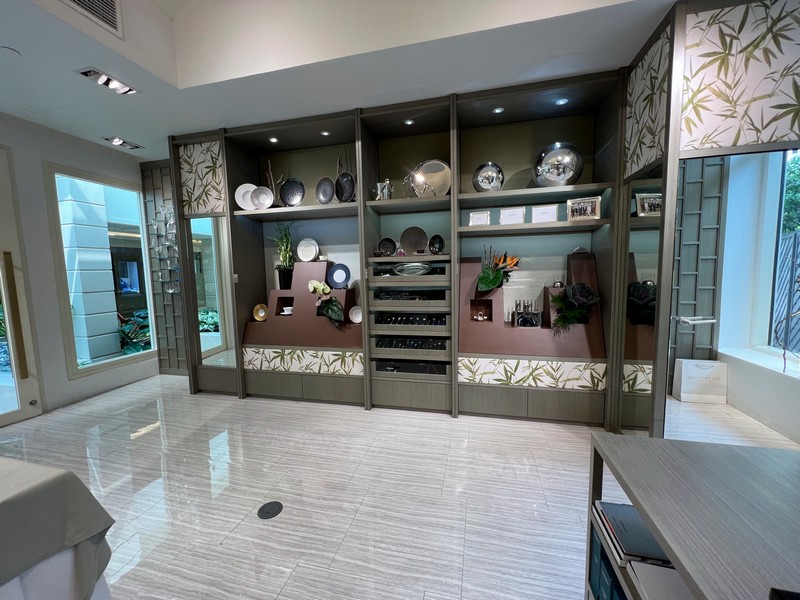 ADB: Last question, any particular goal/plan you would like to achieve?
PDC: Yes, I would like to take the store's concept international, and of course go to visit my family and friends who I haven't seen since this crazy Covid started. I really miss them and travelling.
Photography by Daniel Herron