Peter Ton, a Dutch native, has been living in Hua Hin for 15 years after selling his software company in Holland. Starting out initially as an investor in a new property development, Peter soon took the reigns and started his own luxury property project near the Black Mountain Golf Course called Baan Ing Phu. While there were plenty of developers servicing the lower end of the property market, Peter took the opposite approach and built big modern luxury homes with high end price tags. Starting with11 rai of land, Peter continued to buy land and expand his development to where today he has built over 50 homes on 91 rai. His multi-award-winning Baan Ing Phu comes with perks such as drinkable water to every tap & boasts amenities like a restaurant, gym, spa and tennis court.
Peter is now launching a brand-new luxury development and we recently had the pleasure of sitting down with him to discuss his newest venture
HM: Peter, before we start talking about property, can you tell us a little about what you did business wise prior to moving to Thailand and what brought you to the Kingdom?
PT: I established and managed software companies specialized in CRM applications in the Netherlands, Belgium and the UK, serving multinationals all over the world.
I started this business in 1987 and became one of the very first players in the field of CRM.
In the year 2000 I decided to sell the company to an American organization based in Boston. Long story short, I bought the company back in 2002 and decided to keep the company for 2 years to develop the next generation of CRM software. As soon as this mission was completed I sold the company again in September 2014. About a month later I moved to Thailand. So, here I am.
HM: You've been in Hua Hin 15 years now, why did you choose Hua Hin to settle down and did you do so with the intention of being a property developer?
PT: Before I settled down in Hua Hin I visited to quite a few different places in Thailand, let's say the most common places for tourists. For me there are quite some advantages being in Hua Hin. The proximity to Bangkok, the nice of mix of Thai locals, Thai visitors and foreigners living and making holiday here feels very comfortable. The nature in and around Hua Hin is beautiful with so many long stretched beaches, national parks like Keang Krachan, Sam Roi Yot and Pala-u. Nowadays Hua Hin offers everything you would expect in the "modern Western world" like top medical healthcare, luxury shopping, 5 Star Hotels., countless restaurants etc. And most important, still in a very pleasant atmosphere with Thai's and foreigners living together.
To be honest, I did not come down with the intention to be a property developer, I even had never thought about this. I got involved in a project and planned to just project-manage the construction of 5 houses for a period of let's say 2 years maximum, that's it. So we can now say that this escalated completely, and my hobby project was changed into a serious challenge to build a high-end Villa development. This was a very interesting period since I had no experience whatsoever in this field. Suddenly I had to design a master plan, come up with a solid infrastructure that can be used for around 50 properties, decide which facilities to offer etc etc. In the meantime there is marketing, sales, financial management, project management, property services etc etc. Diving in the deep is probably not always the most comfortable or best way to realize things, but in my case it worked out pretty well.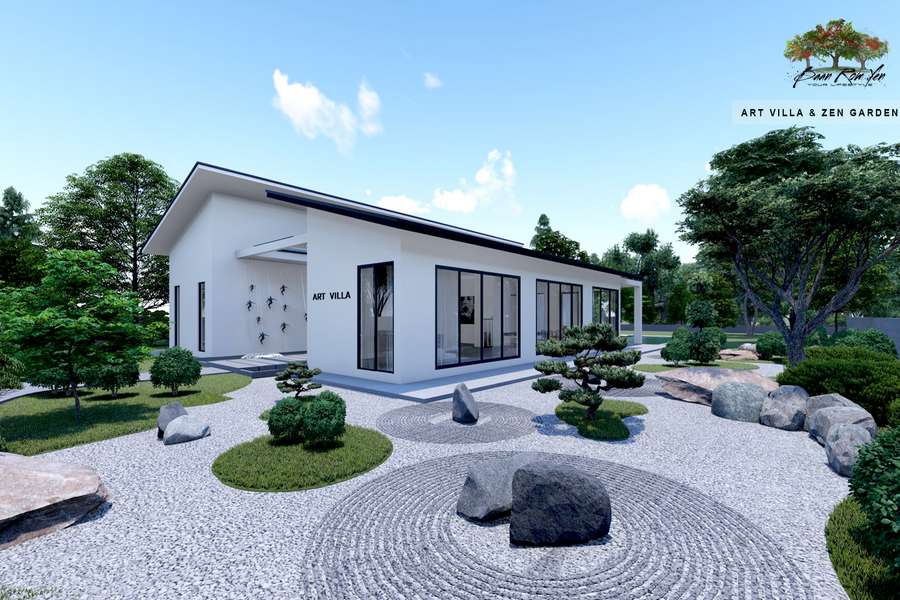 HM: While most developers were building Asian designed homes, you were constructing modern contemporary residences with state-of-the-art technology. Why did you decide to buck the trend and go a different direction?
PT: For sure this had to do with my technical background and having worked in electronics and the ICT industry. I was also curious to see what the implications were to implement such technology in several Villas. To be honest, looking back we made it too complex, systems with too many options that drove some of my clients mad ;-).  But again, I learned a lot from this experience.
HM: When you first began building Baan Ing Phu, other than the Black Mountain Golf Course, was there much development in the area and what were people saying about its location?
PT: When I started with Baan Ing Phu there was absolutely nothing. No electricity, no water, no internet, no decent road and no projects around us. It felt like "in the middle of nowhere" and it probably was. Just pineapple fields and that was about it. After a short while we noticed serious works in the area adjacent to Baan Ing Phu, and rumors started that a golf-course was being developed as my neighbour.
Some of my friends tell me that this was pure luck. I prefer to stick to the fact that it is all about vision….. And of course, we could not have asked for better neighbors than Black Mountain for sure.
But certainly in the beginning some visitors commented on the fact that however they liked the area of Baan Ing Phu, they found it too remote. But I seldom hear this comment anymore. Indeed, it takes a 20 minus drive to go to Hua Hin, but the roads are now in perfect condition, so it is an easy drive going out or driving home. It is all a matter of mind-set, and residents find it well worth driving 20 minutes to come home to a serene environment where it is quiet, and clean and without light-pollution.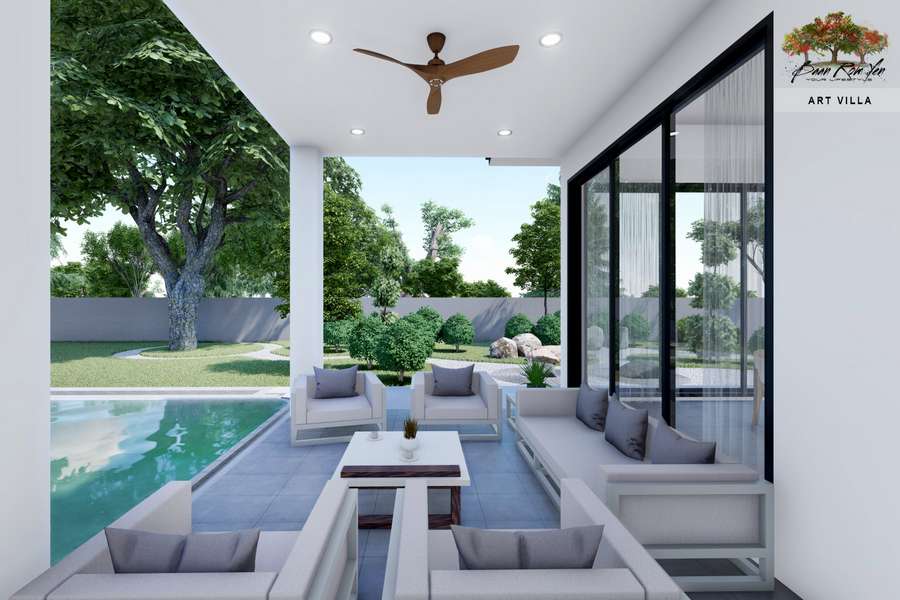 HM: Following the immense success of Baan Ing Phu, you are now going further afield again and starting a new stunning project called Baan Rom Yen at the Springfield Golf Course. What can you tell us about your latest development and why Springfield?
PT: Until let's say early 2019 I always told people around me that I would not start another development anymore. But mid 2019 I had a meeting with the owners and management of Springfield and we decided to explore whether we could work together developing the residential area of Springfield. I felt there was a good connection between myself, my team and the owners of Springfield so we decided to go ahead.
The new project I started is called Baan Rom Yen, which translates to "House in a Peaceful Environment". And I can assure you that Springfield is a very peaceful area indeed. We will start with a small project of 9 Villas. In this project we will do our best to raise the bar in regards to design, build quality, materials used and property management. We started breaking ground for the first Villa in December 2019, this will be my own Villa used as a show-property. Handover for this Villa is before Xmas 2020. I can assure you that this will be a special property, worth visiting.
We will start construction of the second villa in March, so we have a great start of the new project, since this article is the first news-item for Baan Rom Yen.
All properties are situated on large land-plots of minimum 3,700 sqm, adjacent to the Golf course. In order to ensure privacy for residents and players, Springfield planned a 25 meter deep green buffer zone between the land-plots and the course, which is a significant advantage. In fact it creates the feeling of having even a larger garden…..
HM: We've watched with interest as you continued to update the technology used in your Baan Ing Phu homes. What new technologies will be incorporated into your Baan Rom Yen residences and will they all have the same design, or will each residence be a custom property?
PT: For my own Villa I plan to use Google assistant or Amazon Alexa. This brings domotica to a higher level: easier to use and for significant lower costs. It is relatively easy to integrate lighting from Philips, fridges from many different suppliers, speakers from Sonos or Bose, locks, aircon systems etc etc. Giving instructions by simply talking is no longer science fiction, but applications that work very well. And everybody can use it without any problems. Almost every day new apps and suppliers connect to the major players and rest assured this will only continue to improve in the (near) future.
Yes, all Villas are custom build and I would love it to end-up with 9 different Villas for this first project of Baan Rom Yen. We do most design work in-house together with the clients. Besides that, we have worked with a free-lance interior designer for the first 2 Villas. She is happy and committed to continue working for the remaining Villas of Baan Rom Yen, so we have a great team.
For construction and project management we work with the same teams as we used at Baan Ing Phu. So everybody knows each other and understands the expectation and quality requirements. Only this makes it possible to bring the project to a next quality level.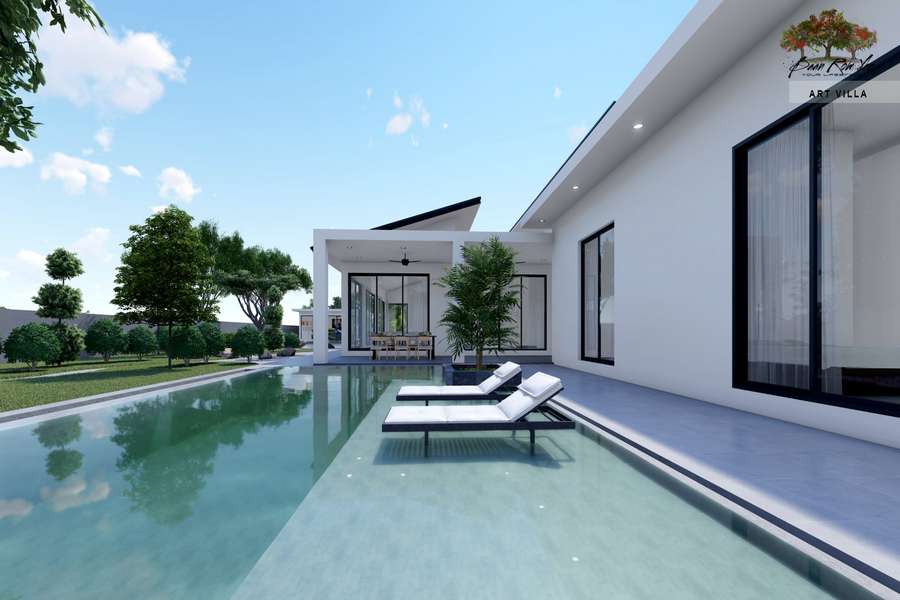 HM: With your new project you're again choosing to build in the Hua Hin area. Why did you decide to stay here and not go further afield to other areas like Khao Yai or the Eastern Seabord & what do you see as the future of Hua Hin?
PT: Personally, I am excited about the Hua Hin area, so in most cases I can "transfer" this excitement to potential buyers. I love the Springfield area and would not know where else I can find a place like this to start a development. Last, but not least, my team and most of my suppliers are local. I have a long-term relationship with all my suppliers and intend to keep working with them for Baan Rom Yen. We know- and understand each-other very well, which makes working with each other so much easier with less stress. This is very important for me. I love to create fantastic properties, but I also like to enjoy life. So I am critical choosing the right partners with added value, good business norms and values, who also appreciate a long term relationship with us.
HM: We've followed your career in Hua Hin and know that you believe in giving back to the community by sponsoring several charity golf tournaments each year. When are they, are they open to the public and what organizations benefit from the money you raise?
PT: Yes, that is correct. I make donations to local schools every year in such way that we know for sure the money is used for what is meant for, like study material or construction of new classrooms. Also in several situations we have instructed our contractors to build some facilities at schools at our costs.
In addition, Baan Rom Yen will be the main sponsor of the La Grappa & Dansea Charity Golf Tournament in February 2020, just as Baan Ing Phu was the main sponsor for this event in 2019.
The net proceeds of this event will be donated to Charity Hua Hin Thailand. I personally know the management of this charity very well and can assure that all money that comes into the Charity is used for the people in need!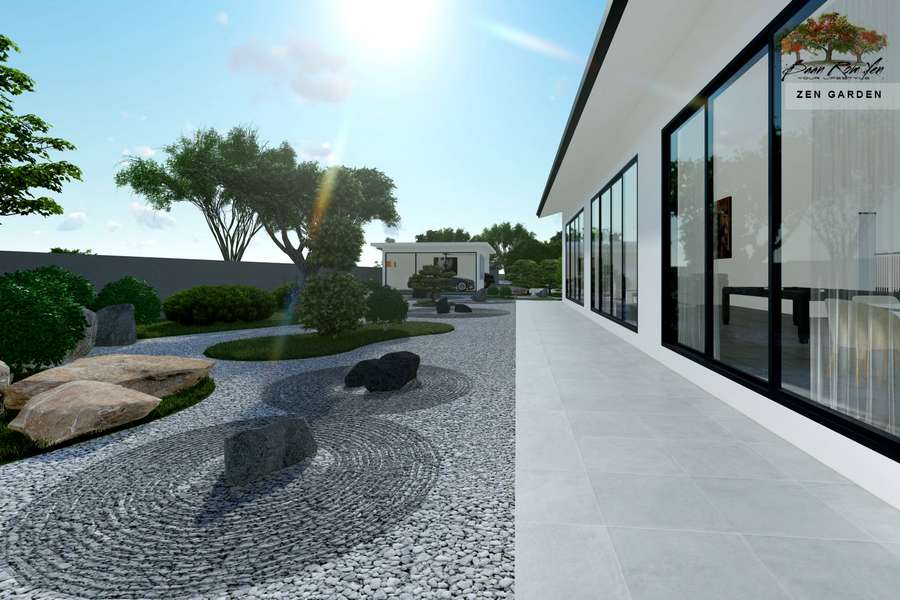 HM: For those interested in finding out more about Baan Rom Yen, how can they reach you and does your new development have a website yet?
PT: Information about Baan Rom Yen can be found on the website:
www.BaanRomYen.com.  Of course, interested parties are welcome to contact me via phone at +66 (0)89 039 0966, or by email, peter.stonehead@gmail.com.