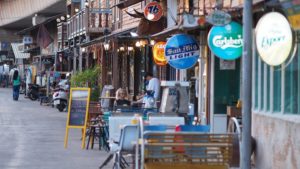 In case you haven't heard, Bangkok has a new vintage market. If you miss what Rod Fai Train Market used to be before it became so "mainstream", the Siam Gypsy Junction will be an exciting new venue for you.
The Siam Gypsy Junction's location is out past Bang Sue railway and subway station, which means it is slightly far off from the public transport network; the mainline railway track runs right alongside the market and the recently completed Bang Son station will in the future be used for those who want to get to the Gypsy Junction Market. For now, getting there involves an 80 baht tuktuk ride, several kilometres away from the BangSue station and as it used to happen during the beginning days of the Rod Fai Market, a lot of Taxi drivers still don't know about Siam Gypsy Junction, which is why the tuk tuk driver may be more convenient since the driver is most likely to have local knowledge.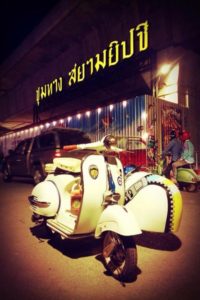 When you reach the market, you will encounter local traders selling rusty knickknacks from the back of trucks and camper vans, there's a particular spread of Vespa motorbikes and other vaguely antique looking motorbikes. The market is set along a road running beside the railway line for several kilometres, goods are laid out on the-ground whereby vendors are framed by the railway track. Other things that one can encounter are a number of bars and casual eateries, the Bangkok Bus for example, is where you can sit on the roof of a school bus while gulping down bottles of beers with your mates. The drinks are cheap and there are a few snack options which are greatly combined with the alcoholic beverages. Among all the bars and little vending shops, one may perhaps encounter an odd hairdresser between tons of vintage items where one can choose a cut that's in tune with the latest Thai trends.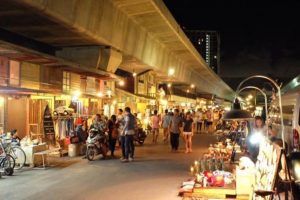 For now, the mainstream vendors of mass-produced clothing have yet to make it to this market which leaves Siam Gypsy Junction as the terrain for those with a love for not-quite-antique furniture, crockery, music posters, second-hand clothes and all manner of other jumble. There is plenty of food and drinks, plenty to wander to find that special little something which you will not comprehend why you bought but which will take a special place in your heart. The entire market has a completely different vibe to it, it is low-key, yet rather bizarre and hard to explain, there are reoccurring wild west cowboy themes, hence an area halfway down the walkway is decked out with bundles of hay which has been transformed to make the perfect communal seating area. Some of the bars also have interesting country-and-western style saloon doors which just adds to the entire feel of the place.
If this is beginning to make you feel like you miss the old Rod Fai and its making you hate its current large crowds, if you are craving something new to reignite your love for the rawness of Bangkok's latest trend in hipster-vintage flea markets, then Siam Gypsy Junction is the place to be. But get there soon because, a little unusual treasure like this one won't be as special for too long. Expect it to quickly become popular and sadly lose the vibes it radiates at the moment. Siam Gypsy Junction is a little alternative; expect plenty of dark-clothed, tattooed, and long-haired customers and traders, just what we want to see in our average vintage markets!
Siam Gypsy Junction night market; Wednesday-Sunday, 6pm-1am