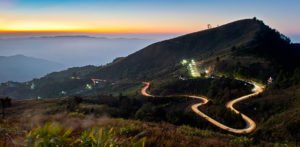 We've all heard it. The cold shaming, the stereotypical image of Thailand being good just for sunbathing, beaching and seaside cocktail drinking. The "why would you sell winter clothing?" joke. But if one looks at Thailand beyond the mirror of the average, we see that it is indeed possible to make off to places in the kingdom where you will feel a breeze of cold air during the winter and see the frost on cold winter mornings. Some of these places might even make you consider why you ever questioned the sale of winter clothing in stores! Here are Thailand's Top 6 Picks to get cool this chilly season!
Phu Chi Fa
We start off with one of the northernmost points of the country, well known for its mountainous landscape and lush green scenery. Held above the might of Chiang Rai's Thoeng District is Phu Chi Fa mountain area and national park, part of the north eastern part of the Phi Pan Nam range that stretches all the way east and borders the Lao People's Democratic Republic. Phu Chi Fa's highest peak reaches up more than a kilometre and a half, standing at
1,628 metres. Tourists are often attracted by the beauty of the scenery witnessed from the top. In cold winter mornings it is customary to see a large blanket of mist covering part of the mountain ranges, whilst the tallest peaks peek out over the top almost as observers of the spectacle. Standing atop of this scene, one can almost feel as if he's recreating the Wanderer above the Sea of Fog, the famous 19th century painting by artist. Kasper David Friedrich. Temperatures in Phu Chi Fa will drop to about 15 degrees, so a jacket is definitely advisable. If you like animals, this is your place too. A significant array of animals and including boars, deer and civets all call the place home.
Khao Chang Phuak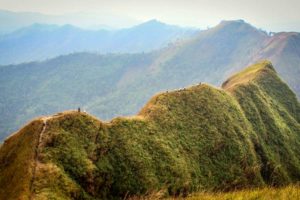 Next we move down a little further centre to the iconic province of Kanchanaburi. This province is well known for its history, its symbolic bastion during World War Two, its fantastic waterfalls and it's great scenery and outdoor activities. But few will go to spend a few days up the hills and mountain tops, of which it also boasts. Our pick for this one is Khao Chang Phueak. Located in Tong Pha Phum district, Khao Chang Phueak overlooks Kanchanaburi majestically. A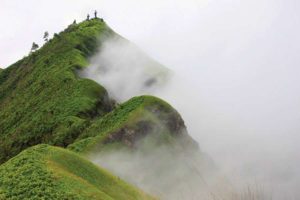 trek up the mountain will lead you directly to the a spot perfect for sightseeing. The trek, which takes about four to five hours depending on your speed, takes you through flora and fauna up Sharp Mountain Ridge – known by this nickname due to the narrowness of its walkway. Past this and at the top of the 1,250 metre mountain, is a view to die for. The visitor limit however is 60 people a day, so it's advisable to make sure you'll get your chance by calling ahead. Visitors mostly stay overnight and leave the morning after, to mark the end of a fantastic little trek.
Pai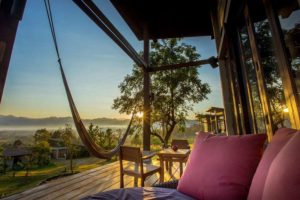 It would be a mistake not to include Pai as one of the destinations to get cool in Thailand this winter. The north western province is one of the icons of that area, with plenty of marvellous hills and activities for the visitor which make it an appealing destination for anybody. Located by the border with Myanmar, just short of 150 kilometres from Chiang Mai, Pai is part of Mae Hong Song province and gives its name to the river that dissects it. One of the smaller places in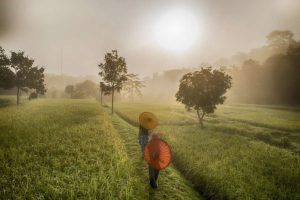 Thailand, Pai boasts a population of about 3,500 people. The charm of Pai other than its scenery resides in the variety of its people, as the town is a melting pot of different ethnic groups including the Lahu, the Hmong, the Lisu and the Karen. All these hilltribes coalesce in this fantastic little place, which has as of late drawn the attention of a large array of tourists. Pai also boasts of a very interesting history, allegedly dating back more than 5,000 years. Pai can get quite chilly, so the jumper is again probably a good idea if you're looking to be there for a couple of days.
Chiang Khan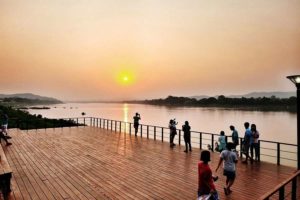 We then move to Chiang Khan a district in the other side of the north. Located in Loei province in the northernmost area, this place also borders the Lao People's Democratic Republic and is circled by important rivers such as the mighty Mekong, the Hueang and the Loei. Chiang Khan Boasts a fascinating history and is known to have been established toward the latter end of the 19th century when the French entered Lao for their colonial endeavours. The arrival of Lao people would be succeeded by the arrival of Vietnamese and Chinese merchants who established their trading businesses by the sides of the rivers, bringing the place a great source of financial activity. Chiang Khan's economy was at one point largely bolstered by the fishing industry from its rich and derivative water sources. This however declined because of several factors such as pollution and overfishing. It has however, become a hub for tourism, which allows holidaymakers to get around and experience the culture. Loei's provincial slogan being "City of the sea of mountains, coldest place in Siam, with beautiful flowers and three seasons" it is evident that jackets are probably recommended upon a visit.
Chiang Khong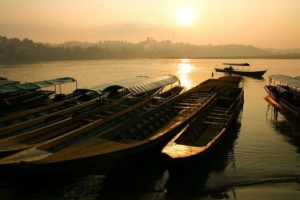 We then move on to the great province of Chiang Rai, where one of its most curious towns is our next stop for this chilly Thai winter. Chiang Khong is a small place which supposedly mirrors the sister town of Huay Xai across the Laotian border. One of the more interesting facts about this place is that it's the home of cyclist Alan Bate. The British speedster broke the Guinness World Record for the quickest circumnavigation of the earth on a bike seven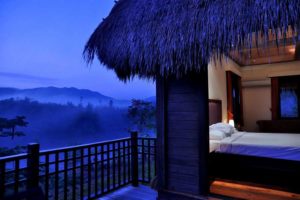 years ago, a feat nobody has bested since. This has led a sea of fame to surround the town, opening in his regard a large array of pubs and establishments dedicated to the celebration of his feat – which some however, continue to contest, alleging he may have travelled part of the journey on a pick up truck. Chiang Khong is a as ethnically diverse as Pai, with a great variety of people from various hill tribes. It will definitely get cold, so grab something to keep you warm.
Doi Inthanon
Last but definitely not least we dedicate a paragraph to the top of the top. The highest mountain in the entire country could definitely not have fallen off the list, and it's one we recommend visiting at all costs. Doi Inthanon in Chiang Mai province's Chom Thong district is a national icon and a site of beauty and stands majestically above its 2,565 metres in height. Let's first of all address the cold factor. Temperatures of six degrees are an average occurrence in winter and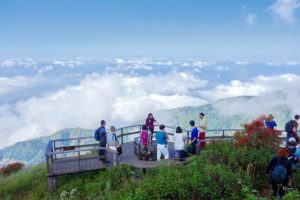 temperatures below zero – yes, below zero – have been known in January. Part of a national park of immense lush beauty, Doi Inthanon is ideal for sight seeing. It has two famous temples, or chedis – namely Naphamethinidon and Naphaphonphumisiri, which were built in honour of the late King Bhumibol. Attracting as many as 12,000 visitors just on New Year's Day, the mountain's peak is one of the best opportunities to see Chiang Mai – and Thailand – through the highest point on land possible.
Well there you have it. Thailand can indeed be a place to grab a coat, pull over a scarf or wear a bonnet if need be. This winter season, pick one of either six and go get chilly in the hilly side of the Land of Smiles. You will definitely not regret it.