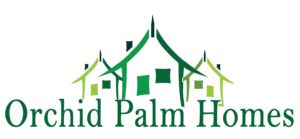 Orchid Palm Homes got its start back in Hua Hin's Real Estate boom times.   In the early 2000's all a developer had to do was buy some land, commission some basic artistic perspectives and they would sell out their project before a shovel touched the ground.  Times have certainly changed since then but Orchid Palm Homes has continued on, doing what it does best, building and selling out developments one after the other.  Along the way they have garnered more than their share of awards.  Orchid is currently starting on their ninth development which they call Mali Prestige.  It follows their last sold out project which they named Mali Residence.  HOT Magazine caught up with Orchid Palm Home's sales manager Gary Hills to find out why he thinks Orchid has been so successful and to find out how their latest development will differ from those past.
HM:  Gary, Can you give us a brief History of Orchid Palm Homes from its early beginnings?
GH:  We started as a small family construction company over 12 years ago with our first developments located in soi 102, each one just a small development with a handful of houses. With the fast paced development in Hua Hin, we felt the need to change the demographic of Building and straight road developments gave way to a need for more community based developments, where one did not just live side by side with their neighbors but where they had a more community feel about them. This was also a factor in the decision to open a restaurant on our 4th development, enabling the residents to have a place to socialize.  Our last fully completed development close to The Banyan golf course – The Views, has 46 villas, and our development called Mali Residence, has 66 villas all sold out within 18 months and is due for completion early 2018.
HM:  Since Orchid Palm Homes has been building they have garnered quite a few awards, can you tell us about them?
GH:  With any type of award it is nice to be nominated and of course it is nice to win, but we do not build houses to win awards we build houses for our customers, their families and their lifestyles. The awards of both the Thailand Property Market and the South East Asia Market of course are very humbling to win, most notably the Best Boutique Developer Thailand award in 2014. It's good to see that the Property Market recognizes Hua Hin as a great destination to purchase a 2nd home. The accolades are great for the company and equally great for the staff from our contractors all the way up the Managing Director. An award received is only down to hard work of the team.
HM:  Over the last ten years, Orchid has sold out 8 projects in Hua Hin and doing very well on its 9th.  Why do you think Orchid is so popular over other projects in Hua Hin?
GH:  There is a fairly obvious & simple answer for this, which is that the company was formed with an experienced builder at the helm who has been in the construction industry since he was sixteen. He knows construction & is always on site to make sure everything is built according to the correct specifications & standards that we all expect from a high quality Western build, A true quality Build, finished to a high standard and completed on time.
HM:  You are currently finishing your 8th project called Mali Residence and have already sold quite a few homes at your new 9th development Mali Prestige.  What has been the biggest change in concept for these two new developments?
GH:  Hua Hin is becoming a younger city, with more and more families with children moving to be here with excellent international and local schools & many wonderful amenities. With the Mali developments, the customers that were coming to us were starting to include more young families with small children.
We have always wanted to promote community spirit within our developments so the idea around a real family centered community area came about. A safe place for the children to play & a relaxing area where residents, be they parents or grandparents, could all gather to meet each other and get to know their neighbors. The inclusion of the barbecue area was an idea born from many visits to Australia, where some of our villa owners come from, where we saw wonderful open-air areas that people could use for having a barbecue and entertain their friends and family, plus it keeps the mess out of the house.
HM:  What is the most popular option your buyers request?
GH:  We have always offered several designs to our customers over the years but the smaller option of our villas, the Villa Orchid, is the most popular. It is a beautiful 3 bedroom villa with 2 bathrooms, open plan living & kitchen & 2 separate terrace areas, one for dining & one for relaxing next to the oversize pool for these particular plots. The Villa Orchid has proven to be the best livable sized Home with all of our customers & has become a very desirable option for people that are looking for an investment with high rental potential.
HM:  What is the entry price for a Mali Prestige home and what is the most expensive?  Expanding on that, what will you get in the most expensive home that you won't get in your least expensive home?
GH:  The starting price for a beautiful, fully furnished villa with private swimming pool & landscape garden is 7,250,000 Baht. The price of the villa will depend entirely on what the customer wants. We can add guesthouses, barbecue areas, Jacuzzis, saunas, pretty much whatever you can think of, if you have the budget, we can build it.
HM:  Some developments are popular with certain nationalities, is that true with Orchid or are you more like the U.N., with owners from all over the world?
GH:  I think why we have such a diverse nationality of Residents is that we work with some of the best agents in Hua Hin, and not just one agent that has a customer base from a particular nationality. We love the melting pot of residents that we have at Orchid Palm Homes.  We try to make sure that everyone feels welcome & that is what we think attracts our customers to purchase and allows for a good mixture of nationalities so everyone feels at home when they buy a villa with us.
HM:  What would you say is Orchid's biggest strength?
GH:  I would have to say that our team is our biggest strength. We are a family. A highly dedicated & experienced developer, a great Sales & Marketing team that help look after all of our technical facets as well. Our excellent after sales care team and our in-house service team from pools, gardens, shuttle services and with our larger developments onsite supervisors.
HM:  Conversely, what do you see as Orchid's biggest weakness?
GH:  A hard question to answer but I would say that sometimes our attention to detail and dedication to quality can mean we end up causing ourselves some additional costs during building. We always make sure that every villa is finished to the same high quality as our show villas, so if the developer says it's not up to our standards then it get redone.
HM:  Orchid Palm Homes certainly has residential building dialed in, have you ever thought about tapping the condo market with Orchid Condos or maybe even building outside of Hua Hin?
GH:  We have had some internal discussions around various other options for Orchid Palm Homes in the future, but no solid plans have been made as of yet.  All we can say is watch this space.