Proud Real Estate, a leading developer who strives to offer 'More Than Just Living' experiences, announced that it had received licensing rights from the Intercontinental Hotel Group (IHG) to develop InterContinental Residences Hua Hin, Thailand's first luxury branded residence licensed by the world-class hotel group.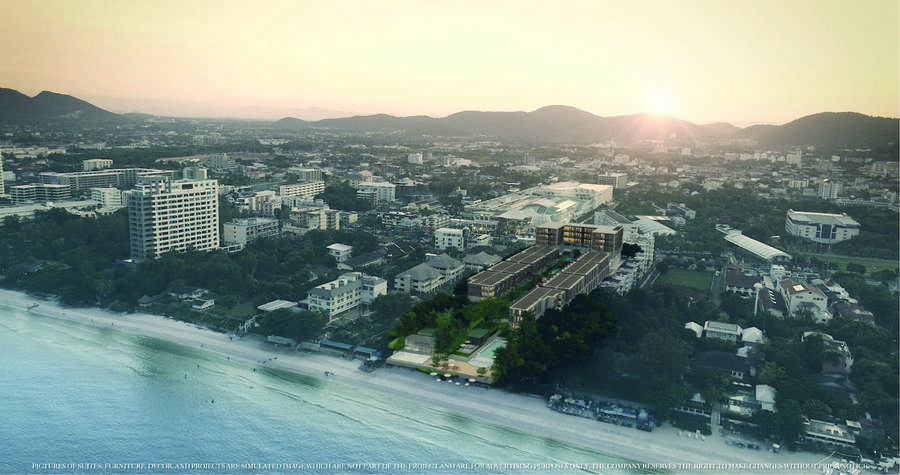 Located right off Petchkasem Road, at Hua Hin Soi 71 opposite Market Village, the land was acquired at a record high price of 150 million baht per rai. InterContinental Residences Hua Hin will offer its residents a comprehensive range of world-class hotel amenities the InterContinental Hotel chain is so well known for. Valued at more than 3.5 billion baht, InterContinental Residences Hua Hin will comprise of approximately 70% open space where residents can enjoy over 7,000 square meters of lush gardens, a beautiful private beach and 7 swimming pools for children, the elderly, and water sport enthusiasts. Owners will also have access to a seaside acrylic-edge jacuzzi, a hidden gym that looks up to a swimming pool, a spa, a beach pavilion and other facilities.
The residence offers the highest level of living privacy, with only 238 residential units limited to 3 to 13 units per floor. Each unit will come fully furnished with plenty of practical space in its design. Units start at 45 square meters for a one-bedroom and go up to 300 square meters for penthouses with 270° sea view. Owners at InterContinental Residences Hua Hin will enjoy a range of world-class hotel amenities such as butler/concierge, housekeeping, laundry, and maintenance for a hassle-free vacation in Hua Hin.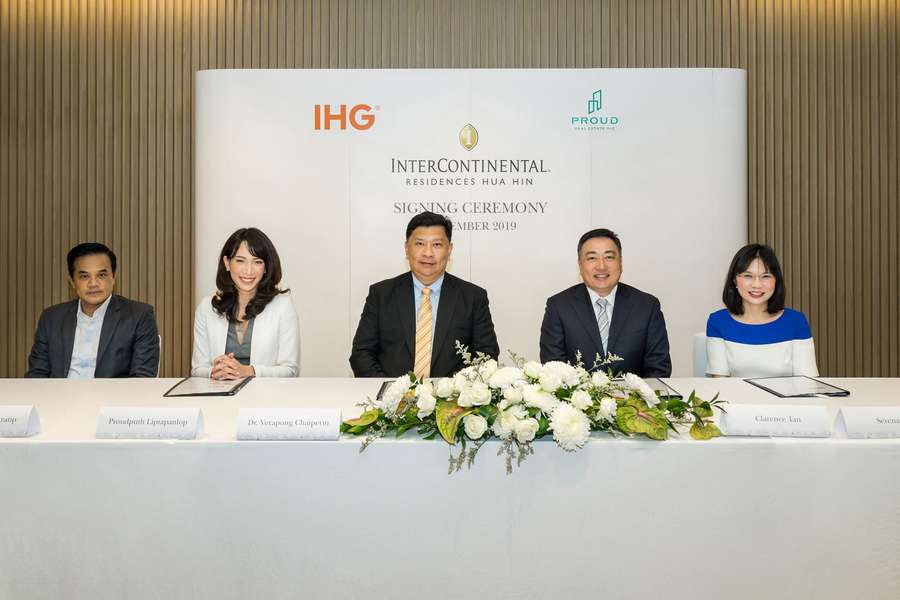 Ms. Proudputh Liptapanlop, Executive Director, Proud Real Estate PCL revealed that "The development of InterContinental Residences Hua Hin stands as a key milestone of our long partnership with InterContinental Hotel Group (IHG), and marks Thailand's first luxury residence to receive licensing from IHG for its flagship brand, InterContinental Hotels and Resorts, emphasizing the exclusiveness of the property as one of few InterContinental Residences around the world that can be found only in selected leading global cities like Boston and Dubai. The project reflects the trust and confidence that the world-class hotel group like IHG have placed on us. It will also be a testament to our "More Than Just Living" concept- with a meticulous attention to all design elements, going beyond delivering flawless living spaces. Residents will not only enjoy exclusive benefits and promotions from subsidiaries and affiliates of IHG across the world through the IHG Rewards Platinum Elite Membership. Moreover, they will have access to a range of special privileges designed to meet all aspects of their lifestyle through Proud Privileges, including access to 111 Social Club, a beachfront clubhouse, a refurbishment of an old, stately colonial mansion located beside the project site, slated to be a new leading lifestyle and travel destination of Hua Hin. We believe that 111 Social Club will be a new up-and-coming 'check-in' spot for tourists and travelers."
According to Serena Lim, Vice President Development, InterContinental Hotels Group (IHG), South East Asia and Korea, "We are privileged to strengthen our partnership with Proud Real Estate in developing "InterContinental Residences Hua Hin" to bring this exclusive residential project that offers unique and enriching experiences to everyday life, redefining luxury living in the heart of Hua Hin. For IHG, selecting the right partner is pivotal in the success of the project, and Proud Real Estate ticks all the boxes as a leading real estate developer with commitment to the highest standard of quality. With their successful track record at the InterContinental Hua Hin Resort, InterContinental Phuket Resort, as well as the highly acclaimed Holiday Inn Resort Vana Nava Hua Hin, we are confident in Proud's strong and robust business fundamentals and expertise in this long-time favorite beachfront city." CBRE has been appointed sole agent for the project.