Proud Real Estate Public Company Limited has announced its plan to enter the residential market under the concept of "MORE THAN JUST LIVING". The plan unveiled at a press conference in Bangkok on May 22nd aims to provide home buyers with a new living solution that combines a resort experience into everyday living. Targeted destinations of Thailand include Bangkok, Phuket and Hua Hin focusing on the high end and luxury segment. The Company projects approximately THB 10 billion in accumulative sales over the next 5 years. The first project will be a luxury development on the Hua Hin beach. The second will be adjacent to Vana Nava Water Jungle.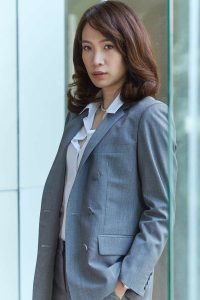 Ms. Proudputh Liptapanlop, Executive Director of Proud Real Estate stated that, "From our previous experience in leisure and hospitality in major tourist destinations of Thailand such as Hua Hin and Phuket, we recognized a gap in the market that resulted from a trend shift driven by a growing number of foreign and millennial buyers looking for second homes".
Such demand growth meant that the residential market in these key locations have grown rapidly. Based on information from the Real Estate Information Center of Thailand, the total number of units transferred in key resort destinations including Chiangmai, Samui (Suratthani), Krabi, Phuket, Pattaya (Chonburi) and Hua Hin (Prachuabkirikhan) grew on average 29% per year between 2016 – 2018 compared to the Country's average growth rate of 20%. Total transferred value in 2018 also totaled THB 51.656 billion.
To better serve this market, PROUD plans to launch a new product under the concept of "MORE THAN JUST LIVING" that seamlessly blends leisure and service aspects of hospitality into everyday living, providing an immersive experience with nature that maintains the integrity and the luxuries of modern day living. The Company also intends to deploy technology to further enhance the living experience. MS. Proudputh stated that "We will focus on the premium and luxury segment as our main target group. Prices will start from about THB 100,000 – 300,000 per square meter in the resort destinations and about THB 150,000 – 350,000 per square meter in Bangkok (with price per unit starting around THB 4 million). It will be practical in size and a worthwhile investment – true to our "MORE THAN JUST LIVING" lifestyle."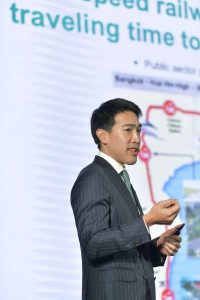 Mr. Pasu Liptapanlop, Executive Director of Proud Real Estate mentioned, "As a result of the upcoming mega infrastructure projects by government to further promote tourism in Hua Hin, I am confident that Hua Hin will continue to grow and will likely be completely transformed in the next five years." Key infrastructure projects announced by the government include the Thailand Riviera project, which aims to promote a new route of tourism along the Thai southern coast line from Petchburi to Ranong, and major transportation developments such as the Nakhonpathom – Cha Am Motorway, the High-Speed Train & the Dual Rail Train. Hua Hin's airport has also been allocated a budget for further expansion to accommodate incoming daily international fights that have started since the beginning of the year.
About PROUD's first two projects in Hua Hin, Mr Pasu said "The first will be a luxury development on the Hua Hin beach which will be launched within 2019. The second project, which is a waterpark resort condo project adjacent to Vana Nava Water Jungle will be launched in 2020. Estimated sales value of the two projects will be around THB 5.5 billion. After which, we target further an estimation of at least THB 4 to 6 billion in sales, resulting in a total sales value of THB 10 billion within five years. We strongly believe that our concept will be a key unique selling point in both resort and urban locations particularly Bangkok."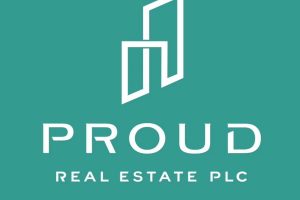 Mr. Sarath Pavorndechapong, Managing Director, Proud Real Estate Public Company Limited (PROUD), expressed his confidence in Hua Hin and talked of the Company's sales and marketing strategy. "From our past records, there is a continuing growth in terms of the number of both inbound and outbound tourists to Hua Hin, which has been reflected in the hotels' rising performance. This increase in visitors has also stimulated the real estate sector in the area. Nonetheless, there is limited supply in the upper segment despite an increase demand due to shortage of land in prime locations especially along the coastline.
According to a study done by Colliers International Thailand, there were only 65 unsold units in the price range of above THB 10 million in 2018 suggesting that there is untapped demand in the luxury segment , which in turn drove the resale price of that market to as high as THB 250,000 per sqm. In launching our first two projects, we also plan to do co-promotion with our business alliances to deliver a unique living experience and privileges for PROUD buyers – true to the spirits of our company's slogan, "MORE THAN JUST LIVING".