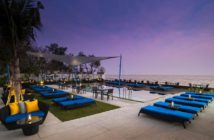 This year the Amari Resort Hua Hin is celebrating their 5th anniversary and we decided to celebrate by visiting the Amari's Shoreline Beach Club for a beachside delectable dinner. The Shoreline Beach Club offers indoor and outdoor dining. On the evening we visited it was the perfect night to dine outside and Khun Pranisa, the restaurant manager, sat us at a table right next to the beach with the beautiful ocean view in front of us.
Our dinner started with an Australian Chardonnay and several appetizers, the Shoreline's Spice Crispy Calamari and the Shoreline's very popular table side Seared "Hot Rock".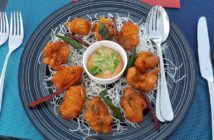 The Curry Calamari was prepared "fritter" style with the savory morsels accompanied by kafir leaves and served with a Tom Yam Aioli sauce for dipping. A beautiful spicy flavor emanated from the crunchy fritter that inundated the senses and combined splendidly with the fresh and genuine tones of the Calamari. Adding a beautiful and soft, almost brie-like hint, was the Tom Yam Aioli sauce. This was creamy, subtle and flavorful, accentuating its delicate taste at the end of each bite.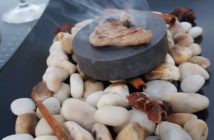 Next we were presented with a wonderful fun dish that got us all involved. A very "HOT Rock" was brought to our table, set on a layer of stones, along with a platter of Australian lamb loin that had been sprinkled with sea salt and lemon miso. With the provided chopsticks we had fun searing our own bites, and fending off each other's utensils advancing towards our fare. All in all, a truly fanciful way of inaugurating our dinner.
The main courses came next, an impressive Seafood Platter, a Miso Glazed Snow Fish and their Hor Mok Maprao Onn which was a Thai-style seafood curry, served in a coconut and playfully garnished with a mussel from the sea. Smooth, spicy and creamy, it reminded us of the many reasons we love being in Thailand. The Seafood Platter was substantial with Rock Lobster, Tiger Praws, Squid, Seabass and Mussel's heaped on a mini table sized barbeque. This dish was accompanied by vegetable fried rice, a green salad and 3 kinds of sauces.
The last main was the Shoreline's Miso Glazed Snow Fish. A beautiful presentation, it was plated with a roasted pumpkin puree, smoked bacon broth and pickled vegetables. A quick tabulation from my dining companions found the Snow Fish and the Seafood Platter at the top of the poll but honestly, all of the dishes received (and deserved) high marks.
But, no meal is complete without desert and Shoreline did not let us down. Three sensational deserts were put before us which included their Young Coconut & Coffee Creme Brulee which is accompanied by a frosty strawberry, mint and vanilla ice cream, however we substituted strawberry ice cream. We also had their Salted Caramel which decadently consisted of chocolate chip cookie crumbs, white chocolate and whipped cream and finally, Italy's most popular desert, Tiramisu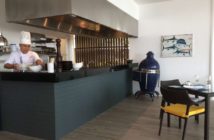 The Shoreline Beach Club is open for dinner from 18:00 to 22:00 seven days a week. If you haven't been for lunch, it too needs to be put on your agenda. Lunch is served from 12:00 to 17:00 and the bar is open all day, with Singha on tap and a wide variety of cocktails, with or without alcohol as well as smoothies and milkshakes.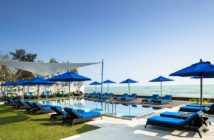 There is certainly no charge to visit the Shoreline Beach Club for lunch or dinner but if you would like to use the beach club facilities (sun loungers & pool) you are welcome to do so for a THB 500/person fee which is returned in the form of a THB 500 food and beverage voucher to be used on the same day. Sun loungers are available on a first come, first served basis.
The Shoreline Beach Club is located in Koh Takiab before the Let's Sea Resort. For more information, contact the Amari Hua Hin Resort at 032 616 600.