Saturday 1st June 2019 marked the Rotary Club of Royal Hua Hin's (RCRHH) 10th Annual Club Officer Installation Dinner held in the Ballroom of the Amari Hua Hin Resort & Spa. The occasion saw the new President for the year 2019-20 Napa Keawtem, presented with the President's Jewel. P Napa breaks two records in becoming President, the first Thai to hold the office in the English speaking club and the first female to do so in RCRHH.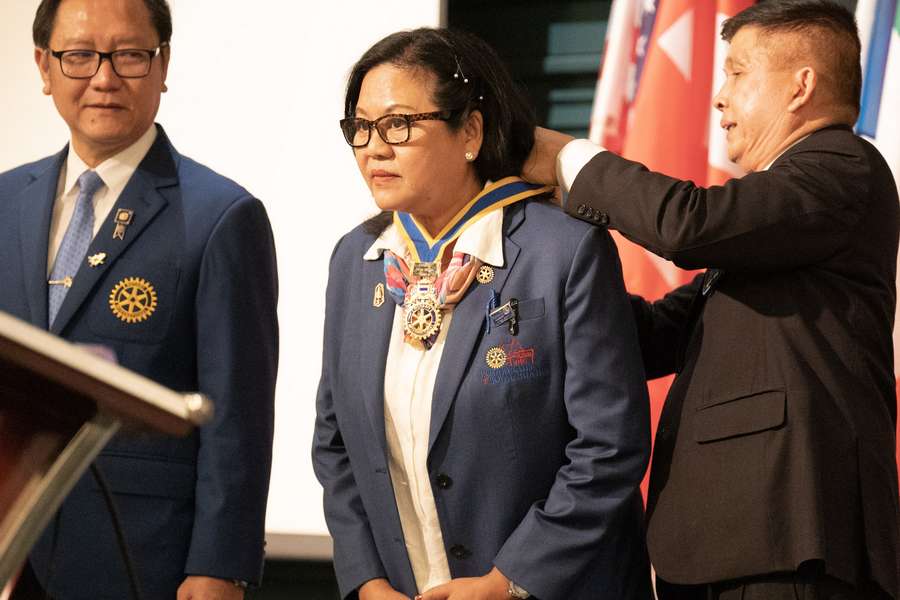 Napa was born in Bangkok, and worked for many years in the airline industry. She took early retirement in 2012 after 25 years in the airlines and moved to Hua Hin five years ago. The airline industry's loss is Rotary's gain as Napa's main hobby now is the RCRHH, where she has been the Community Service Projects Chairman for the past two years overseeing the disbursement of RCRHH's fundraising on the many worthwhile projects undertaken by the club. In her spare time P Napa takes care of her dog of whom she is very fond.
A total of 120 guests and VIPs attended the grand occasion and included the Rotary 3330 District Governor Lt Gen Kanit Jamjuntra and Mrs Chadarat, District Governor Elect Sakon Uengsroithong and Mrs Sirapat as well as members from the Rotary Clubs of Bangkok, Bangkok South, Hua Hin, Pran Buri, Petchaburi, Nakorn Sri Weerathai and the Rotaract Clubs of Stamford International University and Webster University.
Guests were entertained before dinner by Jacques and his sax, and following the National Anthems sat down to one of Amari's renowned International Buffets, and freeflow wine, beer and beverages, with musical background provided by DeeJay Mark from Take 5. Following dinner entertainment was provided by the excellent ensemble from Stamford International University who completed a traditional Thai dance, Rum Upsarasaran, followed by a well-received rendition of Gangnam Style!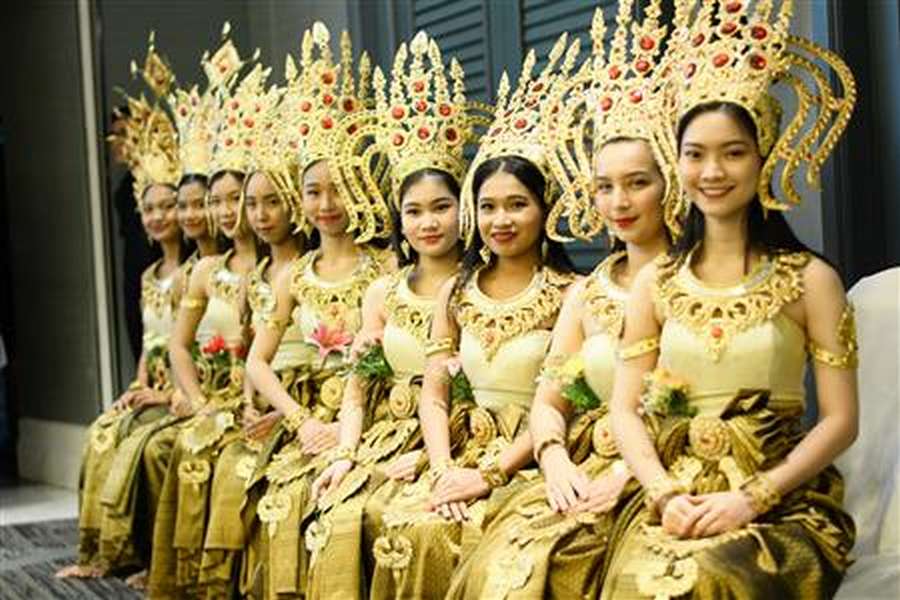 Napa Keawtem then gave a presentation on Community Service Projects completed this year including a donation of bicycles to local children, a Childrens' Day at Panyanakul School, new playground and Monkey Library at Ban Nongkhon School, recyclable bags and numerous other projects. The total for 2018-19 spent on projects was a staggering THB 1,070,377.00.
Total Project Outgoings 2018-19 – 1,070,377.00 THB
Hua Hin Hospital – Nerve Stimulator 50,000
Hua Hin Hospital – Flexible Fibre Optic Bronchoscope 215,160
Hua Hin Hospital – 10 Computer Donation 150,000
Cambodia Academy Sponsorship 37,175
Children Playground Nongkhon School 341,300
Tubercolosis Event Hua Hin Hospital 20,000
Bridging the Silence – Rotary Club Nakhon Khon Kaen 15,000
Love Hua Hin Event – Sponsoring Drinks and Snacks 10,830
Beaumont Partnership Foundation – The Lighthouse Foundation 10,000
Food for Orphan Children Day with Rotaract Stamford 24,400
RC Bangkok South Golf Tournament – Hole Sponsorship 10,000
Re-usable Shopping Bags 26,000
La Grappa's Charity Golf Tournament – Hole Sponsorship 15,000
Bicycle Donation on Children's Day with RCHH 15,000
Rotary Education Centre Project 3,220
Nun's Dog Shelter Pranburi – Donation of a new Generator 29,000
Childrens Day at Payanukul School 51,192
Joint District Project for Hospitals in Yala 2,000
Donation of 195 Back Packs for Boarder Patrol Schools – Rotaract 35,100
International Charity Night Rotaractors of Stamford – Costume Prizes 10,000
Then came outgoing President Brian Anderson who has been President of RCRHH for the past year and served the club well during his time in office and for the second time in the club's 10 year history.
In his farewell Brian paid tribute to members of the Board in his usual humorous style, explaining a good set of committees had made his work so much easier. He also presented both Gentleman and Lady 'Rotarian of the Year' awards to Treasurer Peter Wydler and Rotarian Benjamas Uamsa-Ard for their untiring efforts to the club.
Next to speak were the District Governor and District Governor Elect, who praised the RCRHH by saying they enjoyed their visits and that the club rated amongst one on the top in District 3330. They both also paid tribute to the amount of project work undertaken to help those less fortunate in the local area.
This was followed by the main event, the installation ceremony, during which the Presidential Jewel was passed from outgoing President Brian to President Napa by the District Governor. In saying a few words Napa very clearly described the meaning of Rotary, what it stands for and what it achieves internationally. Flower bouquets were presented to Napa, Mrs Chadarat Jamjuntra and Mrs Sirapat Uengsroithong.
Thus begins a new Rotary year for RCRHH with still much work to be done. The RCRHH will continue to play its role in helping to make the lives of the less fortunate more healthful, pleasurable and independent.