The word Sukhothai translates to "Dawn of Happiness". As a guest of the 5 Star Sukhothai hotel in Bangkok for several days I can attest to waking up extremely happy each morning, although not at dawn. The beds are just too heavenly to wake up early, especially if you avail yourself of their pillow menu.
One of my first joyful surprises when checking in was that the Sukhothai employs their own chocolatier and upon entering my suite I was greeted with a tray of chocolate truffles.
The Sukhothai has 210 rooms and suites and all incorporate rich Thai fabrics, teakwood furnishings and luxurious bathrooms. There are nine styles of rooms ranging from the Superior Room at 38 sqm's to The Sukhothai Suite at 198 sqm's. I stayed, and can highly recommend, the Executive Suite at 76 sqm's. The bathroom is the size of most standard hotel rooms with his and her sinks, his and her wardrobes, a shower, a tub and a state of the art Japanese electronic toilet that automates all those dreary tasks when using the loo.
While enjoying my first breakfast buffet at the Sukhothai, one of the wait staff brought over a small side table when he noticed that I had brought a newspaper, my tablet and my phone, which made the table somewhat crowded. The next morning at breakfast the side table was there as soon as I sat down. Another waiter had noticed that the day before I had stopped at the waffle station to place an order. This morning he stopped by my table to ask if he could put in a waffle order for me. The hostess knew my name and the way I liked my coffee. It's a level of impeccable service that makes you feel instantly at home.
In the afternoon I felt like working on my tan so I availed myself of their 25 meter infinity edge pool. The pool staff bring your towels and set up your chairs and umbrella for you. They also make sure your glass with ice and complementary water is never empty. A pool bar is nearby should you require something a little more potent.
After a few hours pool-side I decided exercise was in order and headed to their well-appointed fitness center. Two staff members are on duty to look after all your needs and to make sure you don't run out of water when exercising. The hotel also boasts a tennis court and air-conditioned squash courts for those so inclined.
Dining and drinking options abound at the Sukhothai starting with the celebrated and award winning Celadon which serves an extensive menu of authentic Thai dishes. The Colonnade is their international restaurant while La Scala offers fine Italian dining. Additional eateries and drinkeries include the Salon, Pool Terrace Café & Bar, Thimian and The Zuk Bar.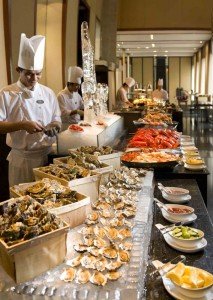 The Sukhothai spa is called Spa Botanica and they offer many signature spa treatments, all enjoyed while indulging in tranquil garden surroundings. Additional Spa amenities include a Jacuzzi, sauna and a steam room. They also offer a variety of fitness classes and personal trainers available on request.
Although the hotel emanates luxury it is also all business. The Bussabong Business Centre offers meeting rooms of various sizes as well as a full suite of executive business services. A Private Dining Room is available when comfort and privacy are paramount and a spacious ballroom is available to host large corporate events as well as memorable weddings.
The hotel is perfectly situated in the heart of Bangkok, near Lumpini Park and close to the sky train and subway. If you're not the "public transportation" type then you'll be delighted to know that the the hotel operates a fleet of luxury Mercedes limousines for safe and convenient transportation throughout the city.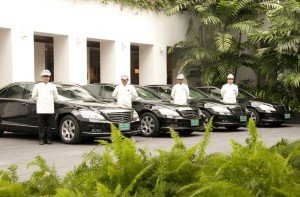 The Sukhothai Bangkok
+66 (0) 2344 8899
info@sukhothai.com
www.sukhothai.com