Spanish tennis ace Rafael Nadal has won an ATP Tour title in a record 18 straight seasons (2004-21) and ranked in the Top 10 for a record 849 consecutive weeks (2005-21), including 209 total weeks as World No. 1.
Rafael is also an experienced boater and has been passionate about yachting since childhood seizing every opportunity to go to sea with friends and family. The idea to build a customized catamaran has been part of the superstar athlete's plans for a while. Seduced by both the yacht's design and living space, he joined Sunreef Yachts' family of owners, taking delivery of a Sunreef 80 Power catamaran in 2020, which he named Great White.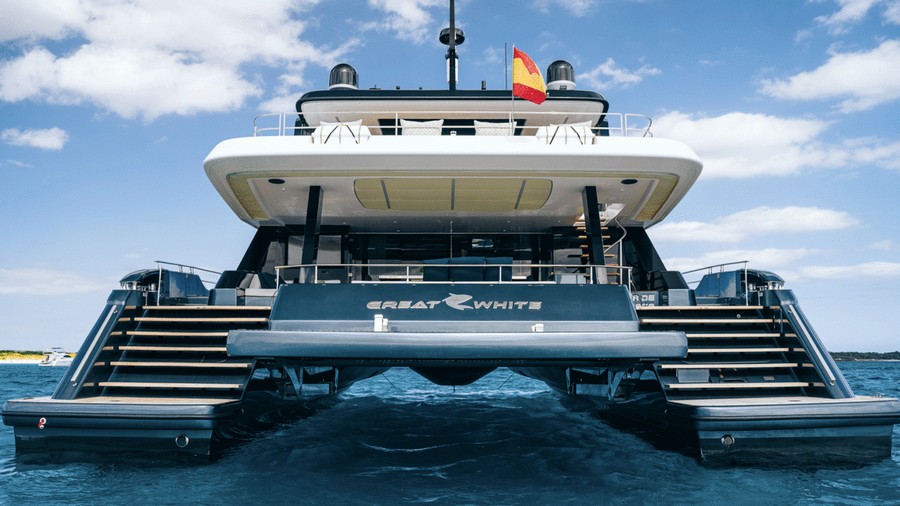 The 5 million dollar yacht accommodates up to 8 guests thanks to her comfortable 4-cabin layout. Her starboard hull houses the owner's suite, one of the yacht's guest cabins and the crew quarters. The port hull accommodates two more roomy guest cabins as well as the catamaran's galley. With generous living space, the master stateroom features a walk-in dressing area, a sofa, a flip-down ceiling TV above the double bed and a private fold-out balcony.
Nadal commissioned the catamaran after chartering several Sunreef catamarans and meeting yard founder and president Francis Lapp at the 2018 Cannes Yachting Festival.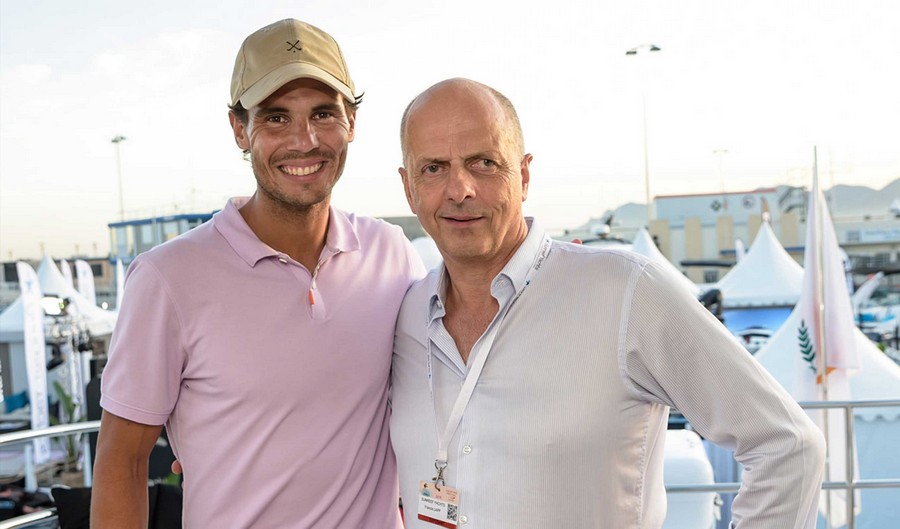 Lapp, the creative spark and driving force behind Sunreef Yachts, started his shipyard in Gdansk, a city with a long naval construction tradition and a skilled workforce. With the launch of his first 74-foot luxury oceangoing catamaran with a flybridge in 2003, Lapp and Sunreef Yachts started a new era in the history of yachting and sparked a change in the philosophy of multihull design.
Today, over 140 Sunreef Yachts, sailing and power, are cruising worldwide with sizes ranging from 50 to 100 feet. The company is now the world leader in the design and construction of large, customized luxury catamarans, exhibiting at the most important yacht shows, including Cannes, Monaco, Miami, Fort Lauderdale, Dubai, Qatar and Singapore.
Born in France in 1958, Francis Lapp began his business activity in electric power and construction. After occupying managerial positions in the industry's major companies, he endeavoured to strike out on his own. An avid rally enthusiast, he visited Poland for the first time to participate in a race held by Warsaw's Automobile Club. Having discovered Poland's immense development potential, he established his business there. He soon became a successful manufacturer of electrical equipment for some of the biggest global brands, soon expanding to providing services including the design and installation of electrical, sanitary and air conditioning systems for large industrial facilities.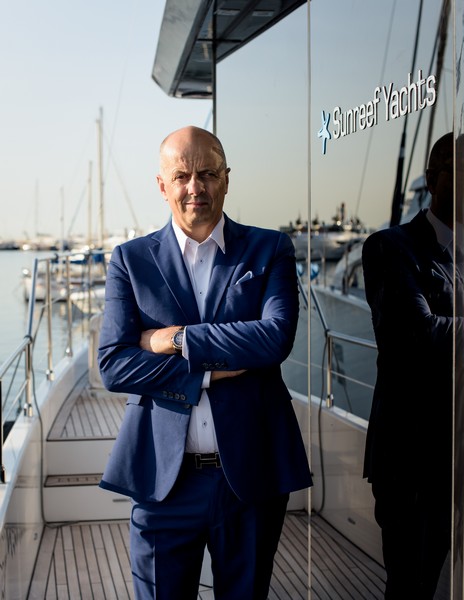 Poland is also where Francis Lapp developed a vivid interest for sailing, having discovered the world of small racing catamarans. This experience encouraged him to buy his first, larger cruising catamaran, which he based in Madagascar. With the purchase of more similar yachts, he opened a travel agency specializing in charters on the Indian Ocean. The company grew quickly as clients demanded more comfortable and larger catamarans. While trying to source such boats, he discovered there were no suitable yachts available on the market. This inspired him to get involved in building large, customized, luxury multihulls. This was the start of Sunreef Yachts.
On the 13th of January this year, the company launched their innovative Sunreef 80 Eco Yacht, an eco-luxury craft combining electric propulsion, superyacht living spaces, reliable sailing performance and the latest green technologies in the industry.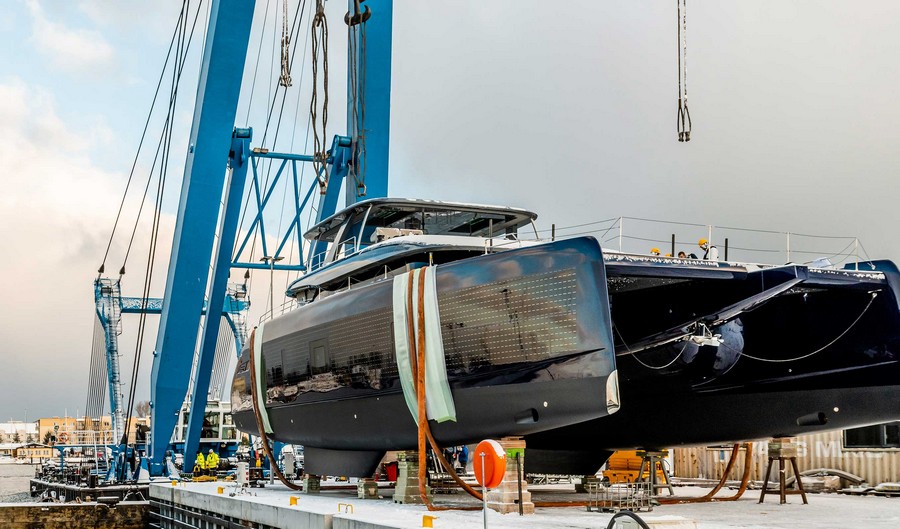 Thanks to their proprietary solar power system, the Sunreef 80 Eco can generate up to 32kWp. Solar panels cover 164m² of the yacht and are integrated into various composite structures, including the mast, boom, superstructure and hull sides. The luxury catamaran is fitted with a state of the art, ultralight battery bank that is 30% lighter than the average batteries used in the nautical industry and maximizes green energy generation with wind turbines and high-performance kites.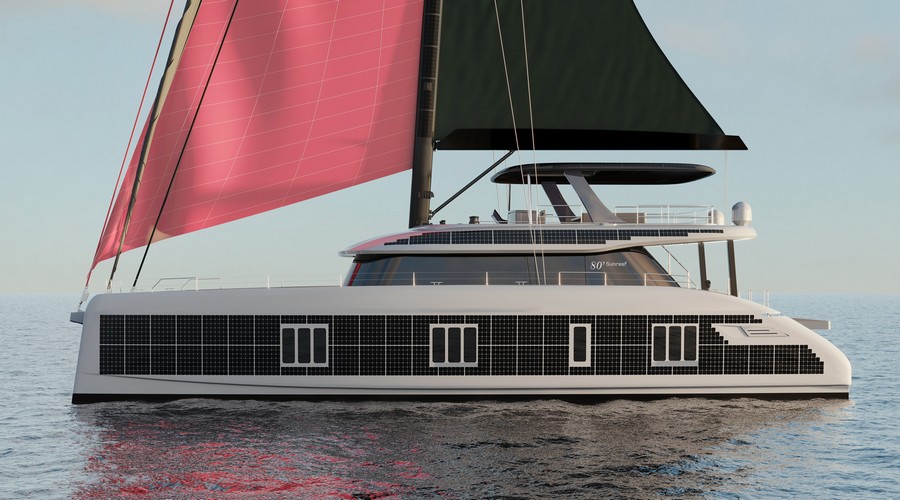 Available on their 60, 70, 80, and 100-foot models, Sunreef's Eco power catamarans can be equipped with electric engines or hybrid engines to provide a perfect blend of autonomy, energy efficiency and silent operation.
Taking motor catamaran design to the next level, the 100 Sunreef Power is a transatlantic luxury craft built to offer unmatched comfort and a unique cruising experience. Hull number one of the shipyard's latest super cat is a highly-customized yacht with a powerful presence and a striking hull finish combining dark grey and rose gold.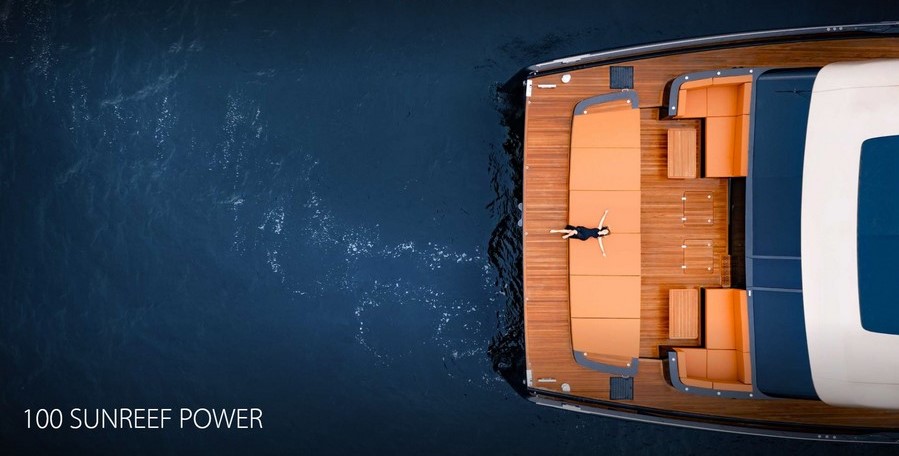 The relaxation area of the main deck comprises a large lounging space to portside with a drop-down 55" TV and a custom-designed drinks bar to starboard. Towards the bow part of the saloon, the yacht's galley offers restaurant-quality amenities and access to a cold room below decks. The main deck also houses a well-equipped gym looking out over the ocean and leading to the vast bow terrace.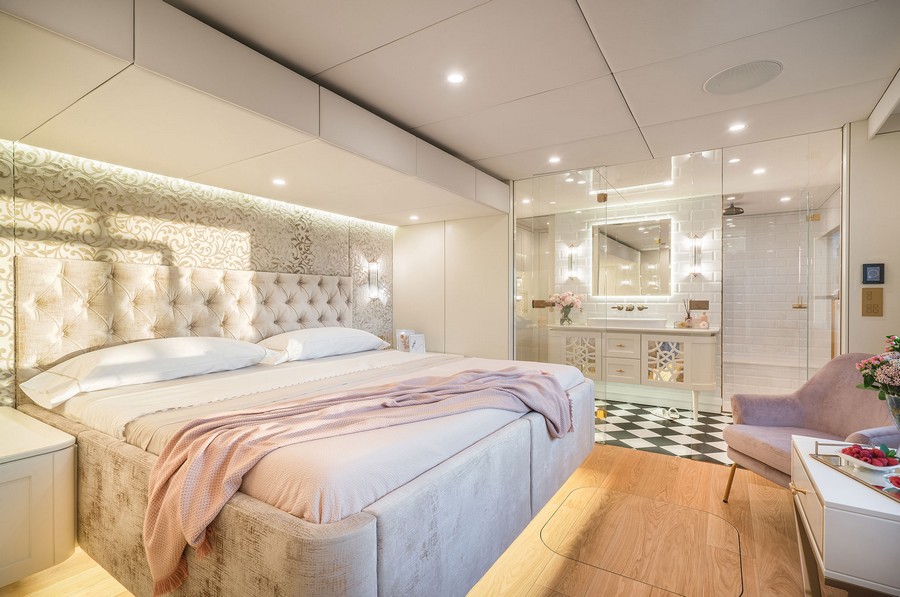 With natural oak veneers, rose quartz, brass accents, and custom-built cabinetry, the yacht's interior décor reflects the owners' liking for classic design. This homelike interior styling is continued in all the catamaran's staterooms. Guest accommodation for ten is spread across five large en suite cabins. Located in the port hull, the master suite features a king-size bed and a relaxation area with an ocean view. One of the suite's stand-out features is the generous master bathroom with classic black and white tiling. The owner's cabin neighbours one of the guest rooms, which offers a double bed, voluminous storage, an en suite bathroom and a vanity desk. The starboard hull houses three guest cabins providing the same level of comfort. With the 100 Sunreef Power using an ultramodern, energy-saving air-conditioning system, the yacht can provide air-conditioning throughout the whole night without using the generators.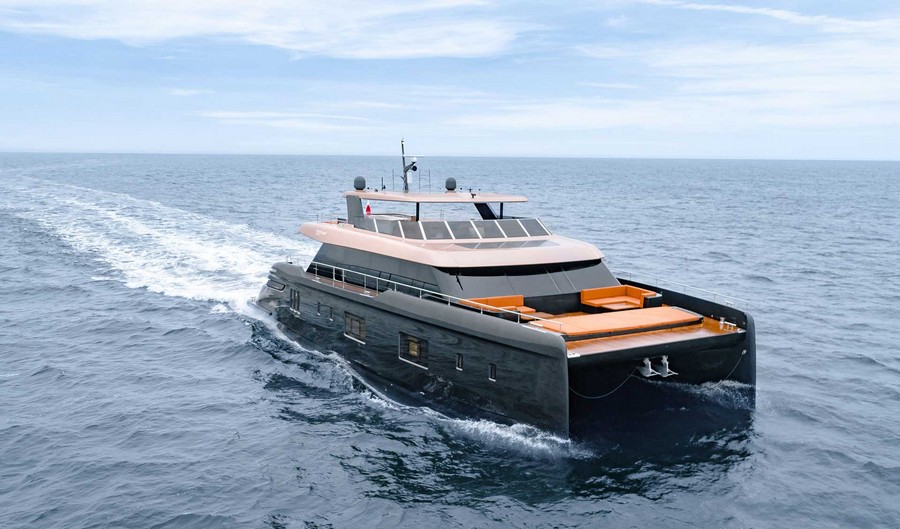 The megayacht flybridge of the 100 Sunreef Power offers extreme comfort with plenty of relaxation areas, including a bar and a large dining table. Guests can also enjoy baths in the custom-built spa pool flanked by large sun pads. The area can also be transformed into an outdoor cinema with a high-end audio system, a retractable projector and screen.
The yacht's stern cockpit spans over the entire 13.5m beam of the catamaran, offering a large dining space, a daybed, a wet bar and access to the day head. The 100 Sunreef Power also boasts a large aft hydraulic platform and a voluminous garage concealing two three-seater jet skis, a refuelling station and plenty of storage for water toys. There is plenty of space for comfortable crew accommodation in three crew cabins, two located in the bow part of the hulls and one to the aft.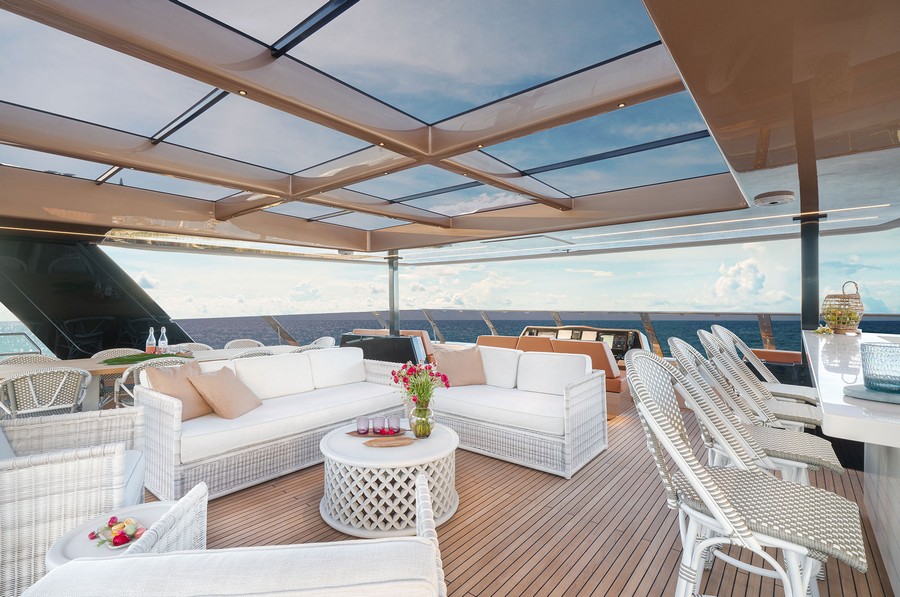 Not one to rest on their laurels, Sunreef is currently working on their 210 Sunreef Power Trimaran. With Star Wars-like looks, the 210 Sunreef Power Trimaran is the ultimate expression of engineering expertise. An ambitious 210ft three-hulled concept, it fully utilizes the space within and between the hulls to reach a living area of nearly 1000m².
The yacht's upper deck features an aft terrace giving access to a grand dining room, an internal navigation station, a gym space and the captain's cabin.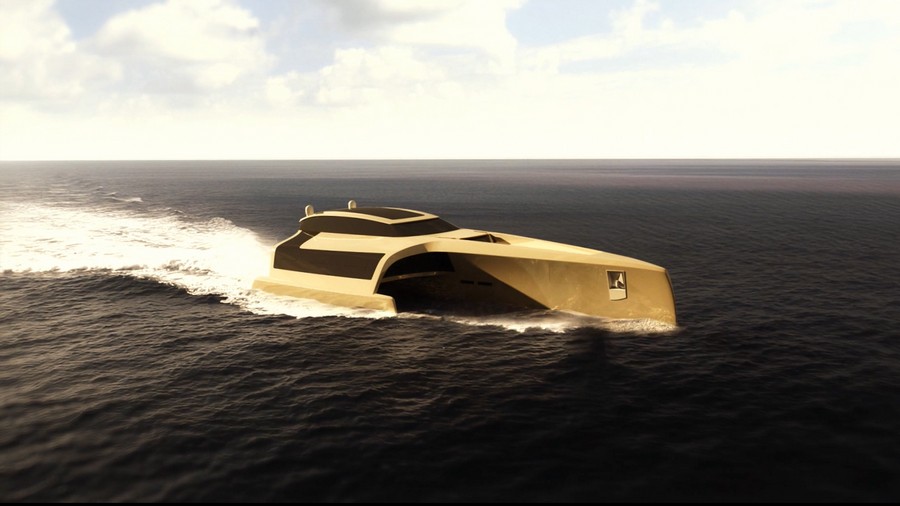 The main deck stretches over 510m² of entirely customizable surface. The optional layout comprises six guest cabins, all fitted with large double beds, each facing retractable private balconies. The stately master suite with panoramic widows, twin dressing rooms, an office, and access to a private front terrace is placed forward. The saloon features a main lounging space placed amidships and four relaxing scenic areas with floor to ceiling glass windows.
The lower level is entirely devoted to the crew. Accessed through the water toys garage storing two jets skis and sea bobs, the central hull houses a fully equipped galley, dining and sleeping quarters, a laundry and large storage areas. All three levels of the megayacht are connected with an elevator and a spiral staircase.

The vessel's outdoor social area features an immense flybridge, a cockpit opening onto the saloon as well as terraces at the front and aft. The primary tender for up to 12 is stowed in the foredeck along with the crew dinghy.
As can easily be seen, Sunreef, and the marine industry has exciting years ahead.