THAI FIGHT is an extravaganza of Muay Thai that takes place in major cities inside and out side of Thailand. On Saturday November 20th, THAI FIGHT made its second appearance in Hua Hin, this time at Hua Hin's True Arena.
Officially known as "World Thai Boxing Tournament Thai Fight VANA NAVA Hua Hin," the event drew thousands of enthusiastic fans to witness Muay Thai fighters from around the world take on one another and Thai fighters at their national sport.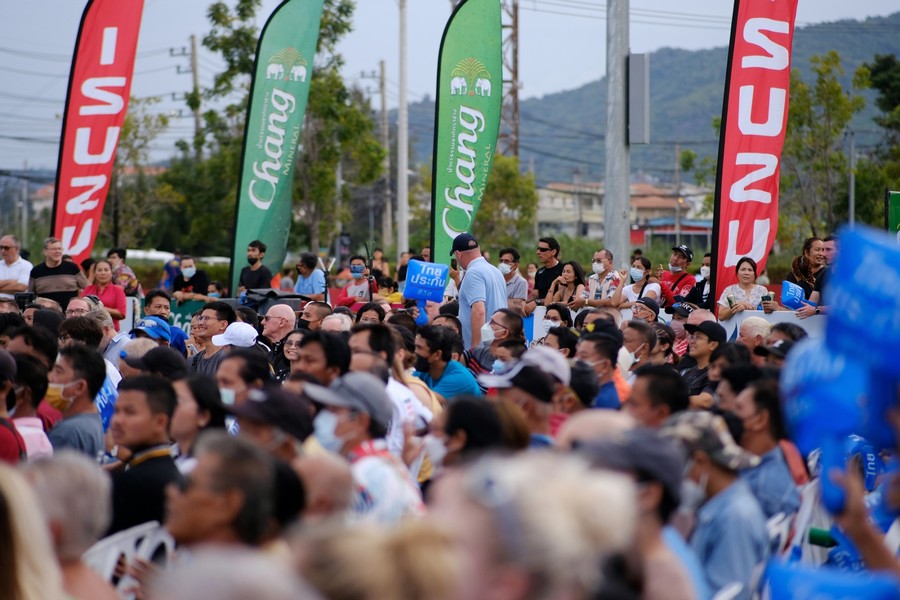 In addition to the Thai Muay Thai fighters, their were fighters from France, Cambodia, Tunisia, Russia, Greece, Argentina, Belgium, Lebanon, Myanmar, Israel & Norway.
This was the semi-final event for the 2022 Royal Cup Provided by His Majesty King Maha Vajiralongkorn for the male fighters with Her Majesty Queen Suthida providing the Royal Cup for the female fighters.
For those unacquainted with the sport, Muay Thai is a traditional martial art which has existed for a very long time. Some believe its origination goes as far back as the establishment of "Siam," prior to the country being named Thailand.
Back then, Muay Thai was used for military purposes. The fighters fought with bare hands, which later evolved into rope-bound hands. This was called "Muay Kard Chuek", with each hand being wound with rope up to the elbow. The thickness and stiffness of the rope being used could result in the death of an opponent.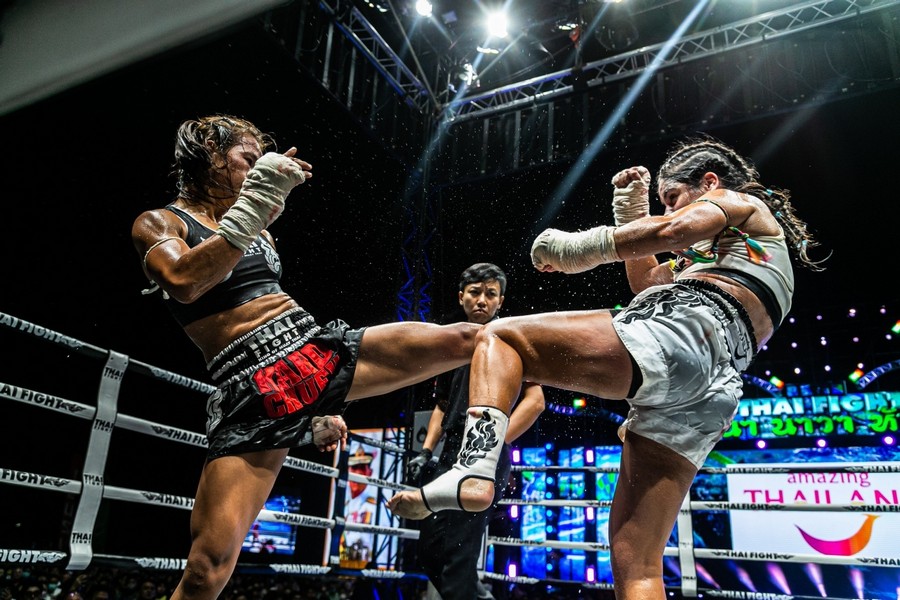 Nowadays, with Muay Thai being a spectator sport, softer and thicker leather gloves are being used for increased safety and it has become without doubt, the national sport of Thailand.
There is a lot of ceremony & legend around Muay Thai, one being the Pahung, victory incantation. Legend has it that the monk Somdet Phra Panarat of Ayutthaya created a spell for King Naresuan to recite every time he went into battle. Supposedly, this brought the king victory over the Burmese and ultimately led the Siamese people to freedom.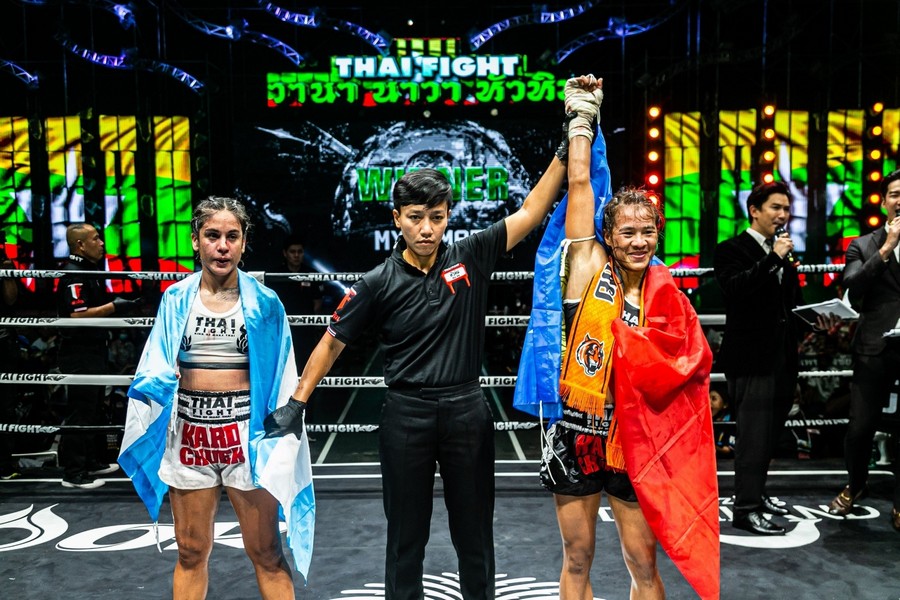 During World War I, when Siam sent troops to aid their allies, it was said that King Rama VI led a prayer group to recite the Pahung incantation, which led the troops to victory.
Since the olden days, Muay Thai has been a sport with a master, known as a Kru, and every boxer has his own kru. Before every fight, fighters pay respect to their Kru in the form of a dance which is called "Wai kru." The Mongkol headband worn by Muay Thai fighters during their pre-fight Wai kru dance is also part of the ceremony. For the fighters,
the Mongkol is a talisman that supposedly brings prosperity to its wearer. It is usually made from holy thread or raw fibers that have been consecrated by Muay Thai masters before being wrapped and bound into a band that is worn
around the head, with a long tail hanging down the back.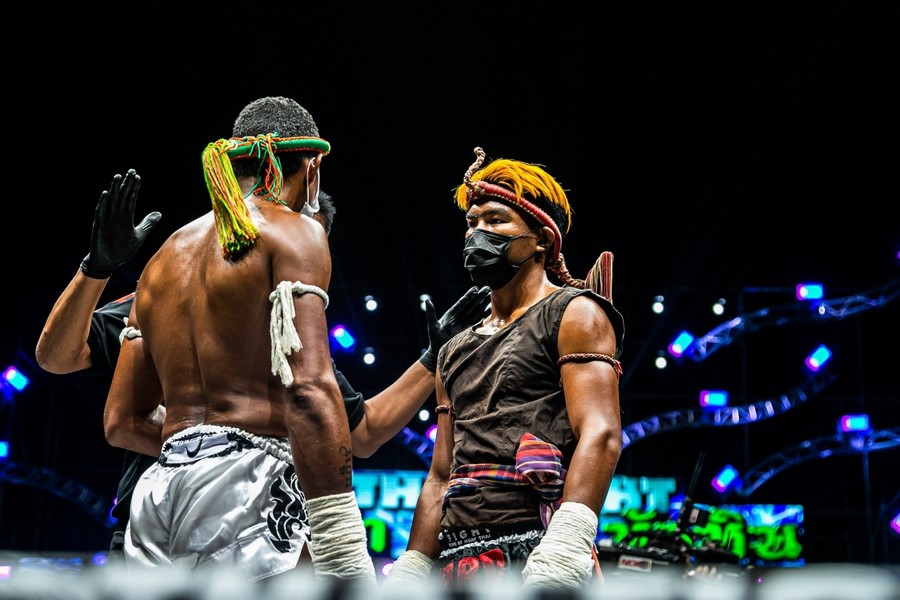 The Mongkol supposedly originated with a master who was skilled in the magical arts. According to the story, he conducted a ritual where he hypnotized a snake into biting its own tail, forming a circular shape. He roasted the snake and submerged it in holy water made from coconut oil and herbs. He then bound the snake circle in a talisman cloth and gave it to one of his students to keep on their person whenever they went out to battle. Today, the Mongkol is used as an accessory to symbolize tradition and culture and is considered to be a crucial aspect of Muay Thai.
The next big Muay Thai fight, named "THAI FIGHT 100 Years Nakornban," will take place on Saturday, December 24, at the Nimibutr Building, National Stadium in Bangkok. This is the final round of The Royal Cup competition. To keep up to date on THAI FIGHT, visit their Facebook page, "Thai Fight: King of Muay Thai."