There are names in the auto industry that are Iconic, Henry Ford, Ettore Bugatti, Enzo Ferrari and the Daimler brothers, Paul & Adolf. But, when it comes to speed and opulent luxury, only one family name passes muster: Bentley.
W.O. (Walter Owen) Bentley founded his company on 10 July 1919. Over 100 years later, the Bentley name is known across the globe for creating cars with an unrivalled blend of performance and the finest craftsmanship and materials. Located in Crewe, England, Bentley Motors remains the definitive British luxury car company, crafting the world's most desirable high-performance grand tourers.
Thanks to Bentley of Bangkok, I recently had the pleasure of taking one of their Bentley Flying Spur's out for the day. With a 26 million baht price tag, I drove more comfortably, knowing a special insurance policy was in place for my day of motoring.
The Flying Spur is a regal, stately-looking car, and I can tell you, it garners a lot of attention. Much of that is due to its enormous presence. It is massive at 5.5 meters long and 2.2 meters wide, making it bigger than a Range Rover.
If you don't know about the Flying Spur, it is the best high-performance luxury car that money can buy and is the fastest production car with four doors. It has been called "a supercar for your granddad," but I think almost all of us can appreciate the hyper level of luxury that is Bentley's hallmark. It is something that draws your attention the moment you sit inside and gaze at the interior.
The first thing I noticed when I got into the front cabin was the woodwork. Bentley uses what they call "highly figured wood," highly figured, meaning it has the best patterns. They have a team of experts that travels the world looking for the most highly figured wood for their customers. Now you don't have to have wood; you can have carbon fibre, you can have stone, you can have metal, you can have whatever you'd like, and Bentley's craftsmen will install it for you.
That is one of the lovely things about Bentley; when you commission your car, you can choose all the attributes that resonate with you. Starting with the color, you have 30 to choose from, or they will make a custom color for you. Their wood veneers are sustainably sourced from forests around the world. The new Flying Spur comes with Crown Cut Walnut veneer as standard, but there are also seven other single veneers to choose from, with or without a chrome pinstripe running along the centre. Or you can opt for one of seven dual veneers, each contrasting a different wood above the pinstripe with a gleaming black veneer below.
Every inch of the interior of the Flying Spur is upholstered by hand. Crafting the hides is a time-honoured process that involves skills taking years to learn. With a choice of 15 hide colours that can be arranged in single tone or duo-tone combinations, matching or contrasting stitching and piping, and adjustable accent lighting, you can personalise the interior of your Flying Spur to create a look that is truly yours.
Wherever you sit in the Flying Spur, intelligent technology is presented in an intuitive way, giving you complete control, as with the optional heads-up display and night vision system. The night vision's infra-red thermal imaging camera monitors 300 meteres in front of the car. It displays the image on the driver's information panel, extending the driver's view to give extra time to avoid collisions with pedestrians and animals.
A large 12.3-inch infotainment touchscreen is nicely situated between large swaths of wood trim on the Flying Spur's dashboard. An optional extra replaces the static infotainment screen with a rotating display that rotates the screen into the dashboard and brings up a wood panel featuring three analog dials (an outside temperature gauge, a clock, and a compass).
Passengers can connect to the car's Wi-Fi hotspot, and with compatible smartphones, enjoy the Spur's Apple CarPlay integration. A 10-speaker stereo system comes standard, but you can upgrade to either the 16-speaker Bang & Olufsen setup or the 19-speaker Naim system, which was in the car we had. I don't know how to best explain the audio quality other than to say I've never experienced such musical beauty in an automobile before.
For the rear-seat passengers, the newly designed and precision-crafted Touch Screen Remote allows you to stay connected with the front cabin, move the seat positioning and share information with the navigation system.
The Remote also gives passengers control of the rear cabin environment, such as the window blinds and airflow. It sits within the centre console and can be removed at the touch of a button. A big plus to being chauffeured is the optional champagne fridge that chills your bubbly to the correct temperature, depending on its vintage.
The flying spur offers a duality of character that not too many cars can match. If you like being driven, just as much as you like taking the bull by the horns and driving yourself, then ultimately, it would be hard to find a car that does a better job.
The formidable 6 litre W12 engine is about four times the size of an average motor. The car produces 635 PS of power and 900 Nm of torque, more than most supercars. With effortless acceleration, a seemingly endless surge of power takes you from 0 to 100 km/h in 3.8 seconds, topping out at 333 km/h. The car is staggeringly, jaw-droppingly, physics defyingly quick. When accelerating, it feels like you are dropping off a cliff, but in a good way. This is even more absurd when you consider it weighs 2,437 Kg (2.69 tons).
The Flying Spur offers four driving modes, Comfort, Sport, B for Bentley (a combination of the two), and Custom. In Comfort, the ride is simply amazing. It kind of feels like a yacht floating on the ocean. Sport is a little too firm for everyday driving. I found leaving it in the "Bentley Mode" offers a magnificent compromise of the two.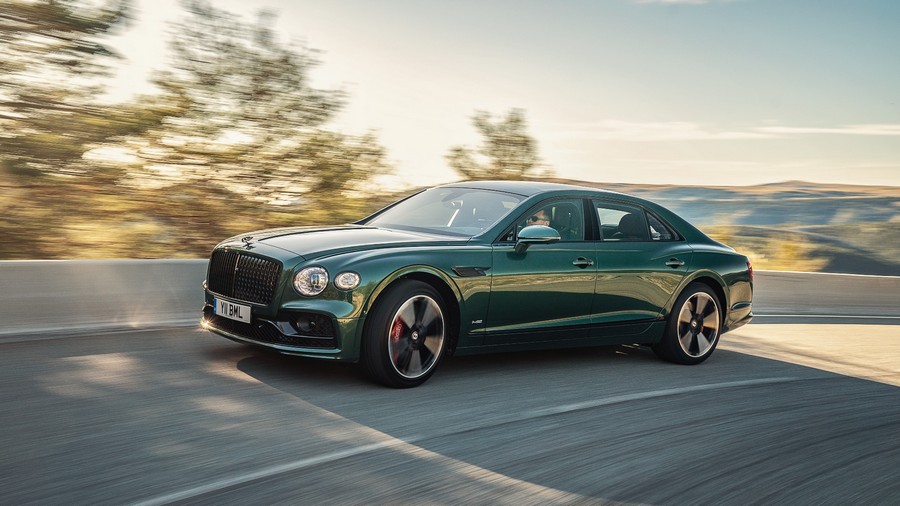 Another cool feature is that the car uses rear-wheel steering, which can turn in the opposite direction to the front wheels at slow speeds for better maneuverability, perfect for agile urban driving and effortless parking. At high speed, the front and rear wheels are steered in the same direction, enhancing stability for extra control when overtaking and cornering. It might be a big hulking luxury beast, but it handles incredibly unbelievably well.
Part of the reason for that is Bentley's 48-volt active anti-roll technology. Electronic actuators on the anti-roll bar of each axle automatically adjust to enhance both handling on corners and ride comfort. The end result is when you go barreling into a corner, the whole car just stays flat, like magic.
The Flying Spur also employs an electronically tuned air suspension using three-chamber air springs to continuously adjust the air volume, ensuring a smooth, comfortable ride.
The Flying Spur was redesigned for the 2020 model year, so 2021 brings only minor tweaks. Chief among them is a new optional four-seat configuration, which replaces the rear bench seat with two buckets and a fixed center console that runs the entire length of the sedan's cabin. Elsewhere, a new steering wheel design provides more access to the car's driver-assistance features. In addition, new wood trim inserts are available for the rear door panels, and rear-seat picnic tables are an option.
As I knew I would when driving away from Bentley of Bangkok in the morning, it was unbelievably hard to make the turn back into their dealership in the evening. The Bentley has always been my dream car, and this was a glorious day. It was a day where I learned that If you want to drive in unparalleled luxury and comfort at incredible speeds, there is no finer motor car than the Bentley Flying Spur.
BENTLEY BANGKOK
AAS Auto Service Co. Ltd.
191/91 CTI Tower, Bangkok
+66 (0)2 261 1050-1