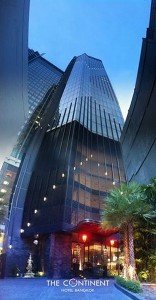 There is a very old saying in the property business that when trying to value a piece of property the 3 most important things to consider are location, location, location. The same can be said for trying to find the best hotel to stay.
The location, location, location line came to me as I was writing a Trip Advisor review after a recent stay at the Continent Hotel in Bangkok. The Continent Hotel is endowed with an unbeatable address, that being at the intersection of Sukhumvit and Asoke which is often referred to as the "Crossroads of Bangkok".
Located where it is, the Continent is mere steps away from the Asoke BTS Sky Train station & the MRT Subway station so almost the whole city is at your doorstep. Plus, just a few further steps and you're walking into the Terminal 21 shopping mall which has almost everything a person could want or need. In addition to nine floors of shopping there are also a multitude of restaurants and a great cinema should you feel like taking in a flick.
The Continent Hotel offers 153 rooms and suites featuring six different types and four different themes. Room types include Deluxe, Premier. Executive, Sky, Continent & Suite. Room themes include Ocean, Forest, Desert and Space. Each floor is also named for a City or a Country. We stayed in a Continent room on the 28th floor also known as the Chicago floor. The views of the city were great and being a five star hotel it had all the room amenities that you would expect.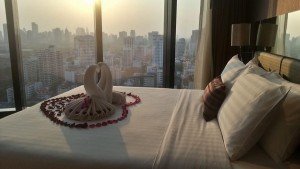 There are 3 classes of rooms which come with club benefits although here they call them "Sky Benefits". Those include their Sky Rooms, Continent Rooms and their Suites. If you prefer to stay in one of their less expensive rooms I highly suggest you pay extra for the Sky Benefits because they are impressive. You can check out their website for the full list of benefits but just a few that I noticed included their complimentary limousine transfer to the airport one way or round trip if you are staying for longer than 3 nights. Complimentary laundry, 2 pieces per day, complimentary local phone calls, an hours use of their Business center meeting room, a complimentary daily fruit basket and early check-in and check-out. Almost all hotel club floor privileges include two hours of pre-dinner drinks but here it is 3 hours with your choice of beers, premium wine or premium cocktails. For two of the three hours they put out some of the nicest food I've had on a club/sky floor. If you book into a Continent Room you get the added pleasure of their complimentary mini-bar.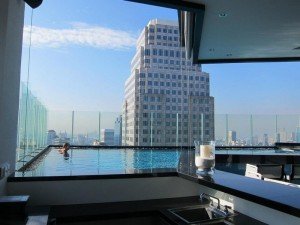 The Continent's recreation facilities include a swimming pool on the 37th floor offering great views of the city. Right next to the pool you'll find their H20 pool bar with tables and sun loungers allowing you to soak in the Asian sun while staying hydrated with their exotic cocktails and icy cold selection of beers. On the same floor you will also find their well-equipped fitness center.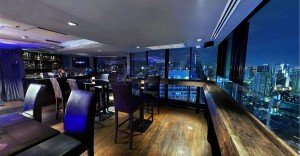 In addition to the H20 pool bar the Continent also serves up liquid libations at their Axis and Spin bar located on the top two floors of the hotel (38th & 39th). Axis and Spin is one of the hippest sky bars in town where you can enjoy cool drinks and rhythmic sounds while watching the lights of Sukhumvit dazzle all around. Connected by a spiral staircase the lower floor is a warm comfortable environ to relax and enjoy a nightcap while the top floor is where you'll want to be when it's time to dance and spin the night away. Both floors dedicate one side to a huge glass wall that gives you a 180 degree view of the City of Angels. Every Wednesday night is Ladies night with free golden drinks from 8:30 until midnight.
Food is also available at Axis and Spin and they currently have an unbelievable (at least to me) promotion going on. For 999 baht ++ you can not only enjoy a main course and a desert but you can also imbibe on free flow of beer, wine and cocktails from 5:30 to 10:00 pm.
The Continent's signature restaurant is Called Medinii. Here you can experience authentic Italian cuisine with an Asian flair. Read more about "Medinii in our Let's Dine Bangkok" article further in this issue
If you need to do a little business while you're in residence (and your head isn't hurting too bad from the night before free flow) then you'll want to head to their GMT meeting rooms on the 33rd floor. With multiple floor plans available they can accommodate as few as 14 in their boardroom and up to 70 people in their theater configuration. They also have a staffed business center that caters to administrative and secretarial needs.
The Continent Hotel definitely deserves a stay next time you're in BKK. With their full amenities and outstanding dining and drinking promotions there is really no reason to go anywhere else.
The Continent Hotel Bangkok
413 Sukhumvit Road
Bangkok 10110
+66 (0)2 686 7000
enquiry@thecontinenthotel.com
www.thecontinenthotel.com