For the second consecutive year, Hua Hin hosted the WTA Thailand Open, which saw world-class women tennis players and rising stars compete for both Singles and Doubles titles with prize money totaling USD 275,000.
Top 20 ranked players in this year's draw included Elina Svitolina from Ukraine who is world number 4, and Petra Martic of Croatia (15). Further top 100 players included four Chinese players – Qiang Wang (27), Saisai Zheng (36), Yafan Wang (56) and Lin Zhu (70), Madga Linette of Poland (42) who celebrated her 28th birthday during the week, and Nao Hibino from Japan (84). Except for Yafan Wang who fell in the first round to 25-year-old Romanian Patricia Tig, all made it through to the third round.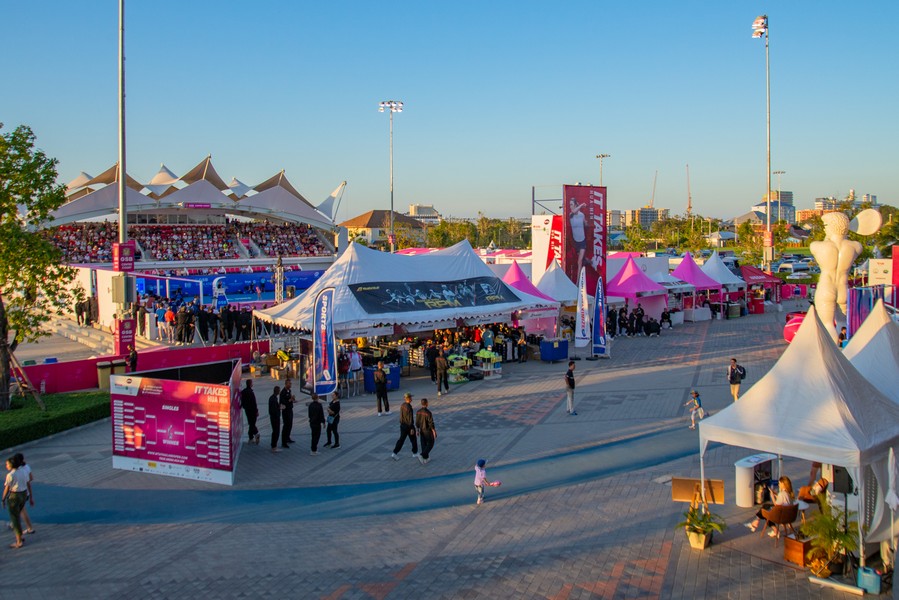 Defending champion Dayana Yastremska and several other played scheduled for the event did not make it to Hua Hin. However, this did provide an opportunity for several other lesser ranked players. In fact, six young women fought their way through qualifying to gain a place in the final sixteen on the Singles draw.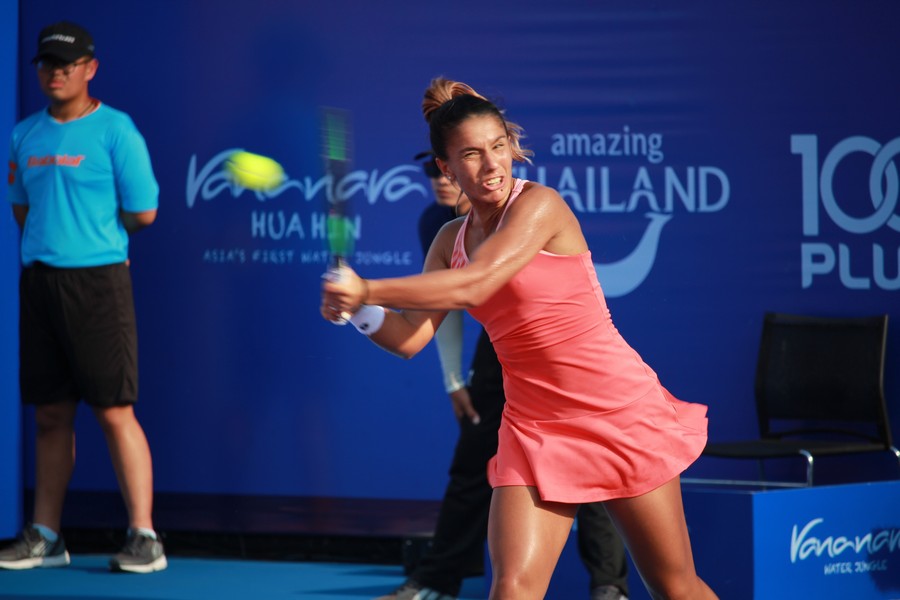 Eighteen-year-old Chinese player, and 2018 Junior US Open Champion, Wang Xiyu impressed taking out the tournament's number 2 ranked player Petra Martic in the first round and ultimately making her way through to the third round.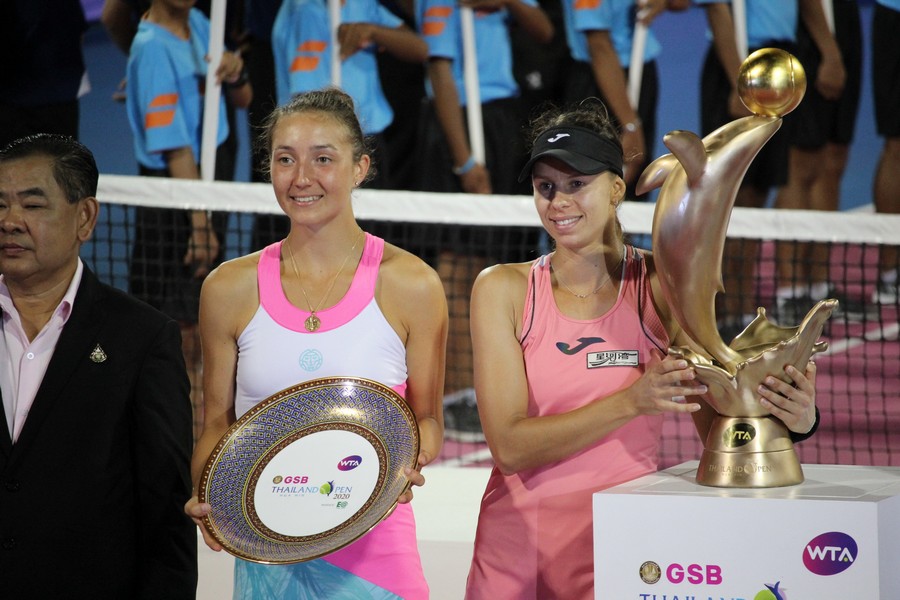 Another teenager, Swiss 19-year-old Leonie Kung, who had to first fight through the qualifying to gain a place in the main draw made it to the final where, after a valiant fight, was beaten by Magda Linette. Kung gets to take home her share of the prize money and jumps up 127 spots in the WTA player rankings thanks to her outstanding efforts this week. Poland's Magda Linette did claim the WTA Thailand Open 2020 Champion.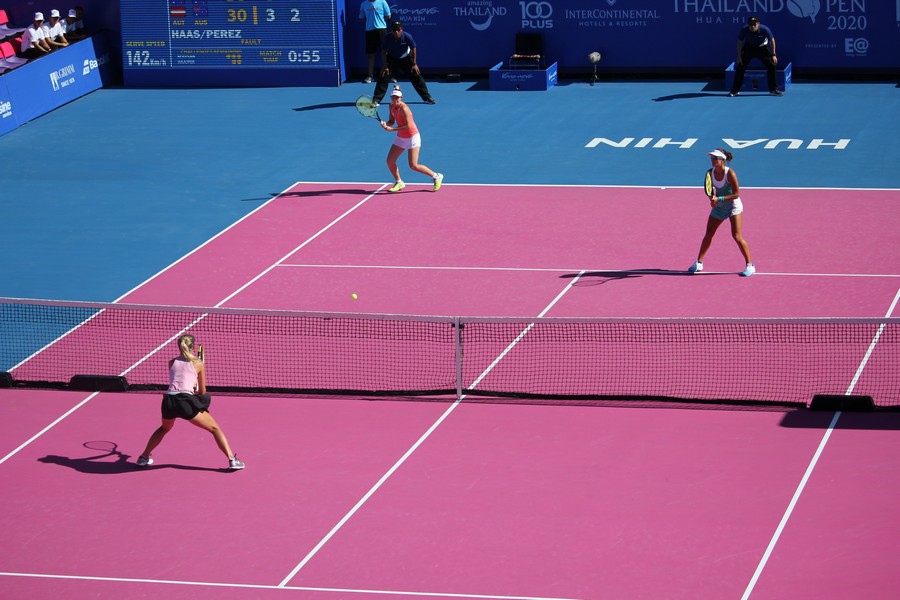 The Doubles side of the tournament was just as competitive with sixteen player pairings competing through four knockout rounds. The final saw Australians Arina Rodionova and Storm Sanders play their way past Barbara Haas (AUT) and Ellen Perez (AUS) to be crowned the WTA Thailand Open 2020 Doubles Champions.
The other winner of the WTA Thailand Open 2020 was breast cancer awareness with centre court, and the overall event turned a splendid pink for the whole tournament. Organisers committed that a minimum of THB 1 million (approximately USD 33,000) from ticket sales would go to a Thailand based breast cancer charity. An additional $20,000 was pledged from supporters.
The benefactor of these funds is the Queen Sirikit Centre for Breast Cancer (QSBCC) Foundation, who for over 20 years has been educating and caring for the most underprivileged. According to a 2017 Thailand's National Cancer Institute report, breast cancer still ranks No.1 in terms of new cancer patients in the country. An estimated 13,000 Thai women are diagnosed with breast cancer every year – equivalent to 35 people per day. The number continues to rise.
QSCBC's long experience in treating these less fortunate women has highlighted that patients could not be discharged home because of the conditions in their slum communities. By necessity, cancer patients recuperate in acute hospital beds; beds which are so desperately needed by new surgical patients. Hence, QSCBC latest project is the creation of a convalescent and palliative care hospice called "Pink Palace."
As part of the WTA Thailand Open 2020 closing ceremony, a final cheque of THB 1.6 million (around US$53,000) was presented to representatives of the Foundation.
WTA players Wang Yafan and Chloe Pacquet took some time off to help raise breast cancer awareness through tennis. With the QSCBC Foundation, Wang and Pacquet visited a disadvantaged community in Bangkok. They took part in tennis clinics and fun activities with the children while their mothers were informed about the risks of breast cancer and the benefits of early screening. During the event, over 100 women registered with the QSCBC Foundation for testing – an action that could help to save lives.
The lucky children from this community had the opportunity to visit Hua Hin on 8th February and a chance for some of them to visit the beach for the first time. In Hua Hin, they watched some tennis at the WTA Thailand Open. They also had a fun outing to the nearby Vana Nava Water Park.
While in Hua Hin, players also had the chance to participate in cultural activities, including making merit ceremonies to Buddhist monks, cooking, making traditional garlands, weaving Khomapastr cloth, painting hand-printed fabrics in classic Thai style and experiencing the natural beauty of Hua Hin through forest planting.
All concerned announced the 2020 tournament a resounding success. And as the event was broadcasted live and internationally via Fox Sports, plus a live HD broadcast in Thailand, the world was undoubtedly introduced to Hua Hin and the WTA Thailand Open 2020.
By Michael Cullen
Photos Courtesy of Daniel Chernov
Michael Cullen