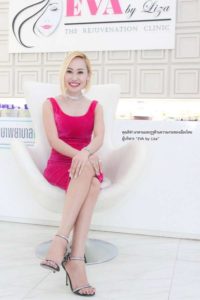 Eva by Lisa is a full-service beauty and dermatology clinic offering World Class standards in a clean, safe and hi-so environment. We provide all of our clients with the highest degree of customer care in both clinical and beauty treatments.
Our team of experts, including an experienced plastic surgeon, honored medical Dermatologist and aesthetic beauty professionals, are available to provide comprehensive skin care treatments such as:
Cosmetic surgery like breast augmentation, hip surgery, tummy tuck (abdominoplasty), liposuction, dimples repair, ear pinning (otoplasty), eyelid lift, puffy under-eyes bags, wrinkles (face lift) surgery, eyebrow, vaginal tightening, rhinoplasty, scars.
Breast augmentation, hip augmentation, nose repair and chin augmentation can be accomplished without any surgical procedures.
Botox injection to rejuvenate the skin. Hyaluronic acid filler to reduce facial wrinkles.
Collagen injections to stimulate the lymph nodes and remove facial skin toxins. Anti-Melasma to reduce facial dark spots, freckles and pigment spots.
Meso Fat treatment to improve absorption and liquefaction of fat and cellulite.
Oxygency to accelerate exfolation and skin regeneration. Smooth peeling with Microdermabrasion.
We use latest generation machines such as:
Hi-Fu (high intensity focused ultrasound) providing lifting technology without any surgical process.
Q-Switch Laser helping to reduce spots, tattoo, pigmentation of the skin and to tone the skin.
Fractional Laser to stimulate collagen and elastin production.
P.L. (soft laser) improving skin brightening and radiance.
Hair removal and CMT techniques.
In addition, we also offer Thread Lifting methods such as collagen threading and thread logs.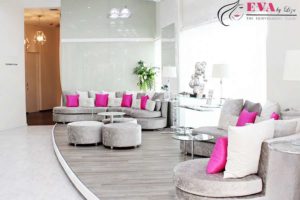 Eva by Lisa is a Hi-Class Aesthetic Rejuvenation Clinic and full-service beauty Institute, located at the new generation mall center: The Walk at Kaset-Nawamin.
Our Promise
Our dedicated team will welcome you and provide a modern World Class level of service, and pay close attention to every detail for your ultimate satisfaction and delight.
Our Mission
Our mission is to provide personalized professional care beyond International standards.
EVA by Liza The Rejuvenation Clinic
Phone: 02 019 0959, Email: Warisa_liza@hotmail.com
The Walk Kaset-Nawamin, 511 (No. D203, 2nd floor) Prasoet Manukit Road, Ladprao, Bangkok
Facebook/evabyliza, Instagram: evabyliza, Line: @ evabyliza